Lufthansa and SWISS launch a new UK business class flight sale (and it doesn't need two people)
Links on Head for Points may pay us an affiliate commission. A list of partners is here.
SWISS and Lufthansa have launched a good Business Class sale.
Unlike some fare deals we write about, these are for departures from the UK so you don't need to position yourself somewhere in Europe first.
Even better for those who live outside London, you can also book these deals from UK regional airports.
The fares are not as cheap as we saw in the '2 for 1' SWISS and Lufthansa sale earlier this year. However, these are still good fares and, of course, you don't need to be travelling as a couple to take advantage.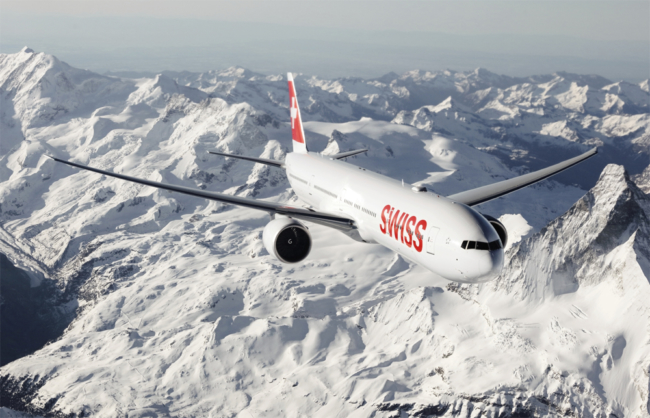 You won't earn Avios or BA tier points but you WILL get a decent travel experience at a good price. You will also earn a pile of Miles & More or other Star Alliance miles which can be a handy alternative to Avios.
These fares are good for bookings up to 10th November.
You can travel between 11th November 2019 and 15th July 2020.
What is the Business Class pricing?
Here are the Business Class deals. These are return prices per person from London – regional departures may differ slightly.
Headline fares are:
Bangkok £1,577
Beijing £1,682
Cape Town £1,877
Dar es Salaam £1,845
Delhi £1,317
Dubai £1,272
Hong Kong £1,681
Johannesburg £1,877
Male / Maldives £1,796
Mauritius £1,944
Mumbai £1,317
Muscat £1,542
Nairobi £1,575
Shanghai £1,497
Singapore £1,877
Some of these are clearly very good, eg Dubai, Delhi, Shanghai, whilst others fall into the 'definitely not bad but you might see better' category, eg Singapore. Others look pricey but are available at peak periods, eg Jo'burg is available over Christmas if you are flexible (17th to 29th December was bookable last night).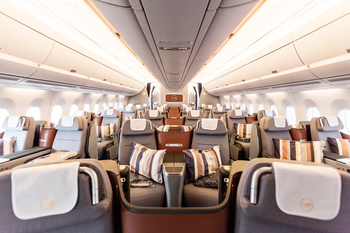 Most routes are available with both Lufthansa and SWISS, so you need to see which is most convenient for you.
Flying Lufthansa
With Lufthansa, you can depart from London, Birmingham, Edinburgh, Glasgow or Manchester with a transfer in Germany. You can book these deals here. Ignore the small list of destinations shown on that page, which appear to be randomly generated.
Lufthansa is 100% fully flat in long-haul business class, although not everyone is a fan of the current seat layout which means that both of you are sharing a footrest, albeit with a divider. The A350 cabin is pictured above. SWISS is better in this regard as the seats are not angled towards your neighbour.
Here is my review of an A340 Lufthansa business class flight from last Autumn. As it happens, I flew Lufthansa business class again yesterday, from Frankfurt to Dubai, and my views remain the same. With so many airlines offering 1-2-1 seating these days, being forced to sit with a stranger – with no divider – in 2-2-2 seems very outdated. Especially when, as in my case, the stranger has a terrible bout of flu ….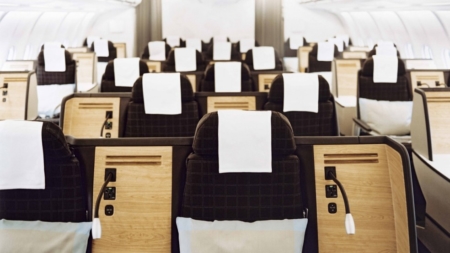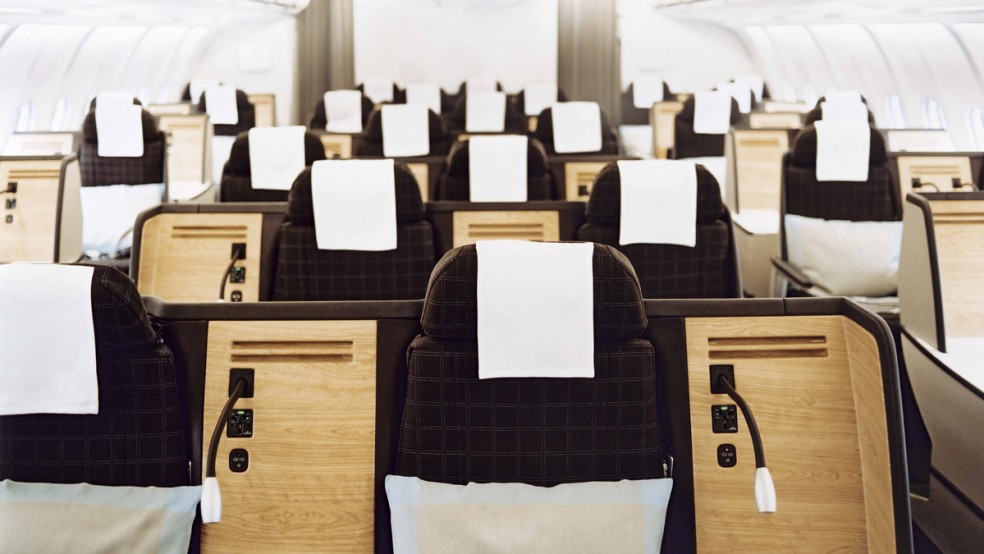 Flying Swiss
SWISS Business Class is pictured above and below. All flights require a transfer in Zurich or Geneva.
Importantly if you click a destination name on that page, you get taken to a new page with a calendar. This shows you all dates where the sale fare is available.

SWISS offers an impressive Business Class service. You get a good quality seat, good food and drink and a very attentive crew. It is a very civilised experience.
I flew in SWISS Business Class to Dubai last October with my family and enjoyed it, although the seats are showing their age a bit. I didn't do a review, unfortunately. However, Anika did review her recent SWISS flight from Zurich to Chicago here.
SWISS and Lufthansa are both part of Lufthansa's Miles & More loyalty scheme, although you can of course credit your flight to any other Star Alliance programme. Whilst I am generally very positive about Miles & More, you may want to consider other Star Alliance schemes as M&M is now revenue based – and when you pay peanuts for your fare, you earn peanuts in miles!
How to book
For SWISS, you need to book via this page here.
For Lufthana, the Business Class deals for London, Edinburgh, Birmingham, Glasgow and Manchester can be found here.
In theory, you can book all flights on either airline from either website.
Your best option to maximise your miles when paying is American Express Preferred Rewards Gold. This offers double points – 2 per £1 – when you when you book flight tickets directly with an airline. Our review of Amex Gold is here.
These deals should remain bookable until 10th November.