Review: Flying SWISS Business Class from Zurich to Chicago (Part 1)
Links on Head for Points may pay us an affiliate commission. A list of partners is here.
This is our review of SWISS Air Lines Business Class on the Airbus A330-300, between Zurich and Chicago.
This flight was part of my extended pre-baby trip back to Europe for the Head for Points Summer Party and some marketing meetings. It was booked at the last minute, less than a week before departure.
My original plan was to return to the US on a Virgin Atlantic flight. However, as I had to get a new passport in Germany after it got damaged, I had to cancel my flight and find another connection. Luckily my Virgin Atlantic flight had been booked with Flying Club miles which meant the 'damage' was only the modest cancellation fee. Had my flights been booked with cash we would have been looking at thousands of pounds …..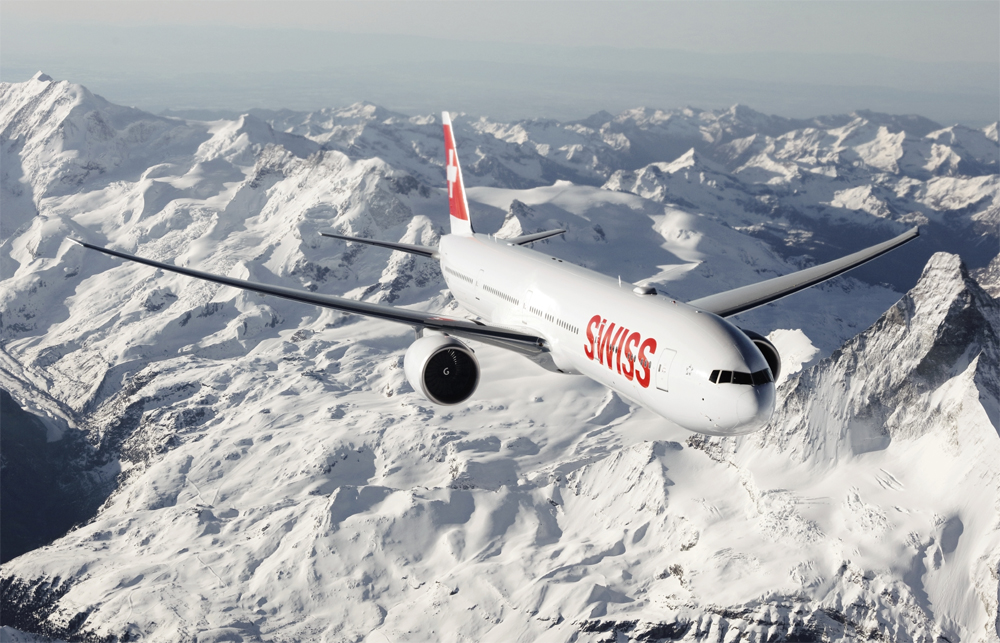 Booking at the last minute with points doesn't always work out well and requires some flexibility. The first options we found would have left me stranded in either Washington or New York and facing a long drive. Luckily I found a connecting flight on SWISS from Düsseldorf which allowed me to route via Chicago.
SWISS is part of Star Alliance. My flight from Zurich to Chicago cost 56,000 Miles & More miles, which included the connection from Düsseldorf for free. The taxes were surprisingly reasonable, mainly because there was no Air Passenger Duty as I was departing from Germany, at £273 (332 CHF) for the one-way flight.
Check in
Düsseldorf Airport was incredibly busy, especially the Lufthansa/SWISS check in area. Had I flown in Economy, I would've had to wait quite a long time to drop off my luggage. The image below shows only a third of the queue: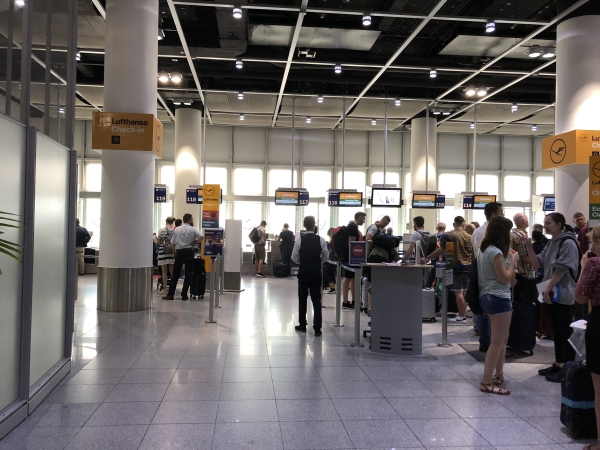 The Business and First class check in desks were to the left with around 5 people waiting in total.
The Lounge in Düsseldorf
After clearing security I made my way to the Lufthansa Business lounge. This is a great sized lounge with a large number of sitting areas. At 8am the lounge was fairly empty but it filled up over the next hour.
The breakfast buffet had some warm options, and in true German style a great bread and pretzel selection with cheeses and cold cuts, as well as some cereals.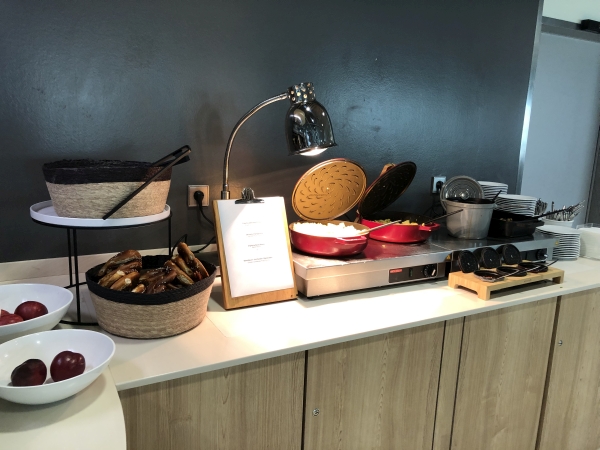 and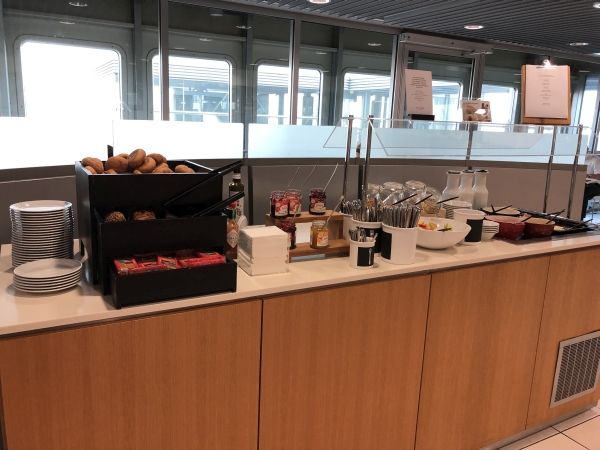 There was also a self service bar with a variety of alcoholic and soft drinks.
Düsseldorf to Zurich
The flight from Düsseldorf to Zurich was quite a short flight with a flight time of 40 minutes – although by the time you factor in boarding, taxing and de-planing time it was more like 2 hours.
My seat was comfortable with a good amount of legroom. Like other carriers, SWISS keeps middle seats empty in short haul business.
Shortly after take off we were served breakfast. There was just one option as pictured below and another passenger who was a vegetarian was told she could leave the cold cuts and just eat the cheese. Unfortunately, the meat was touching the cheese…
The flight attendant couldn't tell me what kind of nuts were in the Bircher muesli and as I didn't trust the grapes to be washed, I ended up eating just the croissant with jam – which was fine as I did have a big breakfast in the lounge.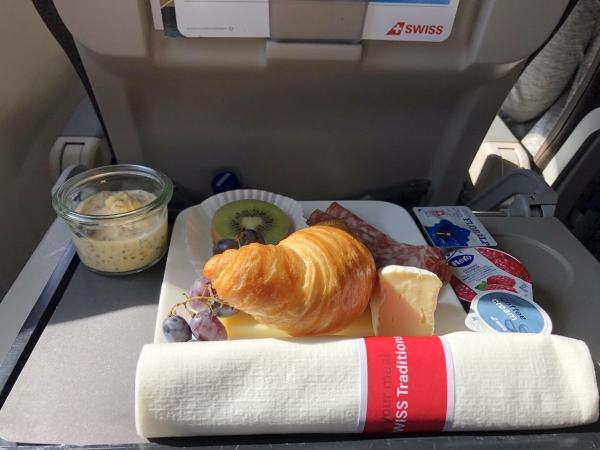 Connecting in Zurich
My layover in Zurich was less than two hours and I had to make my way from the A gates to the E gates which involved a lot of walking and taking a train and took about 25 minutes. At the E gates I had to go through passport control which wasn't too bad as I had an EU passport and was able to use the e-gates, but the other queues were quite long.
The SWISS Business lounge was another 5 minutes from passport control, located opposite gate E46. You can read my review of the SWISS Business class lounge here.
I left the lounge about an hour before my flight and made my way to the gate which was a short walk from the lounge. Just before the gate was a further passport control where I was asked about my US Visa, reason for travel and so on. I was able to use the business/first class line, but again the economy line was pretty long as you can see in the picture below: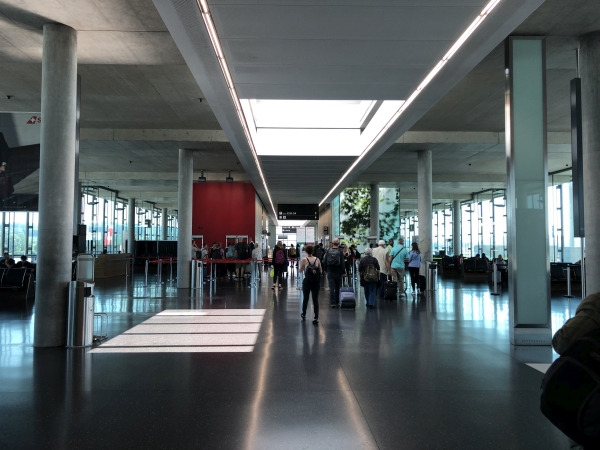 Where should you sit in SWISS Business Class?
I chose my seat online in advance. SWISS has an odd seat selection policy where you can only choose from a number of seats for free unless you want to pay €140 or have Miles & More Senator or HON Circle status with the Lufthansa group.
There were a total of 45 Business seats spread across two cabins. Nine are in the forward cabin, followed by the business class bathrooms and the remaining 36 seats in the second cabin.
SWISS Business class has a 1-2-1 and 2-2-1 layout with the paired seats fairly close to each other. Some of the single seats are throne seats whilst others have side tables and storage. I couldn't book any of the single seats and didn't want to have to climb over a stranger to get out of my seat so I picked 14D which seemed like the best option of the ones I could pick for free.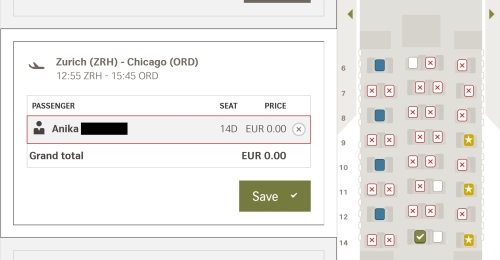 I was offered an upgrade to seat 4K at check-in which was a single window seat and in the forward cabin. I snapped it up, and was very pleased I did.
As you can see in the picture below there is pretty much no separation between the two seats in the middle. If you are travelling with your partner or a friend, this is great, but with a stranger next to you you might miss some privacy.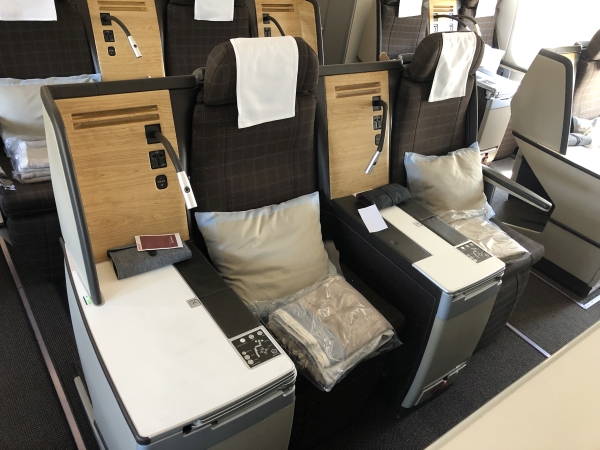 and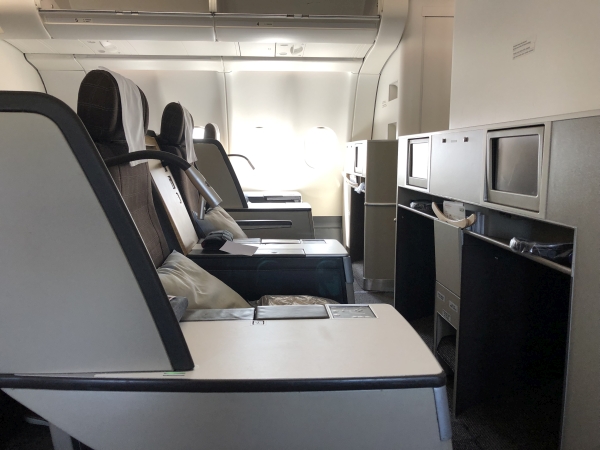 My seat
My seat had the table/storage unit to the right which meant I was literally next to the aisle. As the toilets were behind me there was no issue with people walking past. If you are able to, I'd still recommend getting one of the seats where your table is on the other side.
There was a reading light which could be bent and a plug socket for your laptop. The remote control for the IFE was under a flap – I didn't like using it though as it was very touch sensitive and I accidentally fast forwarded my movie more than once.
The table was a little bit tricky to operate especially when putting it back, but there were instructions in the magazine pocket.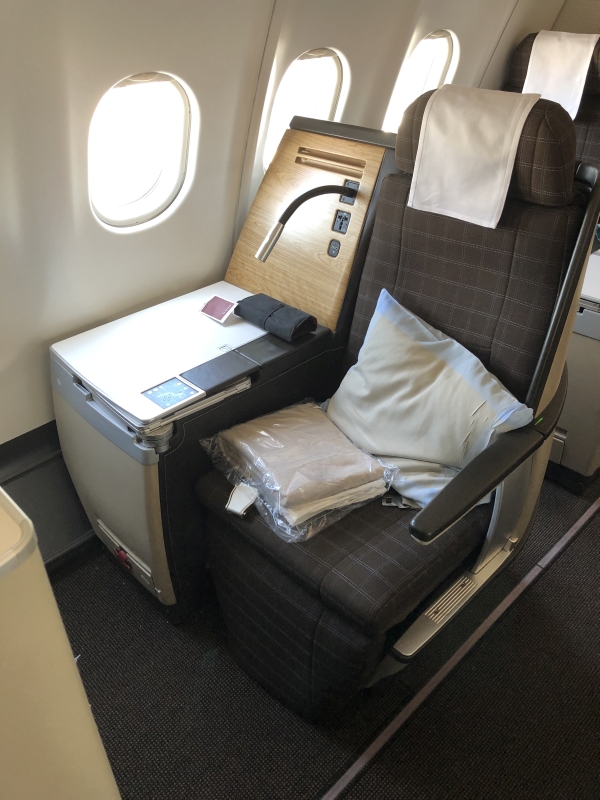 The magazine pocket also had a hanger in it with the seat number on it which makes it easier for the crew to return your suit jacket at the end of the flight.
This is the end of Part 1. Part 2 of our SWISS A330 business class review, which looks mainly at the food and drink on offer, is here.