Two Head for Points reader success stories
Links on Head for Points may pay us an affiliate commission. A list of partners is here.
Back in September, I wrote about a track day that Hilton and McLaren had organised at Dunsfold Circuit.  This was a once-in-a-lifetime opportunity for a car enthusiast to push a McLaren 570S and 720S to its limits.
The winner of the auction was a HfP reader.  He dropped me a note on how it went:
Despite the fact that the weather couldn't have been worse for most of the day, I couldn't have imagined having more fun either!
McLaren brought four cars, two or which were really way too playful for the conditions but we did manage to get them out on the track in the last 90 minutes or so and I am still grinning this morning. We beat Sebastian Vettel's lap time so for me, job done. 👍
Together with the friend who came with me, we did some mental maths to see how much the experience cost/was worth. They laid on a good event with plenty of help and some nice gifts so we calculated that the cost must have been at least £6k but we could easily imagine it might have been closer to £10k. There were 12 of us on the day and 2 on track at all times but we never seemed to be waiting long to get back in the car. Obviously whilst we we were socialising, a few new friendships and even (as it turns out) a couple of potential deals!
Anyway, back to the academic question of value for points ….. at the very lowest, this cost £500 per person to lay on and quite possibly more like £800. My eventual net outlay after some talks with Hilton about the auction process was 350,000 points so at 1/3p per point, £1050. At that, I was very satisfied. Obviously without your "heads up" I probably wouldn't have spotted this auction at the right time so I am once again immensely grateful for your advice. As always, many thanks!
And here is a picture (click to enlarge)! Looking at the weather I would have been worried about driving to the shops yet alone whipping a supercar around a racing track …..
It is worth mentioning that two of the other guests had come via a Great Ormond Street charity auction, to which Hilton had generously donated two tickets for the track day.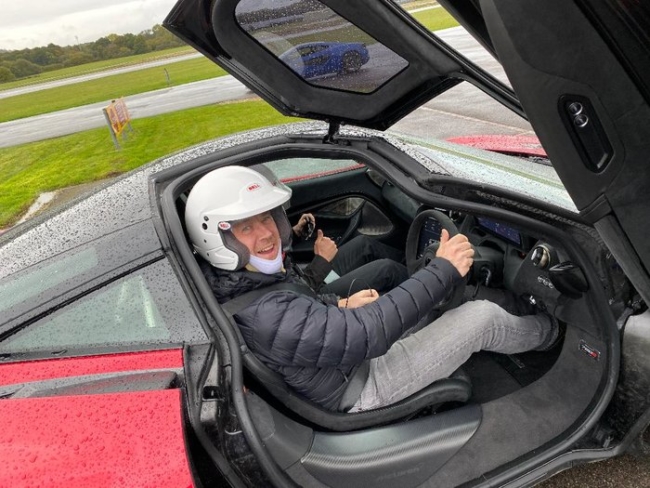 Whilst we're on the topic of reader emails, I hear from a lot of readers telling me about the trips they have booked after following the advice on HfP.
I very rarely publish them, but I thought this one was worth sharing, especially as the reader managed to bag Club Suite too.  It's easy for many of us to forget the thrill of our first premium cabin redemption.
Hi Rob
It was only about three years ago I discovered the joy of Head for Points although I had been collecting Air Miles for years and not really knowing what to do with them.
Last week, we (a family of four) travelled business class for the first time ever – we flew to Toronto!
We used two companion vouchers accumulated from the BA Amex credit card following your advice.
On the way out we flew on the new A350 with the new business class – the stewardess told us the plane was only a week old! We loved it – the seats and space were amazing, the kids loved the in flight entertainment and I loved the food and booze! Was such a different flight experience from economy and the staff were really friendly and helpful.
On the way back we flew on a 777 I think and had the old business class – it was definitely tired but we still loved the experience – we had the four seats in the middle – two facing on way and two the other – the kids (and my wife) slept solidly for 5 hours on a 6.5 Hours flight – something they've never done before.
Anyway rather than ramble on more the reason I emailed you was just to say a massive thank you from all of us as it was an experience we'll never forget and something we would never have done if we hadn't followed your advice. (Toronto was amazing too)!
The only downside is that going back to flying long haul in economy is going to be hard work… but we are already saving hard for the next two vouchers and hopefully will be back in business class in a couple of years!