NEW: Find British Airways and Virgin Atlantic reward flight availability using SeatSpy
Links on Head for Points may pay us an affiliate commission. A list of partners is here.
It's no news to anyone that trying to find reward flight availability on British Airways and Virgin Atlantic can be a bit of a nightmare.  Neither airline makes it particularly easy to see when they have redemption availability, and you often have to search day-by-day which can be a painful (and slow) process.
For the last couple of years, Reward Flight Finder has been the de facto way of searching for British Airways reward seats.  However, Reward Flight Finder no longer has access to Virgin Atlantic reward availability which blunts its usefulness.  It also has a fee for certain features.
Welcome SeatSpy ….
SeatSpy is a new entrant to the 'reward availability search' market.  It is the easiest way of checking redemption availability on both British Airways and Virgin Atlantic.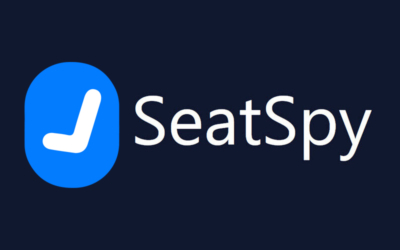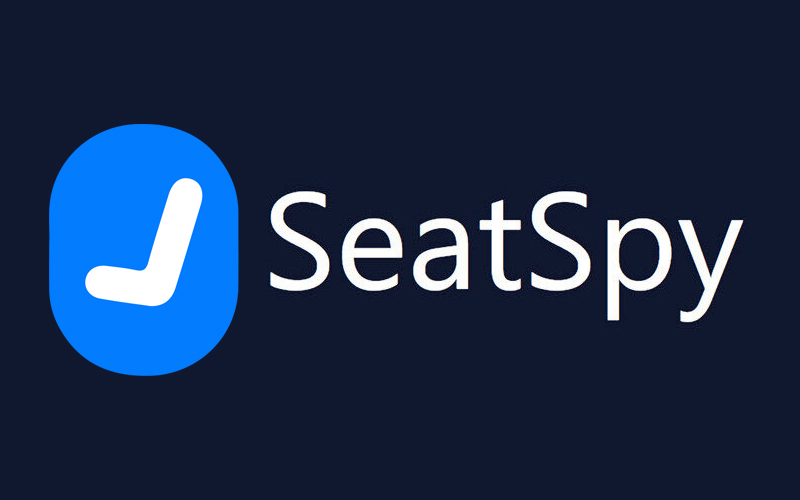 It is currently in a beta-testing phase and the whole suite of features is free to use. At some point this will transition to a free and paid model letting you set up more granular alerts and other 'premium' features.
For now, however, you can obtain hourly checking of reward availability on your preferred routes for free.  This saves you the £3 fee charged by Reward Flight Finder for its premium service.
You can see the SeatSpy website here.
How to find BA and Virgin Atlantic reward availability
One of the unique perks of SeatSpy is the ability to search Virgin Atlantic flights as well as British Airways.
Despite the recent ability to book Air France, Delta and KLM flights through Virgin Flying Club, SeatSpy can only search Virgin operated flights.  Similarly, it can currently only find British Airways availability rather than all oneworld partners.
All you have do is put in your departure and destination point, as well as number of tickets you are looking for.  There are separate forms for BA and Virgin Atlantic to reflect the different cabin classes and routes networks.  Here is the Virgin form: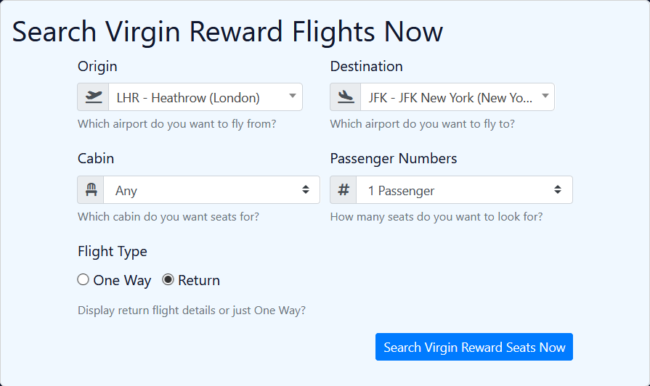 … and this is how the results are displayed, with outbound availability in the left column and inbound on the right: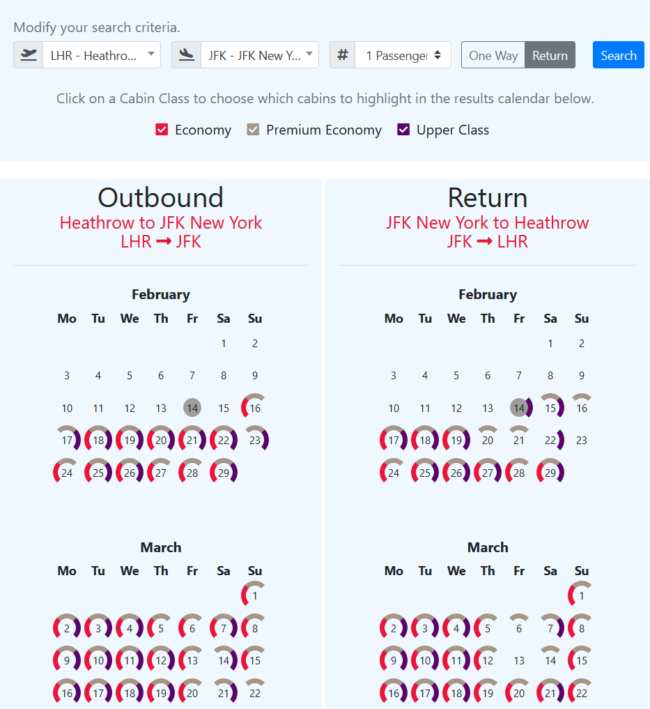 You'll notice that – if you wish – SeatSpy displays availability in every cabin class at the same time, although you can easily toggle which cabins you would like to see. Red is Economy, silver is Premium and purple is Upper Class.
This makes life easier than Reward Flight Finder if you are ambivalent between classes or are willing to split your family across classes.  With British Airways, you may be ambivalent between First and Club World given that both have flat beds.  In this case, select First and Business and you'll see dates when either have availability.
If you need four seats and would split 2+2 across First and Club World, select First and Club World with a minimum of two seats.  You can easily see dates which allow a split trip at the same time as seeing dates which can get you all into the same cabin.
The results show availability on all 330 days (Virgin) or 355 days (British Airways) that tickets are bookable. You do not have to select specific dates for your flights, which gives you an excellent overview of availability for the year ahead.
There is another interesting feature with SeatSpy.  Reward Flight Finder does not show the exact number of reward seats available.  This doesn't matter if you will only travel on points, but it is a bit inflexible if you are willing to mix cash and reward tickets.
If you are happy to mix and match, search SeatSpy for just one award seat.  When you hover over each date, you see a pop-up showing the exact number of seats (1-9) in that class.  You can then see quickly which dates have four seats, which have three seats, which have two seats etc.
The same process applies for British Airways.
Don't know where you want to go?
If you don't have a specific destination in mind, but are restricted to certain dates, you can use the 'Where Can I Go' tool. In this case, you plug in your departure airport, the dates you want to fly and how many tickets you are looking for.
You are then shown a full list of destinations for your dates with the required seats available for redemption:
Underneath the map you'll also find a list view.
Reward Flight Finder also has this feature, but only for British Airways and only as part of its '£3 per month' premium tier.  For now, until SeatSpy launches a premium tier, it is free for everyone.
Get alerts when reward seats open up
If there isn't award availability on the flights you are looking at you can set up email and text alerts.
To create alerts you need to sign up for an account. You can then set up an unlimited number of alerts for specific flights and dates and receive a text message or email if and when reward seats are made available. This is a great tool for very popular flights as – whilst initial reward availability can be snapped up quickly – BA and Virgin both 'drip feed' additional capacity throughout the booking window.
We've also integrated SeatSpy into Head for Points
You can now trigger a reward flight search without leaving Head for Points.  We thought this would be a useful extra benefit for HfP readers.
If you are reading this on a desktop computer or tablet, look in the sidebar on the right about half way down.
If you are reading this on mobile, scroll to the bottom of any article and look under the first advert. You will see a SeatSpy 'widget' box.
Type in the cities you are thinking about (it accepts city names OR airport codes), select the number of seats, select British Airways or Virgin Atlantic and hit search.  You will be taken to a special page on the SeatSpy website showing the results of your search.
Conclusion
SeatSpy is an impressive new tool if you're looking for a comprehensive way to search both Virgin Atlantic and British Airways redemption availability.
All the features are currently in beta and free to use so it is well worth having a play with it to see what it can do.