Review: Britain's last railway restaurant car – GWR First Class Pullman Dining
Links on Head for Points may pay us an affiliate commission. A list of partners is here.
This is a review of GWR First Class Pullman Dining written by my friend James.
We cover trains from time to time on Head for Points, and anyone who appreciates lounges and decent food when they fly will also find this of interest. It is a surprisingly impressive service and, once you've read the review and seen the photographs, I think you'll be convinced too. Over to James ….
An invention of the Great Northern Railway Company, the first dedicated restaurant car in Britain started operations in 1879. Almost 150 years later, Great Western Railway (GWR) is the only remaining operator of restaurant cars in the UK on selected weekday services to and from the South West of England and Wales. I have travelled countless times with GWR in First Class over the last 12 years but had not until this trip (done prior to lockdown) sampled their flagship Pullman Dining service.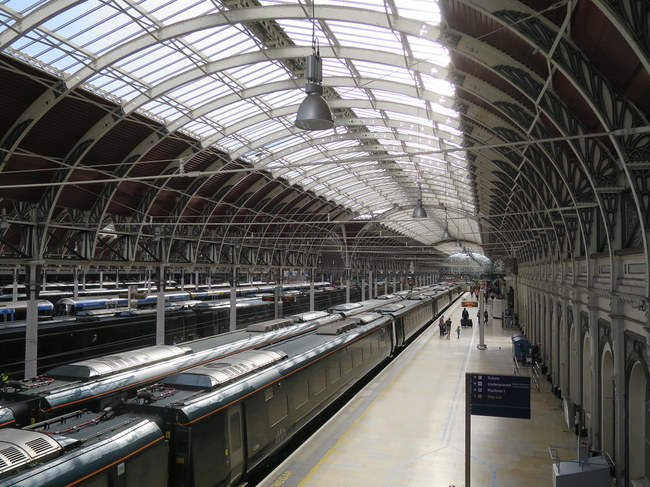 I arrived at Brunel's masterpiece, London Paddington station, from Heathrow via Heathrow Express. Hopping up the staircase to the footbridge (originally known as the 'galley') at the back of the station's main train shed, I got a great view of the magnificent roof as I descended to Platform 1, home to the GWR First Class lounge.
GWR offer lounge access to all First Class ticketholders regardless of price paid. On this occasion, I was travelling on an Advance Purchase First Class ticket for £47. This was a one way to Taunton, including a Railcard discount of 30%.
It's important to note that simply having a First Class ticket on a service where Pullman Dining is operating does not include the Pullman Dining service itself. This must be booked separately, either online (as I did), by phone or in the lounge prior to departure, and paid for separately onboard the train by card or cash on completion of the meal.
Standard Class ticketholders can access Pullman Dining, but cannot pre-book. Pullman Dining services departing from London are often fully booked which is why on this occasion I had purchased a First Class ticket in order to guarantee a Pullman Dining reservation.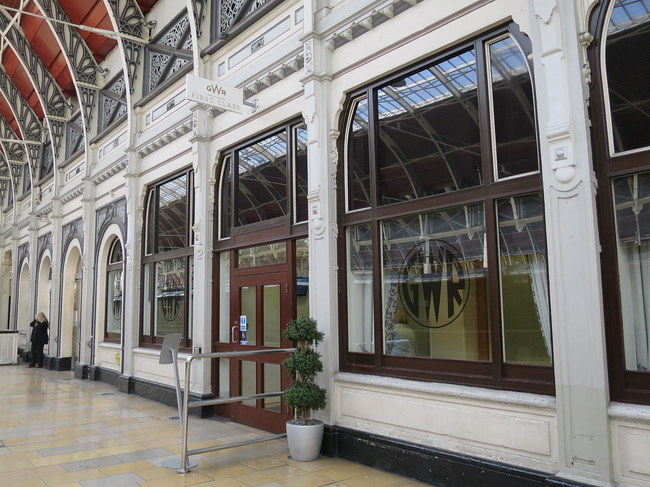 The GWR First Class lounge at London Paddington station
The GWR First Class lounge on Platform 1 is housed within the original Victorian station buildings. It is split into two rooms; a main one upon entry, and Queen Victoria's original waiting room. My ticket was checked by the receptionist and I was welcomed into the lounge.
Behind reception, the airy high-ceilinged main room opens out with luggage storage racks, coat stand and news stand on the right, with a TV and train departure information screen above. I uses 'news stand' in the loosest sense here given only the bare minimum of four different freebie magazines were available, with no newspapers in sight. The wall behind the train departure information screen was in need of decoration when I visited, although by the time of my next visit this had been repaired.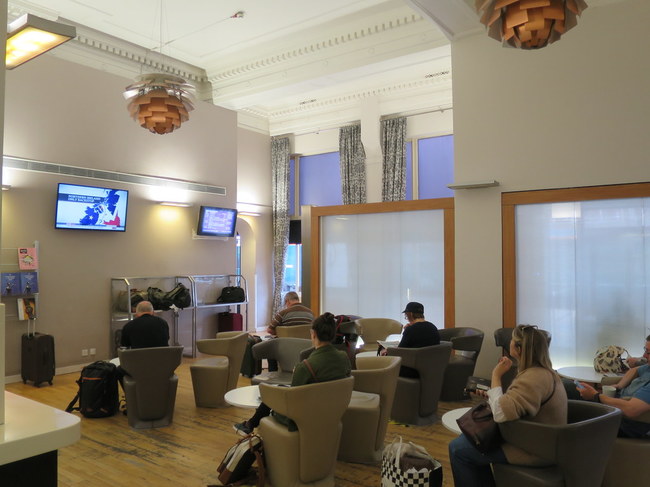 This room features a single main seating area with around 14 uncomfortable armchairs and a handful of low coffee tables. The wooden flooring throughout this area, and in reception, is badly worn and in need of replacement.
Wrapping around a small prep kitchen, the first of three buffet sections offers a couple of coffee machines and in-built fridges containing concentrated orange and apple juice, bottles of still and sparkling water and cans of Pepsi.
Around the corner, additional buffet sections offer a small selection of sandwiches, fresh whole fruit, crisps, nuts, biscuits, flapjack and leftover pastries from the breakfast service. Whilst the food and drink offering is undoubtedly meagre, with Pullman Dining awaiting me I wasn't fussed.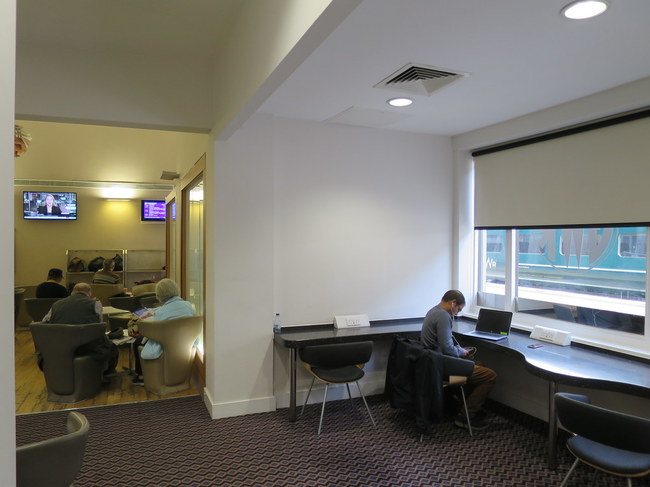 Towards the rear of the room, a business area has been fashioned from what formerly was a bookable meeting room; a handful of basic laptop desk positions are available with views out to Platform 1. Whilst sporadic wifi is available throughout the lounge, this is the only space where power and USB sockets are readily accessible to passengers. This area features the rather attractive GWR carpet that appears in First Class carriages on the few remaining GWR High Speed Trains (HSTs) and in berths and selected carriages on the Night Riviera Sleeper Service.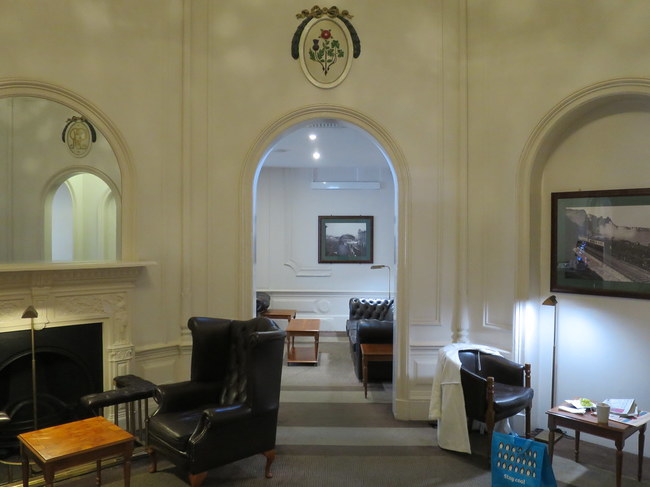 Accessed along a short corridor that passes the original waiting room access doors onto Platform 1, Queen Victoria's waiting room is an architecturally interesting octagonal room lit by a centrepiece chandelier. Additional seating space available in a room off to the side.
Both rooms adopt traditional (and dated) brown leather seating – armchairs in the octagonal room and sofas in the anteroom, with traditional coffee tables and floor lamps, all set atop a carpet long since needing replacement. This area, whilst being dark, tends to be quieter than the main room, although on this occasion had a fair amount of passengers meaning photography was difficult.
Whilst the GWR First Class lounge is a welcome sanctuary from the hustle and bustle of Paddington station, it is long overdue a comprehensive refurbishment. What could be an elegant nod to the company's illustrious heritage is instead a vaguely forlorn and sadly forgotten space.
Onto the train ….
Since 2017, GWR has operated a fleet of new 93 Hitachi AT300 Class 800 and 802 units on their long distance network from Paddington. GWR has named these Intercity Express Trains, or IETs.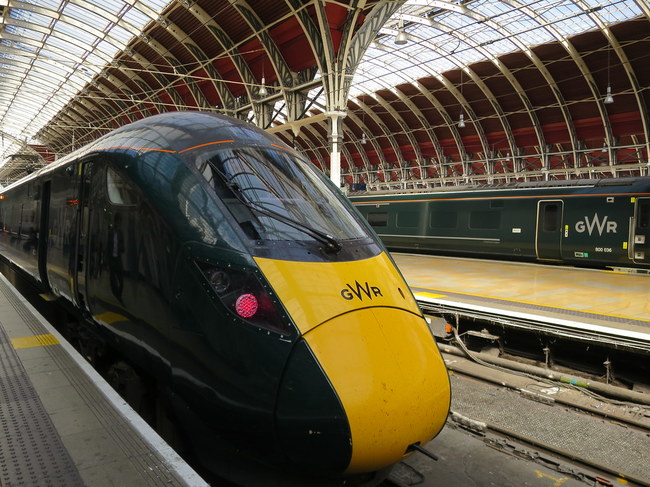 GWR's IETs are comprised of either 5 or 9 carriages, with two 5-car trains regularly being joined together to form a 10-car train. The carriage photos that follow are from a 9-carriage train I experienced on the return journey. The full First Class carriage features 19 rows of seats in a 2-1 configuration with overhead luggage racks above. Single seats alternate direction halfway down the carriage, whilst double seats are grouped into four seats facing each other.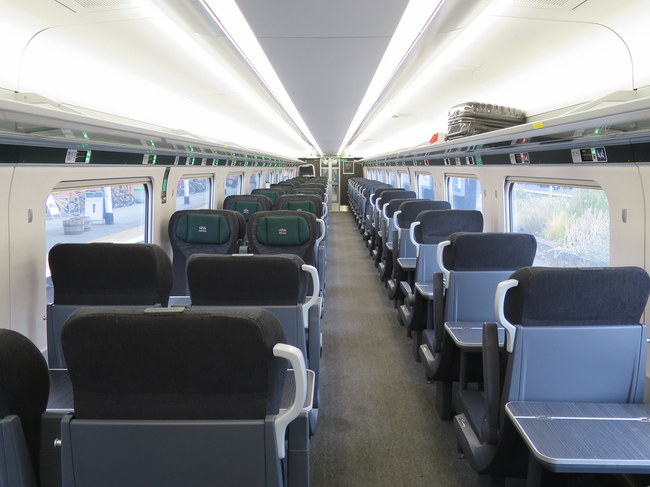 To comply with the latest fire regulations, all First Class seats are upholstered in a rather drab fabric rather than the leather of the HSTs. Seat comfort is notably reduced with the minimal padding to both the seat base and back quite noticeable after an hour or so. It seems odd that leather should be permitted onboard an aircraft but not onboard a train.
Headrests can be slightly adjusted with wings either side, and manual seat recline is available, albeit to a limited degree. Gone is the smart carpet of the HST fleet, replaced with a bland grey to match the overall colour scheme – dull.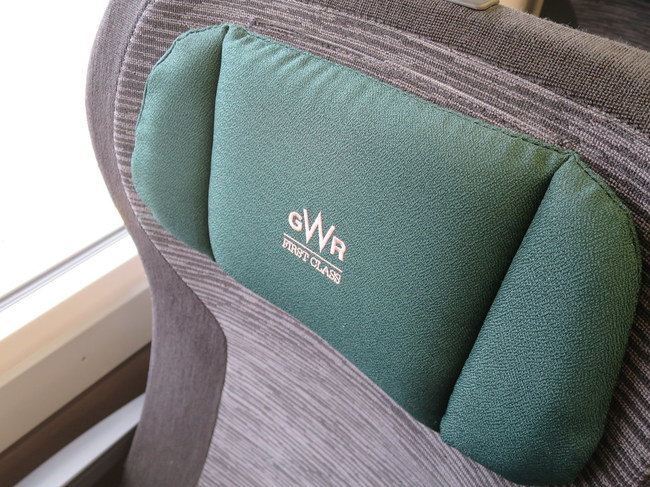 All First Class seats have a table, and each window seat has a coat hook within the wall panel, with aisle seats featuring grab handles. Every seat has access to both USB and power sockets (albeit dual seats share the same ports), and wifi is available, allegedly at a faster speed in First Class compared to Standard Class (although 'fast' is not a word I associate with GWR's wifi). Windows feature manually adjustable blinds instead of curtains.
The IET represents a step up from the HST in terms of noise and general ride comfort, but passenger comfort (in First Class, at least) is degraded by the none too comfortable seats.
The GWR Pullman Dining experience
Pullman dining was in Carriage L at the rear of the train, the half-carriage adjacent to the kitchen. The crew weren't quite ready to receive passengers as boarding was announced, and so we were asked to take a seat in the adjacent half-carriage of First Class, which caused some confusion for passengers with reserved seats in that car.
We were invited to the Pullman Dining carriage just before departure and offered a choice of seat – either an individual seat or a seat in a group of four with other passengers. Sharing a table with others (none of whom may know each other) is fairly common on well-occupied Pullman Dining services so be prepared for this. Board early if, like me, you'd prefer to practise some earlier-than-required social distancing and dine alone.
I took Seat 53, a single seat with a clear window view. As it turned out Carriage L would be fully occupied on this service, with at least one table in the adjacent Carriage K also being set up for Pullman Dining, presumably much to the envy of other passengers there.
I was impressed with the crew as soon as I sat down. They seemed to be as enthusiastic to be on board as I was, a genuine personal welcome was offered, and drinks orders were taken promptly. There was no bar menu (other than the wine list within the menu), but the crew seemed to be able to make most drinks on request. My G&T was a generous size, and both the gin and tonic water were presented to me first (with a choice of two of each) before pouring.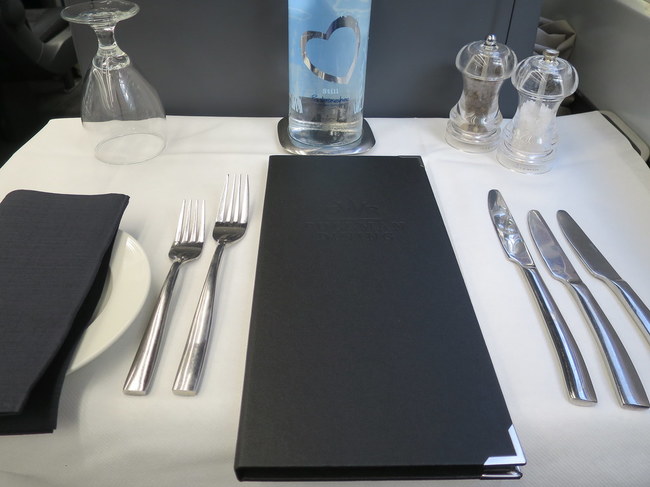 Tables were pre-laid with today's West Country ingredient-themed menu and wine list in a smart Pullman-branded folio, a high-quality white paper tablecloth and black paper serviette, cutlery, bread plate, wine glass, Cole & Mason salt and pepper cellars, and a large glass bottle of complimentary still mineral water sitting atop a metal plate (with small plastic bottles of sparkling water available on request).
With the table set up for lunch, there was limited space to store other items, and I ended up balancing my camera and phone on the window-side armrest of the seat. For this reason, a larger 'group of four' table may have been a better option.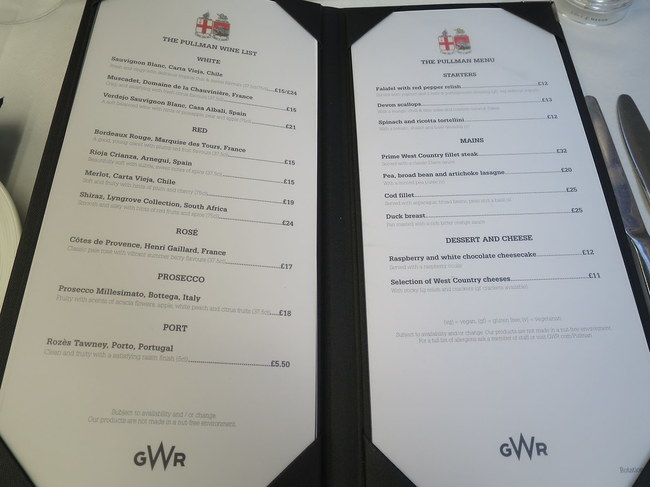 Orders were taken from the rear of the carriage, with the destination of each passenger asked. I queried whether there would be enough time for three courses given the relatively short travel time to Taunton of 1h 43m and was informed that there was, albeit at a fairly quick pace between each course. The crew prioritised the plating of my dishes over those of passengers who were travelling further afield.
The minimum order from the menu for each passenger is a main course. Standard Class passengers can effectively get an upgrade to First Class for the price of a main course!
Starters appeared as we drew into Reading station, which is the second stop and the last one where passengers joining the train can take a seat in the Pullman Dining car (subject to reservation or if space is available on the day).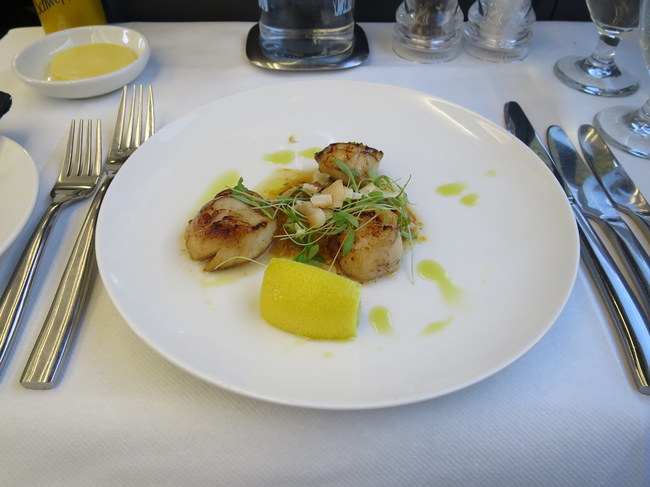 My choice of beautifully presented Devon scallops with a mango, chili and lime salsa and toasted coconut flakes was served with warm bread offered from a basket, accompanied by a dish of butter. This starter was an excellent choice, with the scallops cooked perfectly and the flavours popping out. Crockery no longer bears the Pullman Dining branding as it did in the past.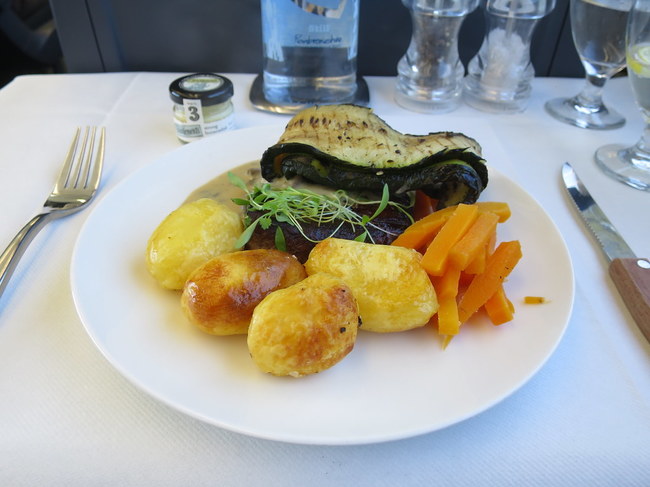 Further bread was offered to coincide with the delivery of my main course just past Hungerford – the excellent prime West Country fillet steak with a classic Diane sauce. All main courses are served seat-side by the crew with the same selection of vegetables from large dishes; I opted for some roast potatoes, courgette and carrots, and top-ups of vegetables were offered throughout the course. A choice of horseradish or mustard in individual glass pots was offered, along with a steak knife. This dish tasted just as good as it looked.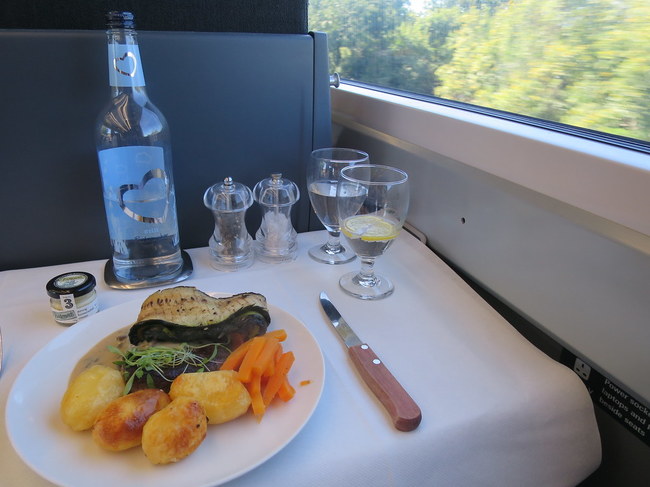 To complete my Pullman Dining experience, I opted for the single dessert on the menu – the raspberry and white chocolate cheesecake with a raspberry coulis. This was utterly divine, served at my request with a peppermint tea. As with mineral water, tea and coffee is offered on a complimentary basis, and was served with a Pullman-branded chocolate from a tray.
My bill came to £62, plus a £5 cash tip, resulting in a total spend (including the ticket) for this one-way trip being £114, roughly the equivalent of the cheapest Band 1 British Airways Club Europe sector. That seems like pretty good value to me.
From the dedicated staff, to the excellently cooked and presented comforting food, to the convivial atmosphere amongst other passengers on board, GWR Pullman Dining is a unique experience in the UK and one which I'm keen to repeat in the near future.
PS. Please note that, if you are not in a Pullman Dining car, GWR's usual First Class catering is decidedly average. Whilst theoretically there is a set menu, in my experience what is on offer from the trolley differs greatly according to how busy the service is, time of day, day of the week, time of the year and whim of the crew. A basic selection very similar to that available in the First Class lounge at Paddington is usually available. This is in stark contrast to many other UK train operating companies on long distance routes where full meals, albeit nowhere near the standard of Pullman Dining, are offered to all First Class passengers on weekdays.