Interview: Qatar Airways UK Country Manager, Gary Kershaw, chats about life under corona
Links on Head for Points may pay us an affiliate commission. A list of partners is here.
I had a catch-up a few days ago with Gary Kershaw, who runs Qatar Airways for the UK and Ireland.  We had a lot of ground to cover and we decided in advance that it was worth sharing with a wider audience.
Our chat looks at:
how Qatar Airways became the world's biggest passenger and cargo airline
plans for its UK route network
how they are currently crewing and catering their flights
how they see demand coming back for long haul travel from the UK
their current fleet plans, including Qsuite 2.0
the new lounge in Heathrow Terminal 4
the new British Airways joint venture for flights to Australia
There is a lot to get through, so let's jump straight in ……
Introductions
Rob: Hi Gary. The last time we spoke was at the Head for Points Travel & Loyalty Awards dinner on 13th January.
[Qatar Airways won 'Best Business Class Seat & Service'.  The photo below shows Gary, left, with his colleague Michael Clarke collecting the award].
I just pulled up the newspaper front pages from that day and there is no mention of coronavirus at all. It all seems a long time ago now.
Before we talk about that, can we start by running through your background?
Gary: I joined Qatar Airways about 18 months ago. I was previously General Manager for South African Airways in the UK, and before that I ran the UK and Continental Europe sales teams for Air New Zealand. As Country Manager, I am commercially responsible for all of the Qatar Airways sales and marketing activity in the UK.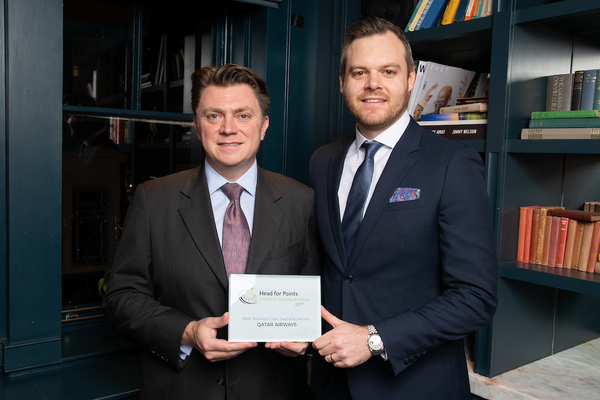 Where is Qatar Airways flying at the moment?
R: You recently announced that Qatar Airways is currently the world's biggest airline, both in terms of passengers and cargo.
[IATA data shows that Qatar Airways accounted for 17.8% of global passenger kilometres in April 2020, more than the next four airlines combined. It also had the largest cargo market share, with 7.2% of kilometres flown.]
Was this a strategic decision to keep flying and grow market share and brand awareness or did you just suddenly find that your competitors had fallen away and you were the only ones left?
G: The short answer to that is yes.  Our Group Chief Executive, His Excellency Mr. Akbar Al Baker, made made the decision very early on that we would be 'the airline that took people home'. We wanted to ensure that customers could trust us, that we would operate when we said we were going to operate and that we would do it in the safest way possible.
We reached out very quickly to get the best medical advice we could on how to operates, and we reached out to embassies to offer our help. In the UK, 80% of our passengers have been on one-way tickets, either inbound or outbound. At the end of May we were flying to 30 destinations, and hopefully up to 80 by the end of June.
R: There are some interesting routes flying that people might not expect such as Vienna and Barcelona. Venice is back in July. It's not just the key gateway cities. How are you choosing?
G:  It is a balance of the cargo opportunity and the passenger opportunity.  What has been good for us throughout this period has been the flexibility of our fleet to offer various combinations of seating and cargo capacity to allow us to put the right aircraft in the right place.
Qatar Airways in the UK
R: In terms of the UK network, what is operating at the moment?
G: We have Heathrow and Manchester at the moment. The June schedule is two per day from Heathrow and one from Manchester. Edinburgh will be open by the time this is published, operating four times per week. Dublin is also open, flying four times per week. There is nothing out of Cardiff, Gatwick or Birmingham at the moment.
R: Do you see a future for the Gatwick operation? There is clearly an opportunity now to pick up additional slots at Heathrow, either outright or borrowed from British Airways, given that you have a 25% shareholding in IAG.
G: Gatwick was an incredible success for us.  We launched the flights at very short notice and it went very quickly to triple daily.  We have also done equipment upgrades to increase capacity.  We don't know what the future looks like, but based on past performance I would hope to be back at Gatwick.  It is very attractive to us and suits our premium leisure customers.
R: Given the lack of competition now at Gatwick, with Virgin Atlantic, Norwegian and British Airways pulling out – perhaps permanently for Virgin – there is probably an increased opportunity there.
G: Yes, I agree.
Catering with coronavirus
R: British Airways is currently running a very stripped down catering service in Club World – literally a sandwich, water and a Kit Kat in a plastic bag. You get a slice of reheated pizza if your flight is over 10 hours. I've seen photographs of this pizza and it's not good! [This interview was done before the announcement of BA's improved catering which launched last week.] Qatar – and, to be fair, Emirates and Etihad – all seem to be doing their best to offer a proper premium service at the moment in Business Class.
G: It's a tray service with a cutlery wrap, not a table set up, so you are getting your entire meal served at once to minimise crew contact.  You are getting the same quality and quantity that you would expect from Qatar Airways.  In Economy, all meals are cutlery are being served sealed as usual.  Hand sanitiser is available in cabins for both crew and passenger use if they wish.
R: You have decided to have cabin crew wear full PPE during flights. Other airlines are asking crew to wear masks but nothing more. The photographs you have circulated to the press show crew who look like they are about to enter an operating theatre! Has it gone down well with crew and passengers? I would imagine it could easily make people feel less comfortable.
G: It all goes back to two things. The first is that we aren't taking any chances, and the second is that it offers a level of reassurance to the customer. This is part of what we've been trying to say all along, which is that if you fly with us you can fly with confidence. It hopefully doesn't detract from how the crew can interact. I had some feedback from a bioengineer who had flown with us and was very impressed with what we had done. I accept that you could find it off-putting, but what we're finding at the moment is that the people who are travelling are people who have to travel and are reassured by what they are seeing on board.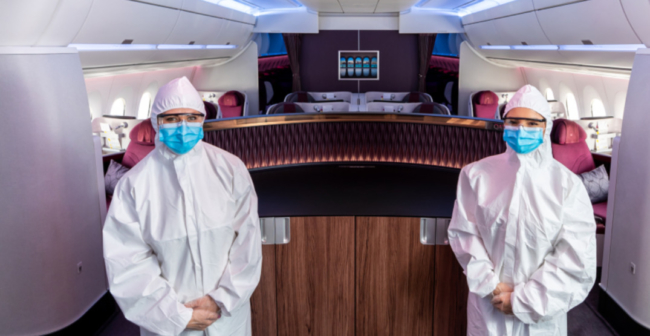 Future demand
R: How are you seeing forward bookings at the moment? Do you see a quick ramp up of long haul travel from the UK once the current quarantine rules are lifted? As I talk to you I am sitting in a virtually empty office building in Central London, with no sign of any return to normality.
G:  I think there are a multitude of things in that question.  One is that clearly no-one is going to go anywhere in the current climate if they need to self-isolate when they come back.  I think there will definitely be a 'wait and see' attitude towards July and August.  Certainly talking to some of the business travel management companies and leisure agents, they have spent 2-3 months working very hard on refunds and rebooking. They are not seeing much traction in terms of new bookings but enquiries are up.
Some are more bullish than others. Some are talking about October but the majority of agents are talking about January and onwards next year.
What has been encouraging is the number of corporates that now want to talk to us for the first time. The Qsuite offers a level of physical distancing that other business class seats do not. It is also because we have been flying throughout and we haven't been cancelling services. We operate when we say we are going to operate. There is increased interest in flying what would otherwise be direct services but with us via Doha, to places like Singapore and Hong Kong.
R: I don't believe the talk of businesses trading down from Business Class to save money. If you are a blue chip employer, it's very risky, legally and morally, to expect your staff to fly in long-haul Economy. It seems, from a liability point of view, sensible to let people fly in Business Class even if they wouldn't normally be allowed to do so, to demonstrate that you had done all you could to keep them safe.
G: I think that one of the things that will come out of this is that people will have a better appreciation of value for money. You're right in terms of Corporate Social Responsibility, and I think companies will be a lot choosier about where they put their employees, both in terms of what sort of product and what sort of price.
R: For anyone looking to book a long haul flight for later this year, what is the situation in terms of stopping over in Doha? This has been a key part of your strategy in the past.
G: It won't be possible for a while. We are expecting resident permit holders to be able to return very soon, which is especially important for us as we have a number of employees displaced around the world. After that it will move step by step, and when it is safe, but I hope stopovers will be available as soon as possible as they are increasingly popular.

The recent healthcare competition
R: You ran a competition recently to offer 100,000 free seats across your network to healthcare workers, and you followed this up with a strong discount deal for those who didn't win. The articles we wrote on it were very popular and I know a few HFP readers were winners. How did that come about?
G: There was a desire to show appreciation.  Qatar is obviously a very culturally diverse country in as much as there are only 268,000 Qatari nationals with the rest being expats, and it is also a very philanthropic country. It was incredibly well received, which unfortunately meant that not everyone could get tickets who applied.  We thought very hard about following up with the 50% discount deal to those who didn't win, but we were committed to saying thank you.
Fleet plans and Qsuite 2.0
R: Let's turn to the fleet. Like everyone else, your A380 fleet is currently parked up. Your CEO has said to the media that they will not fly again for at least a year. Does that chime with what you are hearing internally? Clearly filling an A380 at the moment is virtually impossible.
G: The A380 is not a great cargo aircraft, unfortunately. A lot of our flying at the moment is cargo related – we have brought over 1 million tonnes of PPE into the UK, for example. We are lucky that we have the flexibility in the fleet. We have restarted some routes on a Boeing 787 and then upgraded to an A350 and then a Boeing 777 as demand comes back.
The other thing is that the A380 does not have Qsuite and will never get Qsuite, mainly because of the weight of it. We have been trying to fly Qsuite as much as we possibly can.
R: The new Boeing 787-9 fleet, which I believe you have started to receive but are not flying yet, has the new Qsuite 2.0. This was meant to be unveiled at the cancelled ITB travel show in February and I still haven't seen any pictures. The rumours are of a slightly lower door and the removal of the 'quad' option, although the double bed option remains. Is this something we can expect to see at Heathrow or Gatwick in the near future?
G: To be honest, I've not seen the design for Qsuite 2.0 either! In terms of London, you will never see it at Heathrow. We have already gone beyond the threshold of what the 787 fleet can offer in terms of capacity. It will be A350 or Boeing 777s in the short term. Gatwick is moving in a similar direction and it is likely to end up as all A350 or all 777.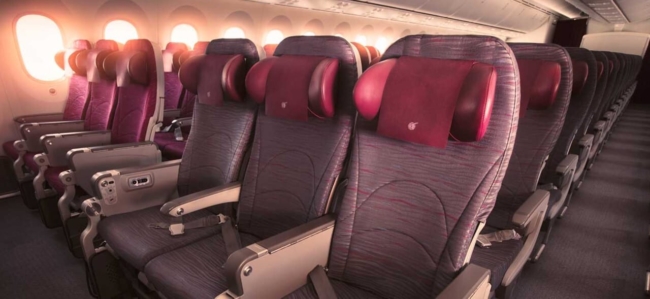 R: The 787-9 has your new economy seat as well which was unveiled at ITB back in 2019.
G: Yes. This is also due to appear on the [single aisle] Airbus A321LR fleet when that comes in.
R: Ah, I didn't know you had some of those on the way. I haven't flown on one yet. Can they fly from the UK to Doha?
G: Yes
R: That's interesting. For a hub and spoke operator like you I think these are a good option. I can see the possibility of running those from smaller UK cities into Doha and then connecting onwards on larger aircraft. Belfast was one destination that your CEO has mentioned in the past. To be honest, I was surprised that you launched Cardiff with a widebody.
G: It certainly puts other points in the UK on the map, yes. Cardiff has actually performed very well – up to March, obviously – and we had been hoping for a strong Summer.
[NOTE: Since we spoke, Qatar Airways has announced that it will be deferring delivery of the A321LR fleet until 2022.]
The new Heathrow lounge
R: What's happening with the expansion of the Premium Lounge at Heathrow Terminal 4? Obviously you are flying out of Terminal 2 at the moment with Terminal 4 closed.
G: The work had started when the terminal closed. I'm not sure if contractors are being allowed in at the moment or if it is completely mothballed. The work had been on target and obviously moving to Heathrow Terminal 2 was not ideal, although I am a big fan of it as a space.
The British Airways / Qatar Airways Australian joint venture
R: Last question. The Australia joint venture between Qatar Airways and British Airways has just got approval from the Australian competition authorities. This seems to be a 'win win' whether you are a British Airways or a Qatar Airways flyer, opening up Australian cities outside Sydney via more convenient connections and metal-neutral ticketing. I doubt BA is ever going to fly anywhere except Sydney.
G: I think it's a logical extension of the existing London to Doha joint venture agreement we have with BA. Australia has the hardest competition authority in the world, to be honest, so we were delighted to receive the approval. I think it opens up a world of possibilities for Qatar and BA customers.