Jersey-based airline Blue Islands launches Blue Skies Club, its own frequent flyer scheme
Links on Head for Points may pay us an affiliate commission. A list of partners is here.
Jersey based regional airline Blue Islands has launched its own frequent flyer programme, Blue Skies Club.
With Blue Islands announcing a major expansion, starting with Southampton and Exeter, I thought we should take a look.  I met with Blue Islands when I was in Jersey last month.  It was great to talk to an airline executive who is actually positive about the future and looking at strong growth!

Where does Blue Islands fly to?
The collapse of Flybe earlier this year led to expansion opportunities for the other small UK airlines – Loganair, Eastern and Blue Islands.
Eastern and Blue Islands were previously Flybe franchisees so it was relatively easy – once they had launched their own booking sites – to restart the routes they used to run.  They are now adding new routes which Flybe used to fly directly.
Blue Islands has been flying since 1999 under various brands although it has used Blue Islands since 2006.  It has 130 staff based across Jersey and Guernsey.
The Government of Jersey recently announced a £10 million soft loan to Blue Islands.  The collapse of Flybe has exposed the risks of losing air connectivity and it intends to build up Blue Islands as a 'national champion'.
The first new hub is Southampton, where one 70-seat ATR72 will be permanently based.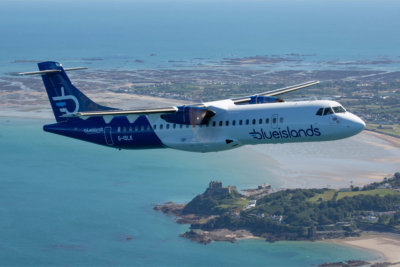 Flights to Jersey have already launched. From 31st August, it will add:
Southampton – Manchester (daily)
Southampton – Dublin (daily)
Southampton – Guernsey (double daily)
There will also be additional Jersey routes:
Bristol – Jersey (4x weekly, already launched, daily from September)
Exteter – Jersey (3 x weekly from 1st September)
Birmingham – Jersey (4x weekly from 31st August)
East Midlands – Jersey (3x weekly from 29th September)
Exeter to Manchester will also launch on 31st August.
The Jersey to Guernsey shuttle service is due to restart on 1st September when Guernsey lifts restrictions.  At present there is only one flight per week and only pre-registered business travellers who return the same day are allowed.
Blue Islands has also announced a codeshare deal with Loganair.  This has genuine benefits to passengers, because it allows connecting journeys whilst only paying one lot of Air Passenger Duty.  Without the codeshare deal and single ticketing, flying Exeter to Manchester (Blue Islands) to Inverness (Loganair) would attract two APD charges in each direction.
The codeshare covers:
Flights with Blue Islands from Exeter and Southampton to Manchester meeting Loganair flights at Manchester to Aberdeen, Inverness and Isle of Man
Flights with Loganair from Edinburgh, Glasgow and Newcastle to Southampton meeting Blue Islands flights to Guernsey and Jersey
Blue Islands flights from Jersey to Birmingham and Bristol meeting Loganair flights from those airports to Aberdeen

How does Blue Skies Club work?
With a small route network, Blue Islands has sensibly decided on an easy to understand and easy to manage model for its frequent flyer scheme.
You will need to take between 10 and 20 one-way flights in order to earn a one-way reward flight.
All reward flights require a £20 contribution towards taxes and charges.
Here are the two ticket types and the points earned:
Blue Fly:
10kg cabin baggage
23kg hold luggage allowance
250 Blue Skies Points
Blue Plus:
10kg cabin baggage
2 x 23kg hold luggage allowance
500 Blue Skies Points
Selected seat included
Changeable ticket
Missed flight protection
'Get Home Early'
Codeshare flights do not earn points.
Children cannot join Blue Skies Club.  There is a minimum age of 18 years.
There are no elite tiers or status benefits.
How to redeem Blue Skies Club points
The redemption chart is very simple.  All flights, on all routes, cost 5,000 Blue Skies Points for a one-way ticket.  
Reward flights are booked as Blue Plus tickets, which is a nice touch.  This means that you will get the additional baggage allowance and other benefits.
Reward flights cannot be cancelled but the date, time and route can be amended.  No name changes are allowed.
The terms and conditions do not, as far as I can tell, specifically say that you can book a reward ticket for anyone you like.  They don't say that you can't, however!
Points expire after 36 months, and activity does not keep them alive.  This means that you will need to average a flight with Blue Islands every few months in order to earn 5,000 points before your oldest points start to expire.
Conclusion
Blue Skies Club is clearly not going to set the world alight.  With no transfer partners, it is also not going to be of interest to anyone except regular Blue Islands flyers.
The upside is that the Blue Skies Club is easy to understand and will get you the occasional free (well, £20 of taxes) ticket if you need to travel with them on a regular basis.
You can find out more, and sign up, on the Blue Islands website here.