I flew Delta One long-haul with a baby during coronavirus – how did I find it? (Part 2)
Links on Head for Points may pay us an affiliate commission. A list of partners is here.
This is part two of my review of flying Delta One business class from Atlanta to Frankfurt with a baby during Covid-19.
If you haven't read Part 1 of my Delta One business class review, I recommend starting there – click here.  It covers the background and preparation for the trip and the Delta Sky Club Lounge in Atlanta.  The story continues as I board my plane in Atlanta.
How is Delta One business class?
The business class layout in Delta One on my A330-300 was 1-2-1. Less than half of the seats were occupied – so the person in front of us and the one to the left asked to be seated somewhere else because of the baby. Not sure how much less you hear the baby two rows further back though ……
Our seat was 5J which was one with the single seats with a window to the right. The baby enjoyed the space in the foot room and was happy exploring everything without getting into the aisle.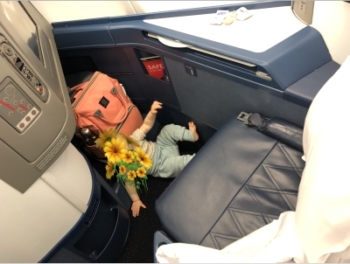 Blanket and pillow were waiting on the seat and headphones were handed out after sitting down.  I didn't even take them out of the packaging as I decided to sleep when the baby was sleeping instead of watching movies.
If you want to read more about the seat, here is my Delta One review from last April, pre-baby!
The washbag was by Tumi and came with the usuals (socks, eye mask, toothbrush, hand cream, face cream and a pen as well as mouthwash and a small bottle of hand sanitiser).
It was impossible to take a picture of the washbag on the plane with a moving baby so here is my parents' wooden floor 🙂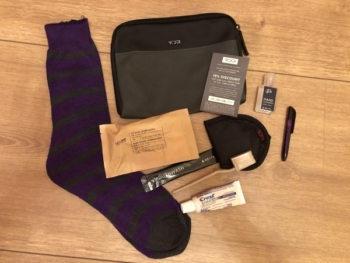 On-board dining
The good news: Delta offers a one-tray-real-food-service!
(British Airways is currently giving out food boxes in all classes, you can read about their service in First on a London to Hong Kong flight here.)
There was no printed menu, but the flight attendants mentioned three different options for the main:  a chicken dish, a beef dish and ravioli of which I chose the latter. I had also pre-ordered a baby menu which was two pots of puree, one with fruits and oats and one apple sauce.
My main dish came with a side salad, tomato soup and a raspberry cheesecake. We were also offered bread rolls.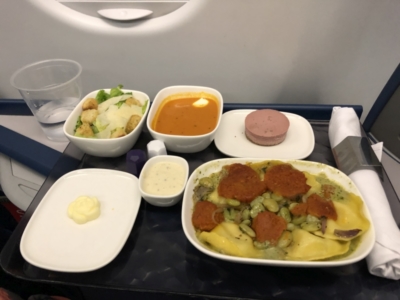 Unfortunately the baby had a little meltdown just before dinner and I ended up having to eat my food lukewarm – but at least by the time I started eating the baby was asleep.
I was glad her meltdown happened during dinner and not when everyone was trying to go to bed.  On the other hand it might have been easier to put her down with the lights switched off which happened once everyone had finished eating.
The 'night' wasn't too bad. The seat in fully flat mode was big enough for the two of us and the little reading light was good for mixing bottles. I had pre-filled the bottles with water and the formula was in a dispenser with several compartments ready to be poured into the water.
About an hour before descending the lights were switched back on and breakfast was served.
Amazingly the baby didn't wake up and I was offered the seat next to mine to have breakfast in peace.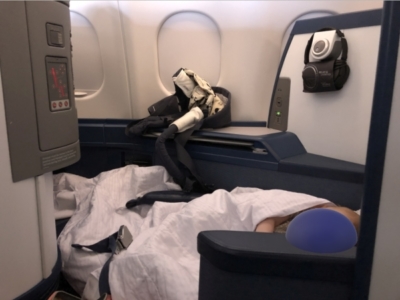 Breakfast choices were cereal or a quiche.
I chose the cereals, but when they arrived they looked like they might have nuts in them. After double checking, the flight attendant took my cereal away and brought me the quiche …..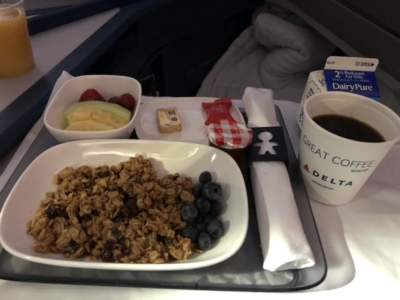 …. which was delicious! Both breakfast choices came with a side of fresh fruit, butter and jam as well as a piece of Belgian chocolate.  There was a good selection of bread rolls and croissants.
The coffee was great – and much needed!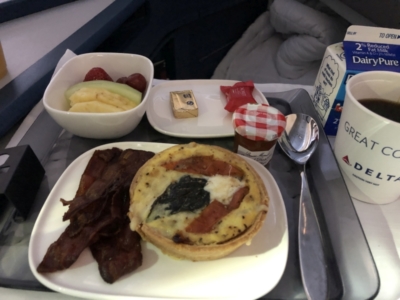 After breakfast the plane started descending and the baby woke up – not crying.
Before the seatbelt signs were switched on again, I made a bottle, packed all of our bags, tidied up the seat and put the baby carrier on so I could put the baby in it after landing.
As the stroller was in the overhead, I didn't have to wait around after getting off the plane and could make my way to passport control and then the luggage belts.
My suitcase had made it all the way to Frankfurt!
Conclusion
Travelling during a pandemic
To be honest emptier planes and airports are a positive side effect of travelling during a pandemic. In my case it worked in my favour and made travel with a baby a lot less stressful.
That said I wouldn't have done this trip had it not been neccessary. There is still a risk of infection and having to wear a mask for over 20 hours and only taking it off to eat or drink is not a great experience.
Limited flights and the neccessity of a Covid test made the trip much longer than it would've been under normal circumstances and after a total of 27 hours of travel I was exhausted.
Delta Air Lines
Somehow Delta has become one of my favourite airlines, especially for domestic travel in the US.
Unfortunately I've had some not so great experiences with American Airlines. I really want to like AA due to the great value Avios redemptions but have been disappointed more than once.
The crew on both the domestic and international flight were wonderful, really helpful and took a lot of stress off of me especially during that 10 minute crying episode.
Travelling with a baby
I understand that many find it annoying when they notice a baby on the plane – because babies do cry sometimes, but sometimes babies have to travel and if a baby cries for 10 minutes on a 7 hours flight I find that a win.
Here's what I learned: If you are travelling alone with a baby make sure to pack the right things and don't overpack. Choose luggage that has a lot of compartments and easy access pockets.  You don't want to end up digging for the dummy while the baby is crying – you want to know where it is.
If you're bottle feeding, you don't want to end up with not enough formula or bottles. If the baby is a bit older, having a baby carrier might not work and you will cherish a travel stroller. In my case having both was perfect. Don't forget to bring extra clothes and enough wet wipes and nappies! The baby will cry at some point. Ignore the thoughts of what people might think, attend to the baby, stay calm and hope it won't last too long.
If you want to read about the seat and the pre-Covid experience with Delta One, you can read my review of London Heathrow to Atlanta from last year here.
How we booked this flight
It is important to remind you that Delta one-way flights from the United States to Continental Europe are an astonishingly good use of Virgin Flying Club miles.
My one-way ticket in Delta One cost 50,000 Virgin Flying Club miles plus $5.60 of tax:

You really can't argue with that! (The baby's ticket was an extra 5,000 Miles and $5.60 taxes).
This HfP article explains more about the value to had booking one-way flights from the US on Delta using Virgin Flying Club miles.
PS.  How was coronavirus testing in Frankfurt Airport?
This is probably only interesting for any German coming home from at-risk countries, but I thought I'd mention the Covid-19 test offered at Frankfurt Airport.
Before I travelled I had heard from a few different Germans about their different experiences with the testing in Frankfurt. The first person didn't have to wait at all and was done within 5 minutes.  The second one was waiting for about two hours before she was called to the front of the queue as she had registered and paid online and was travelling with a young child. Another person had to wait several hours but said a friend of theirs went through quickly.
I had decided to sign up online, fill out all the details and then pay if the queue wasn't too bad.  I had no intention to wait for three hours before a five hours car ride towards Hamburg, given that I could take the test at a doctor's office near my parents' house.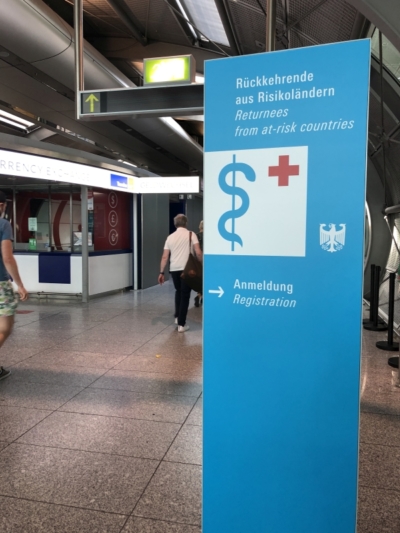 Lucky for us the rules for the testing had changed overnight and Germany was now offering free tests for people coming back from at-risk countries.
We found two different queues at the testing center which was near the train station.  One with a massive queue for people who were about to go on holiday and didn't want to be quarantined for two weeks at their destination.  The other queue was for people returning from at-risk countries. The second queue was far shorter, luckily, and we were done within 30 minutes.
The next day I got an email that our test results were ready to be viewed in our account: Negative.