I flew Delta One long-haul with a baby during coronavirus – how did I find it? (Part 1)
Links on Head for Points may pay us an affiliate commission. A list of partners is here.
This is my review of Delta One business class from Atlanta to Frankfurt, with a baby, during Covid-19.
To be honest I thought that our first flight with the baby would be different – and that my husband would join us.  I also wasn't planning on flying during a pandemic – especially with a baby.
However, due to a family illness, I chose to fly to Germany with the baby, without my husband and with all the Covid-19 restrictions in place.
Few people are currently able to travel between the US and Europe.  If you do not hold a European passport, you won't be able to enter Europe coming from the US and if you aren't a US citizen or permanent resident, they won't let you into the US.
This means there are currently limited flights and higher prices.
For clarification, I have a German passport and a Green Card while our daughter has a German and a US passport.  I'm glad we applied for both passports back in January as there are currently substantial delays in US passport issuance and the German Embassy has limited appointments available.
Booking the flights
My first few flight searches brought up flights from Virginia to Hamburg for about $3,000 – in Economy.  A few days later this went down to $2,000, which was still a lot.
Meanwhile I learned that Germany had introduced mandatory quarantine for travellers coming from at-risk countries, unless you take a Covid-19 test on arrival.  The only airport in Germany offering this test at the time was Frankfurt (you can now get tested in Munich, too) so my search changed – but the price didn't.
In the end I booked a positioning flight to Atlanta with Delta in Economy for $200 and a connecting Delta flight in Business from Atlanta to Frankfurt,  This cost 55,000 Virgin Flying Club miles plus $11.20.  This was 50,000 miles for my ticket and 5,000 miles for the baby.  (My return trip will be with United in Economy with two layovers for $800.)
For some reason you cannot book a lap child ticket for a domestic flight with Delta online. Instead you book your ticket and then call the Delta hotline to add your child to the booking.
Lap children on domestic flights are free of charge and do not have any luggage allowance – checked or hand luggage! You are allowed to bring a stroller and/or car seat to be checked at the counter or gate.
Check in
I had booked my two flights separately which meant my luggage would've only made it to Atlanta had I not talked to the check-in assistant at my home airport. As both flights were with Delta he was able to put a Frankfurt tag on the suitcase, but he wasn't able to print my boarding pass.  I had to ask in Atlanta to have the luggage added to my ticket as the suitcase would otherwise have been sent back to Virginia.
Security
The queue at security was pretty much non existent which was great as I was a little bit nervous and worried that it would take forever.  I had bought a travel stroller that folds down very small (it fits in the overhead lockers) and it had to be folded to go through the x-ray machine. The baby carrier had to go through the machine which meant I had to carry the baby.
You are allowed to bring water, milk and food for a baby and it does not have to fit in the small 1l bag. I brought a small water bottle, 4 food pouches and a sippy cup with water. These items had to be taken out of the bag so I ended up having two bags, a laptop, kindle, two phones, a smart watch, all the baby stuff plus a baby carrier and the stroller to go through the x-ray and be picked up and organised at the other end.
Tip: Put everything in trays and then make sure your stroller goes through the x-ray first so you can put the baby back in it and then re-pack your bag. Also, put all the liquids for the baby in a big ziplock bag.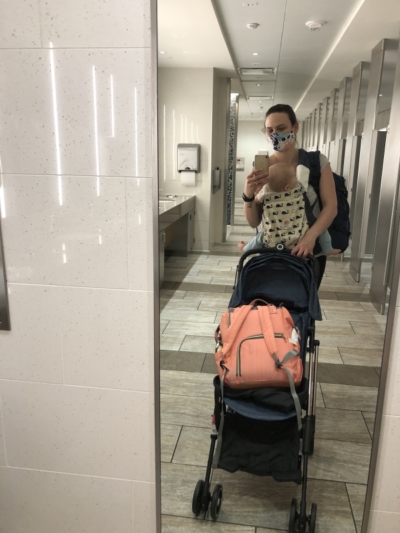 The flight to Atlanta
With the strict hand baggage policy I was a worried whether my tiny stroller would count as part of my hand luggage allowance. I reckon if the flight had been full I would've had to check it at the gate.  As Delta is currently only accomodating 60% in Economy and 50% in Business I was allowed to bring the stroller on board in addition to my carry-on backpack plus the nappy bag (and the baby in my carrier).
The crew was fantastic and I was given a bottle of water and sanitising wipes once I sat down because I had a baby.  The seating was 2-3 and Delta made sure no one was sitting next to someone who was not part of the same family/travel group.  (I have heard first hand about a busy Lufthansa flight from the US to Frankfurt a few weeks ago where many people did have to sit next to strangers.)
The baby had fallen asleep in the carrier before boarding and I kept her in the carrier until just before take off. I then had to take her out of the carrier and hold on to her – luckily she stayed asleep until just before landing when I gave her a bottle. No crying on this flight!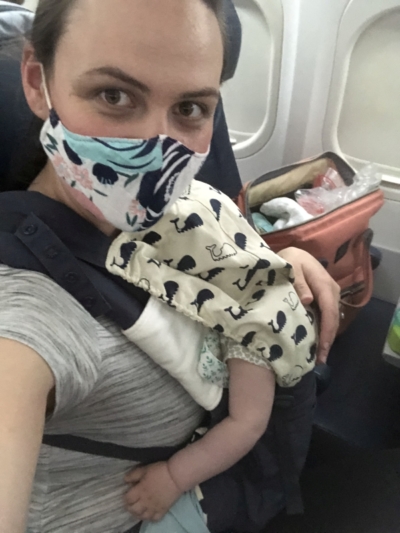 Shortly after take off the crew came down the aisle handing out bags with snacks, a bottle of water and a small sachet with sanitiser.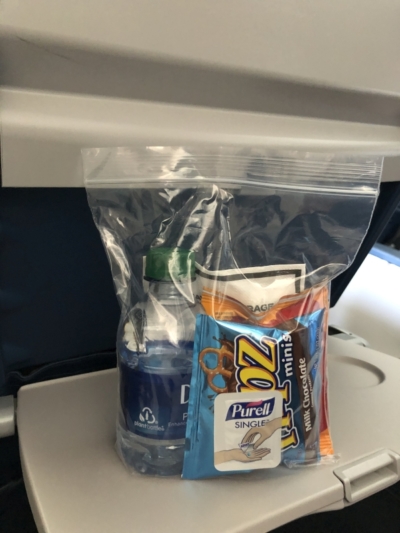 They apologised that this was all they could offer on this flight and came up and down the aisle a few more times offering more water.
Delta One business class, Atlanta to Frankfurt
I arrived at the domestic terminal at Atlanta at the A gates and had to take the train to the international terminal at the F gates. Surprisingly Atlanta Airport was busy!  Most stores were open, people were sitting in restaurants and if people hadn't been wearing masks, you would've thought the world was back to normal.
However, all this only lasted until the train left the E gates stop.  Suddenly the train went from packed to empty and the only stores that were open at the F gates were a newspaper store and Starbucks.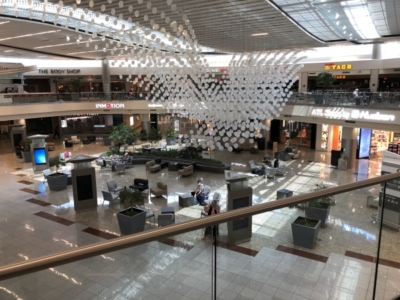 I walked down to my gate to talk to a gate agent about my luggage, but no one was there – to be fair it was three hours before the flight. On my way back I found a person who worked for Delta and he checked my luggage tag and ticket and ensured that they were indeed connected and that my luggage would make it to Frankfurt.  He also told me that the lounge was open – I didn't expect this as Google said it was temporarily closed.  Off I went!
Delta Sky Club Lounge at Atlanta
The lounge experience was, let's say, different. One lady who was talking on her phone complained that she was never going to get her money's worth from this lounge visit – and I guess if you paid for lounge access this could be true.  The alternative, of course, would have been standing in line at Starbucks and sitting at the gate.
There was a manned bar where you could order any alcoholic beverage you wanted, a coffee bar and a smallish buffet.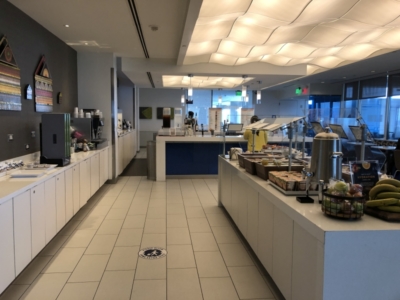 All the food was packaged.  There were wrapped up sandwiches, salad bowls, crackers, cheeses, fruit salads as well as biscuits, nuts and crisps.
I have definitely seen better, but then again that was prior to the pandemic and Delta did what they could do.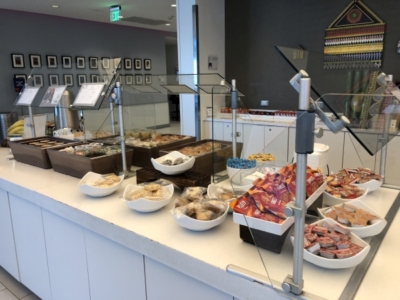 Here is a picture of my salad which was actually pretty good.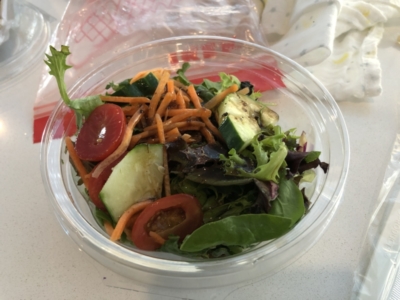 And here is a picture of my baby inspecting the stroller.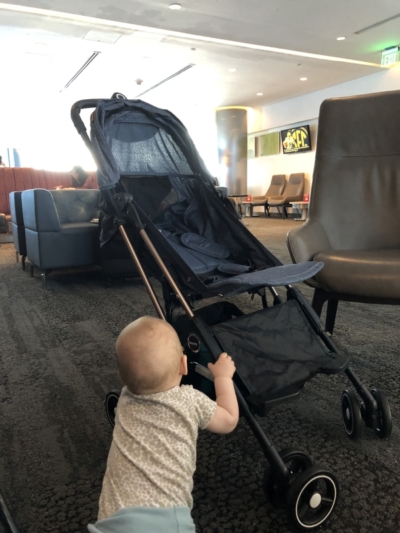 There was an outdoor area that was open. A further large siting area at the back was closed off and so was the upstairs area.
The toilets were very clean and the cubicles big enough to bring the stroller and all my luggage in when I went to change the baby.
About 20 minutes before boarding I packed up our stuff and walked towards the gate.
This was Part One of my review of flying Delta One business class from Atlanta to Frankfurt with a baby during Covid-19.  Part Two, also published today – click here – covers the on board experience and talks about the Covid testing facility at Frankfurt Airport.