How to get £25 free driving credit with our Zipcar promo code
Links on Head for Points may pay us an affiliate commission. A list of partners is here.
Whilst Zipcar rarely offers promo codes for users it does offer £25 free driving credit for new sign ups.
The good news is that this works even when you only sign up for the FREE 'basic' membership, which lets you rent cars from £8 per hour.
To get the £25 free driving credit, all you have to do is sign up for Zipcar using this link. The £25 will automatically appear in your account when your driving licence is verified.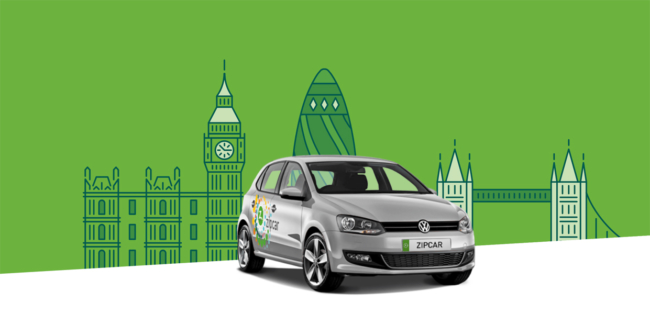 What is Zipcar?
Both Rob and I are big fans of Zipcar for when we need four wheels!
Zipcar is a car sharing app that lets you book and rent cars by the minute or the hour.
Zipcar makes driving in London easy, and takes care of any congestion charges, ULEZ, insurance, fuel, breakdown assistance etc. The price you see covers everything, which makes it a hassle-free option if you ever need to rent a car or van.
On the free basic membership plan, you pay from £8/hour. If you are a frequent user, you can pay a monthly fee in exchange for cheaper hourly rates.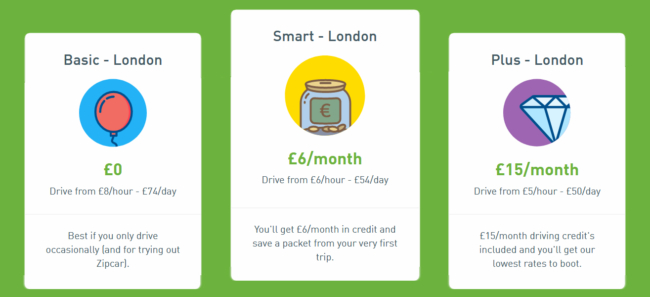 What are the Zipcar membership tiers?
Zipcar offers three membership tiers:
The FREE basic membership tier lets you drive cars from £8 per hour or £74 per day and is perfect if you only need to rent a car occasionally.
Smart membership costs £6 per month, but you get that money back in Zipcar driving credit. The hourly and daily rates also start at a lower rate than with the basic membership, at £6 and £54 respectively. Smart membership is ideal if you know you're going to use Zipcar on a regular basis to use the £6 driving credit every month.
Plus is Zipcar's top tier membership and costs £15 per month, which you get back in driving credit. Plus membership gets you the lowest Zipcar hourly and daily rates, at £5 and £50 respectively, and is ideal for anyone making frequent trips.

What is Zipcar Flex?
Zipcar Flex lets you take flexible one-way trips without pre-booking. You can take a car and leave it wherever you want, within a designated zone. Park and walk away. You don't need to drive it back to where it came from.
The only downside with Zipcar Flex is that you can never be certain that there will be a car near you. It obviously requires another Zipcar user to have dropped off a Flex car near you. To make life a little easier, you can put a 15 minute 'hold' on a vehicle via the app, giving you time to get there before it is released for another user.
The following boroughs now allow you to pick up or drop off a Zipcar Flex car. It is perfectly fine to drop off the car in a different zone to the one you collected it in:
Heathrow Terminal 5 is very interesting. It is substantially cheaper than taking a taxi to the airport. You drop off your Zipcar in the Terminal 5 short stay car park (Zipcar is owned by Avis and uses some of their parking bays) next to the Sofitel, allowing you to walk directly into the terminal.
How to register for Zipcar
If you are not already a Zipcar member, you can also get £25 free Zipcar credit (which covers around two hours of 'Flex' rentals) when signing up for the free membership tier using our promo code link here.
Zipcar takes around two hours to approve new membership applications, based on a DVLA and other background checks.
The only requirement for membership is that you are at least 23 years old and hold a valid UK driving licence. All you need to do is upload a photo of your licence and details.
If you are a new user you are best signing up via this link and claiming £25 free credit first.