Is InterContinental Le Grand in Paris still "my favourite city hotel in the world"?
Links on Head for Points may pay us an affiliate commission. A list of partners is here.
This is my review of the InterContinental Le Grand hotel in Paris.
Back in 2014, I wrote a HfP article where I said that, for reasons that I did not fully understand myself, InterContinental Le Grand in Paris was my favourite city centre hotel in the world. It's not a Four Seasons, let's be frank, but I don't need that in Paris.
I was putting my money where my mouth is – I probably did 10 stays here over 15 years pre-covid. Over 2019-2021, the hotel has seen a huge refurbishment, with the biggest changes being a complete restyling of the rooms and the move of the club lounge to the 1st Floor.
I headed back to Paris for a (self-funded) trip to find out what had changed.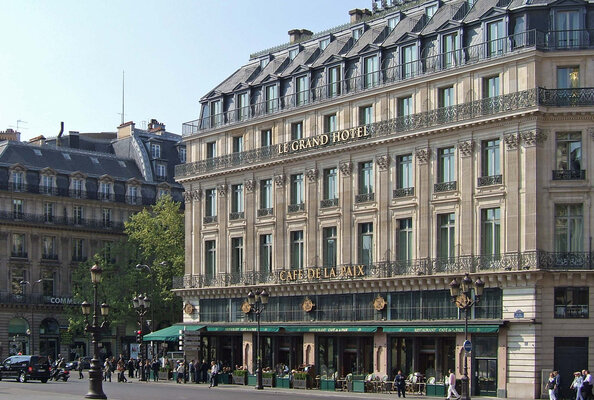 Why do I like InterContinental Le Grand so much?
This hotel works well for three reasons. The first is location. It could not be better. You are directly next to the Opera Garnier, which means you are 60 seconds walk from Galleries Lafeyette and Printemps, the two massive department stores. Almost everything else – except the Eiffel Tower – is a modest walk.
If you come by train, it is a 30 minute walk down the hill from Gare du Nord. It is one road all the way so you can't get lost! From Charles de Gaulle, you can get a non-stop bus, the Roissy Bus, which stops directly opposite the hotel. There are also metro and RER stations within a few seconds walk.
Secondly, the hotel looks great. InterContinental spent over £100m on a full renovation in the late 1990's. The 2019-2021 work transformed the look of the rooms again, added some new suites to the top floor and saw the club lounge move down. The work has retained all of the charm of the original building – and most of the features – but has brought them bang up to date. The age of the building also means that there are a huge number of different room sizes and configurations, which are good for upgrades.
Thirdly, it has one of the best club lounges anywhere. Pre-covid and pre-the move downstairs this year, it served an impressive breakfast, lunch, afternoon tea and evening snacks, with all-day free-flow champagne. You could (and I have) happily live off it for a full day without needing to eat elsewhere. If you're busy working in the hotel it was very handy . I have reviewed the new InterContinental Paris club lounge in a separate article which has not been emailed to subscribers, so you'll need to to click through.
In addition, because it is an InterContinental, I can use my InterContinental Ambassador benefits (here is my review of Ambassador, which is a paid loyalty scheme separate to IHG Rewards). Most importantly, that means a guaranteed 4pm check-out which is valuable on a short trip. If I had been there at a weekend, I could have had two nights for the price of one as an Ambassador.
Spookily, I got the same room I had back in 2014
Looking back at my 2014 article, this is the Junior Suite I had, overlooking the opera house:
Welcome to 2021 and a very expensive refurbishment: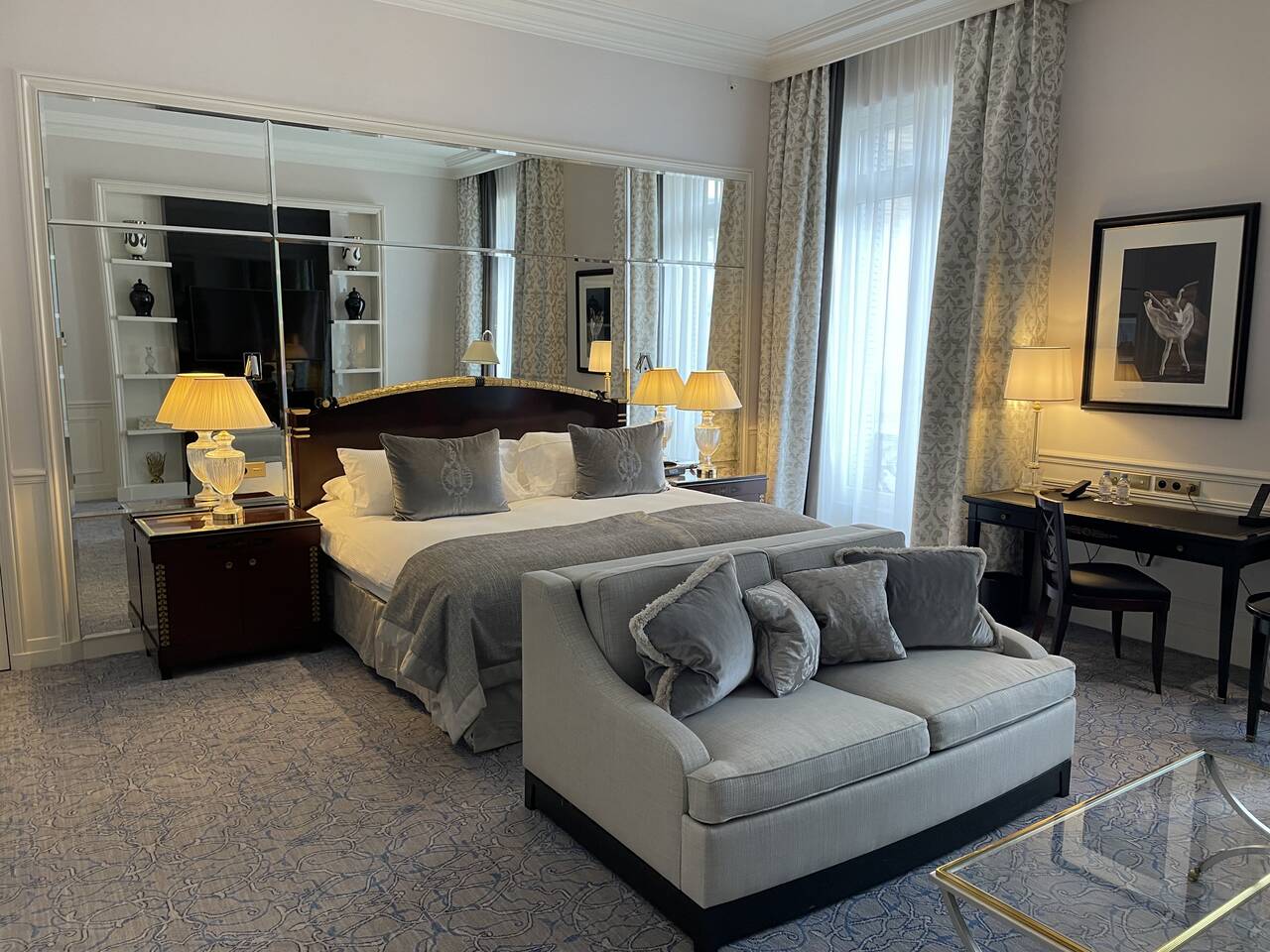 As you can see, the designer (actually the same designer who did the 1990's refurbishment) has dramatically toned down the red colour scheme. I was quite fond of it, to be honest – the new look is certainly classy but the hotel has lost a unique feature.
Here's the other angle:
and in 2021 – note that there is a decent desk and chair off to the left: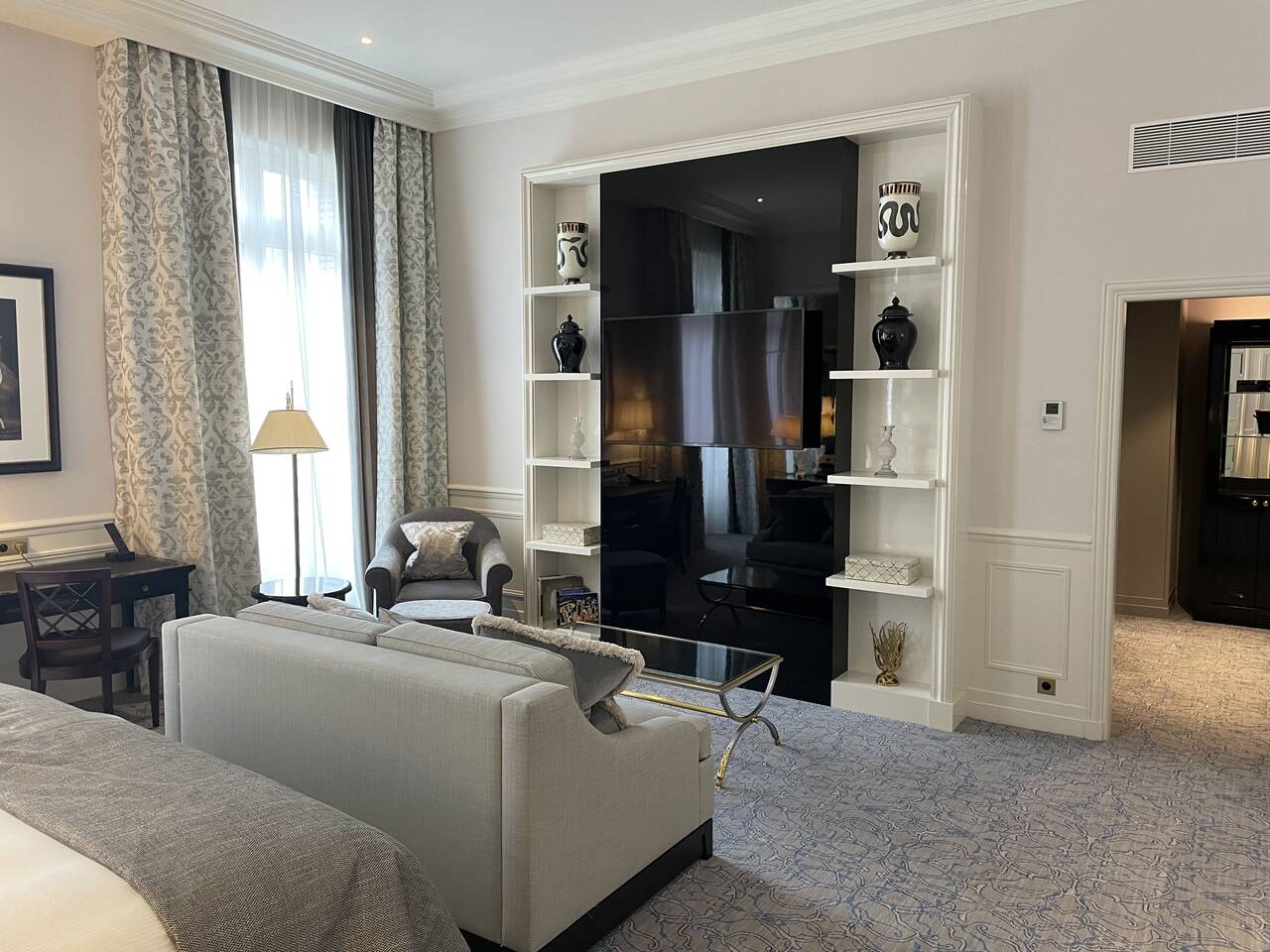 With generous amenities (2004):
and 2021: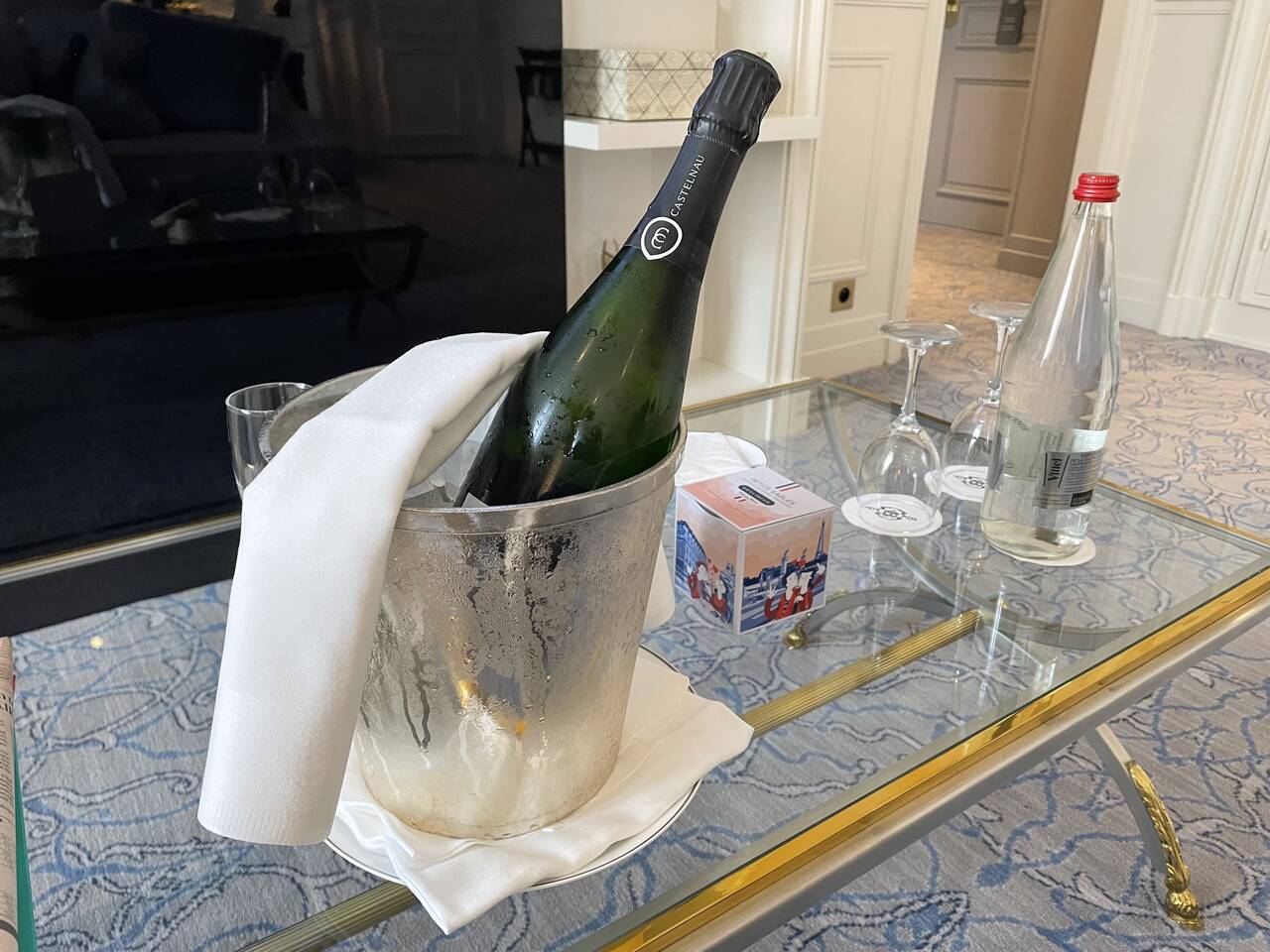 Here is a 2021 bathroom shot. I couldn't get a better angle, so you'll need to trust me that my Junior Suite had a large shower, a bath and a loo with a door. Toiletries, as before the refurbishment, are Anne Semonin. You have all the toiletries, towels, robes and slippers that you can desire!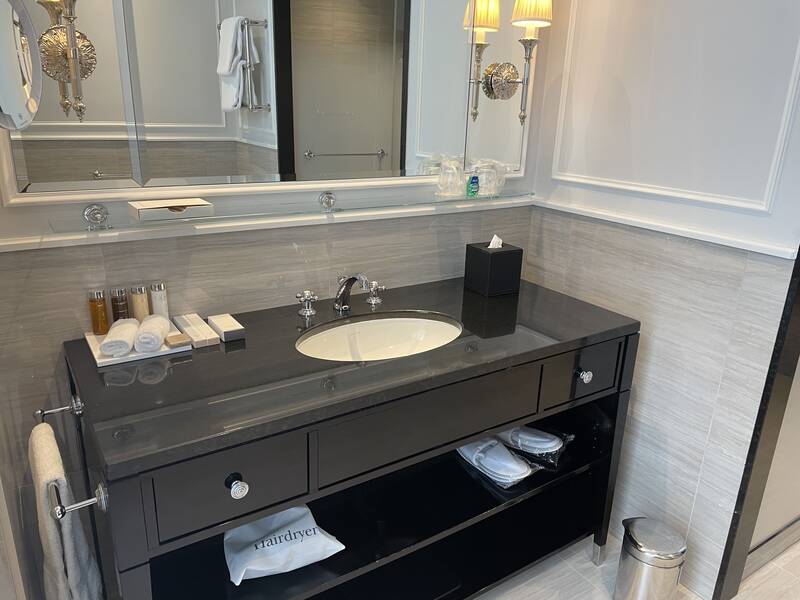 This view is amazing, which obviously hadn't changed from this 2014 shot: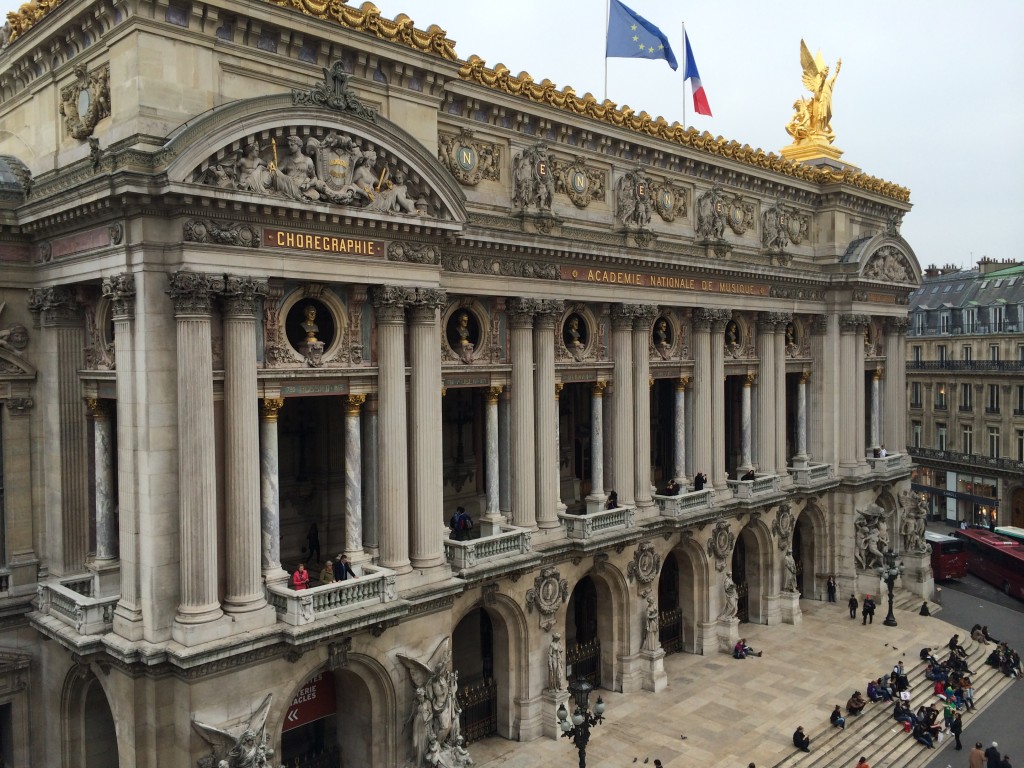 Which room should you book?
If you are thinking of staying at InterContinental Le Grand, you MUST avoid the 'Classic' rooms which are unbelievably small. 'Superior' is the smallest that is suitable for more than one night or more than one person. On redemptions, you occasionally see both 'Classic' and 'Superior' rooms available on quiet days.
The sweet spot in my opinion is the Junior Suite that I had. Above that, the standard suites are a bit odd – most are at roof level and have a reduced ceiling height. As it is a mansard roof, it also slopes which means that you lose floor space because of the restricted head height by the windows. Stick to a Junior Suite and all will be well in the world, I promise.
2021 has brought one snag though. The rooms with opera house views are, in theory, the best. I specifically requested the room above on my stay.
However, since – apparently – 2019, the steps of the opera house have become a half-hearted Covent Garden. All day and much of the evening, one untalented musician after another sets up a microphone and an amplifier and gives it both barrels. Le Grand has poor sound proofing and you can hear every note and every word. It is a complete nightmare if, like me, you are in your room and trying to work. It also ruins your chance of an early night.
I'm not sure what to do on future visits. The view is exceptional from this wing of the hotel but after three days I couldn't take the busking any longer.
The public areas at InterContinental Le Grand
If you've ever stayed here you will know that the hotel has a very grand staircase which runs through the building. This shot shows you the new carpet scheme which – along with swapping the dark paint for cream – has massively changed the feel of the corridors.
Here is a stock photograph of the ballroom at the Le Grand, one of the most astonishing things you will see in the whole of Paris. It's got a new carpet now and had a bit of a clean-up, but I couldn't take a photo which was as good as this old one: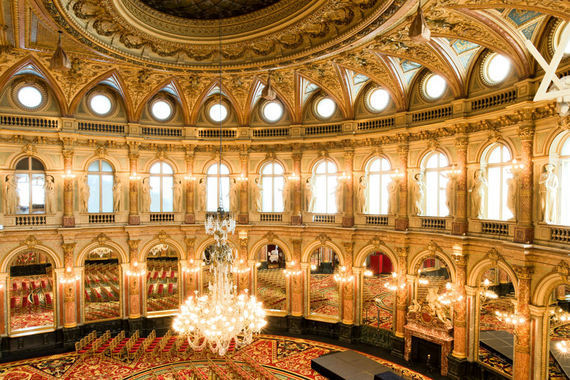 There has been no radical change, luckily, in the lobby lounge apart from new furnishings: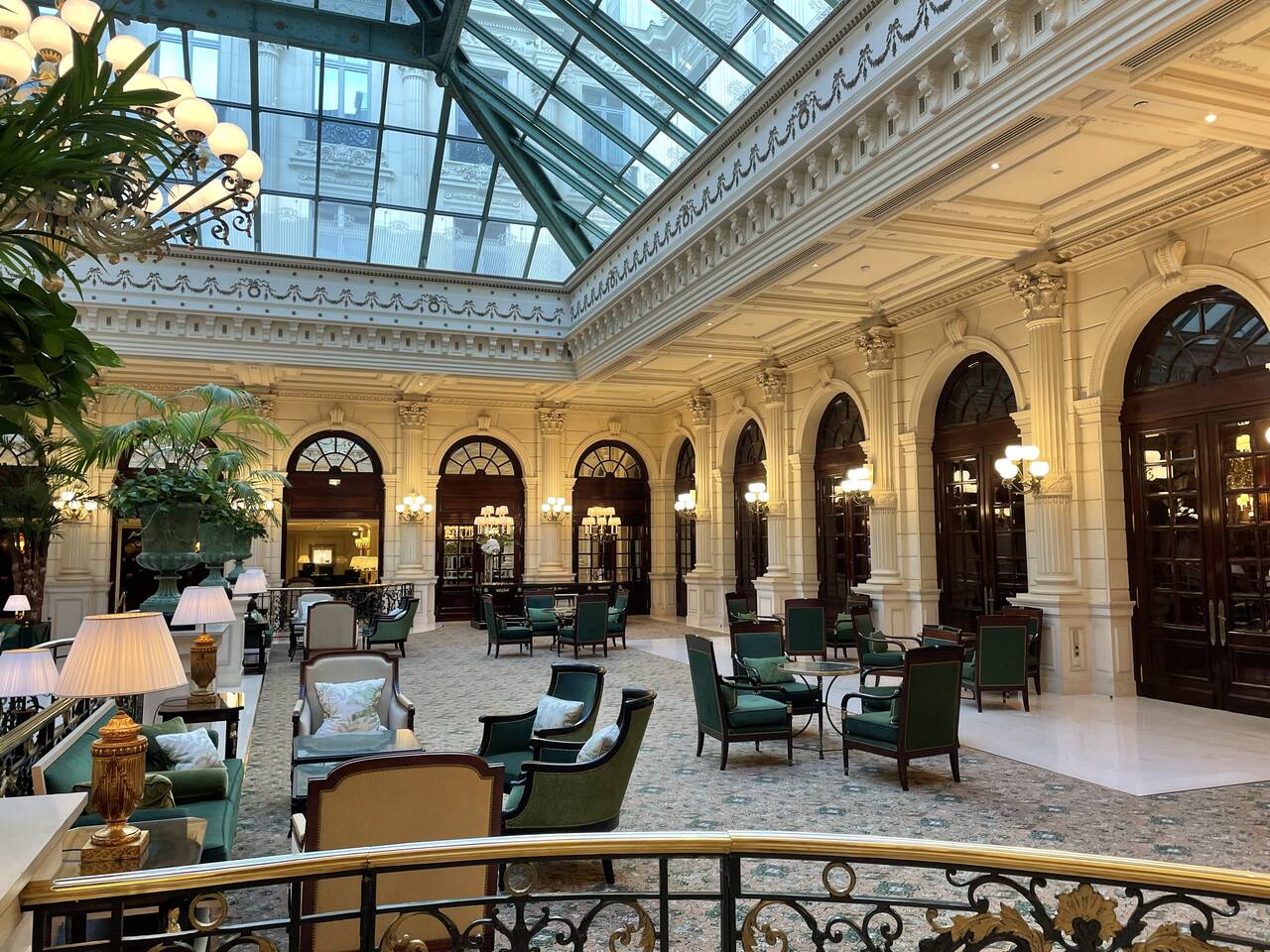 It is now a few weeks since my visit, so the situation may have improved. When I was there, covid was, unfortunately, still impacting the running of the hotel. The lobby lounge above used to serve food and drink, but no longer does. The hotel bar was closed, replaced by a small bar in Cafe de la Paix. I will come to the club lounge separately.
My booking, via Emyr Thomas at Bon Vivant, came with €85 of food and beverage credit. To be honest, I was struggling to spend it given that breakfast was included too.
Cafe de la Paix is a mix of traditional Parisian street cafe and hotel restaurant with many of the diners not being hotel guests. The evening menu is quite formal and not something I fancied eating on my own. In the absence of the lobby lounge, a corner of Cafe de la Paix is serving a more casual menu but you felt like you were sat in the naughty corner.
Of course, this being InterContinental Paris, when I say 'sat in the naughty corner' I mean I sat here: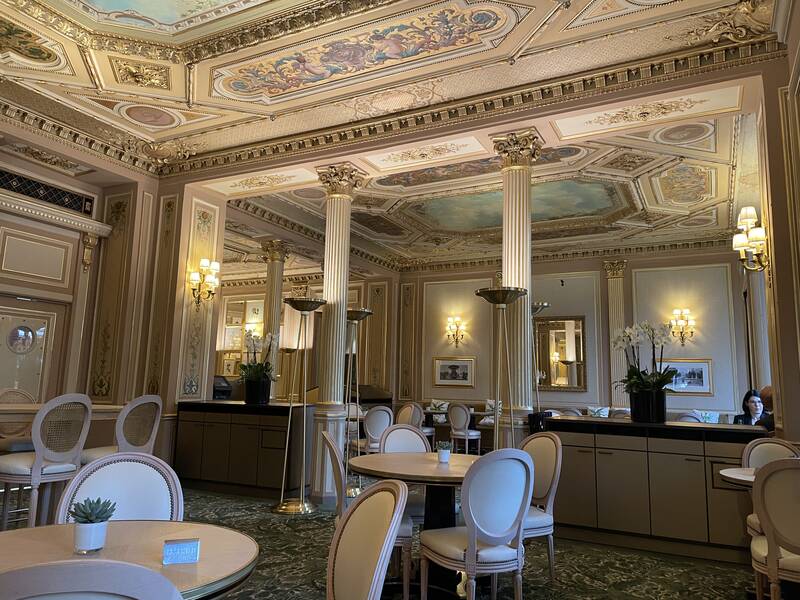 Not exactly shabby …..
Here is the main area of Cafe de la Paix during breakfast: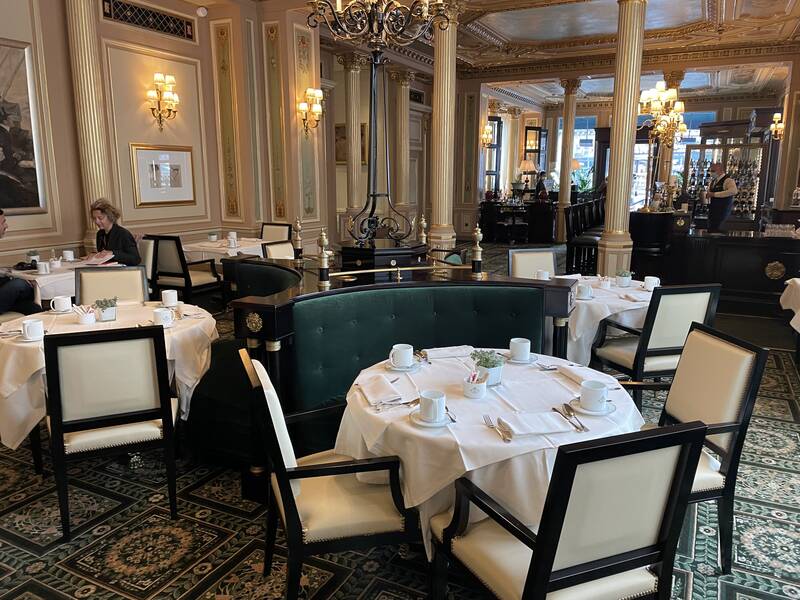 and part of the breakfast buffet: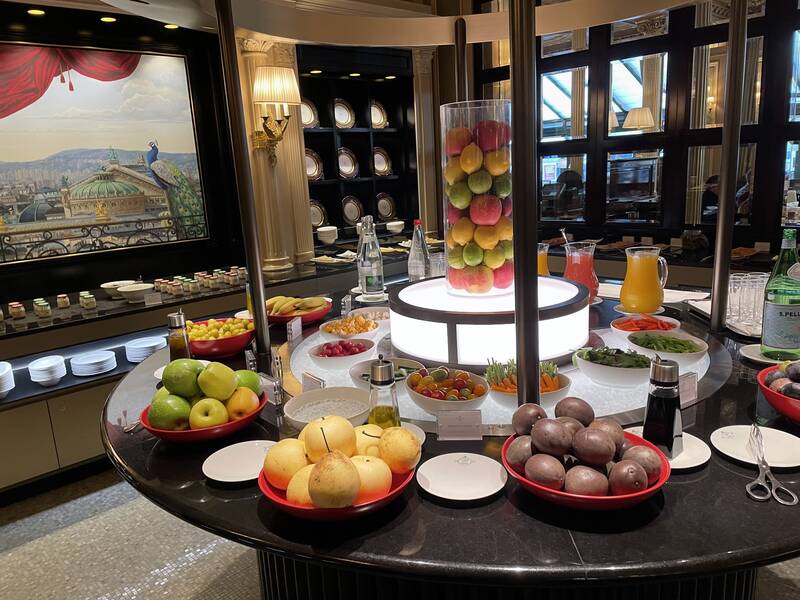 Breakfast is €45ish here so, if you don't have it included in your rate then you can clearly get better value elsewhere. The cooked items I ordered generally came lukewarm and it was even out of croissants one day.
The club lounge
Because the club lounge at InterContinental Le Grand is such a significant part of the hotel, and because it has changed completely, I have written a separate article on it – click here.
If you are an email subscriber, you have not received this so you will need to click through.
Conclusion – is it still my favourite?
To be honest, my stay at InterContinental Le Grand wasn't all I'd hoped.
If I'd never stayed there before I would have loved it more. However, my plans to have some drinks in the bar and my dinner in the lobby lounge were dashed due to their closure. The hugely diminished food spread in the lounge was a severe shock after the huge buffets of the past, as was the move to a space with no views. The non-stop busking outside the opera house didn't help either.
A lot of this, of course, is due to covid restrictions and the reduced levels of business. I will still return – although I will give it a miss for at least six months – in the hope that it returns to its former glory.
Booking
If you are booking here for cash, I STRONGLY recommend booking via our hotel partner Emyr Thomas at Bon Vivant. You can contact him here.
This is because all booking via Emyr will come with automatic free access to the club lounge. You also receive:
Upgrade at time of booking from Classic to Superior room (upgrade on arrival subject to availability for other categories)
VIP welcome amenities and letter
Early check-in/late check-out subject to availability
Voucher for 20% discount at spa on any treatment (the spa is still undergoing refurbishment, however)
If you are not bothered about lounge access, Emyr can also book a different package via the InterContinental Luxury & Lifestyle programme. This comes with:
Upgrade on arrival subject to availability
Guaranteed late check out at 2pm
Breakfast for two daily at the hotel restaurant
€85 food and drink credit
Water, fruit and snacks upon arrival in room
This latter package effectively swaps lounge access for breakfast in Cafe de la Paix and €85 towards other food and drink in the hotel, as well as giving you a late check-out.
The rate is the same – you will pay the Best Available Rate showing on the hotel website. Emyr does not charge any booking fees and you pay the hotel on departure as usual. If you end up having to cancel it's not a problem – Emyr honestly is the nicest bloke in travel.
If you are visiting over a weekend, you could consider paying $200 for InterContinental Ambassador to get the 'free' weekend night certificate and 4pm check-out.
You can find out more about the hotel on this page of the InterContinental website.
---
IHG One Rewards update – December 2022:
Get bonus points: You will earn bonus IHG One Rewards points on stays between 13th October 2022 and 31st December 2022. You can choose between 2,000 points for every two nights or 10,000 points for every four nights (not cumulative). Read this article for full details. You can register here.
New to IHG One Rewards? Read our overview of IHG One Rewards here and our article on points expiry rules here. Our article on 'What are IHG One Rewards points worth?' is here.
Buy points: If you need additional IHG One Rewards points, you can buy them here.
You will receive a 100% bonus if you buy IHG One Rewards points by 29th December 2022.
Want to earn more hotel points? Click here to see our complete list of promotions from IHG and the other major hotel chains or use the 'Hotel Offers' link in the menu bar at the top of the page.