Bits: Heathrow suspends PODs, Hotel Indigo opens in Cagnes-sur-Mer, Kindle Unlimited offer
Links on Head for Points may pay us an affiliate commission. A list of partners is here.
News in brief:
Heathrow suspends POD transfers to long-term car parking
The futuristic driverless POD monorail at Heathrow was, by far, the easiest way to travel between the long-term car park and Terminal 5. My son has been badgering me for years to let him ride it, even though we never drive to the airport – he wanted to arrive early and do a return trip just for the sake of it.
A message has appeared on the Heathrow website to say that:
"POD parking will be operating a bus service from 22nd November for the foreseeable future"
This sounds ominous, but is presumably due to reduced use of the long-term car parks at the moment. The bus service will operate from 4.30am to 11pm with an 'on demand' service available outside of these hours, which must be requested by telephone.
The removal of the POD service removes the only possible reason to stay at the terribly dated Thistle Heathrow hotel.
As we reviewed here, the sole benefit of staying at the Thistle was that – for a £6 fee – you could take the 30 second walk from the hotel to the long-term car park and be deposited in Terminal 5 in style by a POD.
IHG opens a Hotel Indigo on the French Riviera
IHG has just opened Hotel Indigo Cagnes-sur-Mer, the brand's first hotel on the French Riviera. Details are here.
This looks, on the face of it, like a very attractive option for someone who wants to enjoy life on the riviera but is put off by the scale and bustle of Nice and Cannes. With just 87 rooms, the Hotel Indigo is also very much a boutique compared to monoliths such as InterContinental Cannes, albeit this is currently closed for refurbishment.
Cagnes-sur-Mer sits between Cannes and Nice, and its attractions include a castle and a Renoir museum. It has a train station (marked as 1km from the hotel) which makes it easy to pop along to Nice, Cannes, Antibes or Monaco.
To quote:
"As guests enter Hotel Indigo Cagnes-sur-Mer, they will be met with an array of light turquoise hues that contrast with rich darker blues to reflect the unique shades of the sea and the endless skies which the Riviera is known for. The soft furnishings throughout the hotel's public areas continue to evoke a nautical feel, with decorative rugs that feature waved patterns, the use of soft curved edges, and light fittings which mimic the waves that lap up against the coastline. Nodding to the destination's link to notable French artists, the artwork that can be seen throughout the hotel has been specially curated, partnering with local talent. Thanks to a partnership with Eric Garence, the Cote d'Azur ambassador and poster designer, guests can send home a one-of-a-kind postcard to family and friends."
Facilities include a rooftop pool and an Italian restaurant specialising in locally caught seafood. The hotel website says that a free airport shuttle service is available if you pre-book.
Rates seem reasonable, with random dates next May starting at around €150, albeit that rooms are relatively small. The hotel is a new build and so should be in excellent condition.
You can find out more on the IHG website here.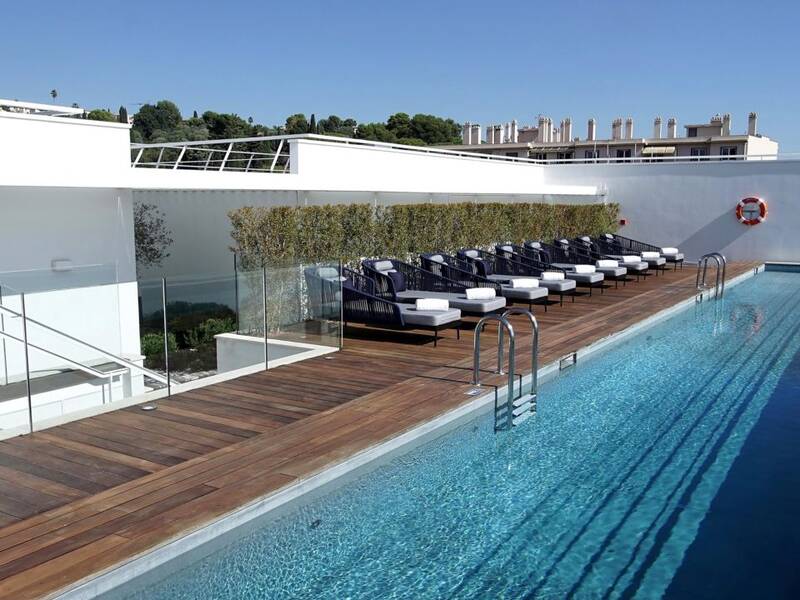 Get 3-months of Kindle Unlimited for just £7.99
Amazon has launched another Black Friday offer.
If you have a Kindle device, or are happy using the Kindle app on your iPad, other tablet or smartphone, you can claim a 'three months for the price of one' trial of Kindle Unlimited via this link.
Kindle Unlimited allows you unlimited access over 1 million books, thousands of audiobooks and selected magazine subscriptions. You won't struggle to keep yourself busy for the next three months.
The standard £0 free trial offer is also still available via the same link. You need to decide whether 3-months for £7.99 or 1-month for £0 is more useful to you. In both cases, the subscription fee reverts to £7.99 per month after your trial period if you don't cancel.
You can sign up is here. The offer ends on 30th November.
(I know this is non-core to HfP, but we have a good relationship with Amazon who always keep us up to date with their offers. The commission we earn if you sign up keeps us ticking over whilst airline and hotel advertising remains weak.)
Don't forget the 99p Audible offer too
As we mentioned last week, Audible, Amazon's audiobook subsidiary, has also launched a special promotion in the run up to Black Friday. See here.
Until 30th November, you can claim 3 months of Audible for just 99p. This works out at 33p per month.
You can choose one free audiobook per month during your trial.
The offer is not available if you have had an Audible trial in the last 12 months. If you don't see the 99p offer like this when logged in to your Amazon account:
….. then you don't qualify.
The link to sign up is here. This offer also ends on 30th November.