Hans Airways – the UK's smallest, newest airline – will start long-haul flights in 2022
Links on Head for Points may pay us an affiliate commission. A list of partners is here.
British Airways and Virgin Atlantic are about to be joined by a brand new long-haul airline later this year. By my count it will be the UK's smallest scheduled carrier.
Hans Airways hopes to launch scheduled flights by the summer, and unlike some airline startups it actually looks like it will be able to follow through.
The airline has modest ambitions: to launch non-stop services between Birmingham Airport and India. Initial routes have not yet been announced, although the Hans Airways website suggests Amritsar could be the first destination it serves.

What's in a name?
If you are confused by this airline's name, you are not alone.
I did think that Hans Airways was a bit of an odd choice given it will be operating flights to India – the name didn't strike me as particularly Indian. If anything, it sounded rather Germanic to my ears!
As the seasoned journalist I am (;)) I took it upon myself to dig into why Hans Airways was chosen. After about 30 seconds on Google Translate I realised that 'hans' appears to be the anglicised spelling for the Hindi word 'हंस', which means 'Swan'. You can hear the pronunciation here. Elementary, my dear Watson!
'Swan Airways' makes a lot more sense given that swans can actually, well, fly. It would also explain the logo above.
A brief history of Hans Airways
Hans Airways was founded in 2019 by Satnam Singh Saini who previously organised two successful charters between the UK and India with Fly Jet Airlines and Monarch Airlines (may it rest in peace).
In the past two years, Hans Airways has been getting its regulatory ducks (or swans) in a row. It has submitted its application for an Air Operator's Certificate, Operating and Route Licence with the Civil Aviation Authority and hopes to have these confirmed by the summer.
Whilst he waits on CAA, Satnam Singh Saini has installed a reputable leadership team. This includes the former director of engineering at easyJet, Ian Davies, and the ex financial director of BA CityFlyer Paul Roberts.
These appointments suggest Hans Airways is serious in its intentions to start operations. It says it has already started pilot and crew training with an initial four pilots.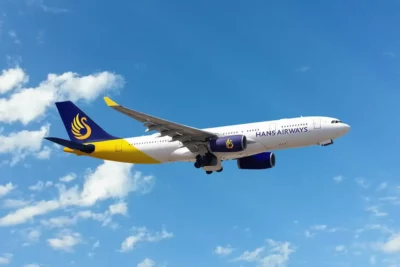 Hans Airways agrees its first aircraft
The airline has now taken a further step closer to operations with a letter of intent for its first aircraft.
Although not legally binding, Hans Airways has agreed to take on an ex-Air Europa A330-200 (registration EC-KTG) as the basis of its fleet.
The aircraft is around 13.5 years old and is currently in storage. It will be re-registered as G-KJAS once the transaction is complete.
What will the customer experience be like?
Hans Airways is calling itself a 'hybrid' airline, "blending value for money fares with a quality in-flight service offering".
It is not clear what the cabin will look like. Hans Airways says it will operate the A330 with 275 economy seats and 24 premium economy 'Economy Plus' seats. This suggests it will not alter the cabin and will retain Air Europa's 24 angle-flat business class and 275 economy class seats – a sensible move given that new seating would lead to lengthy certification delays.
If true, Economy Plus on Hans Airways would be superior to 'standard' premium economy products on other airlines as Air Europa's angle-flat seat is more of a hybrid between premium economy and the latest business class seats. Whilst most airlines have a seat pitch of around 38″ in premium economy, Hans Airways will have 56″, or just shy of 1.5m.
It also intends to include in flight entertainment and catering as standard, which can never be taken for granted on low cost carriers.
A loyalty scheme is planned too
Slightly less convincing are its plans for a loyalty scheme, which it will call the rather unintuitive HAPEEI. This stands for Hans Airways Passengers Environment Education Initiative.
According to Hans Airways, "it will reward passengers with all the regular benefits of a frequent flyer programme and with a strong emphasis on corporate social responsibility, create opportunities to donate to children's educational charities in India or conservation and water preservation projects."
This idea seems a little half baked at this stage so we will reserve judgement for its official launch. To be perfectly honest, a loyalty scheme is likely to be way down the priority list for a low-cost airline focussed on point to point connections for the UK Indian diaspora. It's not even clear how much value a loyalty scheme for such a small airline would even add for the average flyer.
Hans Airways is not alone
Flights between the UK and the Indian subcontinent have been on the rise in recent years. Both Virgin Atlantic have opened (or returned) to Pakistan with flights to Islamabad and Lahore; two years ago, Virgin launched Delhi and Mumbai from Manchester.
Hans Airways will hope to get in on this increased demand, but it is not alone. FlyPop is another airline startup focussing on the UK-India diaspora with A330s, although the similarities end there. Unlike Hans Airways, FlyPop is based in India and will fly to Stansted. It is targetting the ultra low cost segment, with extremely tight nine-abreast seating in economy (eight is as far as you would want to comfortably go on the A330) and buy-on-board food and drink.
It will be interesting to see who succeeds – Hans Airways, with its legacy-aligned approach including free meals and in flight entertainment, or FlyPop with its ultra low cost, Norwegian-style flights where nothing is included?
What we do know is that carriers which launch with just one or two older aircraft tend to struggle with reliability. (That said, Norwegian was brought down because it bought new aircraft – a Boeing 787 fleet with bodged Rolls-Royce engines.) With no easy back-up plans for passengers when things go wrong, a new airline can quickly develop a bad reputation which pushes it into a downward spiral. Only time will tell.