The story of the Boeing 747 at British Airways
Links on Head for Points may pay us an affiliate commission. A list of partners is here.
Yesterday we published a brief history of the Boeing 747.  Today, we want to focus on how the Boeing 747 helped shape the story of British Airways.
This article was first published in mid 2020 when British Airways announced the retirement of its Boeing 747 fleet.  As it's a good read, we thought it worth giving it another outing today on a quiet Sunday.  It has been updated with news on where the remaining aircraft have ended up.
British Airways did not exist in its current incarnation when the Boeing 747 was launched in 1970.  Its predecessor, the British Overseas Airways Corporation – or BOAC – introduced its first 747 in 1971, initially flying the type to New York.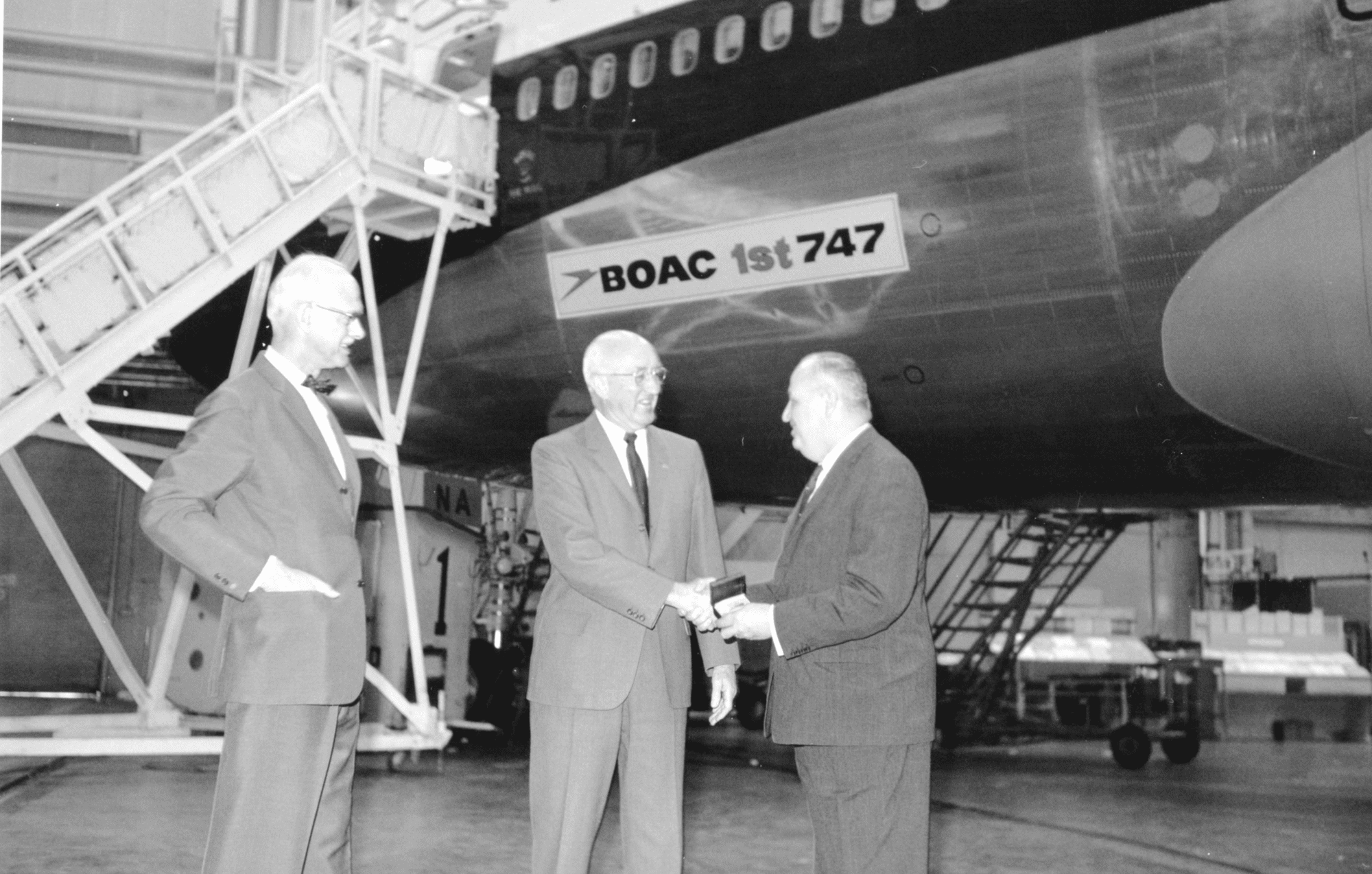 Somewhat ironically, a pay dispute with pilots meant that the jumbo was grounded for BOAC for a year, as this video shows. Some things never change!  This two minute video is a news report on the inaugural flight to New York.
If you are reading this by email and cannot see the video, visit this page of YouTube.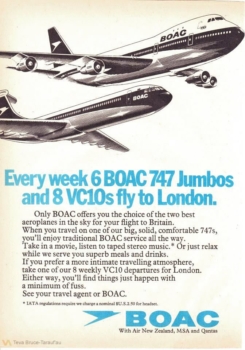 Although BOAC also flew the 747 to Johannesburg and Tokyo amongst other routes, it really made its mark on the 'Kangaroo Route' to Australia.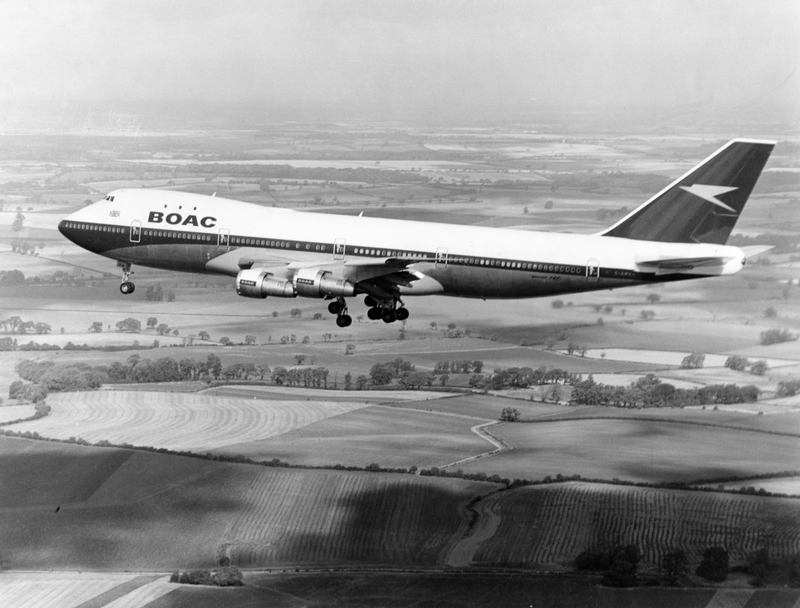 By 1975, BOAC was operating to five Australian cities: Adelaide, Brisbane, Melbourne, Perth and Sydney.
Despite the 747's excellent range (at the time), the route still required multiple stops.  Perth was the shortest, requiring just two stops whilst Sydney and Melbourne required at least three.
This video was produced on the inaugural flight in 1971:
If you are reading this by email and cannot see the video, visit this page of YouTube.
As you can see, BOAC initially used the additional space afforded by the upper deck as a cocktail lounge for first class passengers and called it the 'Monarch Lounge' (click to enlarge):
Access was via a spiral staircase: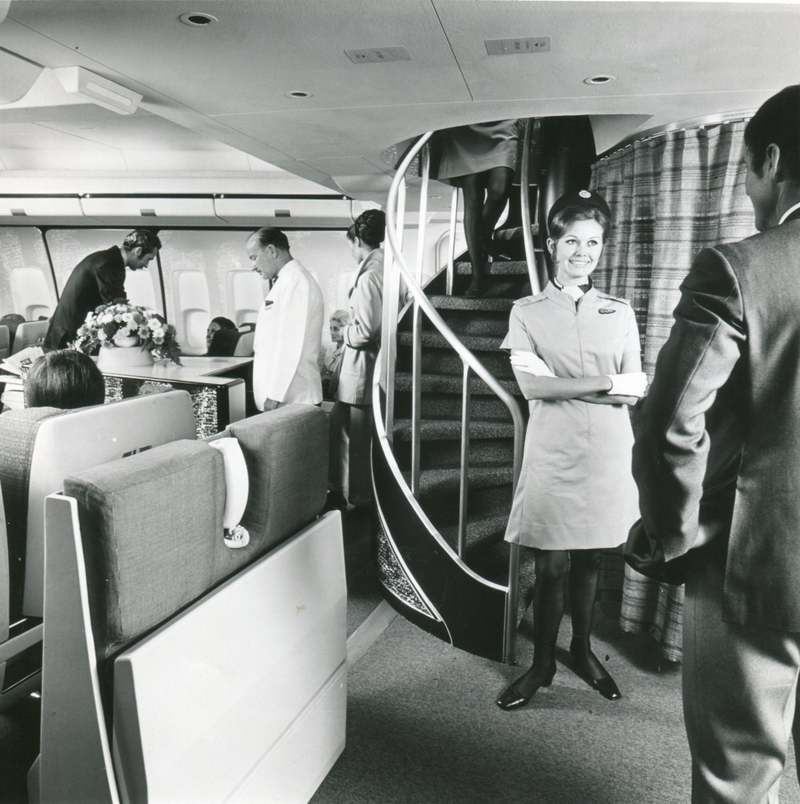 It wasn't that big, however, as the upper deck on early variants was surprisingly small.  If anything it looks slightly claustrophobic!
It got a lot bigger by the time the current British Airways 747-400 was introduced, and the 747-8i (currently only flown by Lufthansa in Europe) is even bigger.  Here are some screenshots from the British Pathe video:
First class was a 2-2 arrangement in the nose of the aircraft:
In economy, passengers were sat in a 3-4-2 arrangement rather than the more common 3-4-3 in later years: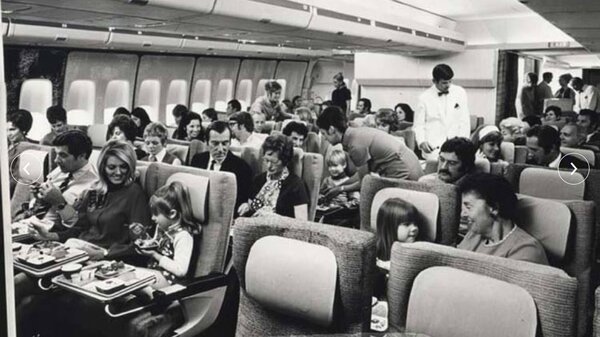 By 1976, BOAC had 18 747-136s in its fleet and would later order some 747-236 variants which would continue to be flown by British Airways until the 1990s. These aircraft featured 27 First Class seats and 292 in economy.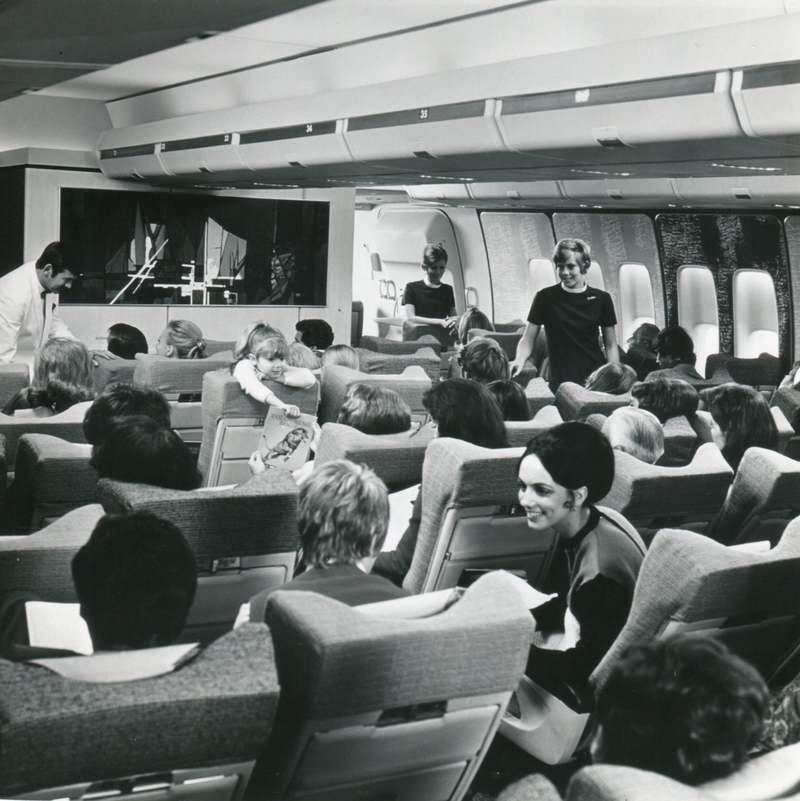 In 1974, BOAC and British European Airways as well as two regional airlines merged to become British Airways.  Between 1974 and 1984, British Airways aircraft were painted in the 'Negus' livery:

In 1984, aircraft were repainted in the 'Landor' Livery: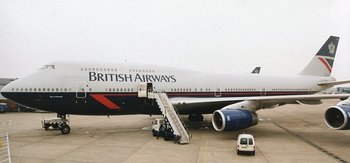 In 1986, British Airways placed a large order for the next-generation 747 variant, the 747-400. The first of this type was introduced in July 1989 and the last arrived in April 1999.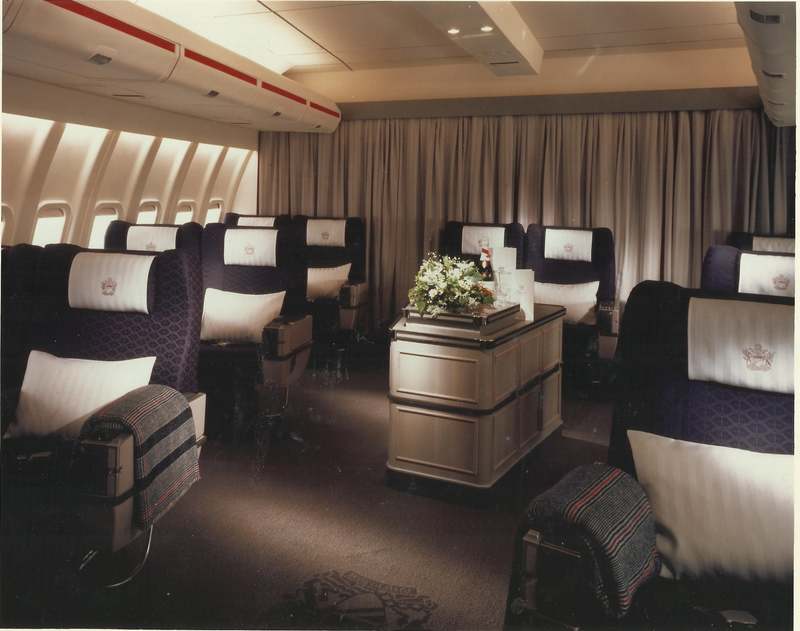 In 1990, a British Airways 747 was involved in a high-profile incident in Kuwait. The BA149 flight arrived into Kuwait City from Heathrow on its way to Kuala Lumpur. Unfortunately, Iraq had launched a full-scale invasion of Kuwait and had by that time already taken control of Kuwait International Airport. On arrival, all passengers and crew were captured by Iraqi forces and detained at nearby hotels. The aircraft was eventually destroyed on site.
In 1997, British Airways had a bit of a mid-life crisis and decided to change its livery to 'World Images'.  This introduced 50 different tail fin designs based on "ethnic" art from around the world.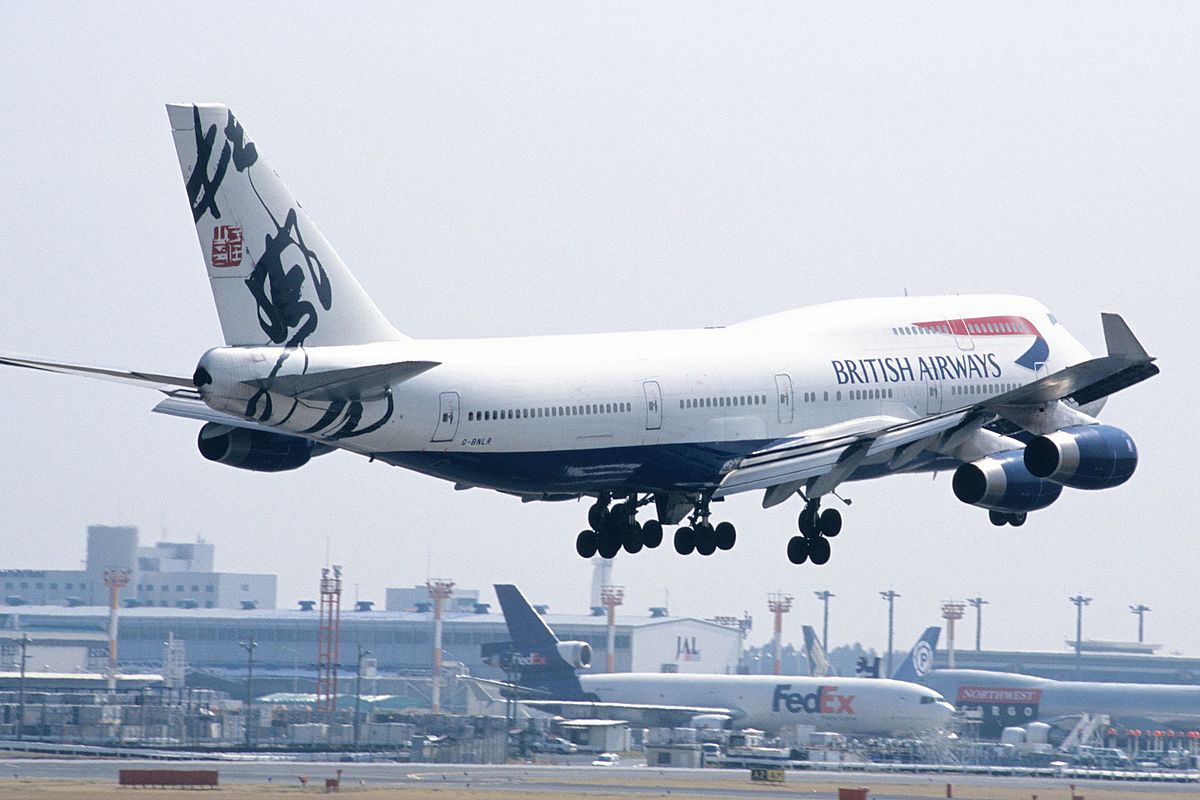 In 1999, British Airways introduced the first fully-flat bed seat on its 747s.  This was a revolutionary product, from the time when British Airways was genuinely the leading global carrier: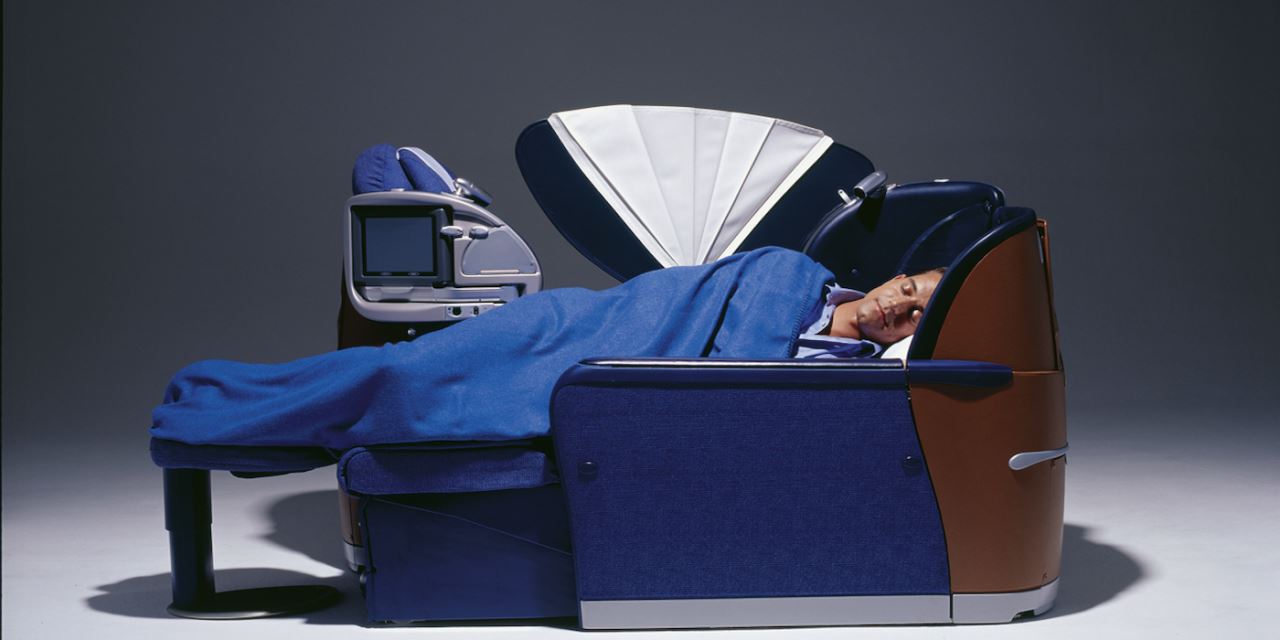 In 2001 it introduced the Chatham Dockyards livery across the entire fleet, which is still in use today.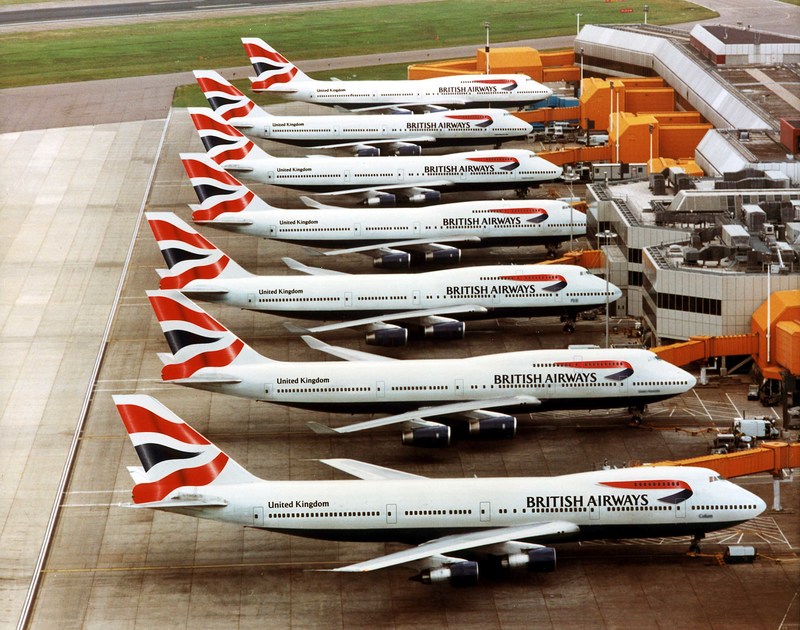 At its peak, the British Airways Boeing 747-400 fleet reached 57 aircraft.  Since the last delivery in 1999, British Airways has been slowly retiring the type from service.  Other airlines moved faster, however, and BA has in recent years been the world's largest operator of the Boeing 747.
In June 2020, British Airways announced that it would retire the entire fleet four years early as a result of the coronavirus pandemic.
The British Airways 747 fleet is not totally gone for good
You still have a chance to see a Boeing 747 in British Airways colours.
G-BNLY, which is currently painted in the Landor livery, has gone to Dunsfold Aerodrome in Surrey.  G-CIVW, which has the current Chatham Dockyard livery, was also given to Dunsfold.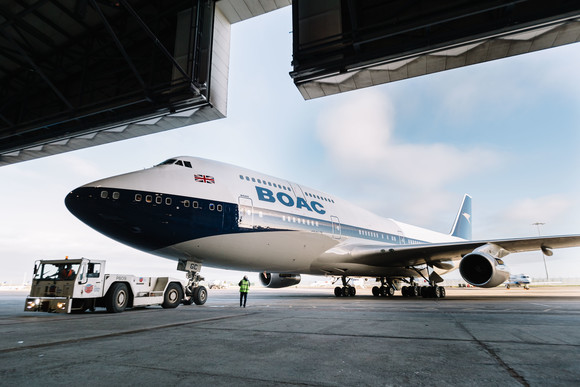 G-BYGC went to the Bro Tathan business park in the Vale of Glamorgan. It will be maintained as a heritage piece by aviation specialists eCube Solutions. This aircraft is currently painted in the BOAC 'Gold Speedbird' livery used between 1963 and 1974, pictured above.
A fourth aircraft, G-CIVB, has found a home at Cotswold Airport in Gloucestershire.