Review: I try Finnair's first Premium Economy seat
Links on Head for Points may pay us an affiliate commission. A list of partners is here.
This is our review of Finnair's new Premium Economy seat.
On Tuesday we ran an in-depth review of Finnair's new Business Class seat. This is an ambitious and slightly revolutionary product which doesn't recline. Take a look at our article if you missed it and make up your own mind about whether it sounds like your thing.
Finnair is also introducing a brand new Premium Economy seat. To be more accurate, it is introducing its first Premium Economy seat.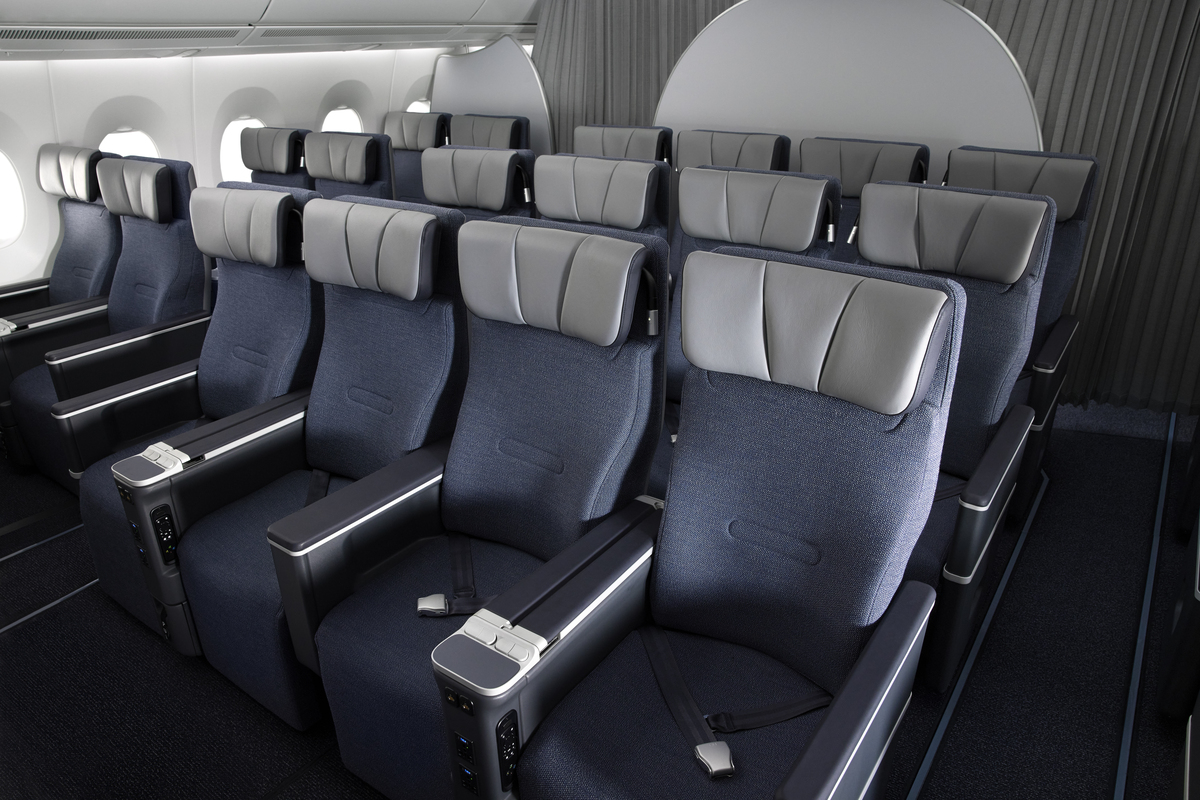 I was due to fly home from Helsinki in the new seat. Due to a last minute equipment swap, I was upgraded to Business Class on a non-refurbished plane (disaster ….). I did, however, get to sit in the seat for 20 minutes on my outbound flight whilst interviewing Finnair's Head of Design, David Kondo.
Finnair's new Premium Economy seat
The new seat is less revolutionary than its new Business Class and features a more conventional design.
That said, it is a seat you won't have flown before. Finnair is the first airline to install HAECO's new Vector Premium seat: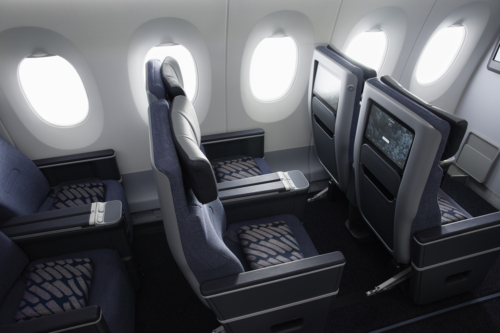 This is how the seat looks in the flesh: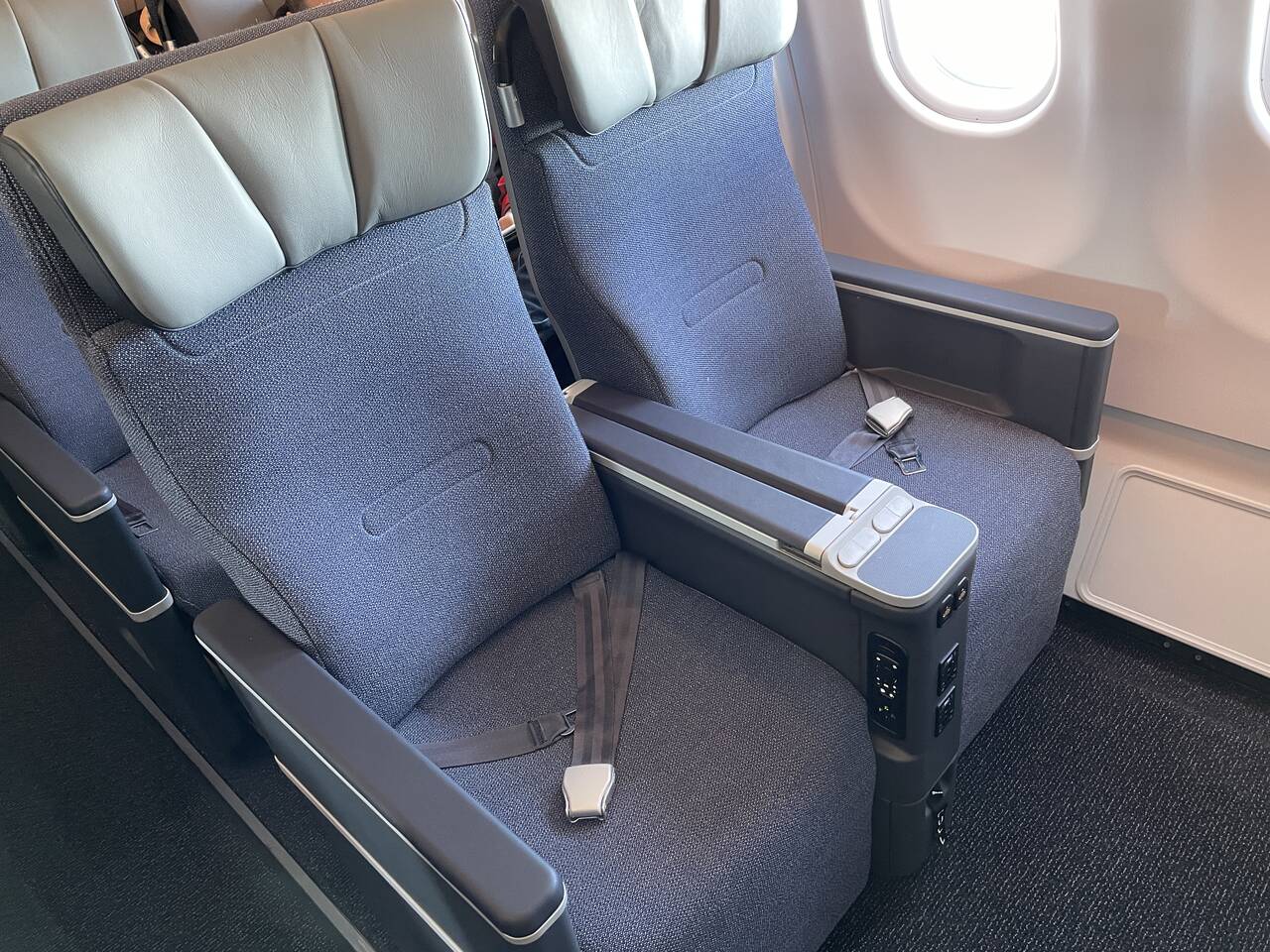 It uses the same midnight blue colour palette as Business Class. The seat features an 8″ recline as well as an integrated 'waterfall' footrest, as you can see in this PR image: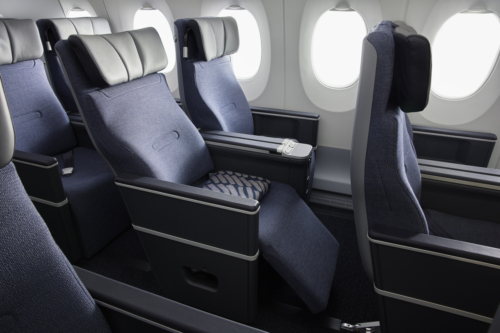 What isn't clear from the PR pictures I had seen in advance is how the small the cabin is. With only three rows of seating, it is a very private environment. At least on the A330 fleet, Finnair has the ability to move the dividing wall back if necessary and add additional rows if the concept takes off.
If you can get the bulkhead row, legroom is excellent: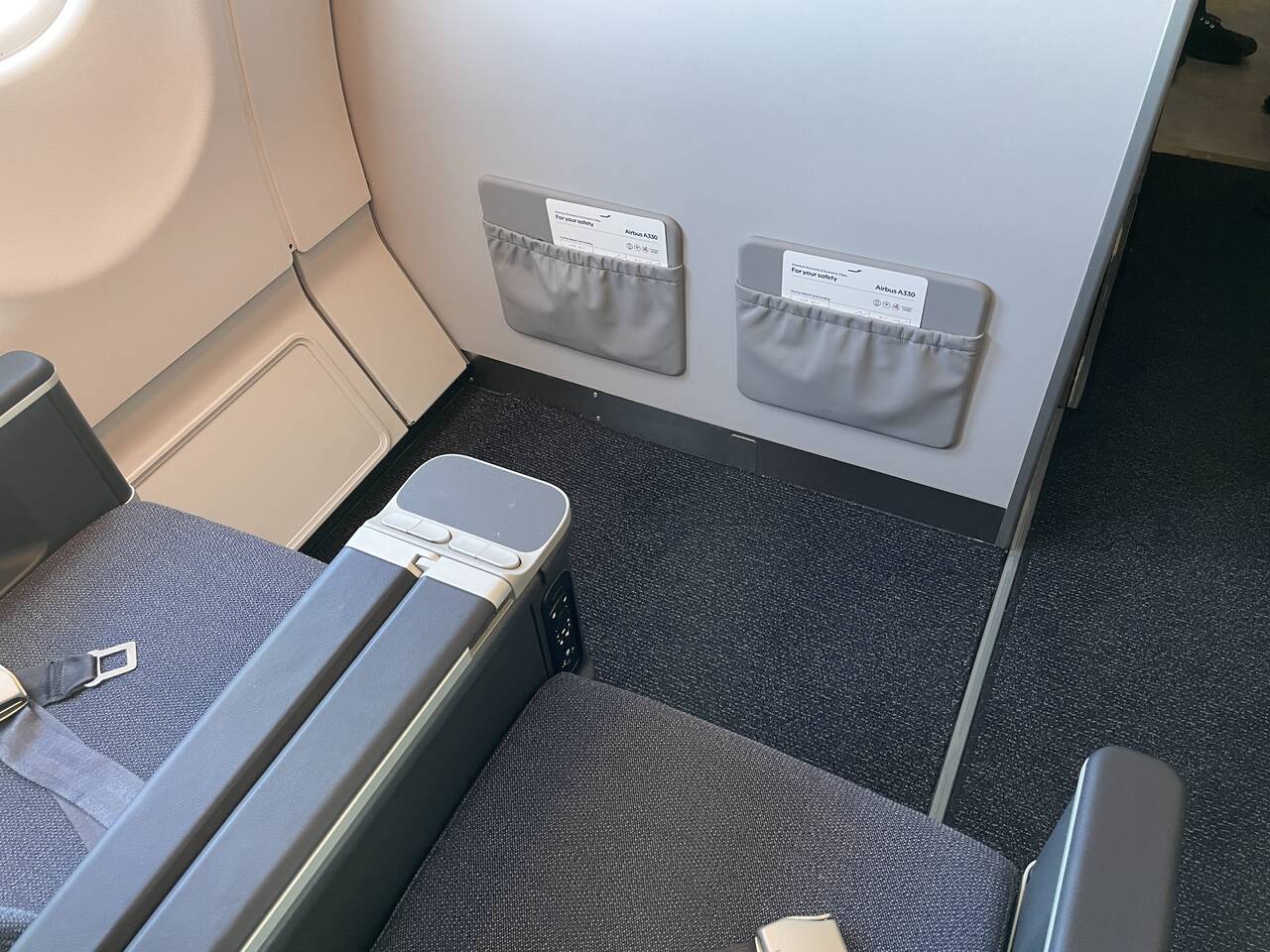 If we add my 6 foot 2 inch frame to give you a sense of scale: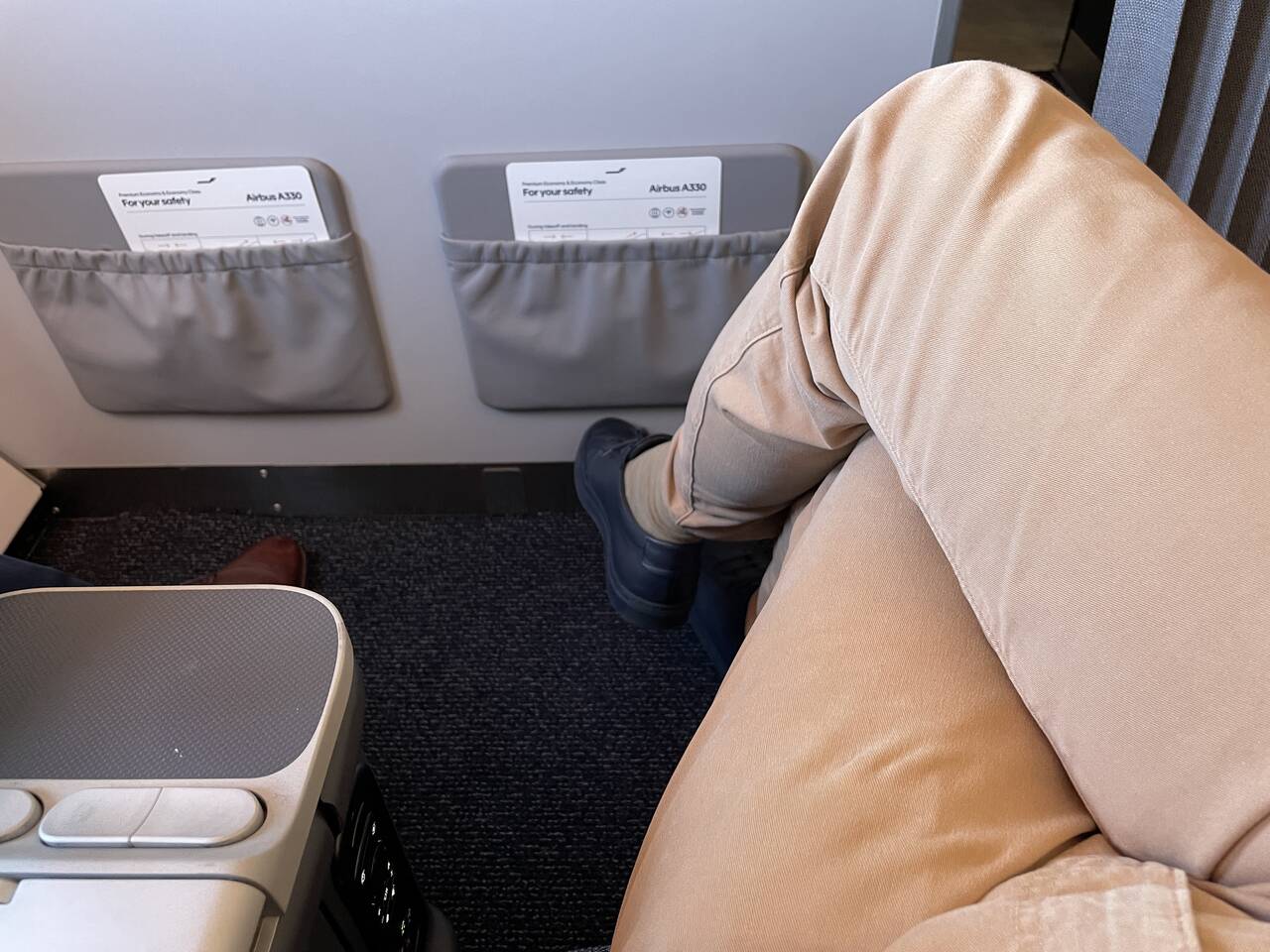 The cabin was pretty full on our flight. Whilst Premium Economy is not being sold at the moment until more aircraft are equipped, Finnair seems to be filling the seats with upgrades or elites. This meant that I couldn't get a better picture of the whole cabin.
Whilst other rows have a 13″ screen: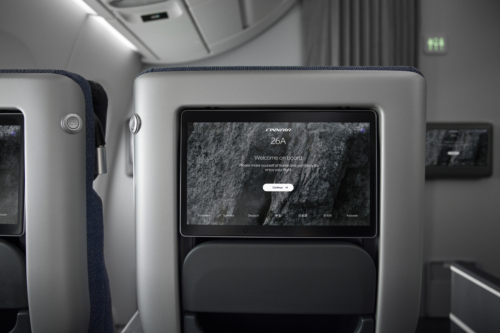 …. passengers in the bulkhead row get an even bigger one. Of course, you are sitting slightly further away from it ….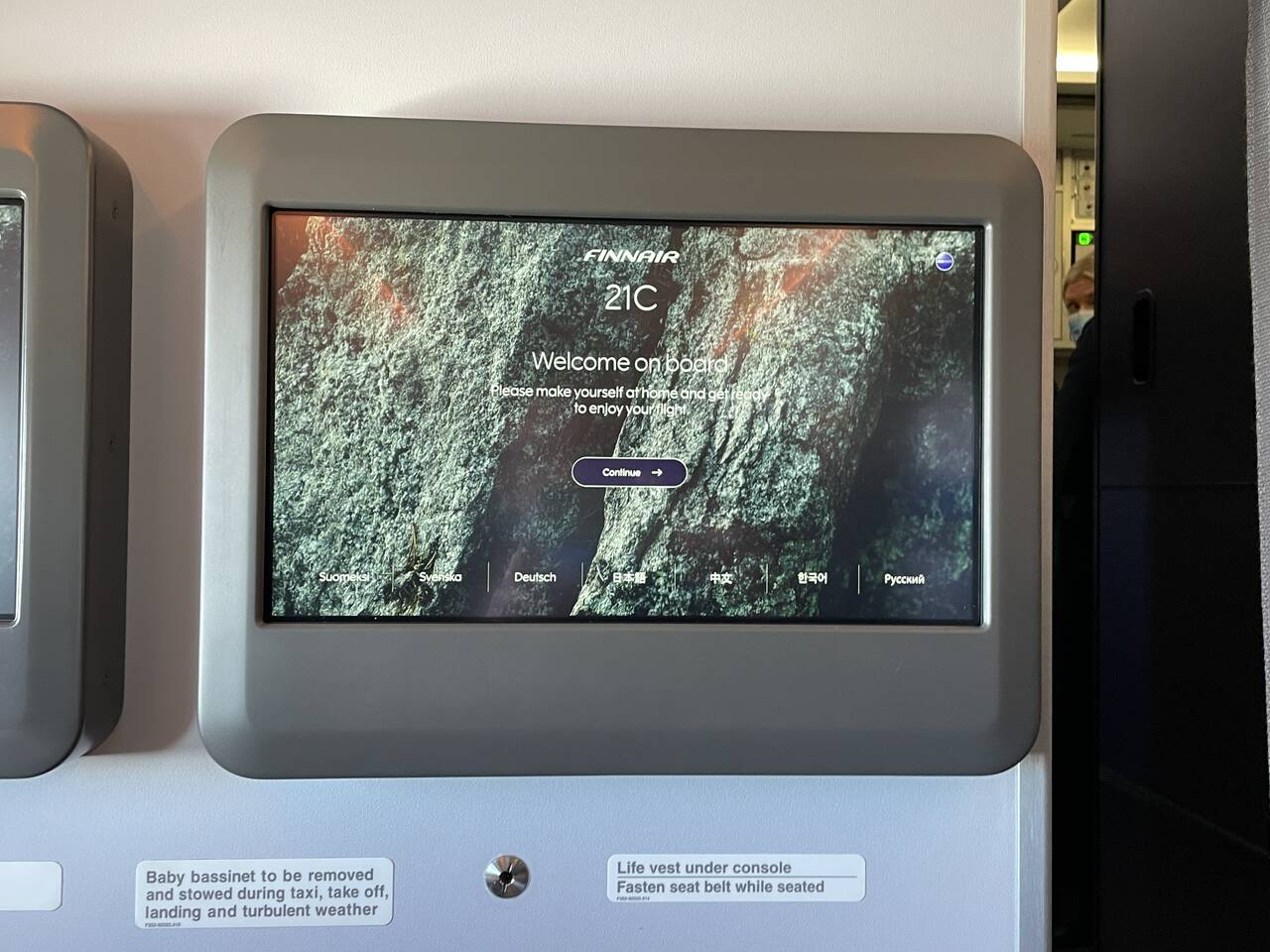 A key feature of the HAECO seat is the movable 6-way head rest: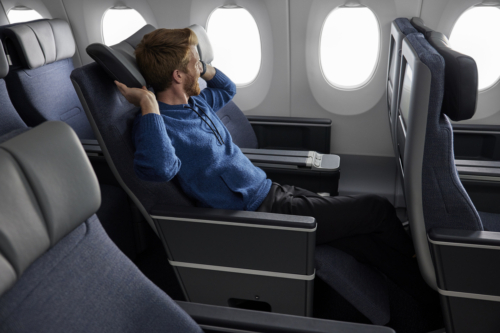 To go with this, Finnair is also giving Premium Economy passengers this rather attractive Marimekko-designed neck pillow (photographed on my knee because you can see it better!):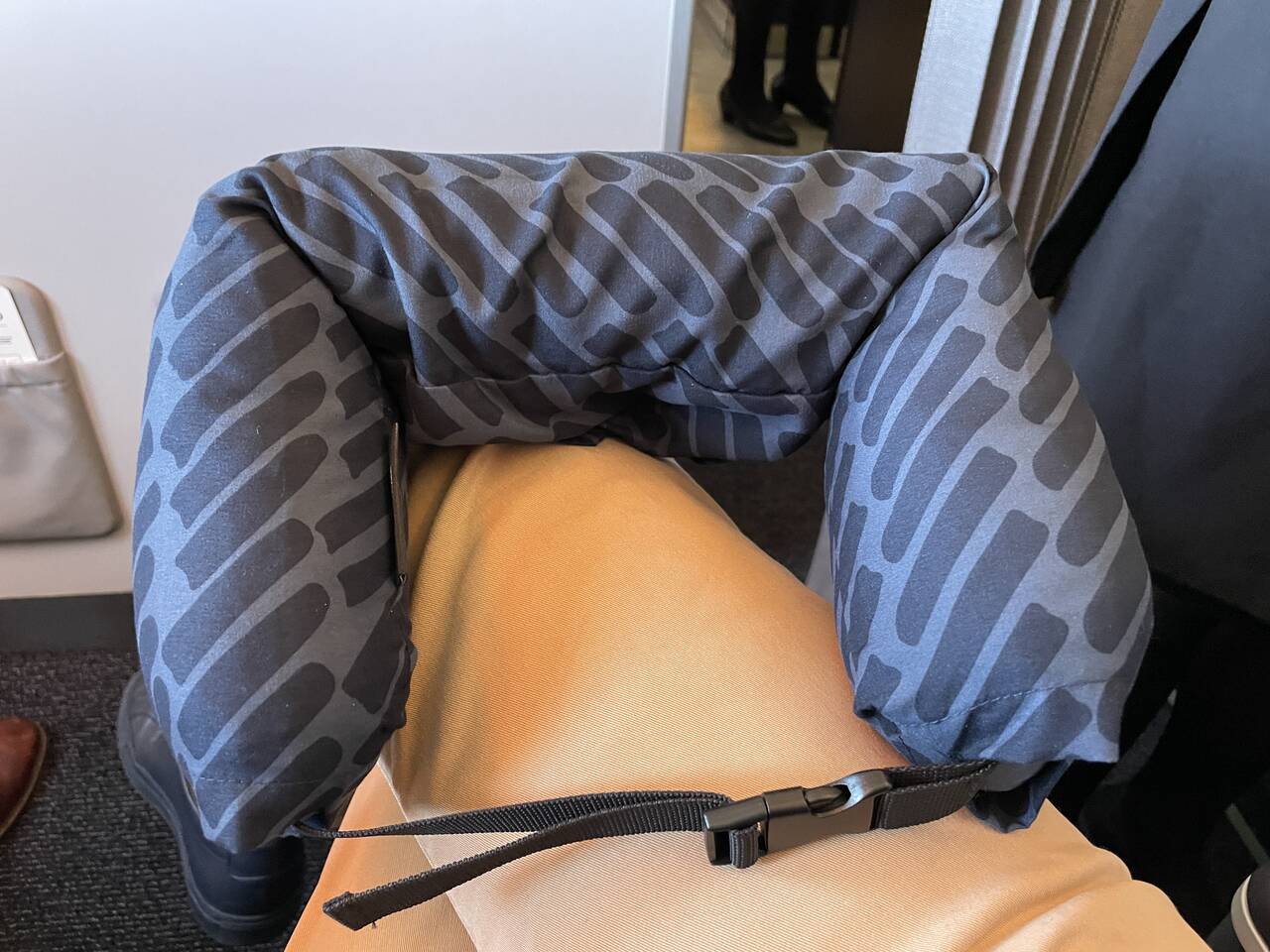 These are far classier than the garishly coloured ones that you often see being carried around. I think David Kondo doesn't want the sanctity of his new cabin disturbed!
Here's the full list of seat features from the Finnair website:
38" (96.5cm) seat pitch
Better seat recline and a leg rest supporting the whole leg
Memory foam cushions for added comfort
At least 13" screen for in-flight entertainment
Personal reading light
Cocktail table as well as a large and firm meal table
Universal PC power and USB A outlets
Plenty of storage features
As I was only in the seat for 20 minutes, I didn't get a proper impression of how good it is. This will have to wait for another day.
When can you try the new cabins?
Premium Economy and the new Business Class seat will be rolling out on Finnair's 17 A350s and 8 A330s over the course of the next 22 months, with an eye to completing the fit-out on all long haul aircraft by the end of 2023.
This timetable will not be delayed by the restrictions on long haul flights caused by the closure of Russian airspace. Finnair has one eye on getting the job done in time for its 100th anniversary celebrations next year.
The seat is currently bookable for selected long-haul routes for travel from 11th May. This is the date when Finnair will have enough refurbished aircraft to guarantee that it can serve certain routes on every flight.
Remember that Finnair flights earn Avios and BA tier points
The reason we look at Finnair is that, as it is in the oneworld alliance, you earn Avios and British Airways Executive Club tier points when you fly it. In fact, you earn more tier points than you would earn on British Airways, due to the short-haul connection to Helsinki.
Finnair also runs a number of weekly flights from Heathrow with long haul aircraft, for cargo reasons. This means that, if you pick and choose your flights, you can fly Premium Economy or Business Class to Asia on all four flights.
Finnair also flies from Manchester, Edinburgh and Dublin. If you don't live near Heathrow then the rationale for flying it to Asia becomes even more compelling, because connecting in Helsinki is no harder than connecting in Heathrow.
You can find out more about the new Premium Economy seat on this dedicated page of finnair.com here.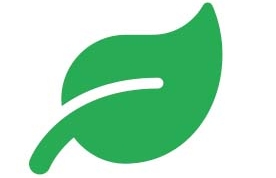 Head for Points made a financial contribution to the Woodland Trust as part of this trip. The Woodland Trust creates and manages forests in the UK in accordance with the Woodland Carbon Code.