Review: One Hundred Shoreditch hotel, London
Links on Head for Points may pay us an affiliate commission. A list of partners is here.
This is our review of the One Hundred Shoreditch hotel in London.
Working for Head for Points has many perks but one of the best is getting to stay in and review some fantastic hotels. However, when asked to review One Hundred Shoreditch, located a 30 minute tube ride from my house, on a hot Friday night and with a toddler in tow, I was perhaps a little jaded about the prospect. But as it turned out, One Hundred Shoreditch is the sort of hotel that can turn round even a grumpy old Londoner like myself.
The hotel offered us a free room for a review to promote their current American Express cashback offer. If your account is targetted, you will get £60 back if you spend £300 at One Hundred Shoreditch by 30th September.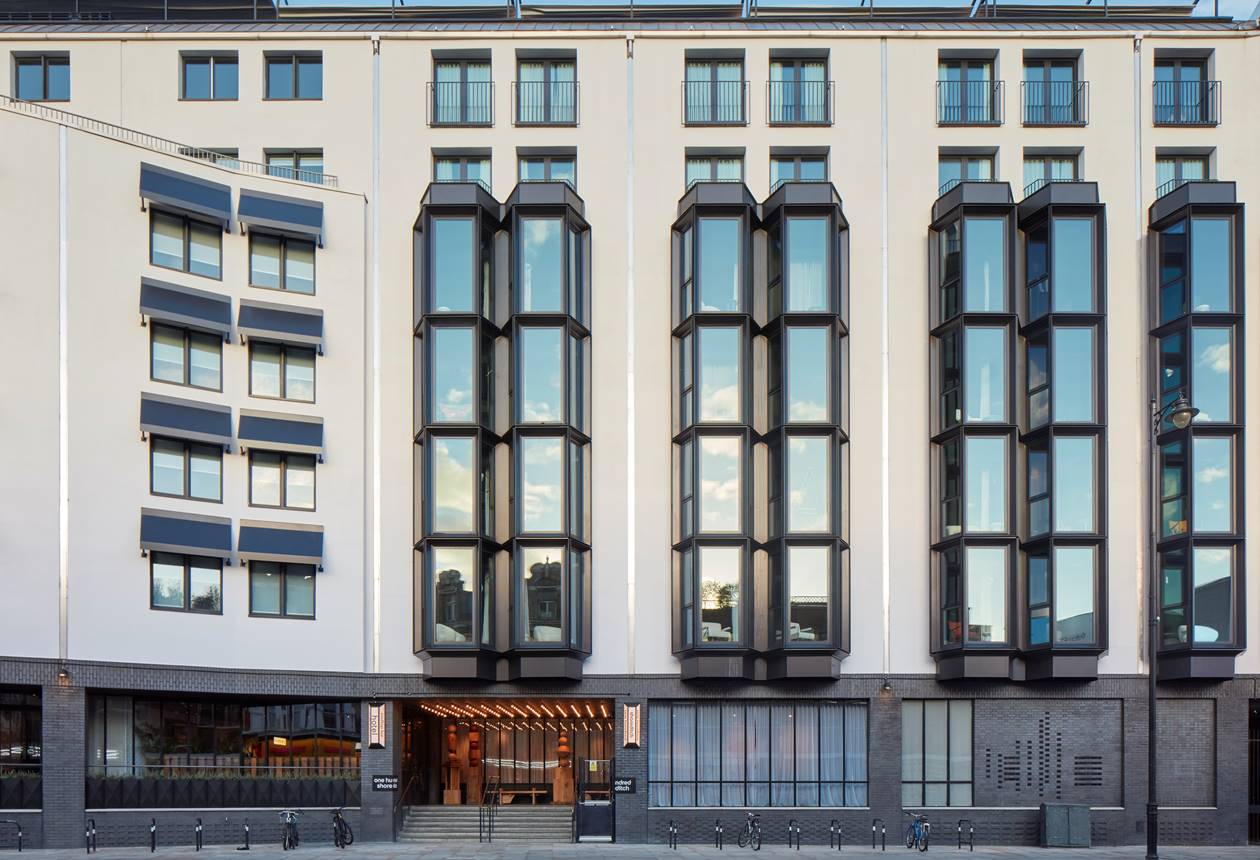 For clarity, the hotel is not part of any chain or major loyalty programme.
Location and arrivals
One Hundred Shoreditch occupies the building that housed the Ace Hotel, which shut during the pandemic. The hotel has been fully refurbished although the Lore Group, who now own and operate the hotel, did retain some elements of the Ace
The Lore Group also owns Sea Containers House in London, Riggs Washington DC, Lyle Washington DC and Pulitzer Amsterdam.
Located a five minute walk from Shoreditch High Street station, the hotel is very much in the heart of Shoreditch. It's also just a 13 minute walk from Liverpool Street station (I timed it!) and is therefore also a decent option if you have meetings in The City.
It's difficult to miss One Hundred Shoreditch as you walk up Shoreditch High Street. The modern, black façade, with angular protruding windows, is eye-catching even amongst the many funky store fronts and bars that line the road. The entrance is set back into the hotel up a few steps (there is also an accessible mini lift) so whilst it's easy to find, it feels discreet and understated.
The hotel's overall aesthetic is very contemporary and this is clear from the moment you enter the hotel. Large wooden sculptures sits either side of the entrance and the reception area is shrouded from the street with soft white drapes.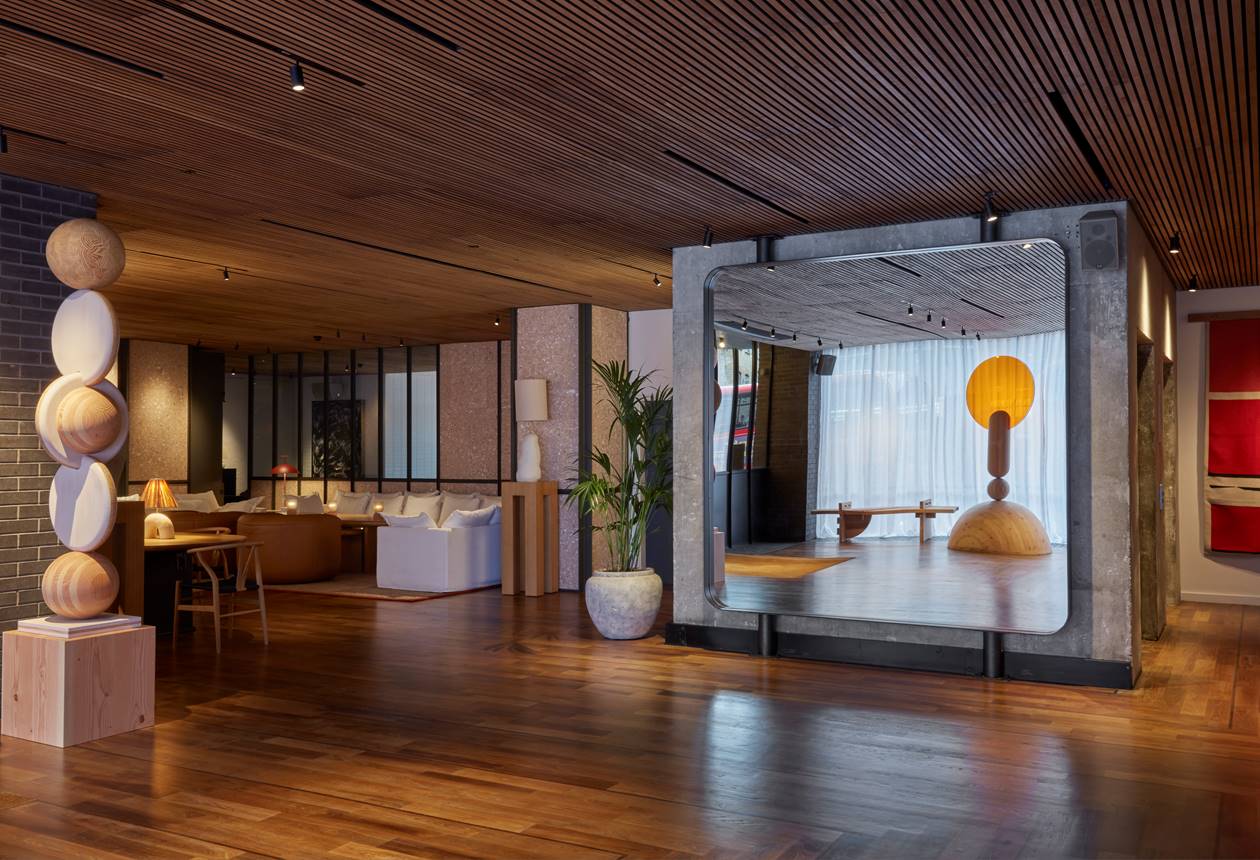 There were a few people checking in, but I was immediately greeted and assisted by a friendly receptionist. Check-in was very quick and efficient – I was handed an iPad to complete some outstanding information, given a set of keycards and an explanation of how they worked, and was ready to go.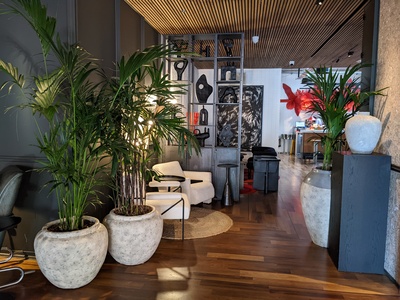 The reception area is just part of the multifunctional hotel lobby. There's a long slim table apparently reclaimed from the Ace that operates as a workspace (the Ace chain is well known for encouraging hot desking, even by non guests) and dotted throughout were well designed seating areas and nooks, each styled slightly differently.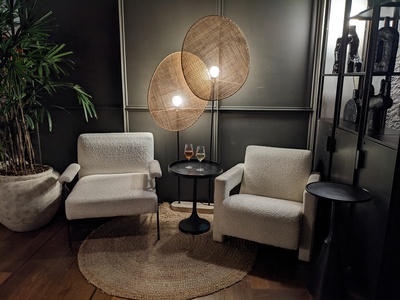 Whilst the design aesthetic is clearly fundamental to the hotel, it didn't seem to compromise on comfort or practicalities. Armchairs were comfortable and situated next to coffee tables at exactly the right height and clever lighting meant it was cosy after dark, but you could still see your drink.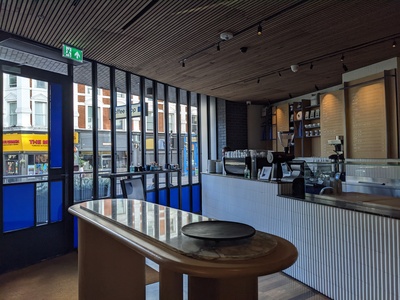 There's a lobby bar with further seating, plus a coffee shop serving pastries and snacks alongside good coffee.
Bedrooms at One Hundred Shoreditch
All rooms are called studios – the smallest room is simply called a studio, and the largest are studio suites. I was given a studio loft room.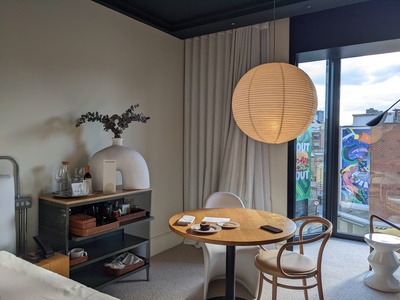 These are bigger than the entry-level studio at 248sq ft (vs 205 sq ft) and feature either an oriel window or Juliette balcony.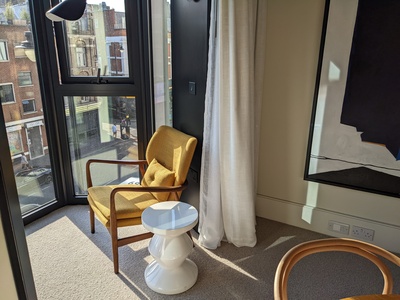 The oriel window studios have bay windows that jut out over the street making up the angular hotel frontage, not dissimilar to the frontage of The Standard in Kings Cross. These bays are a good spot to sit and watch the action unfolding on the high street below, and are set up with a comfortable (and of course, ultra-stylish) armchair, coffee table and reading lamp.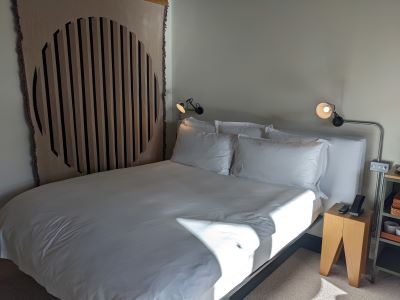 The bed was huge and very comfortable, with a soft mattress and puffy duvet and pillows. Whilst there wasn't a desk (good job Rob didn't take this review …..) there was a good sized round table and two chairs to use, lit by a low-hanging pendant light.
Turning into Rhys for a second, I'm happy to let you know that were plenty of sockets available around the room and one beside each side of the bed. They were tucked away, almost behind the headboard, which meant they weren't immediately obvious.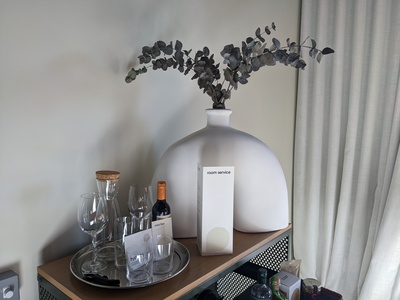 Some lovely glasswear is provided for use – sleek wine glasses, tumblers and a lovely carafe that you are encouraged to fill using the filtered water taps (sparkling and still) located outside by the lifts.
I really liked the industrial-style unit that housed the teas, coffees and snacks. It felt very efficient, with a slide out drawer and chic rattan compartments.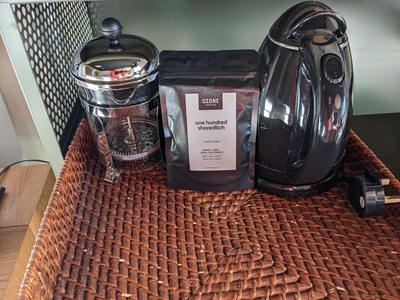 Instead of the standard Nespresso machine, One Hundred Shoreditch provides a cafetiere and ground coffee. It felt both a little bit retro and a little bit chic.
My one constructive point for the room is that there wasn't a clear place to plug in and use the kettle. The lead was rather short and it meant we had to use it on the ground which is not ideal with a toddler and her clumsy dad wandering about.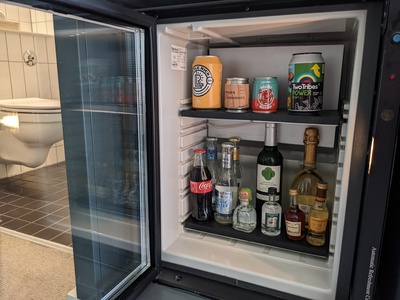 The mini-fridge was surprisingly located away from the rest of the food and drink, in the wardrobe, but was very well stocked. The minibar very much reflected the achingly hip hotel ethos. Forget mini bottles of Smirnoff and Gordons gin, One Hundred Shoreditch offers Patrón tequila, canned cocktails by Whitebox, gluten-free beer by London brewery Two Tribes, and a sparkling CBD drink brand called Little Rick.
The overall room design was attractive, white and bright, with a tapestry wall hanging, cool art and a beautiful vase of eucalyptus. It did make me chuckle though to see the room's styling slightly marred by my requested travel cot: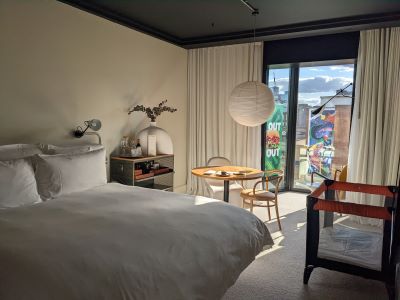 Whilst it was immaculately clean and my daughter was very comfortable, it seems that even the most stylish of hotels can't improve the aesthetics of the universally ugly travel cot.
Bathroom
The bathroom was functional and attractive and included a decent sized bath.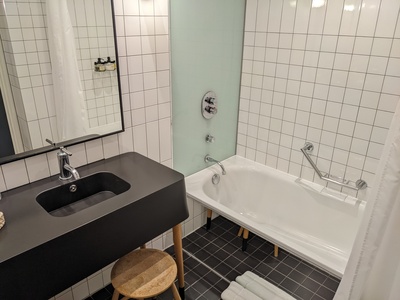 Again, I liked the use of rattan baskets to store clean towels and amenities and I appreciated the size of sink to surface space ratio. My pet hate in hotel bathrooms is when there's an impressive-looking giant sink but nowhere to put your toiletry bag.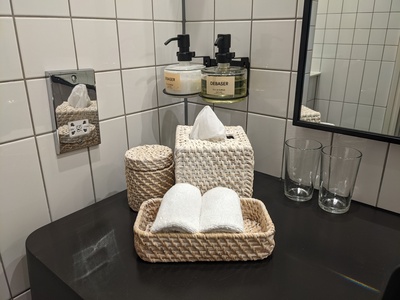 The sink unit was an unusual black matt unit, which was quirky but rather cool.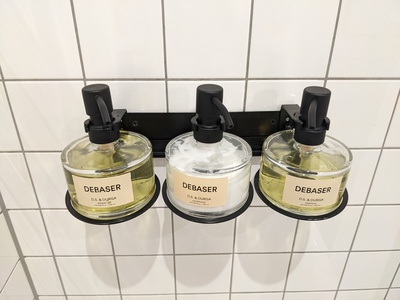 Toiletries were provided by D.S. & Durga, a brand I hadn't heard of before but are seemingly a Brooklyn based perfumer whose candles retail for $65, so suitably high-end. Everything smelt great and I thought the refillable glass bottles ticked both the sustainability and attractiveness boxes.
Dining at One Hundred Shoreditch
One Hundred Shoreditch invited me to sample dinner at their Tom Moore- helmed restaurant, Goddard & Gibbs.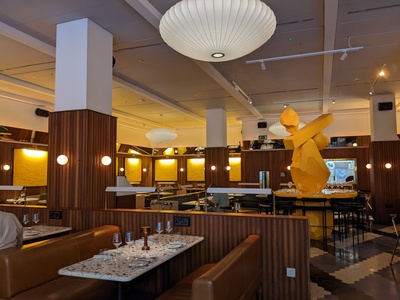 Billed as 'an all-day restaurant and wine bar specialising in British seafood with a focus on ethical sourcing and local suppliers', Goddard & Gibbs exudes a '70s elegance. The restaurant has terrazzo marble tables, funky little table lights and leather banquettes. Cocktails are unusual; I was tempted by a butter and sage gimlet but the maître d' encouraged me to sample a tequila-based 'Smoked Paloma' instead.
There's a raw bar offering mussels, prawn cocktail and ceviche, along with a full, seafood-heavy menu. My husband and I loved the prawn cocktail (I'm so glad this once unfashionable dish is back again) and the tempura vegetables were lightly battered with a lovely miso dressing.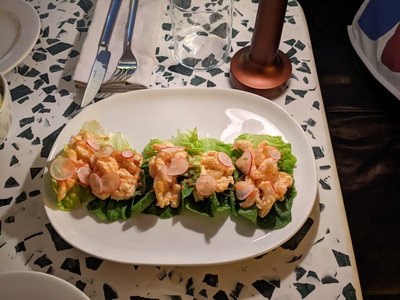 I went for a spelt risotto which was unusual and tasty, but my husband's choice of roasted skate wing with XO dressing (at the recommendation of the excellent maître d) was the real winner, and something that isn't commonly seen on menus.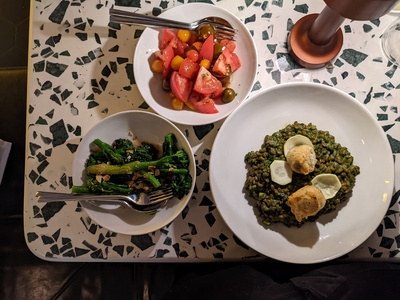 The service in the restaurant was outstanding. We were there early (classic toddler parents) so the restaurant was quiet, but the balance was found between being helpful and not too smothering. Everyone was helpful and friendly and unfailingly kind to my little girl.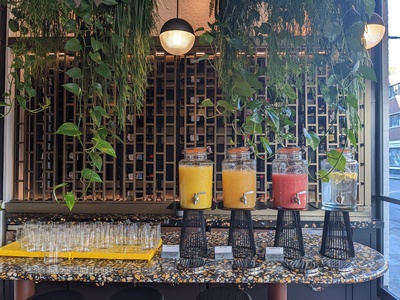 Breakfast at the hotel was buffet style, laid out in the wine bar section of Goddard & Gibbs. The usual hot options of scrambled eggs, bacon and sausages were well cooked according to my meat-eating husband.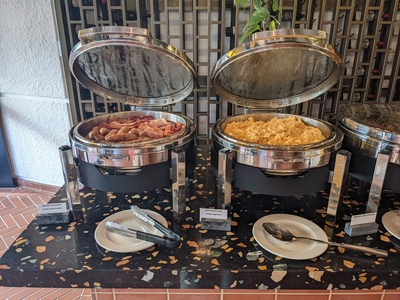 I enjoyed the fresh berries and bircher muesli and was tempted by a huge blueberry muffin.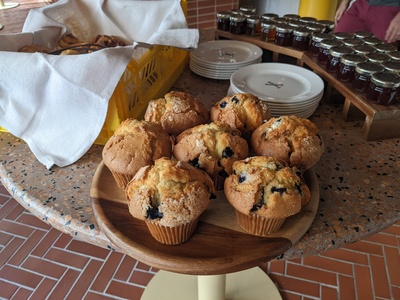 I also had a freshly-made spinach, apple and many-other-ingredients green smoothie which was delicious and made me feel I was counterbalancing said muffin. My daughter ate her body weight in blueberries, so everyone was happy.
Drinking and social spaces
When I first spoke to our contact at One Hundred Shoreditch about this review, she was very keen for me to experience the social spaces at the hotel, telling me that these set the hotel apart.
I have heard statements like this before and been underwhelmed so I politely nodded along. However, she was absolutely right. If you are planning a night out in Shoreditch, I can recommend the One Hundred Shoreditch rooftop.
Of course, it helped that I visited as the sun set over the City on an August evening but, even closed to the elements, the rooftop would be a beautiful spot for a drink.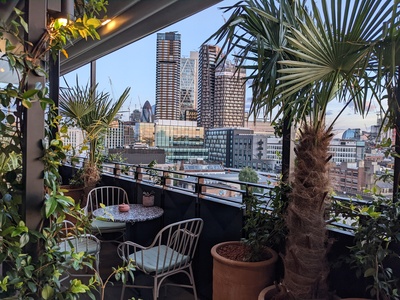 A narrow balcony covered in plants and palms stretches along the main bar, meaning tables feel private and secluded from the other drinkers. A DJ booth is set up and judging by the clientele it's attracting the glamourous East End crowd. Sadly I am now a paid up member of the 'South London buggy pushing' crowd.
The lobby has its own bar too, serving drinks and pizza from under an eye-catching art installation.
On a late night or a cold winter evening however, I would be tempted to head to the Seed Library in the basement of the hotel: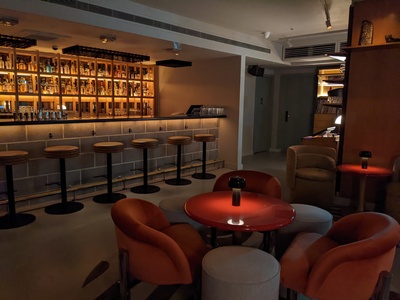 Created by high profile bartender 'Mr Lyan' (or Ryan Chetiyawardana to his Mum), Seed Library is the polar opposite to the rooftop. Snug and rather sexy, it offers a 60s vibe with lots of warm orange colours and dim lighting.
Gym
The gym was filled with brand new equipment including Peloton bikes, a treadmill and free weights. I would like to have seen a few lighter free weights for those of us without guns of steel, but other than that, it looked like it would do the job.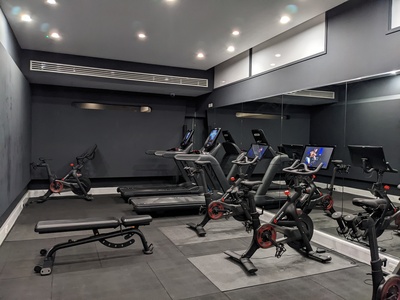 Conclusion
I was impressed by One Hundred Shoreditch. The design of the hotel is contemporary without compromising on comfort and I found every aspect of the hotel considered and chic.
One thing I found consistent was service that was 5* efficient but very warm and human. The maître d couldn't do enough for us, but also chatted about where he thinks the best tomatoes can be bought in London, a waiter served us beautifully but also told us stories about babysitting his niece, the doorman cracked jokes with my husband as he showed us around. For a modern hotel, I feel it's a very modern type of service that is hard to get right, but One Hundred Shoreditch hit the mark.
Obviously I was there as the guest of the hotel, so the service I experienced was always going to be influenced by this. However, I was watching the staff's interaction with other guests and the times when they would have no idea that I was reviewing the hotel (the doorman being a good example of this).
Studio rooms start at £262 per night, the Studio lofts are available from £347, and the American Express '£60 back on £300 spend' offer runs to 30th September.
You can visit the One Hundred Shoreditch website here. If you need to earn a reward on your stay, book via this page of Hotels.com here and pick up Hotels.com Rewards credit – if you pay at check-out you will also trigger the Amex cashback.
---
Hotel offers update – September 2023:
Want to earn more hotel points? Click here to see our complete list of promotions from the major hotel chains or use the 'Hotel Offers' link in the menu bar at the top of the page.
Want to buy hotel points?
World of Hyatt is offering a 25% discount, equivalent to a 33% bonus, when you buy points by 10th October. Click here.