IT'S BACK: Get 20,000 IHG points after two nights when you join InterContinental Ambassador
Links on Head for Points may pay us an affiliate commission. A list of partners is here.
InterContinental has brought back a special offer to encourage you to join their InterContinental Ambassador loyalty scheme.
This isn't as generous as some previous offers we've seen, but if you have been on the fence about joining Ambassador it may tip you over.
If you were emailed about the deal by IHG or can see it in your IHG One Rewards account, and join by 31st December, you will receive 20,000 IHG One Rewards points when you stay two nights at any InterContinental, Kimpton or Regent hotel by 31st January 2023.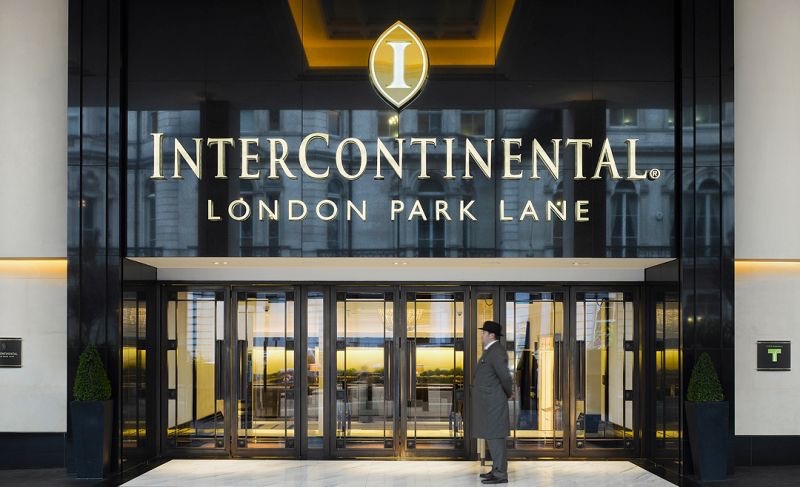 The 'new member' offer is technically only open to people who were emailed about the offer. The rules say:
"This exclusive Offer is valid and applies to the original recipient only."
This may not be the case, but you are taking a risk if you sign up without receiving the email.
The offer is also available to those who renew their Ambassador membership between 2nd September and the end of the year.
What is the small print of the Ambassador free night offer?
If you scroll to Clause 45 of the Ambassador terms and conditions here you will find this:
To participate in the "Join Ambassador, stay two nights, earn 20k bonus points" offer (the "Offer"), an individual must first enrol in the InterContinental Ambassador programme during the period of 2 September 2022 through 31 December 2022 and then complete two qualifying nights at participating InterContinental Hotels & Resorts, Kimpton Hotels & Restaurants, or Regent Hotels & Resorts by 31 January 2023 to be awarded 20,000 IHG One Rewards bonus points. This offer is not applicable for Royal Ambassador members and is not valid for InterContinental Ambassador membership enrolments or renewals obtained on a complimentary basis or using the IHG Employee discount.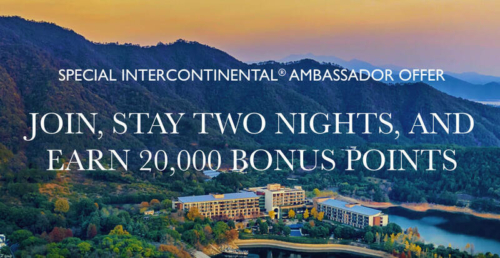 To qualify for the 20,000 bonus points, each of the two nights must be part of one or more Qualifying Stays. A Qualifying Stay is defined as a minimum 1-night stay booked under a Qualifying Rate, with total spend exceeding $30 USD (or local equivalent) per night. Only one room per member per Qualifying Stay will be eligible. If more than one member checks into the same room, only one member is eligible to claim the night for purposes of the Offer. No retroactive credit will be awarded for stays prior to this Offer or prior to enrolment into the InterContinental Ambassador programme. The "Ambassador Complimentary Weekend Night" rate is a Qualifying Rate, and the complimentary night may be counted towards the two nights needed to qualify for the additional 20,000 bonus points.
This Offer can only be redeemed once when first joining the Ambassador programme and a maximum of 20,000 IHG One Rewards points can be achieved for enrolments based on the payment of USD200 or redeeming 40,000 points. Please allow up to six (6) weeks for bonus points to be posted to the recipient's IHG One Rewards account.
The Offer is subject to the standard IHG One Rewards Membership Terms and Conditions and earning structure, which can be obtained here. The bonus points awarded through this Offer are not Elite status qualifying. IHG may withdraw points from a member's account if they were deposited into the member's account in error and may revoke all points in a member's account if the Member abuses the IHG One Rewards Program, including but not limited to abuse of the point redemption process. IHG also expressly reserves the right to remove a member's points, downgrade their status, or cancel their account if fraudulent use of the Offer is detected, and any fraudulent activity relating to a member's account, this Offer, or restricted rate offerings is subject to the IHG One Rewards Membership Terms and Conditions, including any of the identified actions that may be taken in response to such activity. To the extent permitted by applicable law, IHG reserves the right of final interpretation of this Offer, as well as the right to cancel, suspend and/or modify the Offer at any time. This exclusive Offer is valid and applies to the original recipient only. Members must make any promotional inquiries no later than 60 days from the end of the Offer period. For this Offer, the Offer period ends 31 January 2023.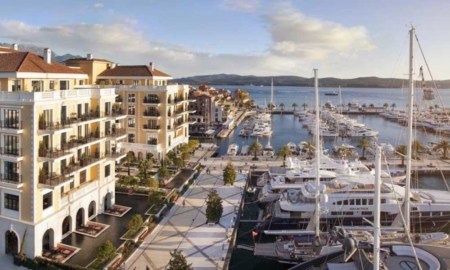 How does InterContinental Ambassador work?
InterContinental and Regent, two of the luxury hotel brands inside IHG One Rewards (which also covers Holiday Inn, Crowne Plaza, Hotel Indigo and others) are a little odd when it comes to loyalty schemes:
As part of the Holiday Inn / Crowne Plaza group, they participate in IHG One Rewards
InterContinental and Regent hotels do not officially recognise your IHG One Rewards status. In reality they often do, but it is not guaranteed.
InterContinental and Regent also have their own loyalty scheme – Ambassador – which costs $200 to join
The process of integrating Six Senses hotels into Ambassador is starting but will take some time to complete
For new members, there is an option to use 40,000 IHG One Rewards points instead of paying $200 in cash. Given my 0.4p valuation of an IHG One Rewards Club point this is a good deal.
Via this new offer, you are effectively joining for half price if you pay with points. You could pay 40,000 points to join and, when you have completed the two nights, you would receive 20,000 points back.
What are the benefits of InterContinental Ambassador?
The key thing about Ambassador is that, once you are a member, the benefits are virtually guaranteed on paid stays. They are NOT guaranteed on reward stays but most properties do let you have them.
These benefits are:
A certificate for a free night (BOGOF) when you join and each year when you renew. In one swoop, you can save your entire membership fee with this benefit. To use the voucher, you need to book a 2-night stay (weekend only at InterContinental, any day at Kimpton Hotels and Regent Hotels) and pay the Ambassador Certificate Rate, which is usually equal to Best Flexible Rate. The rules say that only standard rooms can be booked. However, many hotels let you book club rooms or suites which is especially useful for families.
Note that, as the Ambassador Certificate Rate is more expensive than a non-refundable Advance Purchase rate, your free night is not totally free if you would otherwise have booked a cheaper pre-paid rate. It is totally free if you would otherwise have booked at Best Flexible Rate. For clarity, the free night is the 2nd night. It is NOT the average of your two nights.
A GUARANTEED one-level room upgrade on every InterContinental and Regent stay – this is usually processed before you arrive and is visible online. If the hotel cannot provide an upgrade, you receive 10,000 IHG Rewards points compensation at an InterContinental. There is no compensation at a Regent.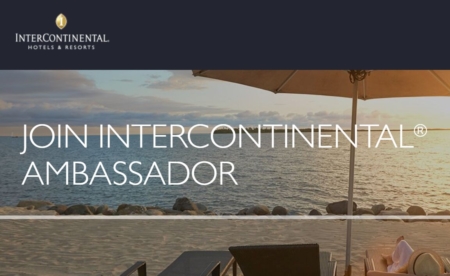 4pm check-out – this is a GUARANTEED benefit and comes in very handy on a weekend break or on a trip with an evening flight back home. If an InterContinental hotel cannot provide late check-out, you receive 10,000 IHG Rewards points compensation. There is no compensation at a Regent.
A $20 food and beverage credit per InterContinental stay (not valid at Regent)
Free mineral water in your room
Platinum Elite status in IHG Rewards (usually requires 40 nights)
The benefits package is slightly different for stays in Mainland China, including free restaurant breakfast for one person.
In theory, the ability to use your 'free weekend night' voucher at Kimpton hotels was an extra covid benefit for 2021 and 2022. It is possible that it may be removed for 2023 although this seems unlikely given that it is soon October and nothing has been announced.
Is InterContinental Ambassador worth it?
Obviously InterContinental Ambassador is not for everyone. Even without this special offer, however, you can earn back the cost of membership in just one stay by redeeming the weekend night voucher. It may even be worth it if you had just one long InterContinental or Regent stay booked and wanted to guarantee your upgrade.
Ambassador members also receive Platinum Elite status in IHG One Rewards. This will make your future Holiday Inn, Holiday Inn Express, Crowne Plaza, Hotel Indigo etc stays a little more pleasant although it is unlikely to lead to major upgrades or lounge access.
As UNOFFICIAL benefit is that joining Ambassador APPEARS to lock your current IHG One Rewards status for another year. If you are currently Diamond Elite but will fail to renew, joining Ambassador should lock it in for 2023. This is not an official benefit and may even be an IT bug, but it has worked like this for a number of years. Don't complain to us if it doesn't work …..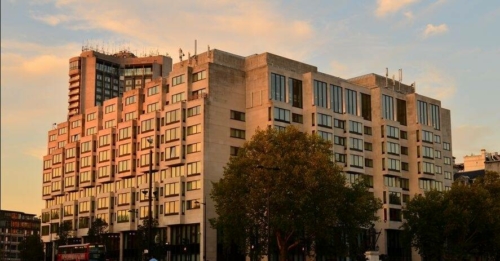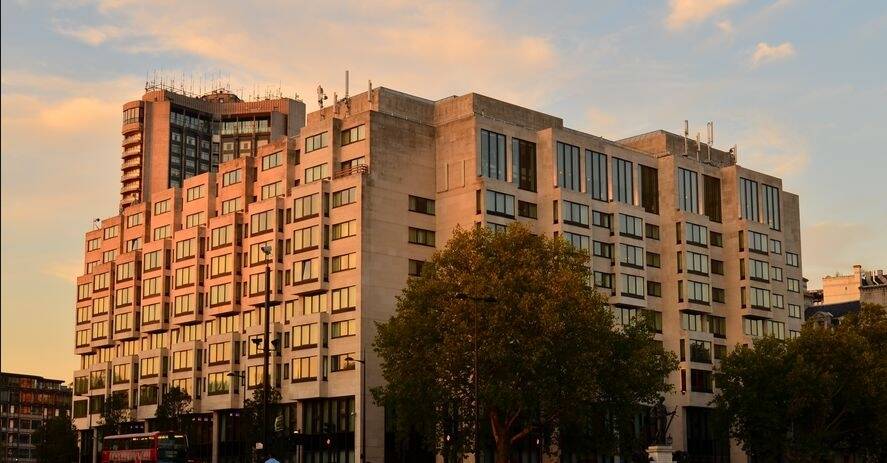 Does this new offer change the maths?
Joining InterContinental Ambassador is a lot more attractive under this offer – IF you are sure that you can complete two InterContinental, Kimpton or Regent nights by 31st January 2023 to trigger the 20,000 points.
Remember that the T&C confirm that a 2-night stay using the 'free weekend night' voucher would be enough to trigger the bonus. This is despite the fact that the 'free' night is not elite qualifying.
In the UK, you would be looking at the InterContinental hotels in London or Edinburgh, or the Kimpton hotels in London, Edinburgh, Glasgow or Manchester. There are no Regent hotels in the UK.
Conclusion
If you can manage all this then Ambassador looks good:
Cost to join for 12 months: $200 (£185) or 40,000 IHG One Rewards points
Other benefits: 'buy one get one free certificate' valid at InterContinental (weekends only), Kimpton and Regent; Platinum Elite status in IHG One Rewards; attractive upgrade, check-out and in-hotel credit offers at InterContinental hotels
Looked at another way …. if you use 40,000 IHG One Rewards points to join Ambassador, you will get 20,000 points back if you can do two qualifying nights by the end of January. This makes the other Ambassador benefits good value for the rest of the year, especially as you get Platinum Elite status in IHG One Rewards.
You can learn more about InterContinental Ambassador, and sign up, here if it sounds interesting. Remember that this offer is NOT shown on their landing page and you are taking a big risk if you sign up without having received an email from IHG One Rewards.
If you didn't receive any email, log in to your IHG One Rewards account and have a look around your account pages to see if the offer is promoted there. I see it, and I'm already an Ambassador member!
---
IHG One Rewards update – April 2023:
Get bonus points: Click here for our article on IHG's '2k Every 2 Nights' promotion, which runs from 9th February 2023 to 14th April 2023. You can register here.
New to IHG One Rewards? Read our overview of IHG One Rewards here and our article on points expiry rules here. Our article on 'What are IHG One Rewards points worth?' is here.
Buy points: If you need additional IHG One Rewards points, you can buy them here.
Want to earn more hotel points? Click here to see our complete list of promotions from IHG and the other major hotel chains or use the 'Hotel Offers' link in the menu bar at the top of the page.