Review: the citizenM Shoreditch hotel, London
Links on Head for Points may pay us an affiliate commission. A list of partners is here.
This is our review of the citizenM London Shoreditch hotel.
After opening their first hotel in Amsterdam in 2007, citizenM now has 28 hotels across Europe, the U.S. and Asia. It has opened several hotels this year and will open a further six over the next 12 months.
We took a look as part of our current HfP exclusive offer, which ends tomorrow (Monday 31st October) – a FREE 3-month trial of their mycitizenM+ subscription service. You get some great benefits including late check-out, and 10% off all bookings.
You can find full details of mycitizenM+ in our article here and sign up here.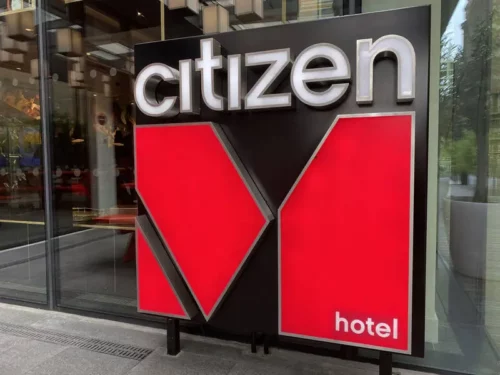 Rhys has reviewed two of citizenM's hotels – you can read his review of citizenM Victoria here and his review of citizenM Tower Bridge here. It was, however, my first trip to a citizenM hotel.
I was intrigued. I liked the sound of the efficiency of the hotels. citizenM rooms are the same size and layout regardless of where you are in the world and they are highly digital, with everything from the hotel menus to the lighting colour available on an in-room tablet.
When citizenM offered me a stay at the Shoreditch hotel as part of the promotion for their HfP exclusive 3 month free citizen+ membership, I was pleased to accept.
Where is the citizenM Shoreditch hotel?
citizenM London Shoreditch is in the centre of Shoreditch, down a little side road off the Commercial Road / Shoreditch High Street / Boxpark junction. Shoreditch High Street Overground station is less than 5 minutes walk away, as is Shoreditch House, and a variety of cool bars and clubs are a mere stumble away.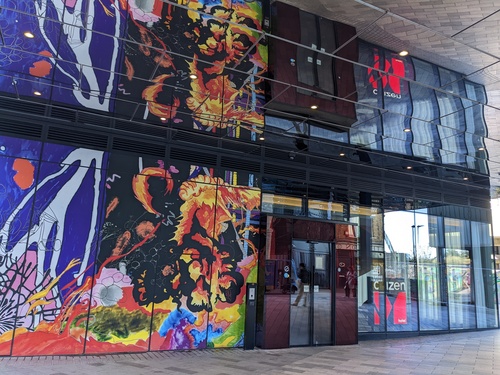 The hotel is rather hidden and, despite being in the heart of the action, it remains relatively quiet even on a busy Saturday night.
In fact, the most street noise I witnessed was from the street art walking tours that happen with surprising frequency on a Sunday morning – and that was only noticeable when sitting on the balcony of the hotel lounge.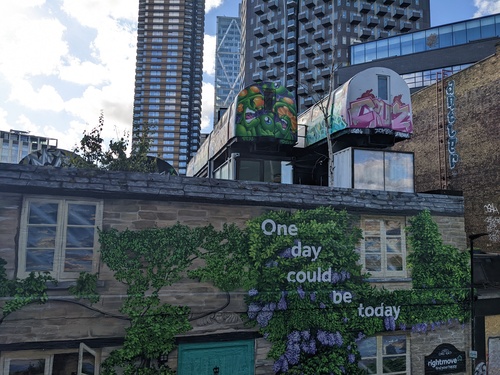 Inside citizenM Shoreditch
The hotel has a dark glass façade with some street art inspired panels and sleek sliding doors. The immediate lobby is dominated by a large wooden spiral staircase that takes you up to the main reception and public areas on the floor above.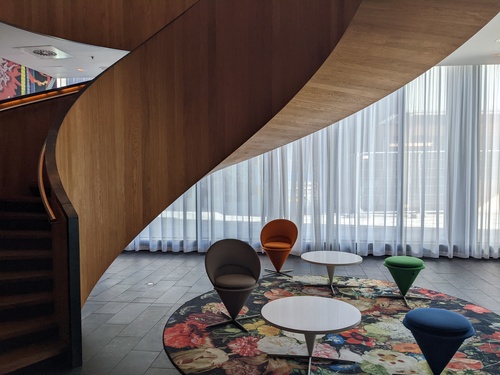 If you are carrying luggage or simply don't fancy the stairs there are lifts to the right of the lobby. It is a bit of an odd entrance to a hotel. Whilst the staircase is very impressive and there are some stylish looking chairs around, it's weirdly impersonable and a bit confusing.
Once upstairs, however, there is a far friendlier vibe with an inviting layout and helpful staff.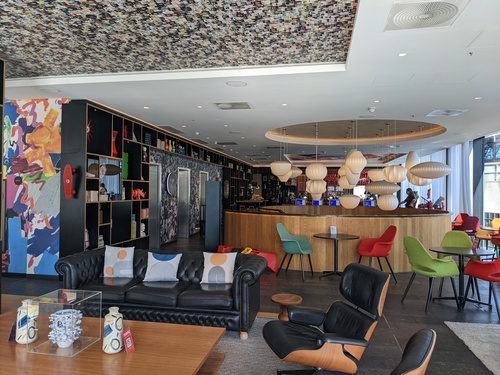 Check-in is a DIY affair at one of eight touchscreens and is very straightforward, taking a few minutes at the most.
When I arrived, it was very quiet but I imagine check-in is swift regardless as the technology makes it fairly effortless. A member of staff immediately came to help me as although I have a mycitizenM+ membership (which you can trial for three months free here), my free late check-out wasn't coming up as an option.
This turned out to be a mix up with email addresses, was solved quickly, and I was then able to add my late check-out. The staff member was very helpful and enthusiastic about the hotel, pointing our their favourite pieces of art and décor.
There is a self-service kitchen area on this floor where you can purchase snacks and sandwiches, and it is also where breakfast is served.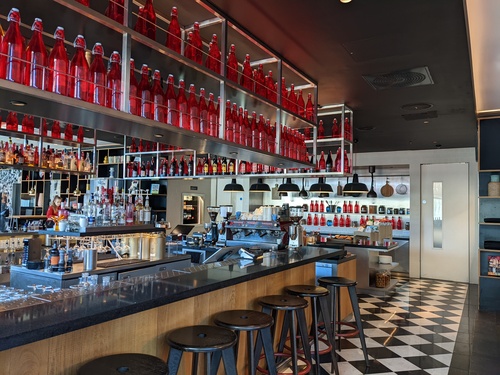 There's a cool bar that sits centrally on this floor and offers an array of drinks all day long.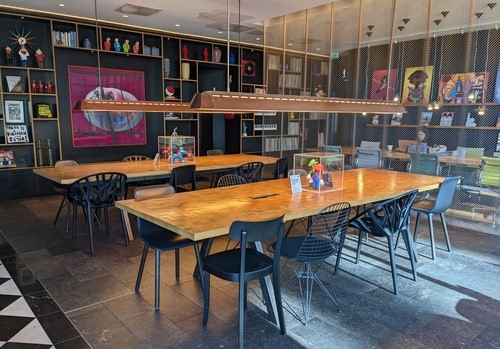 There are lots of lovely lounging and working areas, which are designed to allow you to still get some work done despite the small bedrooms. The working areas are set up with big tables and plenty of sockets.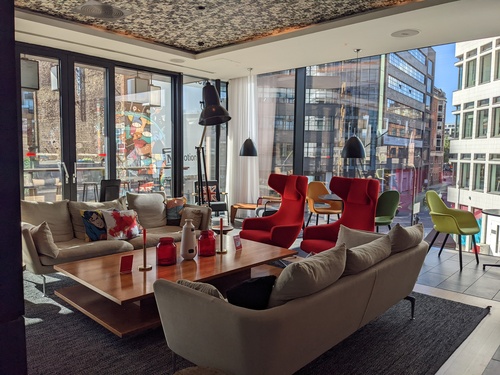 There were plenty of comfy areas for relaxing or alternatively having informal meetings. Here is also a narrow balcony with bar seating.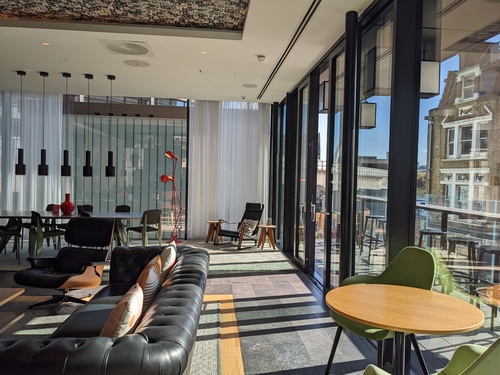 Once checked-in on screen, I headed up to the 9th floor to my room.
Bedrooms at citizenM Shoreditch
As you enter the room, immediately on the left, is a rail with hangers.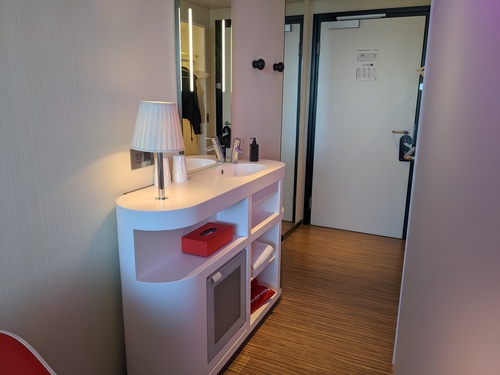 This sits above an unusual embedded safe that can be closed and then used as a shelf to store clothes or a small suitcase.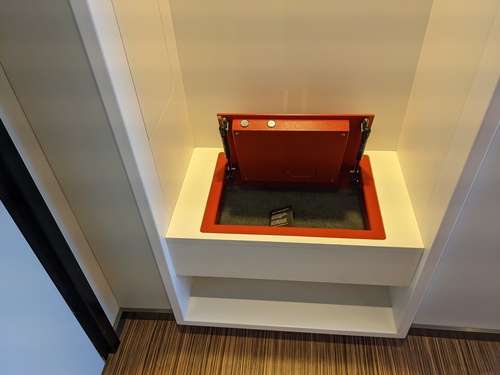 The bathroom then follows on the left, although the sink and vanity area is separate, on the right hand side of the bedroom entrance area.
The sink and vanity area was very functional, with plenty of 'workspace' to place washbags or make-up. There was an excellent mirror with two vertical light panels embedded in the mirror which was particularly useful for putting on make-up. Given the size of the sink unit, there was a surprising amount of storage space.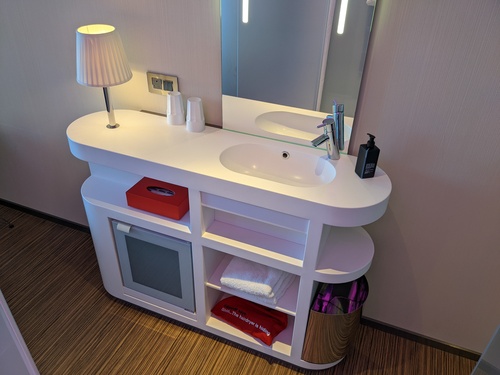 Within this unit there's also an empty fridge and a hairdryer.
The main part of the bedroom is taken over by the wall-to-wall bed and a window. The bed is a mammoth 2m x 2.5m and I found the mattress incredibly comfortable. There were just two pillows on the bed but they were plump enough to suffice. There is a big pull-out drawer under the bed which should fit a suitcase.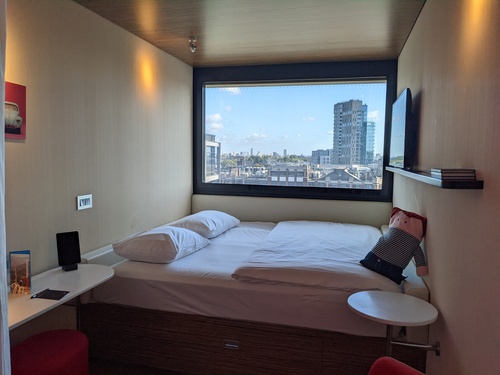 Window shutters are controlled by switches above both the bed and by the door and have three options – fully open, a gauze-like sunscreen or complete black-out blinds.
A TV is wall mounted above the end of the bed. Despite being a seemingly new Samsung model, unfortunately ours didn't work particularly well, with poor picture quality and intermittment service. It wasn't the end of the world as we didn't want to watch TV per se, but it was a bit annoying in the morning when we had hangovers and a late check-out ….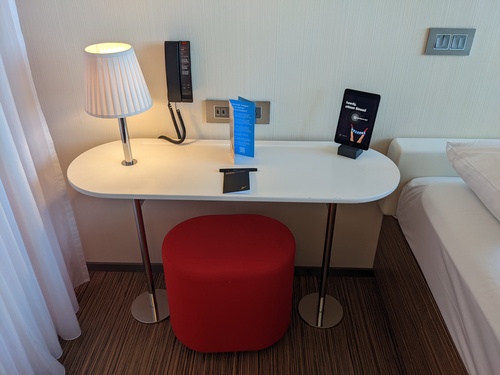 There's a small desk area with good sockets and enough space for a laptop, but with just a stool to sit on or a small armchair. I'm not sure I'd have wanted to work there for any length of time, but you are actively encouraged to use the public areas on the 1st floor.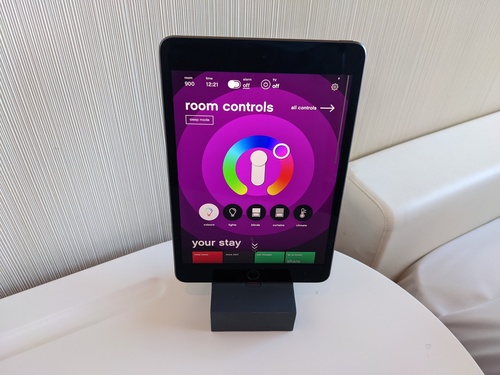 Everything in the room is controlled using a small iPad, from lighting colour to the TV, to ordering room service.
The bathroom is very compact with a toilet and small shower area. The shower was powerful and offered a large overhead rainfall shower head and an alternative 'adjustable' wall-mounted standard showerhead. This is where my only major issue with the room at citizenM came up.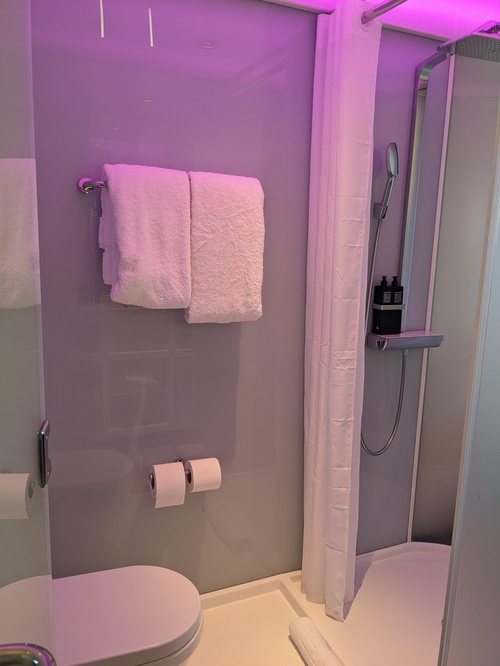 Now, many readers will, like me, not necessarily want to get their head wet when having a shower. That's usually when the adjustable wall-mounted shower head comes in. However, this one was mounted too high and wasn't very adjustable, meaning the shower directly aimed at my head.
This sounds remarkably picky, but this sort of issue comes from ill-considered and un-inclusive design, which, frankly, really bugs me. Whoever designed that shower designed it for someone who was 6 foot or above – it was useless to anyone smaller. In a hotel that was full of considered choices, this design flaw surprised me.
Toiletries are minimal – just a choice of two shower gels and a handwash by the sink in large refillable pump bottles.
Breakfast at citizenM Shoreditch
We came down at the end of breakfast service time so it was busy, but not crowded. Breakfast is self-service affair, so you can help yourself to a range of options. It costs £15.95.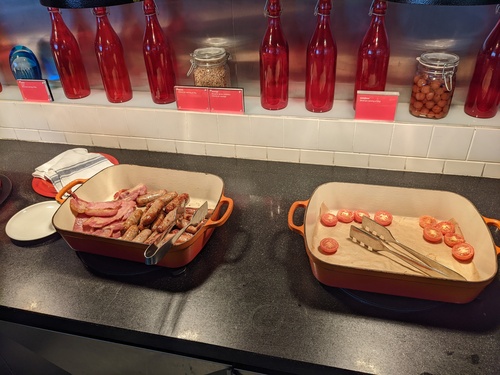 There were hot options of beans, sausages, eggs and bacon and all looked well cooked and fresh.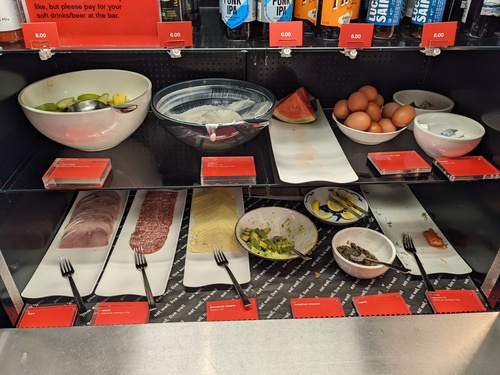 There was an array of cheeses, meats, avocado, yoghurt and fresh fruit.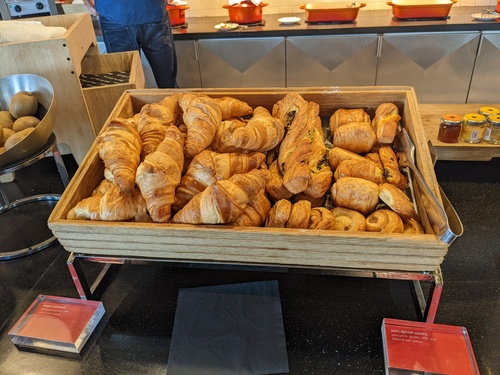 I particularly liked the lovely pastries and the fresh breads from a local bakery, including a delicious banana bread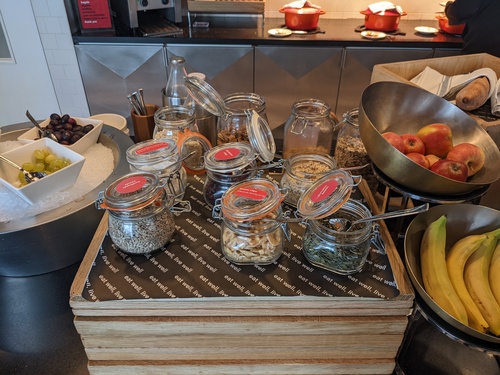 Cereals, granola, seeds, nuts and fruit were also available.
Barista coffee is available with your breakfast, you just need to put in an order at the bar. If you are happy with tea or filter coffee, this is available for self-service.
Conclusion
I really liked the citizenM London Shoreditch hotel. The rooms are comfortable but not huge, and well-thought-out and for a city stay. I would happily consider citizenM going forward despite the lack of points earning or redeeming opportunities.
The breakfast was very good and in Shoreditch I don't think you'll be able to find much that is substantially cheaper than £15.95 given the amount of food offered.
The mycitizenM+ membership was particularly valuable on this trip as the 2pm check-out was a godsend after a wedding that went on until the wee hours the night before. As a reminder, citizenM is offering you a three month free trial of mycitizenM+ until midnight tomorrow so do sign up now if you'd like to give it a go.
Cash rates up to the end of the year are between £200 and £325 (£170ish on Sundays) with discounts for mycitizenM+ subscribers. Such are 'budget' London hotel rates at the moment ….
The link to sign up is here. You can find out more in our full review of mycitizenM+ here.
Many thanks to citizenM for arranging my stay.
You can find out more about citizenM London Shoreditch here.
---
Hotel offers update – September 2023:
Want to earn more hotel points? Click here to see our complete list of promotions from the major hotel chains or use the 'Hotel Offers' link in the menu bar at the top of the page.
Want to buy hotel points?
Hilton Honors is offering a 100% bonus when you buy points by 19th September. Click here.
World of Hyatt is offering a 25% discount, equivalent to a 33% bonus, when you buy points by 10th October. Click here.