How to do a hotel mattress run – and what can go wrong
Links on Head for Points may pay us an affiliate commission. A list of partners is here.
What is a hotel mattress run, and how do you do one?
I thought I would take a look at the concept of 'mattress runs' today. A 'mattress run' involves booking a hotel room without the intention of spending the night, purely for the purpose of triggering a promotional bonus.
Take a look at this photograph: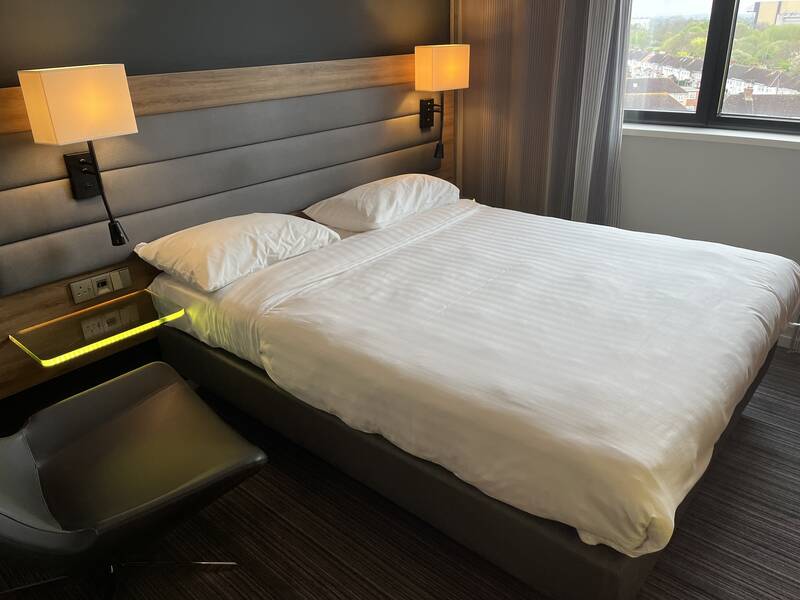 I think a few HfP readers will recognise it.
Why? Because it's the Moxy Heathrow Airport. This is usually the cheapest Marriott Bonvoy hotel in London, and in the last few weeks you've been able to combine:
generous American Express cashback deals (£100 back on £300 spend, £75 back on £200 spend) and
double elite night credits – each night you stay counts as two nights towards status requalification or status upgrade (this offer ends tomorrow)
If you paid £75 per night, four nights would have cost £300. Amex would have given you £100 cashback if you were targetted for the offer. You'd have spent £200 net for eight elite night credits and, adding in the current bonus points offer and an elite status bonus, around 8,600 Marriott Bonvoy points. I'd value those at around £45.
Would you pay £155 net (£300 – £100 Amex credit – £45 of points) for eight Marriott Bonvoy elite night credits? Quite a few people would. All you need to do is pop into the hotel, check in and leave.
Why would you do a mattress run?
Hotel company promotions often incentivise you to make stays which are unnecessary.
In 2021, for example, we looked at a 'new member' offer from IHG. Do two stays, however cheap, and you got a voucher for a free night worth around £150 (ie 40,000 IHG One Rewards points).
If you had a Holiday Inn Express near you which sold for £39 on quiet Friday or Sunday nights, you could have made a 'profit' of £70 by making two bookings even if you don't need a hotel.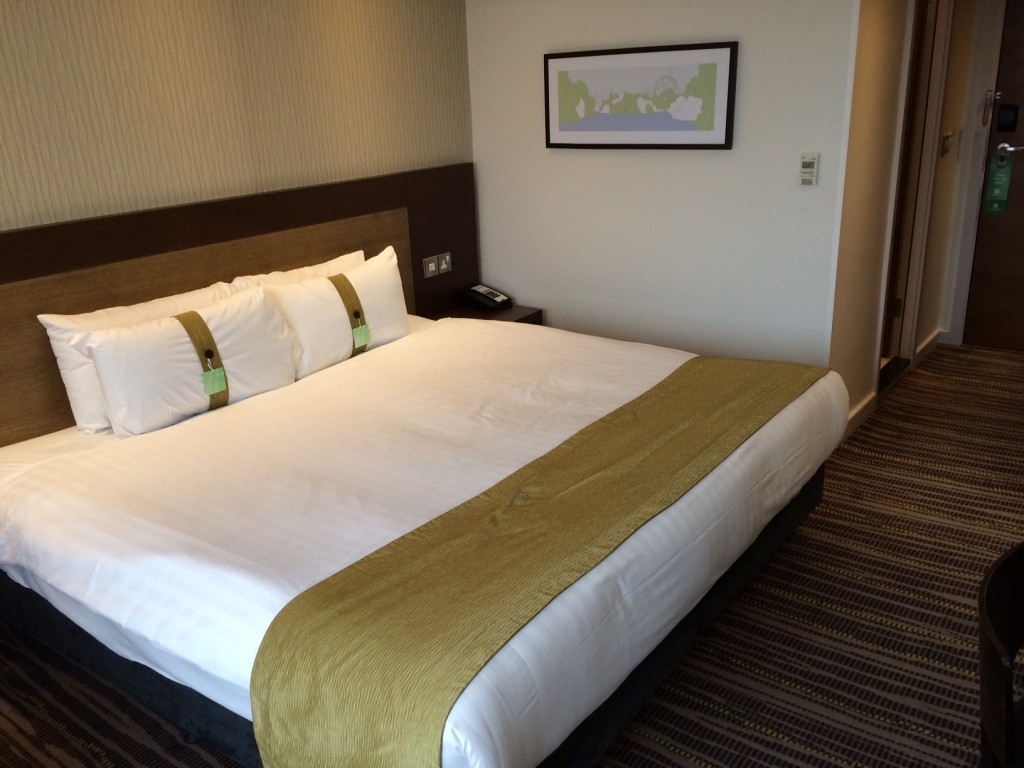 Do you physically have to check in at the hotel?
YES. It is very clear in the rules of all hotel loyalty schemes that you must turn up and check-in for your stay to be treated as 'qualifying'.
Some people fail to see the logic here. If this rule was not in place, however, it would lead to super-cheap hotels in Asia being block booked by people who never arrived. As hotels generally rely on additional spending in the bars and restaurants to make money, even the hotel owners who got the bookings would not be happy.
What about chains like Hilton and Marriott which offer online check-in?
It doesn't matter. In most cases you still need to pick up a key at reception to be considered as checked in.
There is an outside chance that mobile check-in may work. To be honest, based on reader feedback, it is more like a fairly decent chance.
I had a non-refundable Marriott booking a couple of years ago which I couldn't make, but checked in via the app and got the stay credit for it. Don't rely on this though – you certainly can't complain if the points don't arrive.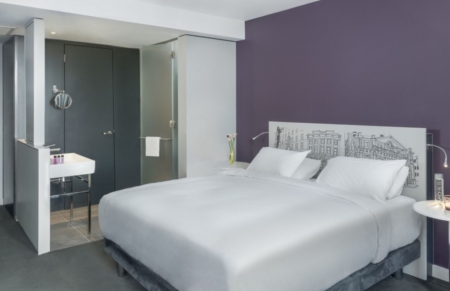 How do you deal with check out?
When I've done this for one night, I just leave the key on the bed or desk and depart. This is surprisingly common behaviour even among guests who do stay the night. I have never had a problem with this.
If you're staying more than one night, you need to be careful. You can mess the bed up for the first night (see below) but after that the staff will clearly see that you are not there. If you live nearby you can keep popping in. If you have to travel to the property, you may need to let the front desk know that you won't necessarily be around all the time and to not check you out.
Do you mess up the bed?
This is a controversial one! Yes, I admit on a one night mattress run that I do like to pretend that I stayed the night by messing up the bedding and sometimes even running the shower and wetting a towel.
Would the hotel care otherwise? Probably not.
In these days of wall-mounted bottles, you can no longer steal the toiletry miniatures to offset the cost of your stay!
What about the bill?
It is never an issue. You can usually get a copy of your bill online if necessary. By definition, you are likely to be doing mattress runs at very cheap hotels – the sort which are prepaid anyway. There is unlikely to be a mini bar so you are unlikely to face mistaken mini bar charges.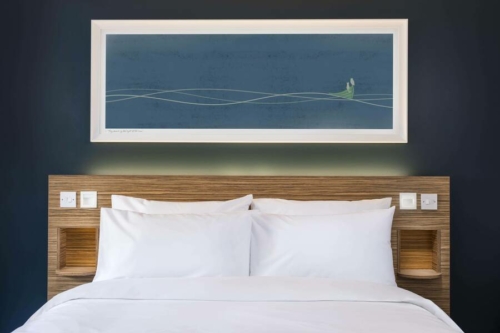 Can someone else check in for me?
In theory, yes. But this can go wrong, as I found out a couple of years ago.
I have, many times, booked a room in the name of someone else for a mattress run. Many hotel booking systems let you add multiple names to a booking so you can add yourself as 'second guest' and put in the notes that you will check in first.
Once, however, I booked a room for a friend at a Holiday Inn Express hotel. I had a friend who needed a room in a cheap regional city. I needed an extra night to hit my IHG promotion target. I offered to pay for a room for him, because it was cheaper than any London hotel I could visit for a mattress run and I saved a few hours of my time.
I booked and prepaid the room, and he and his wife made the stay. I honestly can't remember if I added him or his wife name as the 2nd guest or not. However, IHG refused to give me points for the stay on the grounds that I did not stay there myself.
The bill for the room had my name on it. However, the credit card handed over at check in for incidentals which were never used was obviously not mine. If his wife had handed over her card it would presumably have been OK. However, as it was clear that the male guest was not me from his credit card, IHG's system seems to have automatically flagged up that I was not there. This was the first time that this ever happened to me.
There is another issue with this approach.
A few years ago I did a mattress run on my wife's IHG account at a Holiday Inn Express in Spain. I was named on the reservations as 2nd guest.
However, it seems – under Spanish law, or at least the law in some cities – that the first named guest MUST turn up for the reservation to be valid. Even though I was named as 2nd guest and the notes to the booking said that I would arrive first, I had major issues. Luckily I had a credit card in her name on me. The hotel agreed to swipe this for incidentals which would make it appear as if she had checked in. I could easily have come unstuck with that one.
It is also worth noting that UK hotels seem to have become much stricter in asking for ID. When Rhys reviewed the Courtyard hotel at Luton Airport in 2020, which I booked in my name via my Marriott Bonvoy account, he had substantial difficulties checking in. Unsurprisingly they thought that someone at an airport hotel should have some sort of ID to hand.
Conclusion
In general, a mattress run should be relatively straightforward and I even find them fun. Do one at a Moxy or Courtyard by Marriott, for example, and you'll get the welcome drink and – if elite – $10 of food and drink credit so you can grab a snack too.
You can get to see, as I did seven years ago, exciting places like the Holiday Inn Brent Cross. Don't think that they are always trouble free, however, because they are not.
---
Hotel offers update – December 2023:
Want to earn more hotel points? Click here to see our complete list of promotions from the major hotel chains or use the 'Hotel Offers' link in the menu bar at the top of the page.
Want to buy hotel points?
IHG One Rewards is offering a 100% bonus (some members may see less) when you buy points by 30th December. Click here.
Marriott Bonvoy is offering a 30% bonus when you buy points by 20th December. Click here.
World of Hyatt is offering a 20% bonus when you buy points by 4th December. Click here.