Review: back at the InterContinental Boston hotel after 10 years
Links on Head for Points may pay us an affiliate commission. A list of partners is here.
This is our review of the InterContinental Boston hotel.
It was one of my stops on a US holiday we took over Easter. I will also be looking at the Newport Marriott briefly in the coming days.
InterContinental Boston was one of the first hotels we ever reviewed on HfP back in 2013. The hotel has had a full refurbishment since then and is looking good. The hotel website is here.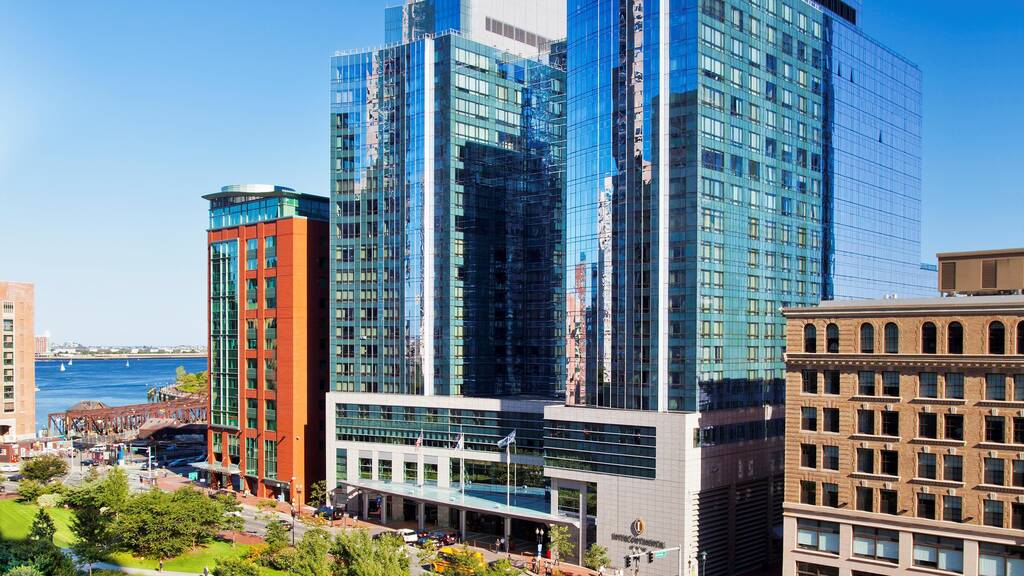 It is 35 years since I first came to Boston. It feels very British, being the oldest US city, and has a British-style layout (no city block layout here). There is also a large student population from Harvard and MIT as well as world class museums including the Museum of Fine Arts and the Isabella Stewart Gardener museum.
My various stays here over 35 years took in all stages of the 'Big Dig' – a phrase you may not know if you're under 35 (click the link) but which was a cause célèbre for many years. The InterContinental would not exist without the 'Big Dig' – no-one would build such a hotel overlooking a noisy elevated highway. Today, 95% of the taxi ride from Logan Airport to the hotel takes place in tunnels.
Where is InterContinental Boston?
InterContinental Boston sits on the harbour, with parkland in front where the elevated highway used to run. It is marginally out of the way, on the edge of the Financial District, but Boston is small and walkable. You are unlikely to regret staying here on grounds of location. Whilst Boston Common is 12-15 minutes walk – admittedly through, at weekends, a pretty dead Financial District – Quincy Market (the Covent Garden of Boston) is close, as is the Aquarium.
The building itself is oddly bland and anonymous. It's hard to describe what's wrong with it, but something just feels off.
I booked using an InterContinental Ambassador 'free weekend night' voucher. This article looks at how InterContinental Ambassador works – it is the paid-for loyalty programme for InterContinental hotels which sits alongside IHG One Rewards. My wife has her own Ambassador account so we had two vouchers to use.
We booked three nights and paid for two, saving $500 per room with the voucher. I booked two Junior Suites – one was upgraded to a full one bedroom suite (Ambassador members get a guaranteed one level upgrade).
We declined a full suite upgrade for the second room (it seemed a bit big) and kept the Junior Suite but did accept the club lounge access which the main suite would have given.
My one bedroom suite at InterContinental Boston
The best rooms here are 'channel' (water) view, because it is prettier and because you are free of any car noise on the other side.
The hotel is looking good following its refurbishment. Whilst not exactly a riot of colour, the bedroom of the suite I was upgraded to certainly looked classy: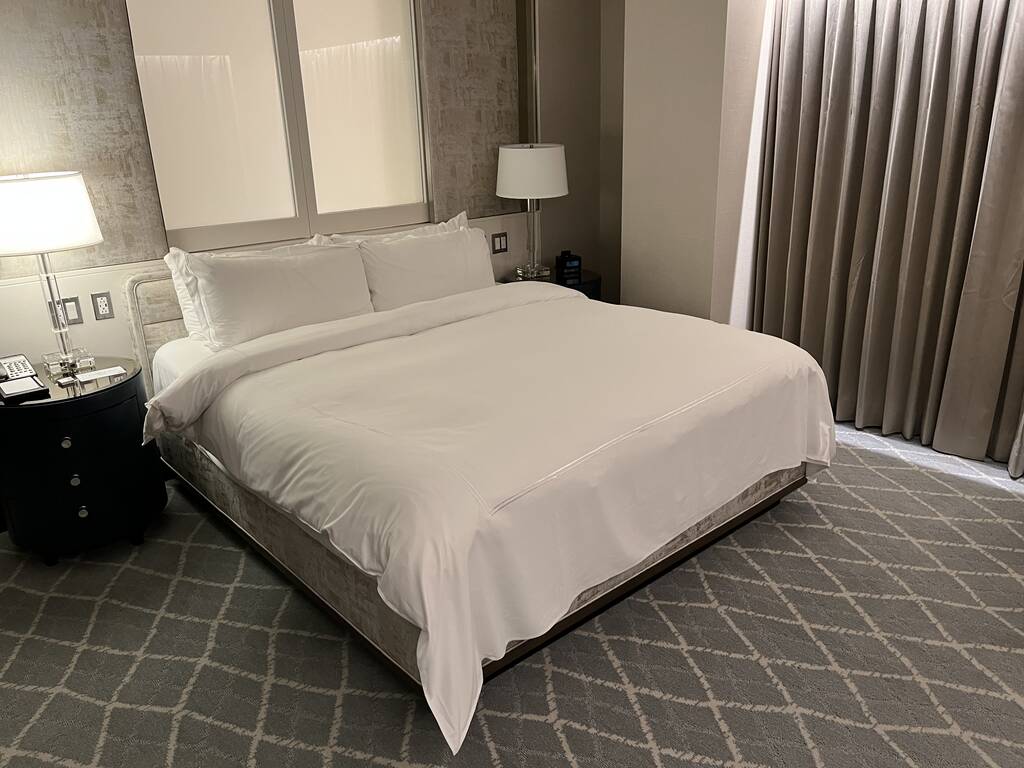 This was the view from the bedroom window: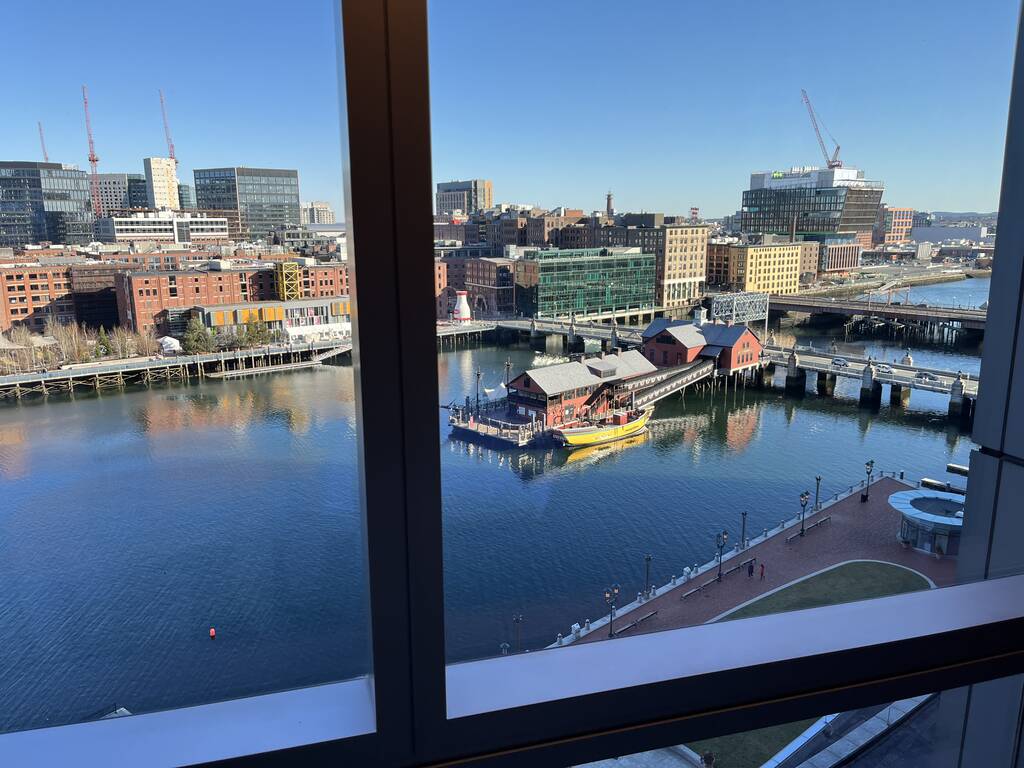 …. and to put the view in context to the size of the bedroom area: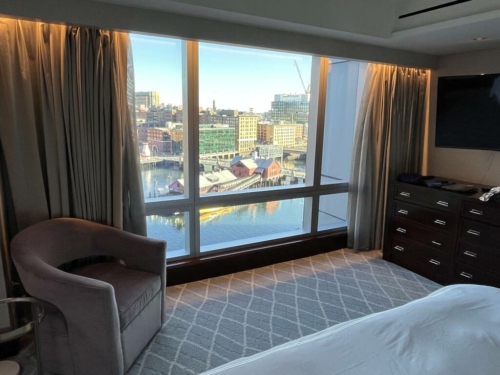 What was less successful was the living area: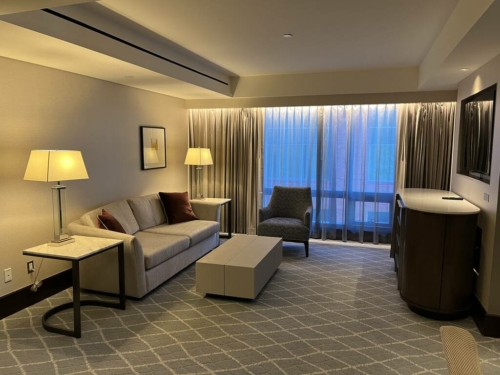 …. which felt a bit empty. What you can't see from the photo is that there is also a lot of empty space behind me. There is a desk but out of shot. If the curtains had been open, you would have seen it looked directly into the building next door.
The bathroom was a little bland too – it did the job but didn't shout 'expensive suite':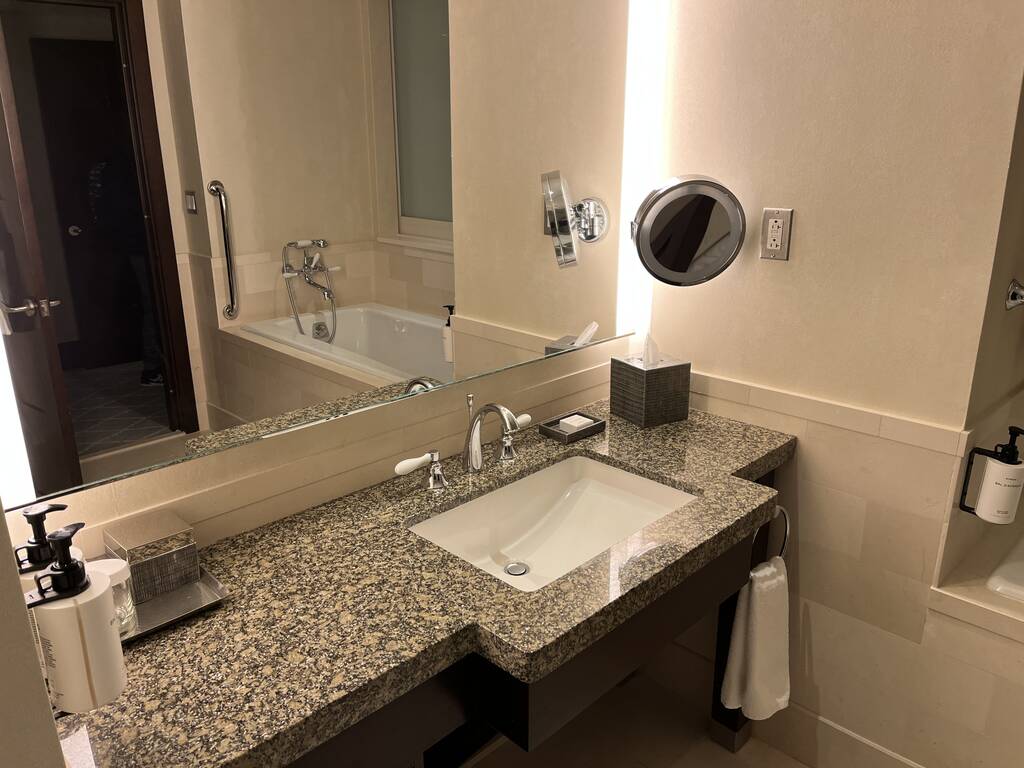 It had both a bath (reflected in the mirror) and standalone shower.
It's worth comparing the room to the Junior Suite we also had. This photo is taken from the foot of the bed: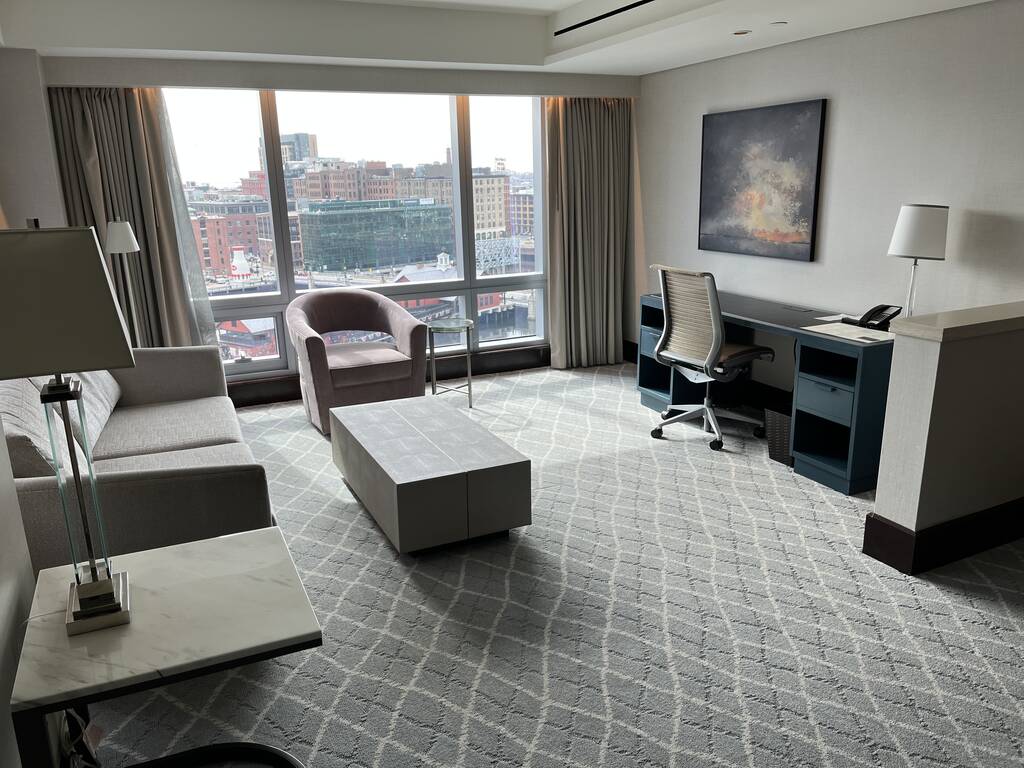 You have a sofa, desk and table plus the same channel view as the full suite. Obviously the view out whilst sitting in bed isn't as good but, on the other hand, if you were sitting on the sofa in the suite you had no view at all!
Arguably a Junior Suite with a channel view is the sweet spot here.
Gym and pool at InterContinental Boston
You need to give full marks to the gym and pool complex at InterContinental Boston. Instead of being stuck away in a basement, it is sat one floor above reception. You get good views and lots of light: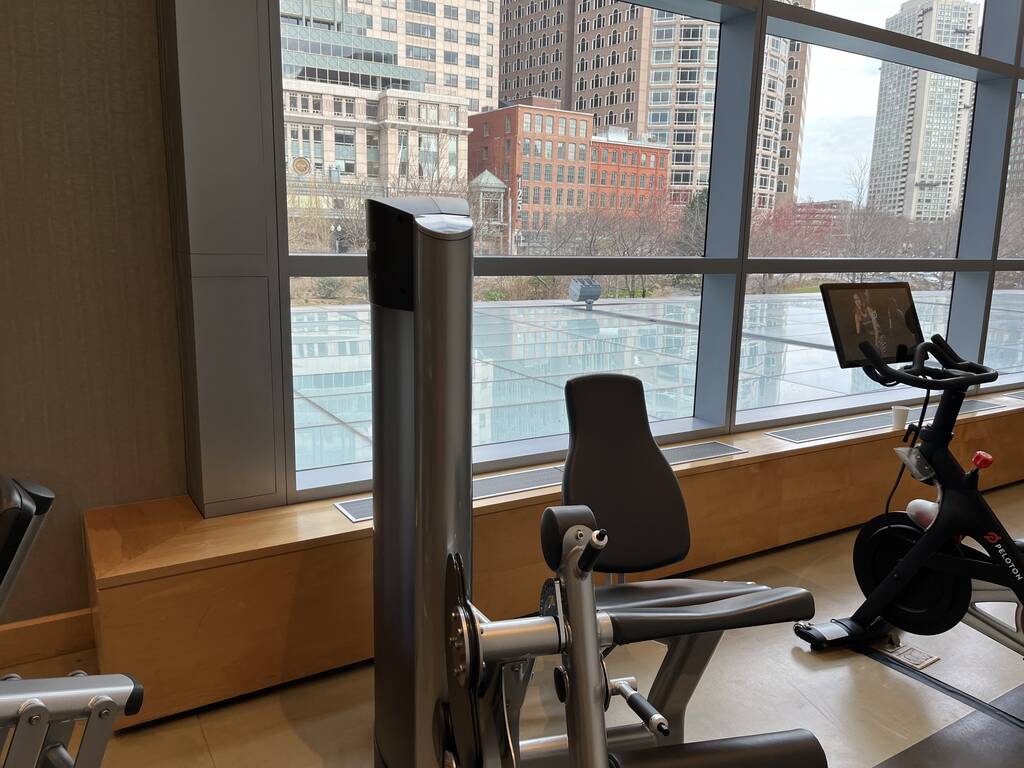 It's not the biggest hotel gym ever but more than satisfactory.
This pool photo was taken in the early evening so is a little darker than it is during the day. The pool is a good size and suitable for lengths. There are a number of loungers by the windows, not visible in the picture, which were rarely busy.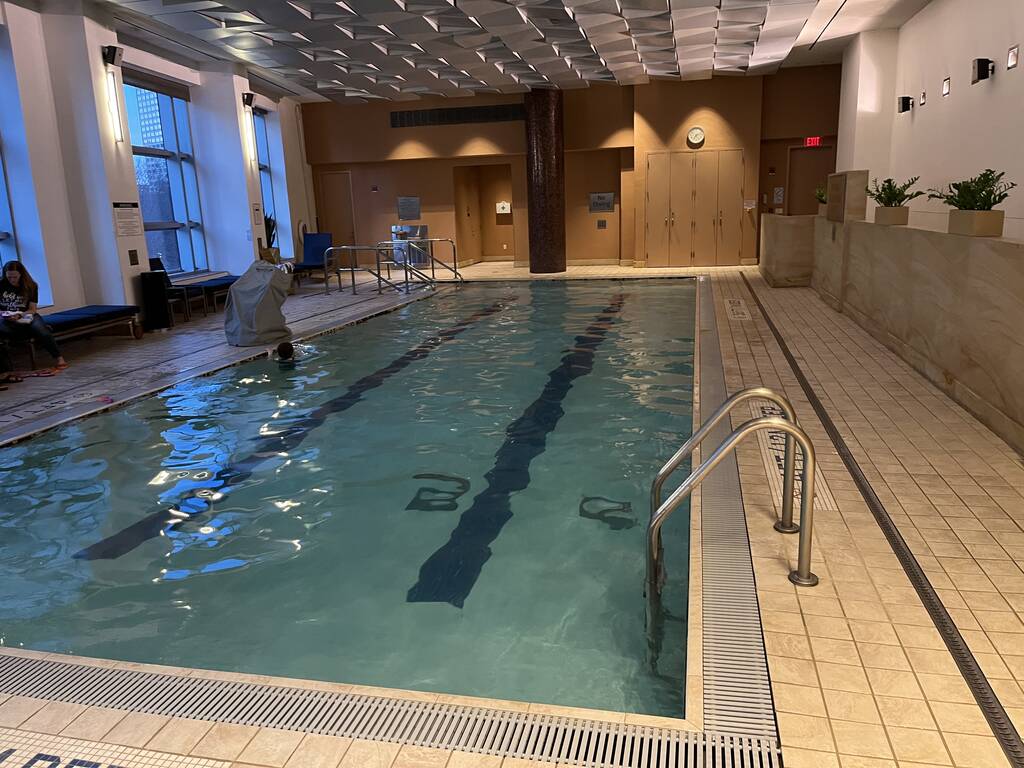 Club lounge at InterContinental Boston
I wasn't expecting to get Club lounge access because it doesn't come as standard with the Junior Suite that I booked. It is a benefit of suites and although Ambassador rules let hotels refuse Club access if you are upgraded to a room which offers it, InterContinental Boston was happy to oblige.
I was pleased that they did. It is a big space: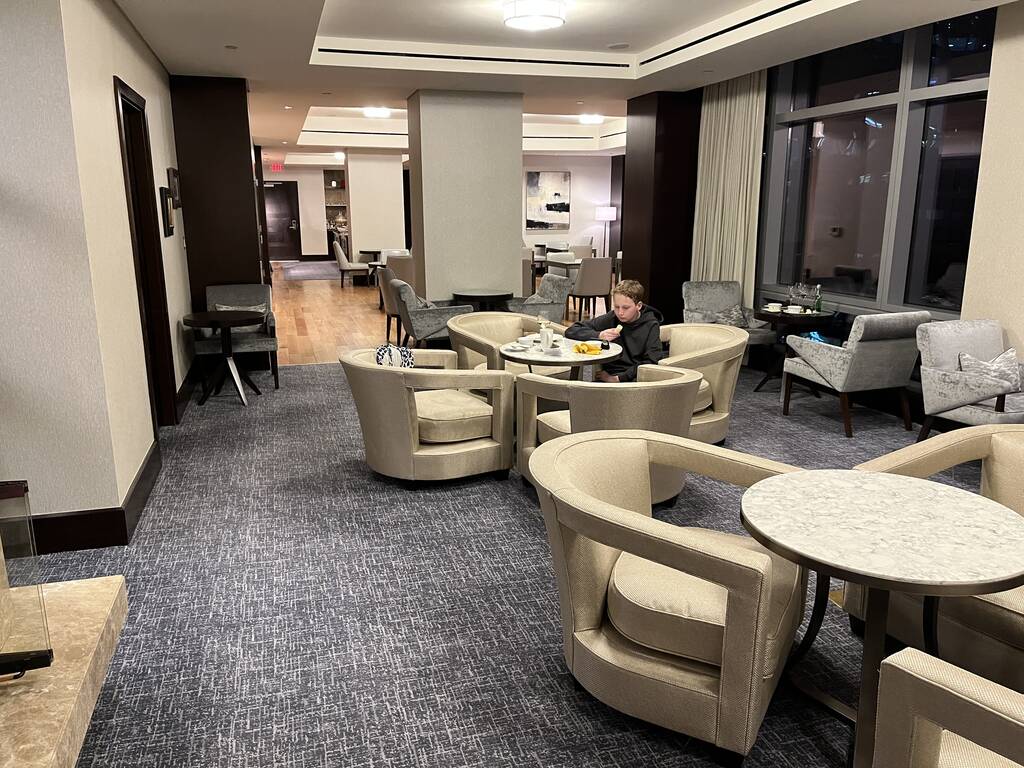 …. and the selection was good. Whilst we took breakfast in the restaurant (we have Diamond Elite status and so this didn't cost us anything extra), we did have evening snacks in the lounge.
The stand-out part is the cold counter: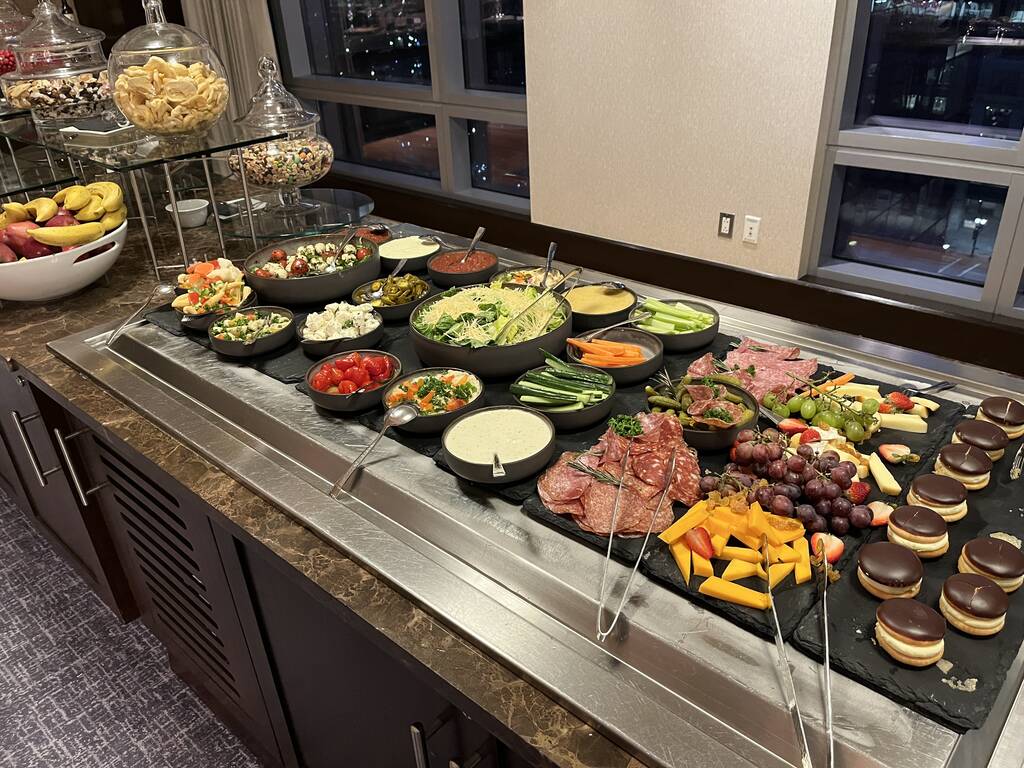 …. because hot snacks are limited (there were no other hot items out):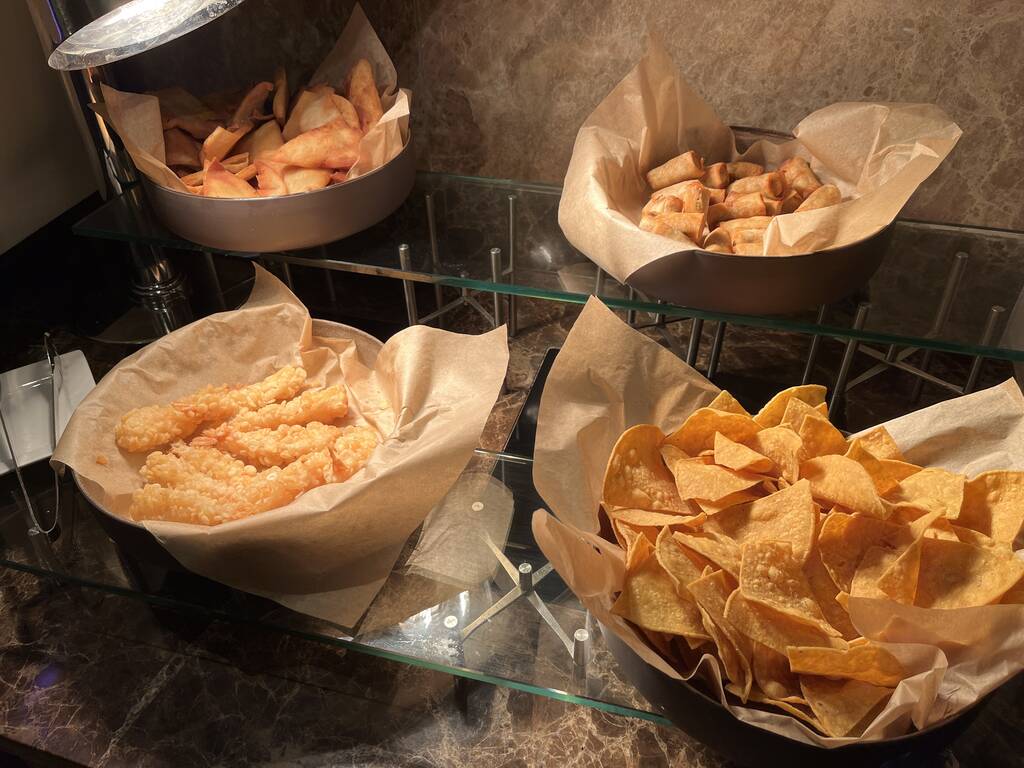 The alcohol selection was one of the best I have ever seen in a hotel lounge, and all self pour. Compared to some hotels which put out one bottle of wine each night and 'when it's gone, it's gone', this selection was remarkable.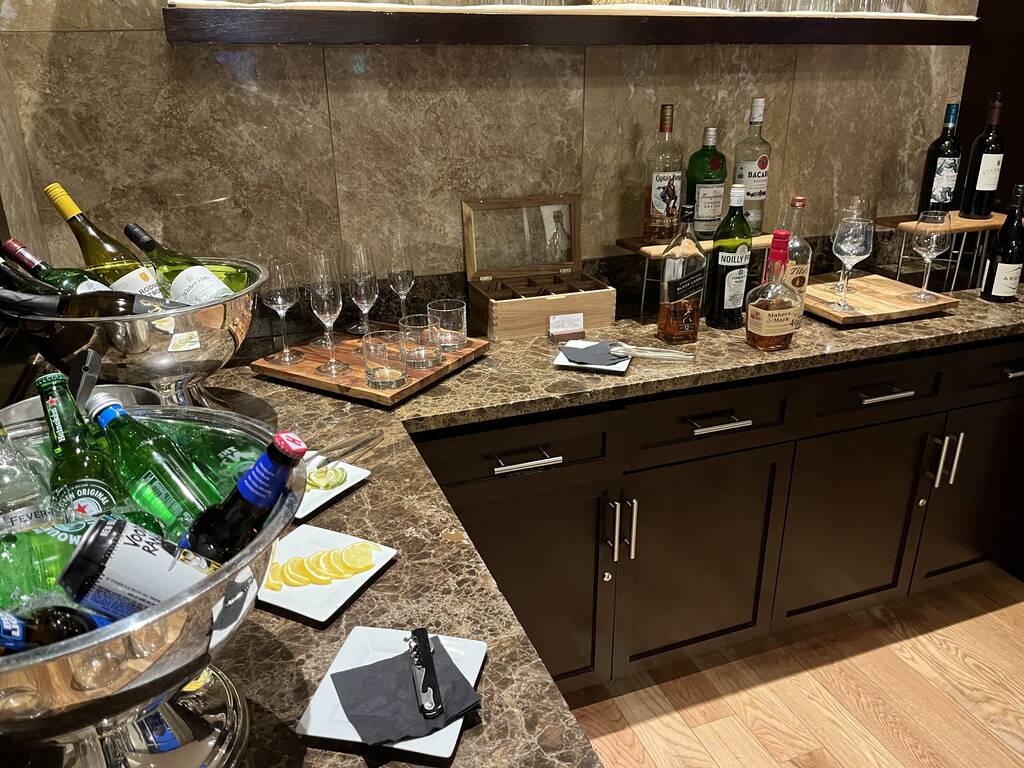 Club access is only included with one bedroom suites. You would also get access if you had the invite-only Royal Ambassador status or had chosen club access as a 40 night milestone award in IHG One Rewards.
With any room, you can choose to pay at the following rates:
$150 per day, per room (two guests maximum)
$50 per day, per additional young adult (7-17 years of age)
Complimentary to children 6 and under
Arguably this is not bad value for a couple if you know you will be around in the hotel in the evenings.
Current opening hours are longer than the hotel website shows. Breakfast is 7am to 10am (7.30am to 10.30am at weekends), snack and soft drinks are available from noon to 4pm and drinks and canapes are available from 5pm to 8pm. The lounge closes at 9pm.
Breakfast at InterContinental Boston
The restaurant at InterContinental Boston is a little odd.
Called 'Miel', it is (accurately) desribed as a 'rustic European-style restaurant'. It's just not entirely clear why a 'rustic European-style' look was seen as a good idea for a glass and steel tower.
This is a hotel PR picture: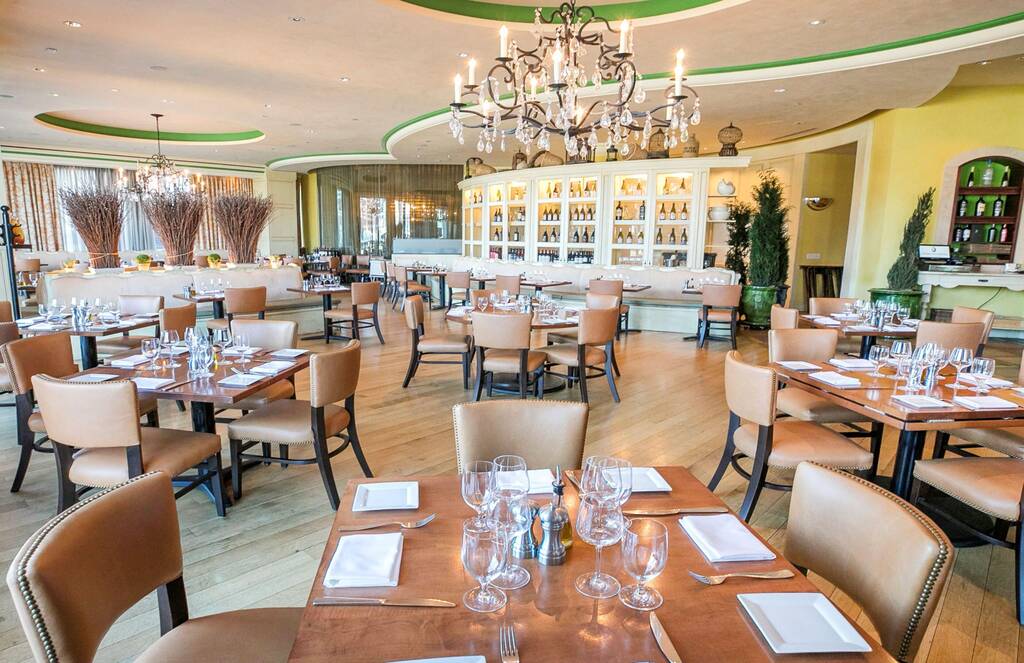 The breakfast buffet was (IIRC) $36 plus taxes, service etc, or you can pick from a range of a la carte items. The bill for four was around $180 on the first day when we had four buffets, but lower on other days when we realised one a la carte item each was a better option. The cost was wiped from the bill due to our IHG One Rewards Diamond Elite status.
(My wife and I both have Diamond Elite status. You should not expect to get four free breakfasts if only one guest is Diamond Elite.)
The buffet is, frankly, weak and was closer to what you'd expect from a three star hotel – it's a million miles away from the spreads you'd find in the Middle East or Asia. I cannot justify the cost in any way unless you have it included in your rate or have Diamond Elite status. The a la carte options were good enough but not life changing.
Next to the restaurant is the hotel bar, which looks smart and less 'rustic':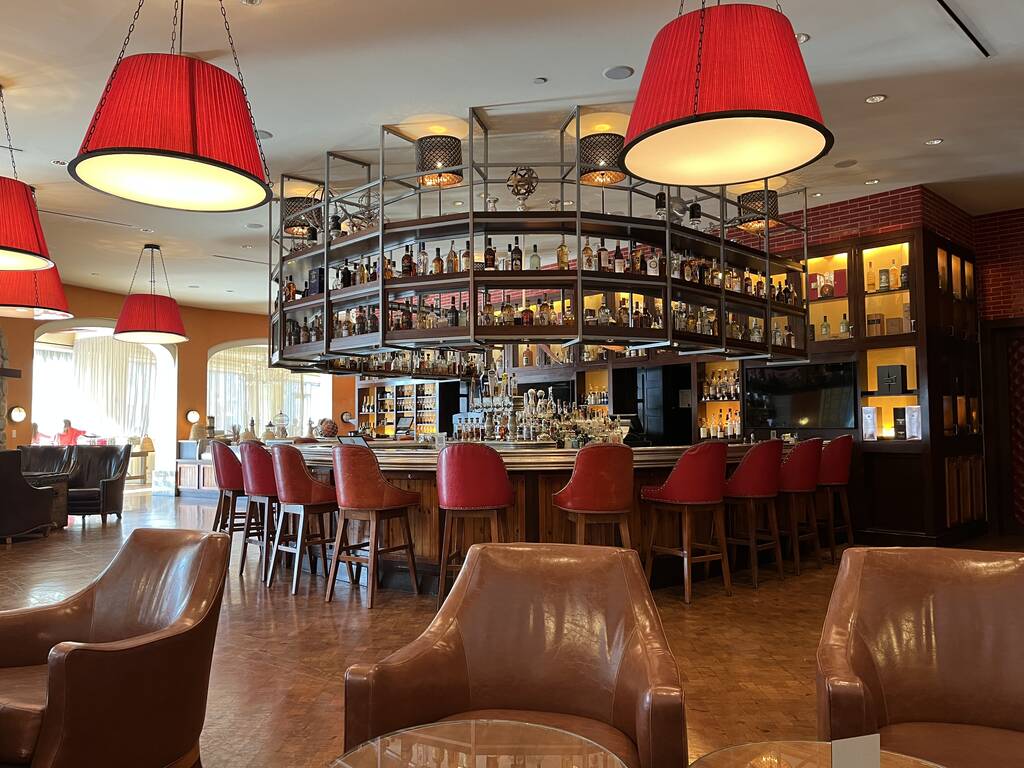 We didn't eat in the restaurant in the evenings. In Summer it appears that you can eat outside overlooking the water.
A quick word about check out
I should mention the mess that was our check out. For some reason the hotel had closed the bill and charged my credit card before I got down to the front desk.
Unfortunately:
I wanted the rooms charged to a different credit card, due to FX fees, to the one I had given at check-in for security
the bills for both rooms were a mess, with breakfast charges not removed
I got the first problem fixed with the room charge reversed. Unfortunately I ended up taking a small 1% hit when the charge and refund hit my credit card statement a few days later.
The second problem was more difficult. The front desk staff were not allowed to reopen a closed bill, which apparently required approval from a manager who was not available. All I could do was leave with a verbal reassurance that the charges would be removed and a refund issued.
It's worth noting that the problems applied to both rooms, booked in two different names off two different IHG accounts. It wasn't a one-off bit of bad luck on one bill. It looked like no Diamond Elite members that day were getting their breakfast charges wiped.
To be fair, the hotel did process the breakfast refund promptly. We kept the IHG One Rewards points on the $400 of breakfast charges as the points had already been processed!
Conclusion
InterContinental Boston is a high quality hotel and worth staying at. Whilst marginally out of the way – unless you need to be in the Financial District – the rooms look great following refurbishment and Boston is not exactly a large city.
It was the best hotel we stayed at during our nine day trip, exceeding the Newport Marriott (review to come) and Thompson Central Park New York (reviewed last year, but this time I didn't get a suite).
I would especially recommend InterContinental Boston if:
you are willing to splurge for a water (channel) view
you have Diamond Elite status in IHG One Rewards and so get free breakfast (check your bill though!)
you are staying over a weekend, in which case buying InterContinental Ambassador for $200 and using the 2-4-1 weekend night voucher to get your second night free makes sense (the hotel offers ALL room categories for the 2-4-1 voucher, even the $6,000 per night Penthouse Suite!)
The InterContinental Boston website is here if you want to find out more.
Note that you can get substantial extra benefits on a cash stay, including a $100 hotel credit and free breakfast, if you book via our partner Emyr Thomas who is an IHG Luxury & Lifestyle agent. You pay the Best Flexible Rate shown at ihg.com and pay at check-out as usual. This article explains the IHG Luxury & Lifestyle scheme in more details and has Emyr's contact information.
---
IHG One Rewards update – September 2023:
Get bonus points: IHG One Rewards is not currently running a global promotion.
New to IHG One Rewards?  Read our overview of IHG One Rewards here and our article on points expiry rules here. Our article on 'What are IHG One Rewards points worth?' is here.
Buy points: If you need additional IHG One Rewards points, you can buy them here..
Want to earn more hotel points? Click here to see our complete list of promotions from IHG and the other major hotel chains or use the 'Hotel Offers' link in the menu bar at the top of the page.