Review: the Thompson Central Park New York hotel (World of Hyatt)
Links on Head for Points may pay us an affiliate commission. A list of partners is here.
This is our review of the Thompson Central Park New York hotel, which is part of World of Hyatt.
We recently reviewed Thompson Madrid, which has just opened and is the first Thompson hotel in Europe. As it happens, at the same time as Jamie was at Thompson Madrid, I was in New York at Thompson Central Park.
Whilst I didn't spend much time in the hotel – I was there as part of a Hyatt media event, and Hyatt provided my room – I thought I would run through it quickly, as it does offer very good value as a World of Hyatt redemption.
It is also a good deal for cash if you want a suite.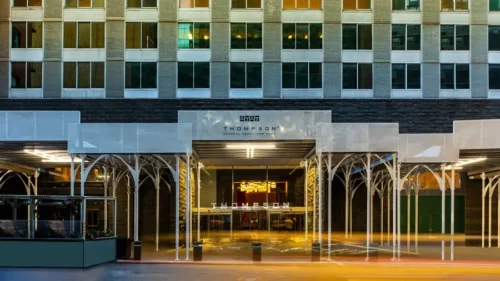 Thompson Central Park vs Park Hyatt New York
Long term readers may remember that I reviewed Park Hyatt New York in May. This is Hyatt's flagship US hotel, set in one of the new 'super skinny' skyscrapers which overlook Central Park. Don't get too excited though – the hotel is in the lower part of the tower and park views are minimal from most rooms.
That said, it was an impressive hotel. This is hardly surprising, of course, given that a standard room was $1,995 on the days I was there. It is a relative bargain at 40,000 World of Hyatt points on a standard night, reducing to 35,000 off-peak and increasing to 45,000 peak. You can buy 40,000 points for $768 in the current 'buy points' promo which is far more attractive than $1,995 for cash but still not exactly cheap.
Even if you are a top-tier Globalist in World of Hyatt, suite upgrades at Park Hyatt New York are rare. This is due to the number of guests willing to pay cash for a suite, the small number of suites and the high number of Globalists on any particular night.
This is where Thompson Central Park New York shines:
it is, virtually literally, behind Park Hyatt New York. The back entrance to the Thompson exits onto West 57th, on the same block as the front door of the Park Hyatt.
the Thompson has a LOT of studio suites, looking at the floor plans – the hotel was previously the Le Parker Meridien and may have kept the original room layout
it is only 25,000 World of Hyatt points per night on a standard night
The bottom line is that, for 37% fewer points, you can stay in virtually the same location as Park Hyatt New York and have a far higher chance, if you are Globalist, of getting a suite upgrade.
The suites are also a good deal for cash
New York hotel rooms tend to be on the small side. If you want a suite at a good rate, my usual recommendation would be one of the two Conrad hotels which are 'all suite'. (Well, Conrad Midtown was 'all suite' before it deliberately created some non-suites for Hilton Honors redemption purposes! Conrad Downtown remains 'all suite'.)
Thompson Central Park New York now joins my 'cheap suites' list.
If I take a random day in January, a standard room is $426. A Studio Suite, which I show you below, is $551. I consider this a good value upgrade.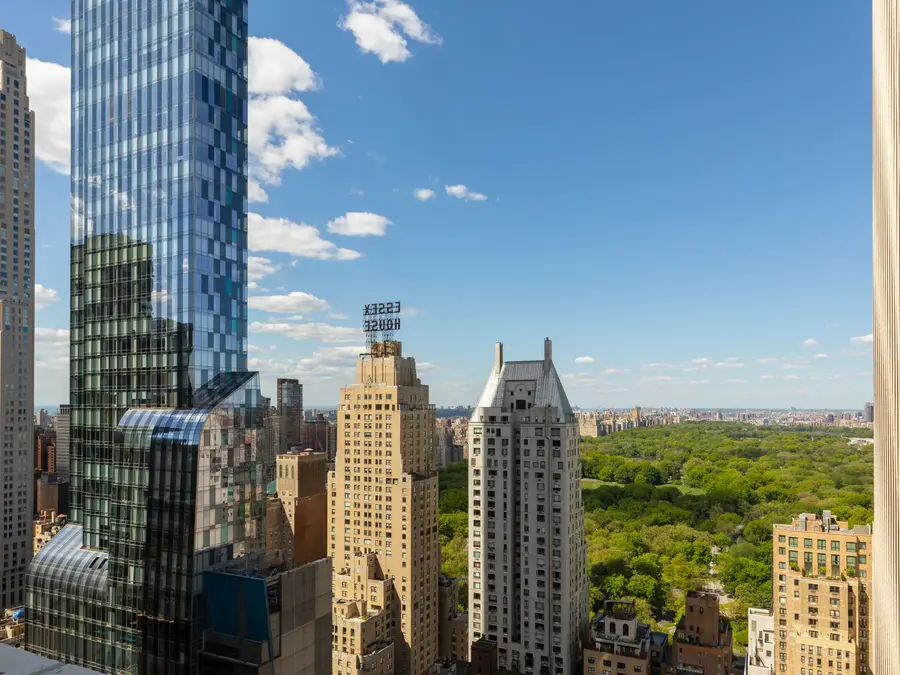 There is a 'hotel within a hotel'
Thompson Central Park is basically two hotels in one. The higher floors, which do have Central Park views on one side (see PR image above), are classed as 'Upper Stories'. Book into one of these and you will pay considerably more but you will have access to the 'Upper Stories' lounge. Globalist members of World of Hyatt do not get access to this lounge by default.
I didn't get to see this part of the hotel – albeit that the rooms look the same, apart from facilities, view and lounge access – and can't comment on whether it is worth the extra.
That $551 Studio Suite I mentioned jumps to $718 on the 'Upper Stories' and that is without a park view.
Inside a Thompson Central Park New York studio suite
As you can just about see from the top image above, the hotel – once the Le Parker Meridien – is in a very unattractive late 1970's block. This isn't really an issue. The inside was fully refurbished during the transformation into a Thompson last year (it opened in November 2021) and even standing outside it is hard to see how ugly the building is!
What is a bigger issue is that, on the lower floors (I was on the 15th) there isn't a huge amount of light. The photos below were taken early afternoon on a sunny day but the nearby buildings block the sun. Rooms facing West 57th will be different as there is a big gap between the hotel and the street.
This is how the Studio Suites work. It is all one big space. The bed is separated from the living area by a large set of shelves which includes the TV: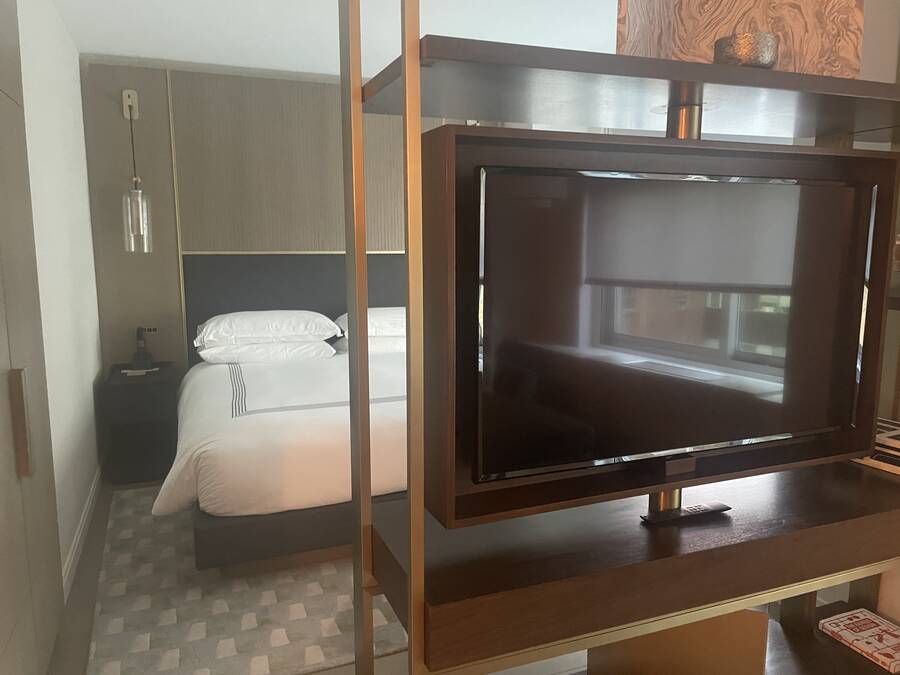 Behind this is a sofa – the TV spins around so you can watch from the bed or sat down: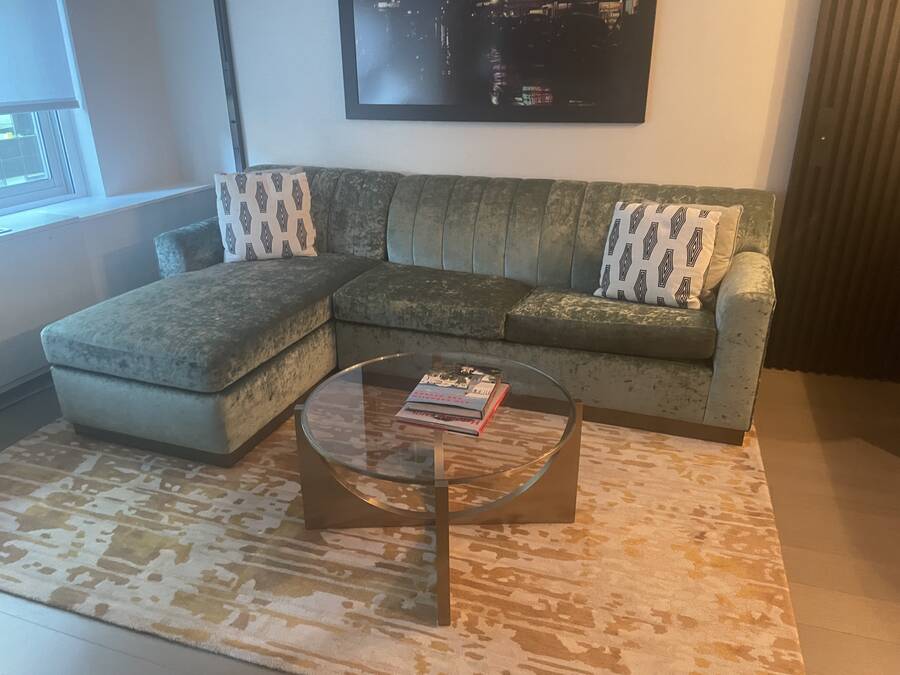 To the side of the sofa is this breakfast bar-type area, which I used as a desk. You can just see, behind this, a coffee machine (a new-style 'spinner' Nesresso, the first time I'd used one).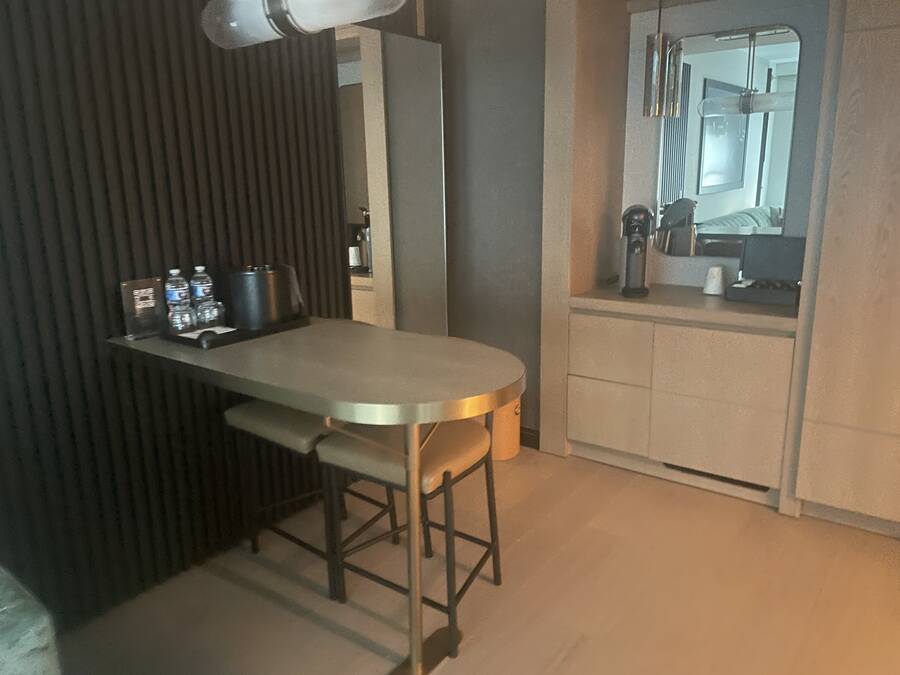 The bathroom has a slightly odd arrangement. The photo is taken from the doorway. You have an oversized shower, albeit a long and thin one, with the loo and sink squeezed awkwardly together.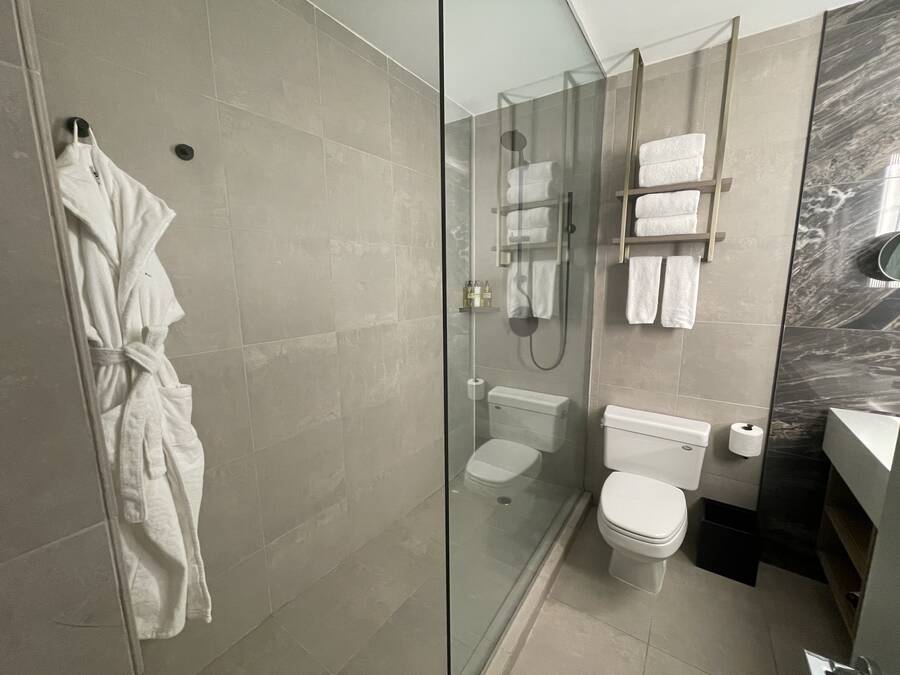 Apart from the lack of daylight, I was impressed by the amount of space for the price charged.
Food and drink
There is a bit more going on at the Thompson than some other New York hotels, but not by much.
The hotel contains a 'cult' burger restaurant called Burger Joint. There was always a queue to get into this, which blocks up the lobby. The decor seems to be '2000's Shoreditch cafe' style (PR picture below):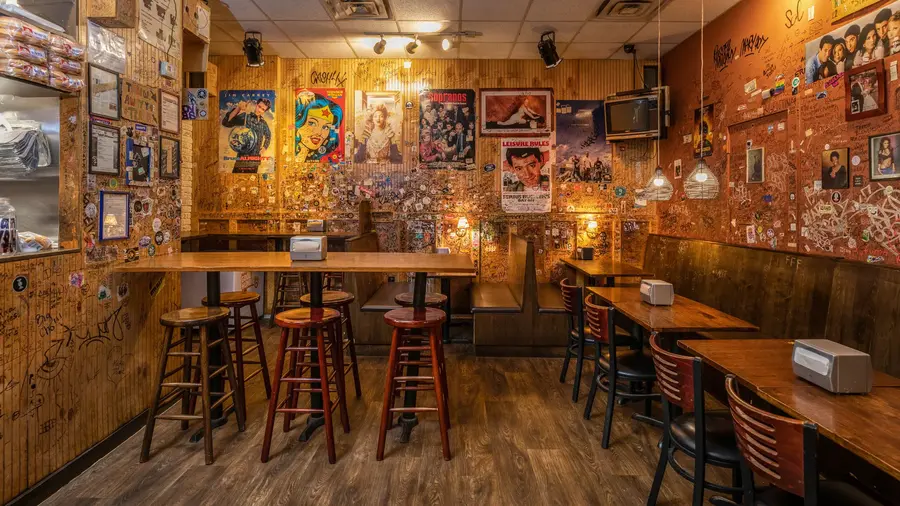 The main hotel restaurant is Parker's, a jazz nod to the nearby Carnegie Hall and other local music venues. Our group never ate here, but I did have a quick breakfast. It was perfect acceptable, but if it isn't included in your rate then I wouldn't feel obliged to stay in.
Half of the tables are effectively in the bar with the other half in the cavernous lobby – it doesn't really feel like a restaurant.
There is a third restaurant called Indian Accent. Whilst part of the hotel, it is technically next door – you need to leave by the main entrance, walk a few paces to the right and then come back into the building.
The website says:
With an artful approach to traditional Indian recipes, Chef Manish Mehrotra puts an inventive spin on classic dishes that are as much a feast for the eyes as the palate. Savor prawn koliwada and malvani-dried shrimp pula, or crispy jackfruit and Kerala pumpkin curry with a doda barfi treacle tart for dessert. This upscale locale boasts numerous awards and an extensive wine list that deserves its own attention.
…. and I fully agree. Whilst designed as a buzzy social restaurant, the food was genuinely impressive and very different from your traditional UK Indian restaurant. If you like Indian food I would recommend Indian Accent even if you are not staying at the Thompson.
Conclusion
This is a brief review but I only had a limited amount of time in the hotel around my Hyatt appointments. The bottom line is that it is a modern, smart and brand new hotel, although it doesn't tell you much about Thompson as a brand.
If I was offered a choice between the Park Hyatt and Thompson Central Park, for free, I would take the Park Hyatt. I was hugely impressed by the quality of the room I had there, and all rooms are a good size.
If was using my own money, I would happily take a Studio Suite at the Thompson Central Park. I think they offer good value for anyone who wants a decent space.
If I was using points, it would depend on my balance at the time. Do I want to splurge an extra 15,000 or so World of Hyatt points per night for the Park Hyatt? You can't logically justify the extra, if I'm honest, if your points balance is relatively modest.
Thanks to the Hyatt team for arranging my stay. The Thompson Central Park New York website is here.
Looking for a hotel in New York?
We've reviewed a number of hotels in the Big Apple over the years. You can see our Manhattan hotel reviews here:
Elsewhere, we've reviewed:
---
World of Hyatt update – December 2023:
Get bonus points: World of Hyatt is not currently running a global promotion
New to World of Hyatt? Read our overview of World of Hyatt here and our article on points expiry rules here. Our article on what we think World of Hyatt points are worth is here.
Buy points: If you need additional World of Hyatt points, you can buy them here.
World of Hyatt is offering a 20% bonus when you buy points by 4th December. Click here to buy.
Want to earn more hotel points? Click here to see our complete list of promotions from Hyatt and the other major hotel chains or use the 'Hotel Offers' link in the menu bar at the top of the page.