Review: the Aspire lounge (Gate 4) at Edinburgh Airport
Links on Head for Points may pay us an affiliate commission. A list of partners is here.
This is my review of the Aspire lounge at Edinburgh Airport. This is the original Aspire lounge by Gate 4, next to the British Airways lounge. Our 2021 review of the new Aspire lounge, by Gate 16, is here.
This is part of our series of reviews of airport lounges across the UK. You see all of the reviews here.
The flight back from Gleaneagles Townhouse yesterday (review to come) gave me a chance to complete our re-reviews of the Edinburgh Airport lounges. This one had been tricky to do because it closes at 5pm and we normally travel later.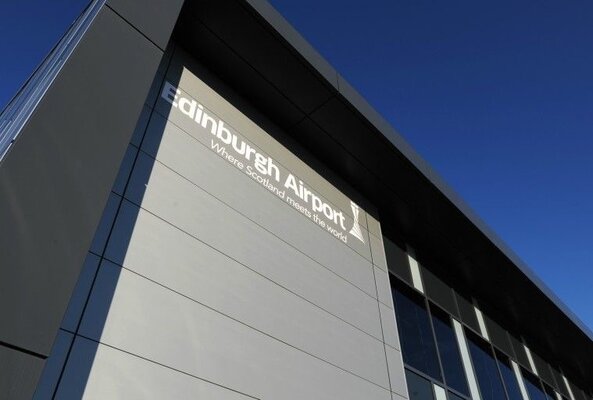 You can learn more about the Aspire Lounge, and pre-book cash visits, on the Lounge Pass website here.
The Aspire lounge is located next to the British Airways lounge at the far end of the shopping precinct by Gate 4. This doesn't necessarily mean that it is the most convenient one for British Airways passengers – my flight to London City left from Gate 11 and a Heathrow flight was next to it on Gate 10.
I got in using my Priority Pass, which comes with my American Express Platinum card (or you can buy one) and allows unlimited free lounge visits. You also get four free lounge visits per year with American Express Preferred Rewards Gold, which itself is free for your first year.
There was no problem getting in via Priority Pass at 2.30pm – the lounge was busy but certainly not rammed. It was busier than the photos here imply because I would jump up to take one whenever someone got up to leave.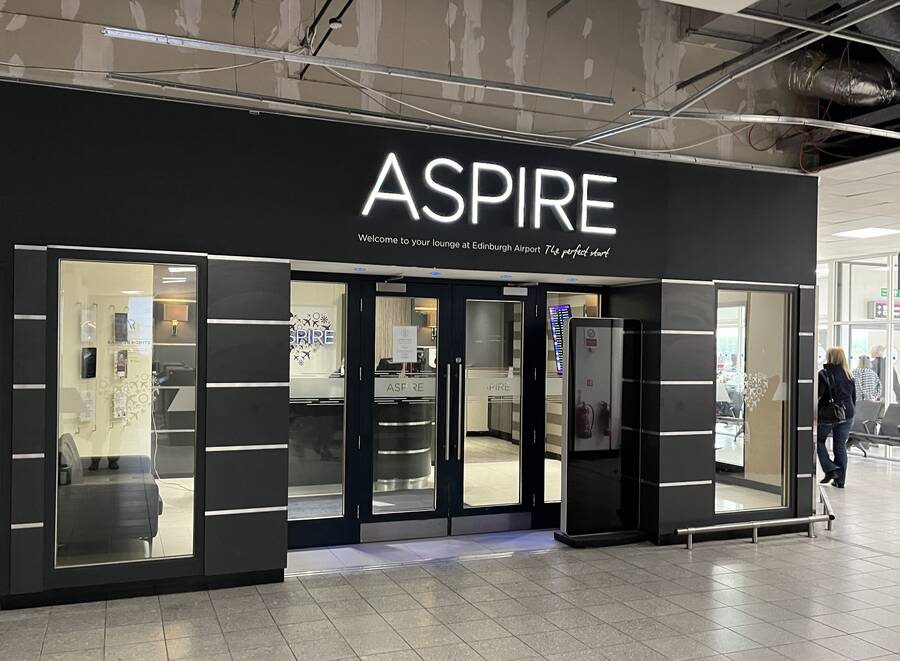 I can't easily compare this with the other Aspire lounge by Gate 16 because I haven't been there for some years but it is substantially more modern and spacious than this one at Gate 4.
The Plaza Premium lounge (review here) is light years head of Aspire Gate 4. If you have an American Express Platinum card or a DragonPass card you should head straight to Plaza Premium. Unfortunately Plaza Premium does not accept Priority Pass.
Inside the Aspire lounge at Edinburgh Airport (Gate 4)
The lounge is an odd shape. As you enter there are a few cubicles on the right hand side, which makes this a decent option if you want to work in semi-privacy: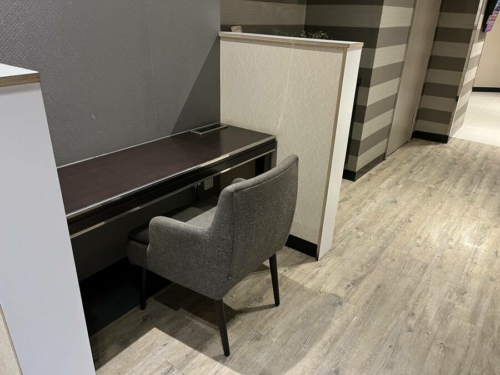 You then enter a fairly small but pleasant space with both cubicle, booth and bar stool seating: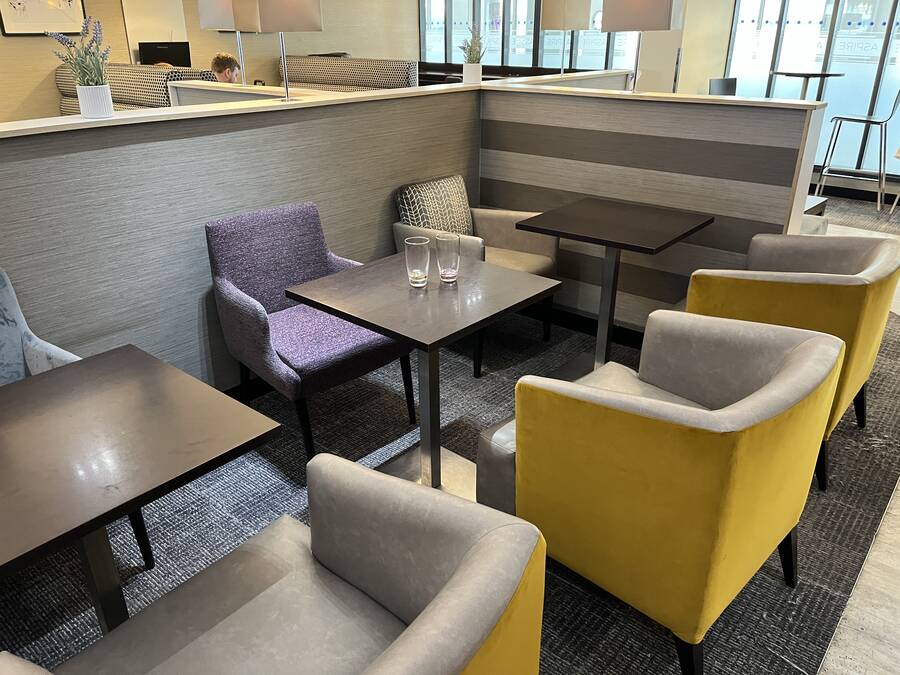 and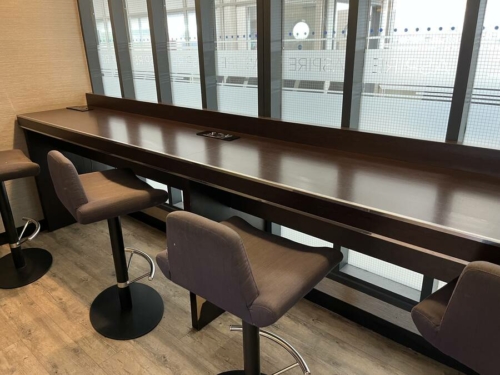 Initially, you think this is it. Eventually you spot that, behind the buffet and bar, the lounge snakes away around the corner. You find yourself in a bigger space with a lot of light and views of the airport car park.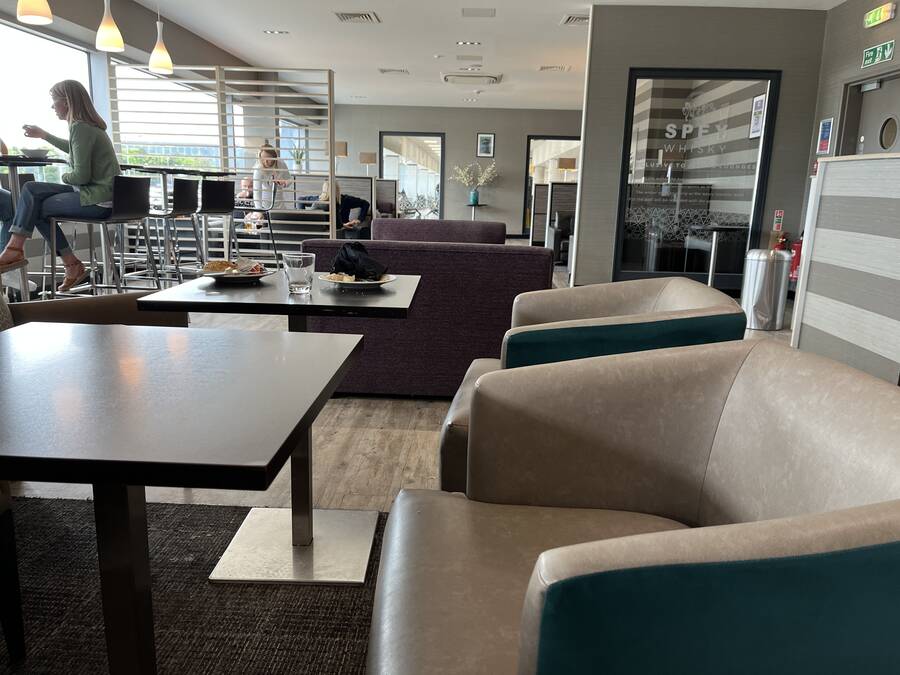 I've always found that this space gives off a bad vibe but it's not clear why.
I think it is partly because it is quite dark (bizarre, given the huge floor to ceiling windows at the back) and the use of grey sofas, grey and burgundy chairs, grey walls and black tables.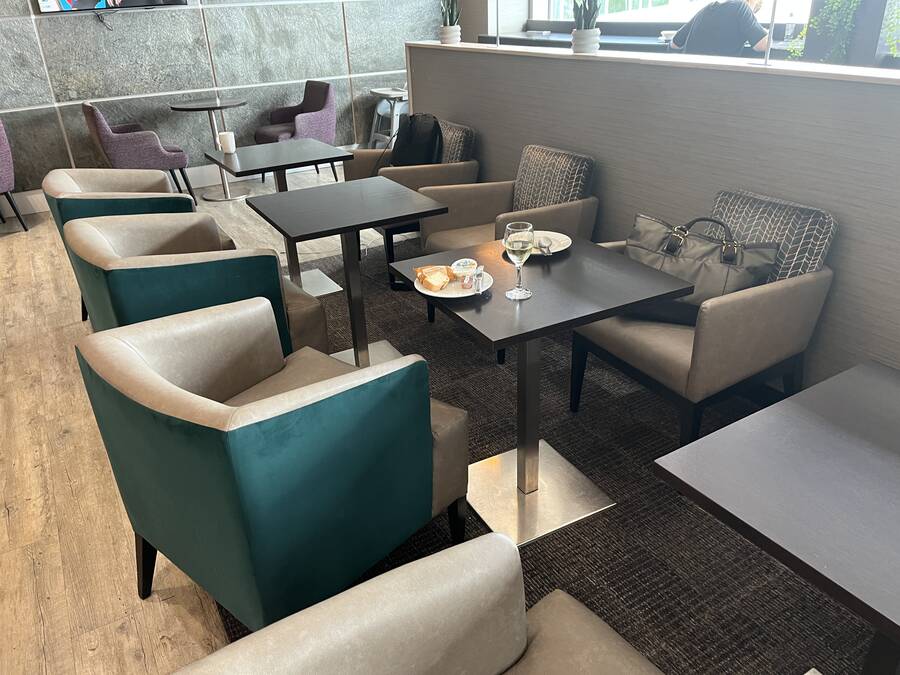 It is also quite a tight space with a lot of furniture. The trend these days is towards brighter, lighter colour schemes – the only bit of brightness here is on the seating by the entrance.
Heading to the loo is tricky. You let yourself out into the main corridor via a one way fire door, and then walk around the corner. On your return, you need to head back to the main entrance and see the reception staff.
Food and drink in the Aspire lounge at Edinburgh Airport (Gate 4)
The food here has always been OK. At 2.30pm, so not exactly peak eating time, there were two hot options, including a chicken curry with rice and naan bread (it tasted better than it looks):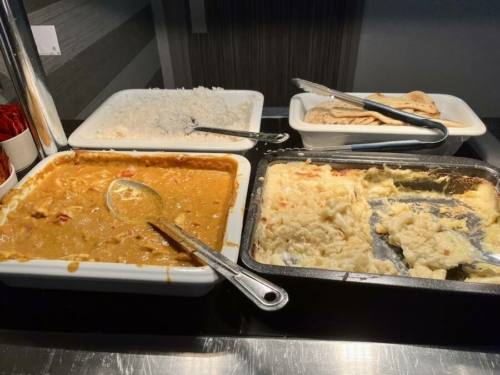 …. a fair salad selection: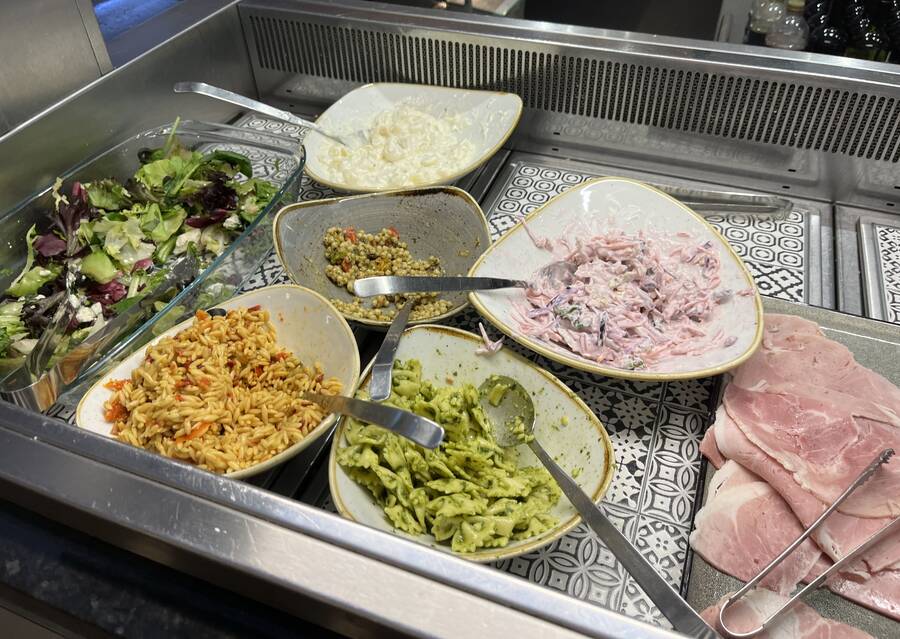 …. and scones, jam and cream plus some packaged cakes.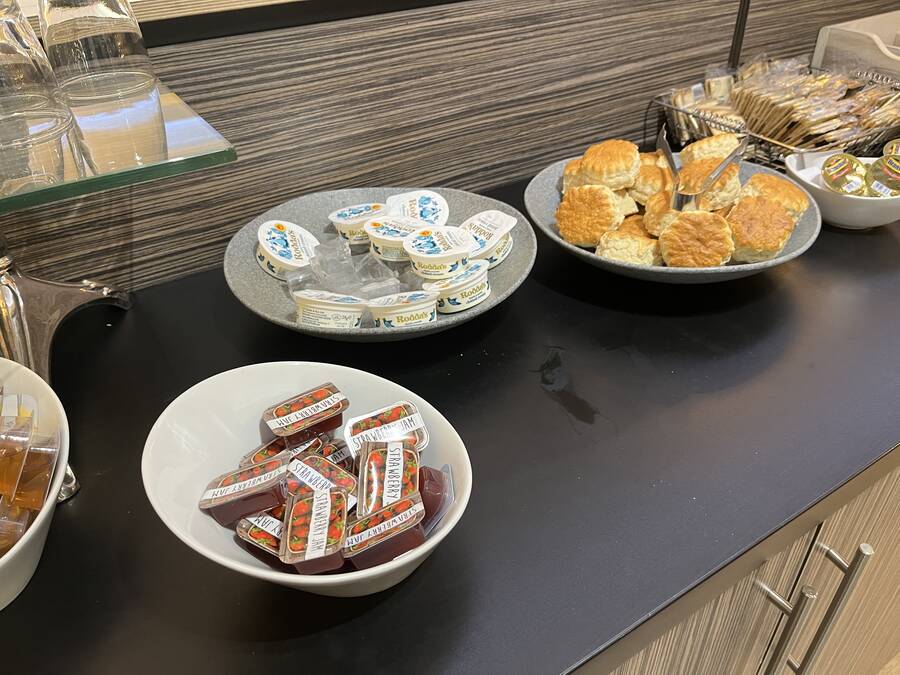 There's also a pancake machine:
You need to ask for alcohol but they are generous with their wine pours – I see that I made the same comment when I last reviewed this lounge six years ago! Coffee is self serve from a machine.
As I said above, if you look at my pictures you might wonder why I wasn't full of enthusiasm. It is hard to put my finger on it myself. Aspire is certainly a good place if you want some privacy or are worried about your kids making a noise, as you can tuck yourself away in a corner or a booth.
Plaza Premium should be your first choice if you can get in (DragonPass or American Express Platinum required). To be honest, I'd probably try the Aspire lounge at Gate 16 second (review here) which does take Priority Pass. If you end up in the Aspire lounge at Gate 4, however, it isn't a total disaster.
You can book for cash via the Lounge Pass website here.