Review: the Stena Plus Lounge, on a ferry between Liverpool and Belfast
Links on Head for Points may pay us an affiliate commission. A list of partners is here.
Back in December 2020, we wrote about the new Stena Line ferries launching across the Irish Sea.
Whilst off our beat, the pull of an airport-style lounge onboard was too great to ignore …. it just took us 30 months to get there!
The opening of a number of new hotels in Liverpool and the refurbishment of the Hilton Belfast gave us a good excuse, as Stena Line offer direct connections between both cities.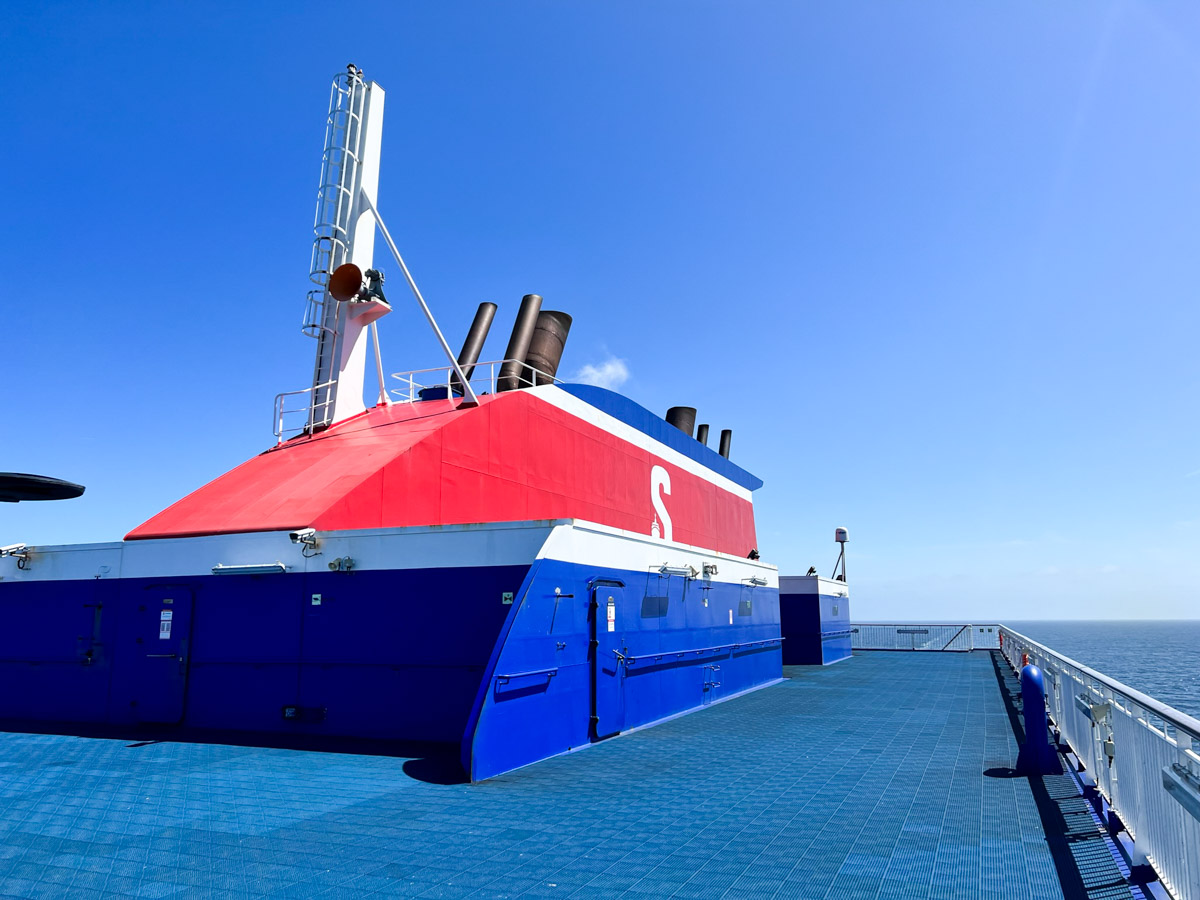 So last week I booked myself on the eight-hour journey as a foot passenger ….
My one-way ticket cost £28.50 and I pre-booked the Stena Plus Lounge for an additional £25. Not bad value, when you consider you are in there for at least eight hours. An additional £3.50 in taxes and fees was also charged.
Boarding the Stena Embla
I'm not new to ferrying – I've been taking the Dover-Calais ferries since I was born – but this was the first time I boarded as a foot passenger. Let's just say the process is slightly different to what I expected.
The passenger ferry terminal is tiny, but there were no queues to get my boarding pass printed and obtain my lounge access code. I waited five minutes landside before passing through a very brief pat-down security check into the, erm, water-side half.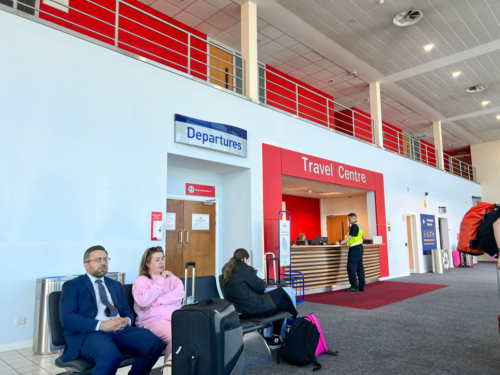 Unlike the ferries at Dover, which always appear to have a passenger foot bridge, boarding the Stena Line ferries is via a bus service. In Liverpool (well, Birkenhead) that means getting on this old double decker: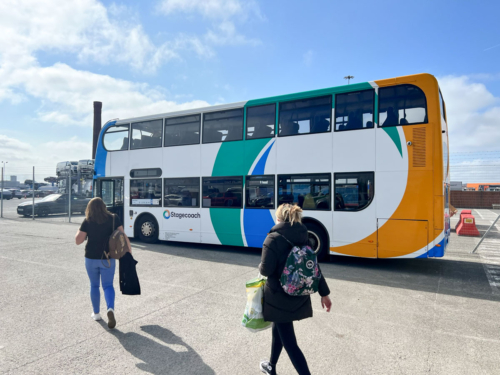 …. which drives you about 400 metres down the road and into the belly of the ship. You then disembark and make your way up multiple flights of stairs to the passenger decks. The same process occurs at the other end, albeit with a nicer single-deck bus.
Inside the Stena Plus Lounge
Finding the Stena Plus Lounge was easy, as it is well signed. It is at the front of the ship, directly underneath the bridge. Entry is via the four-digit code handed out at check-in, although at boarding there is also someone ticking names off a list.
The lounge far exceeded my expectations. In terms of hard product, it is just as good, if not better, than many airport lounges.
With windows on three sides, it was incredibly bright and open. A range of seating was available, including a row of recliners in the window: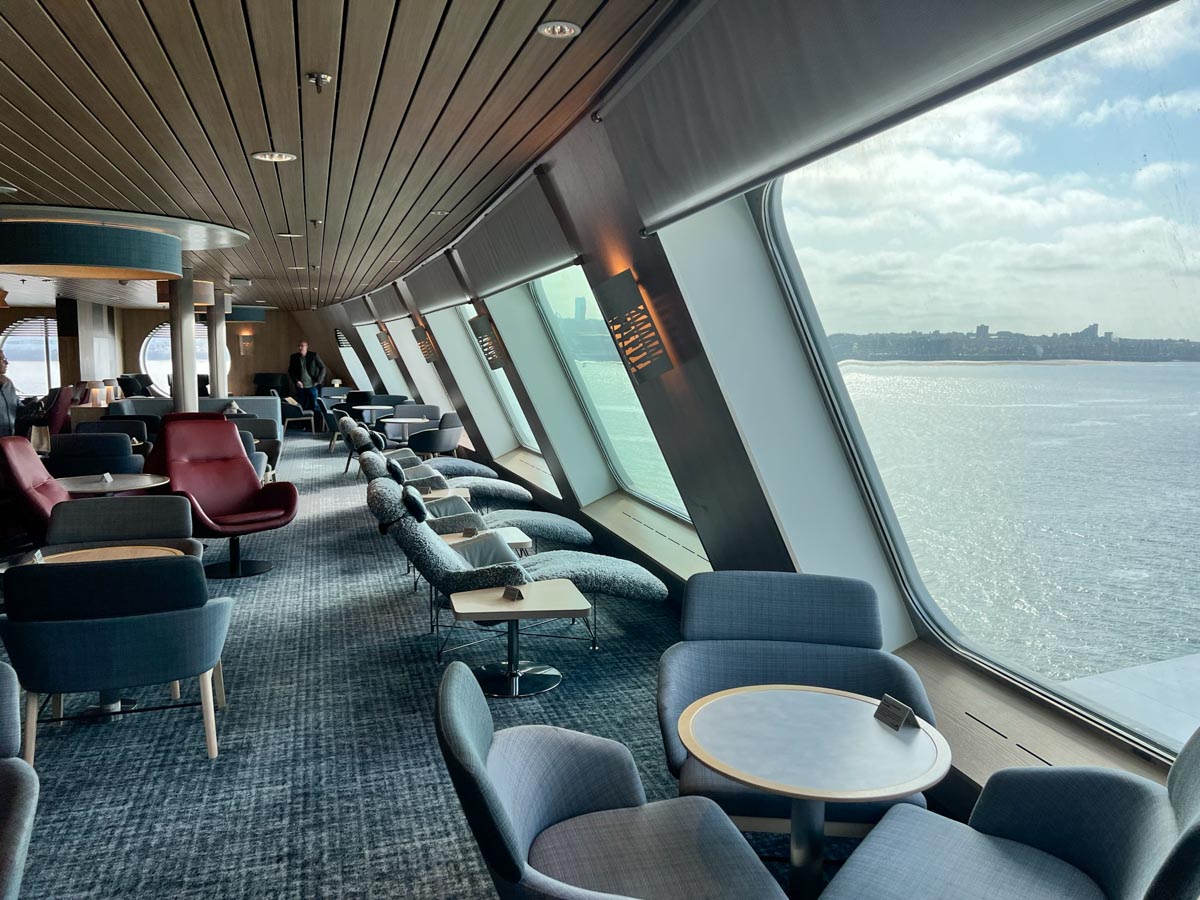 …. as well as tables and armchairs dotted around. The general design was very Nordic (Stena is Swedish) and featured lots of light wood tones: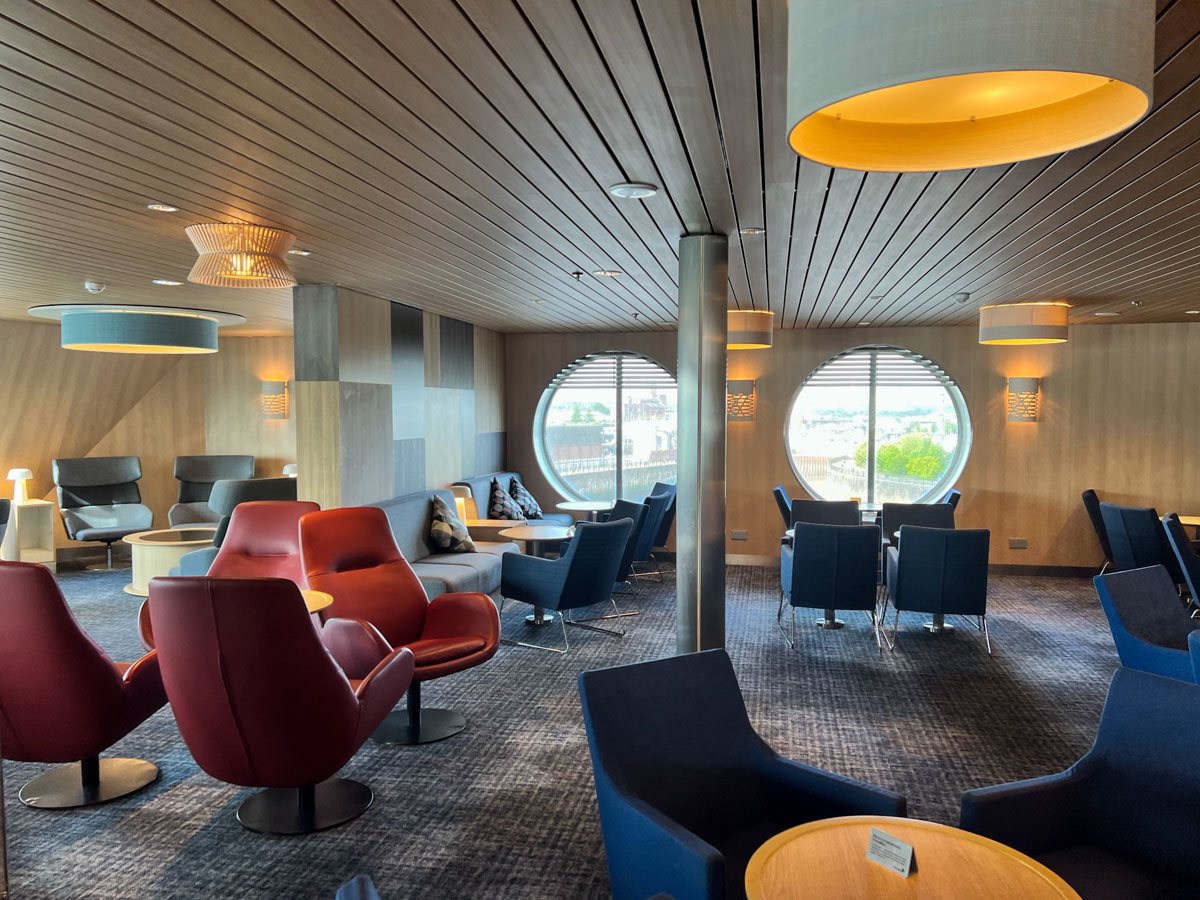 and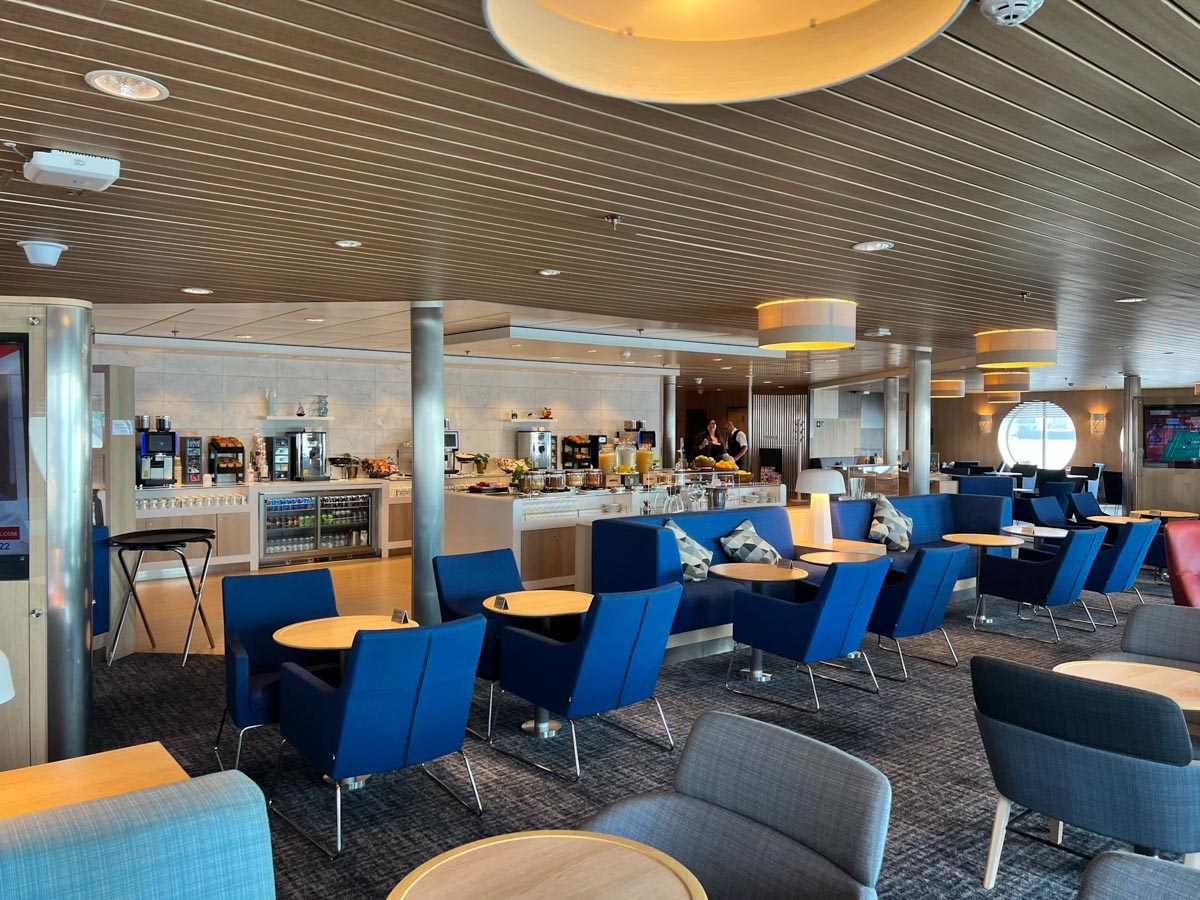 and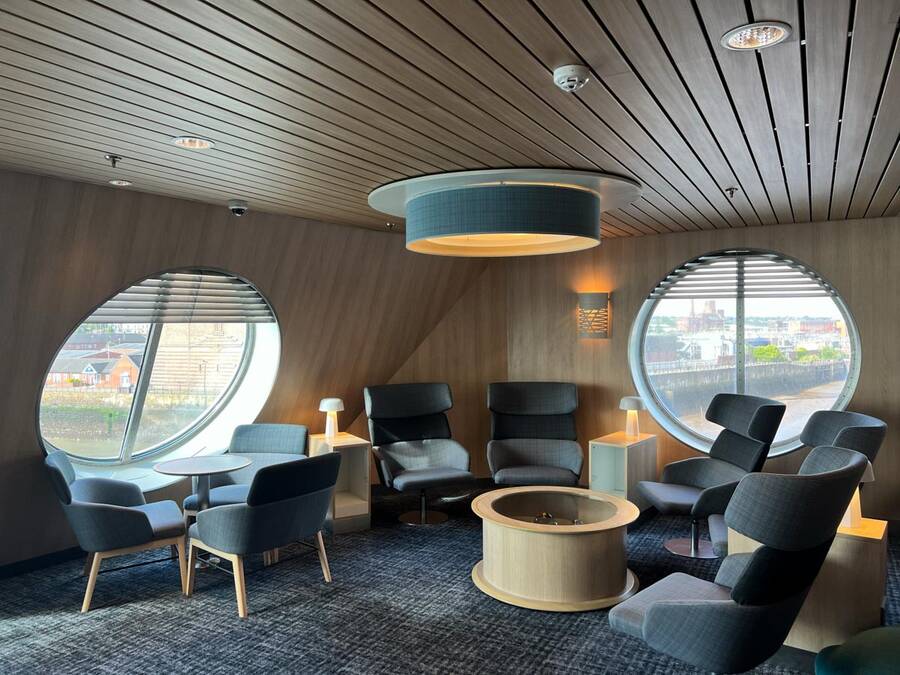 A couple of mounted TVs were silently broadcasting GB News …. which was an interesting choice. Basic wifi was free, or you could pay £4.90 to stream or £6.90 for business access, which included the ability to connect to a VPN.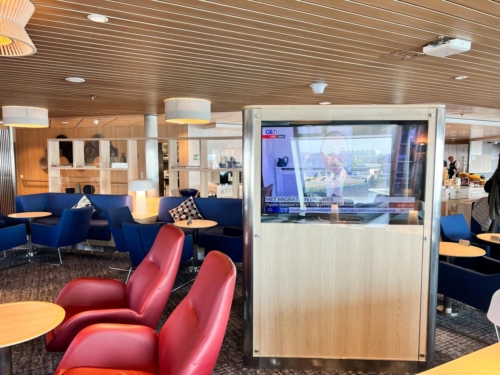 In the centre of the lounge, at the back, was the buffet. This was decked out for breakfast when I arrived but transitioned to lunch service late morning.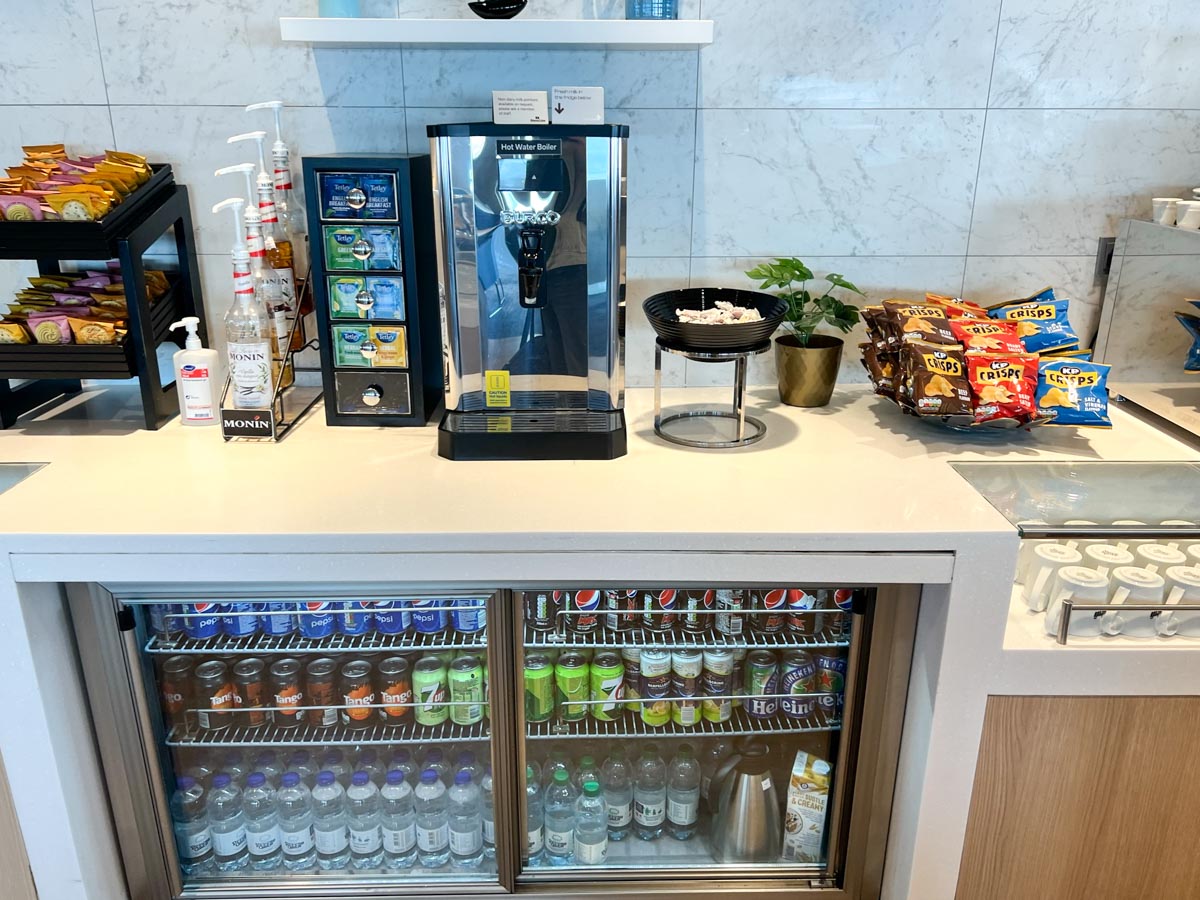 One thing to note is that you are not going to get a proper meal here – you need to order and pay separately for that. It does feature plenty of snacks, drinks and (with lunch) free red, white and rose wine.
For breakfast it includes a range of pastries, fruit, yoghurt and cereal bars: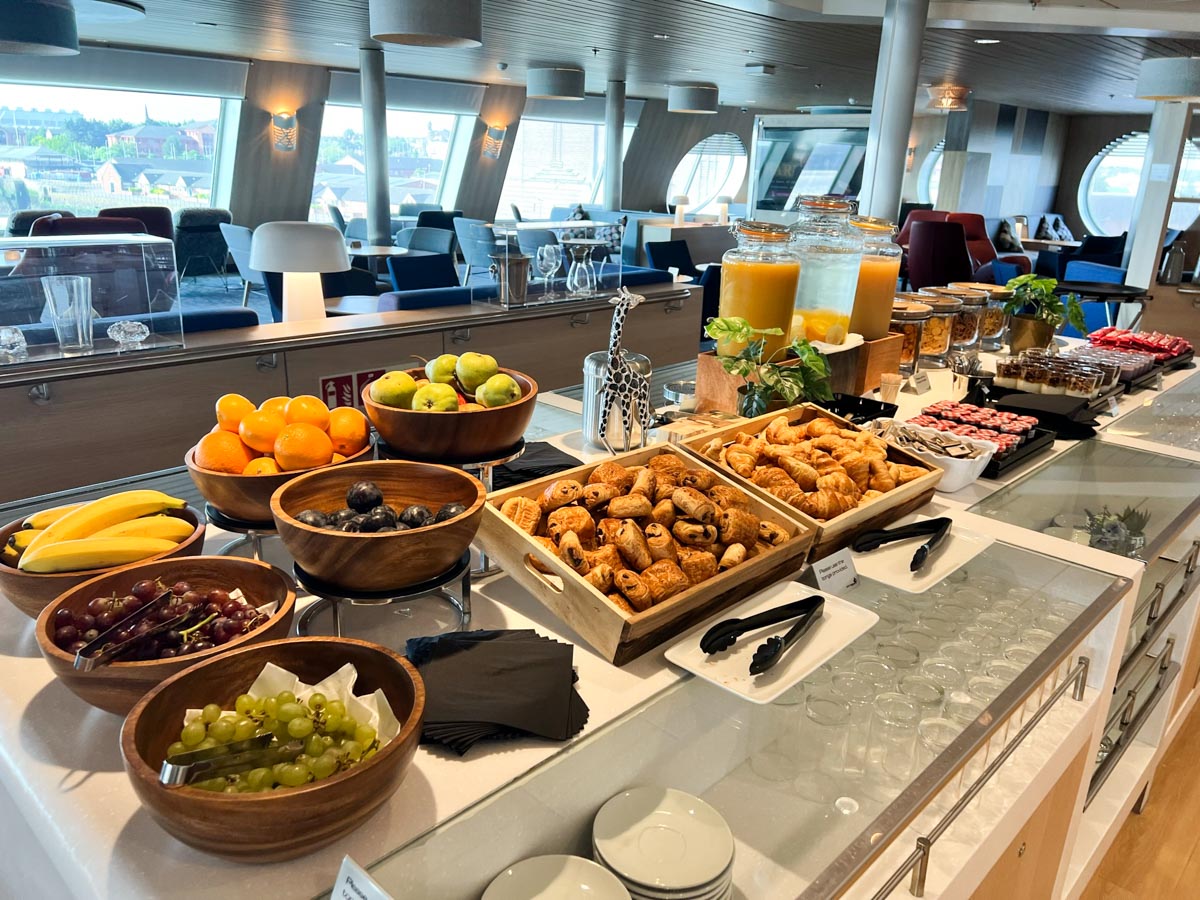 and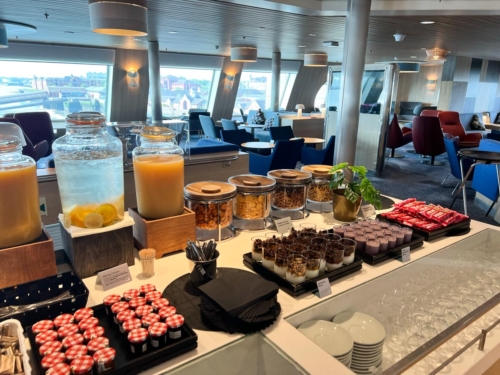 For lunch, you can expect some cheese, cakes, olives and other snacks: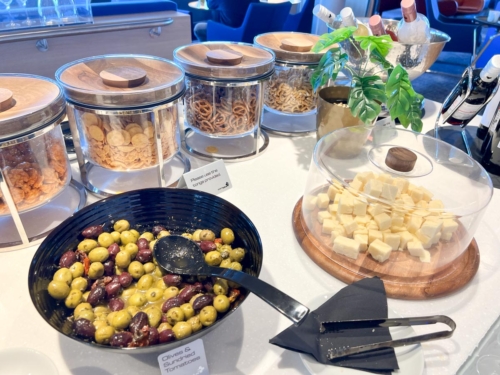 and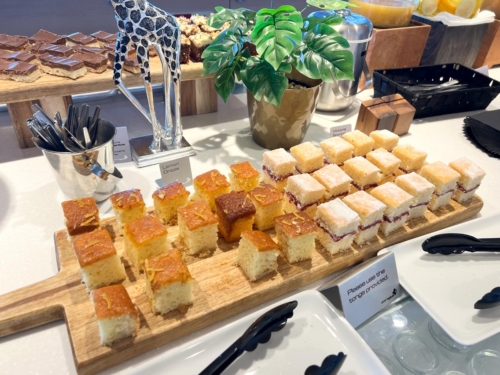 Don't expect much from the wine – it is the 'I Heart' brand which is often one of the cheapest options in supermarkets: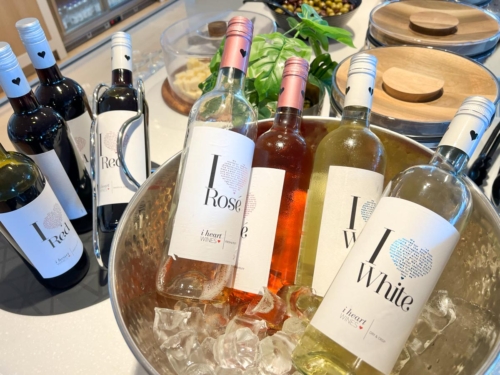 Ordering from the menu
If you want a substantial meal you'll have to pay up. Breakfast is offered from departure until 11am whilst lunch is served from 1pm until arrival.
Having eaten breakfast in the hotel I wasn't hungry. Prices ranged from £5.50 for American pancakes to £11.75 for a full English 'Breakfast Grill'. Eggs Benedict was £8.95.
For lunch the offering is a bit more varied, with toasted sandwiches (£8.50), fish tacos (£11.95) and a beef burger (£13.50) some of the options. I went for a chicken caesar salad for £11.75: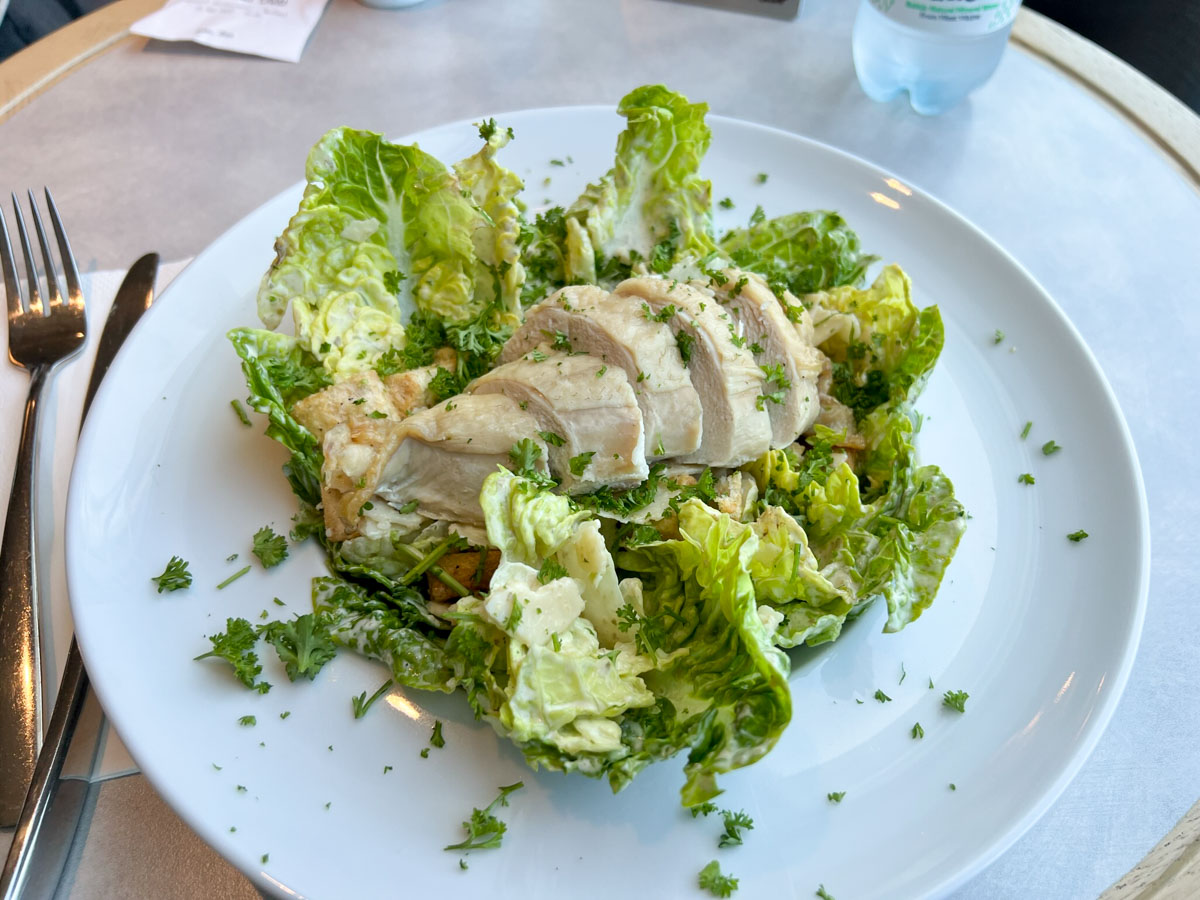 Conclusion
The Stena Plus Lounge exceeded my expectations. Whilst the ships are a few years old now, it still felt brand new which I thought was impressive.
I thought the value for £25 was very good. This isn't like an airport lounge, where you spend a couple of hours. You're in the Stena Plus Lounge for most of the day with unlimited access to hot and cold drinks, wine and snacks. The seating also looked more comfortable than that throughout the rest of the ship, although the ship as a whole is very smart.
That said, I probably wouldn't do the day ferry again. Instead I'd opt for the overnight one and book a cabin – at least that way, you can sleep through most of the eight hour journey.