Review: the W Maldives resort
Links on Head for Points may pay us an affiliate commission. A list of partners is here.
This is our review of the W Maldives resort.
This article is the third and final part of a series of three Maldives resort reviews from what was, frankly, not the toughest HfP assignment I've had to do. If it makes you feel better, I did need to change resort every three nights, requiring another two sea plane flights via Male each time.
We have spread out the reviews as it turns out that banging on too much about a paid-for trip to the Maldives doesn't endear me to anyone! You can read:
The W Maldives website is here.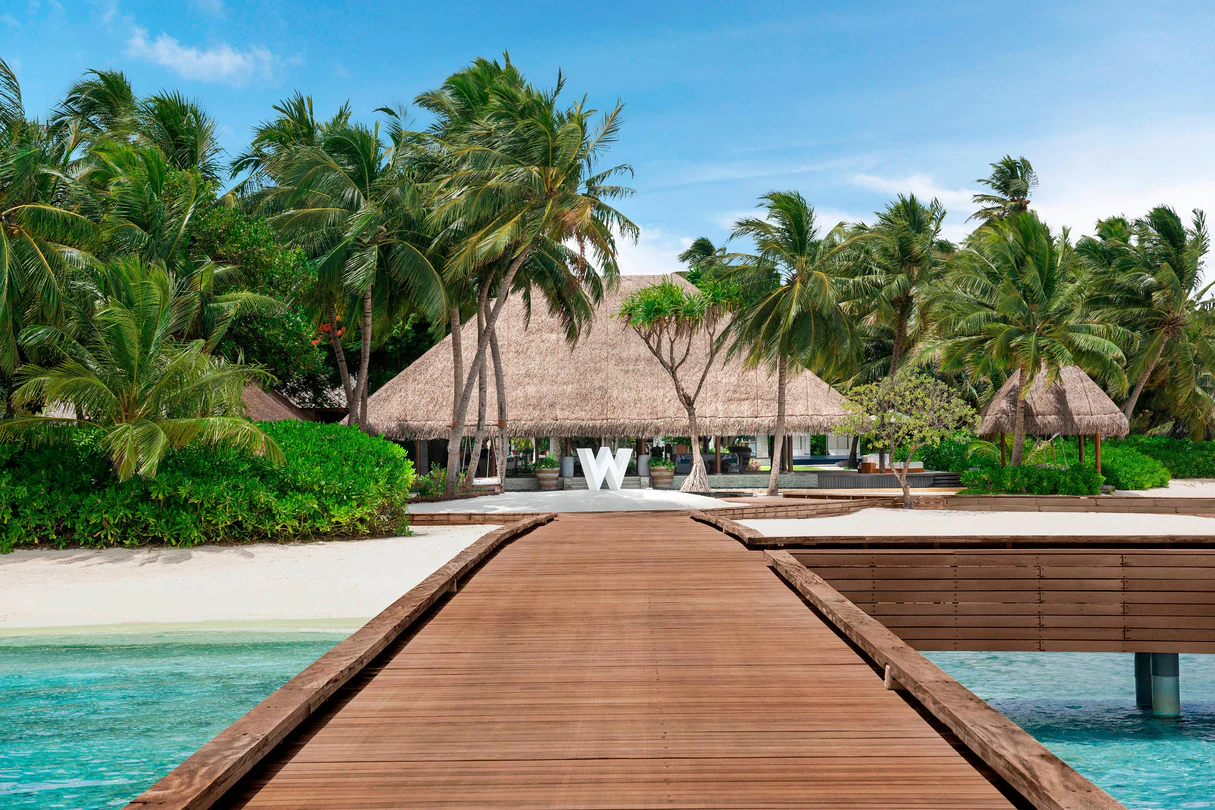 Flights (for me), food, accommodation and activities were provided by Marriott. I paid for flights for my husband and daughter, as they would have got grumpy if left behind for 10 days ….
The new Male seaplane terminal
Following my visit to the impressive Westin Maldives, I returned to the Malé seaplane terminal for a quick jaunt back to W Maldives.
I spent quite a bit of time at the new seaplane terminal so it's worth covering this now as it's an interesting set-up for anyone thinking of visiting the Maldives. The new terminal opened at the end of 2022 so it really is very new and I understand is a great improvement.
It is essentially a lounge hub. All of the major Maldivian resorts offer either their own lounge or a decent shared lounge for any guests who have a wait for a seaplane.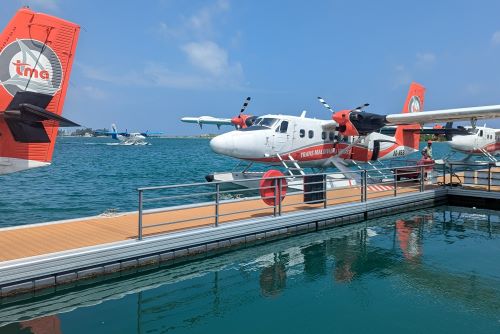 As the terminal is so new, there are still lounges under development and I understand that the opening of the W's own branded lounge will happen at some point in the near future. For now, W guests are taken to a lounge space shared by a couple of resorts.
It was a large lounge only used by my family and one other couple for the majority of the hour we were there, but could easily have accommodated 50 people.
There was a selection of snacks such as savoury and sweet pastries, some sandwiches and fruit. You could also help yourself to a large selection of cold soft drinks or coffee or tea. It wasn't the highest quality lounge food I've ever had, but it was perfectly fine for a short wait. Seats were comfortable and plentiful and there were pleasant views over the seaplane waterways. Very clean toilets were situated a short walk away from the lounge.
One element I found efficient was that a W representative checked us in whilst we were in the lounge, meaning we could skip this step on arrival at the resort.
Arrival at W Maldives
W Maldives is just a short sea plane ride from Malé, at approximately half an hour.
All guests are warmly welcomed by a greeting line of senior resort staff on arrival to the sea plane jetty and handed a cocktail (or soft drink) and a cool towel. The welcome cocktail at the W very much represented the resort's ethos: the W Maldives is going to show you a good time, cocktail in hand.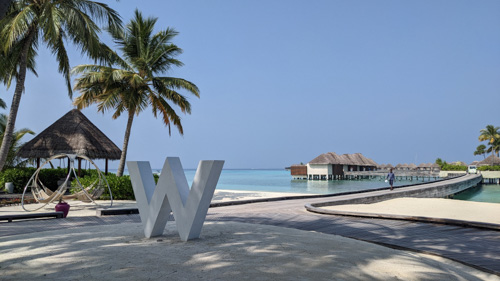 If you hadn't checked in or needed to visit reception, you pass it as soon as you touch land from the sea plane jetty and pass a large W sign. It's a long, low, open-sided area, with two desks and lots of seating. I never saw it busy and was quickly assisted whenever I did visit as it seemed very well staffed.
We were loaded onto a golf buggy by our butler and given a quick tour of the island. Like most of the Maldivian resorts, the island was just a few square kms wide so a loop of the resort in a golf buggy can take just a few minutes, but it was helpful to see where everything was straight away.
The W Maldives buildings are inspired by traditional Maldivian architecture and have a rustic tropical style. Most of the resort's villas and communal buildings have palm thatched roofs and dark wood structures. Beach villas are arranged along the edge of the island and overwater villas jut out along a single long jetty.
Dotted around the island are refuelling stations. Some older reviews I've read mentioned these being stocked with towels, fruit, granola bars and alcohol-free 'gin' and tonics. Perhaps it's a covid hangover, but my experience was that they were always empty. Given this is an £1,000+ per night resort, I think some fruit and even water bottles would be a good improvement here.
Beach villas at W Maldives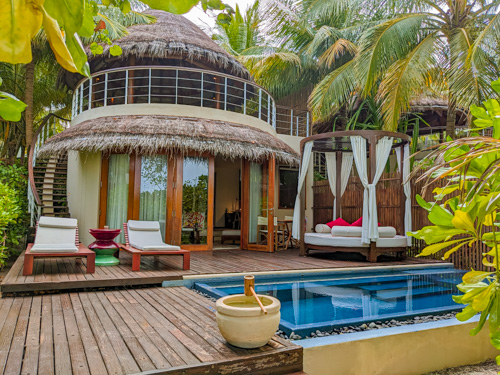 We had a Wonderful Beach Oasis villa, which sleeps two adults and also had a sofa bed if required (or a crib in our case). It is effectively a semi-detached villa, sharing a wall with the next door villa. Don't be concerned – we heard very little through the wall even though the room was occupied and at one point had some minor building updates done – soundproofing was excellent.
The room centres around a large king bed, and has a few steps down to a sofa, coffee table and additional chair, which then opens out to the private plunge pool and deck, and the beach beyond.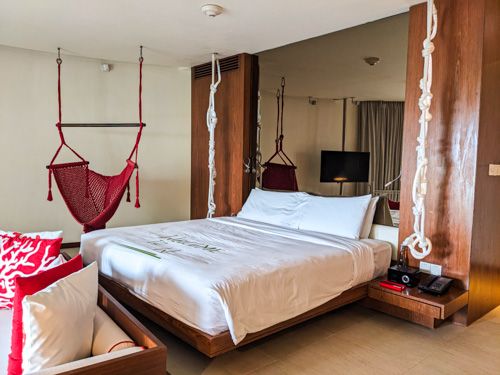 The bed was a comfortable large king, relatively low to the ground for a hotel bed and had very simple, well-presented white linens (no unnecessary decorative cushions, what a relief). To one side of the bed hung a fun, and very W, hammock seat.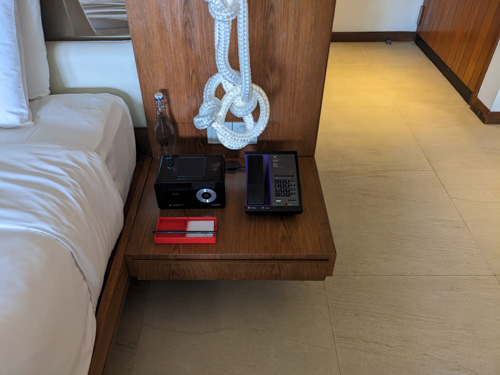 Either side of the bed were small bedside tables, with easily accessible sockets for charging your phone. There was also a landline phone and music dock/speaker which meant there wasn't much room for anything else, like a couple of books or glasses. I think the speaker would be more useful elsewhere and, given there was another phone about two feet away, having one by the bed seemed unnecessary.
Along one side of the room ran a long unit of cupboards housing cups, glasses, tea-making facilities, a mini fridge and additional wine fridge.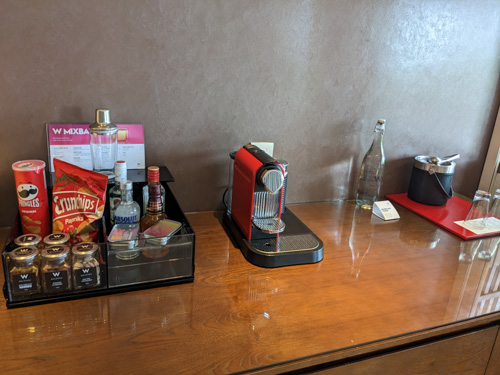 There was an on-brand bright red Nespresso machine and milk frother sitting on one of the counters, along with a frequently replenished ice bucket and bottles of water.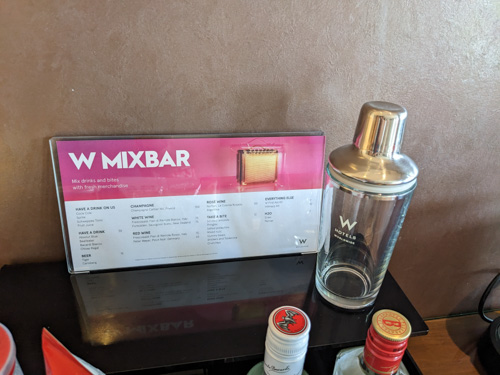 As is customary in Ws, a cocktail shaker and cocktail ingredients are included (priced as mini-bar items), alongside their, ahem, intimacy packs.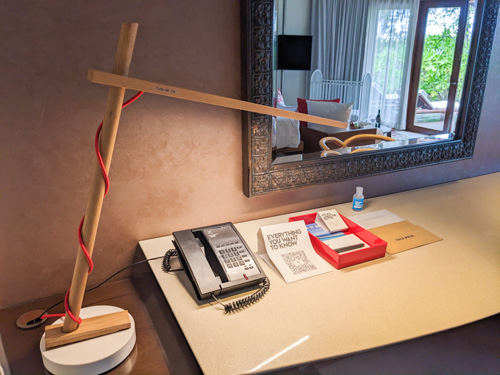 At one end of the unit, the cupboards ended and became a desk area.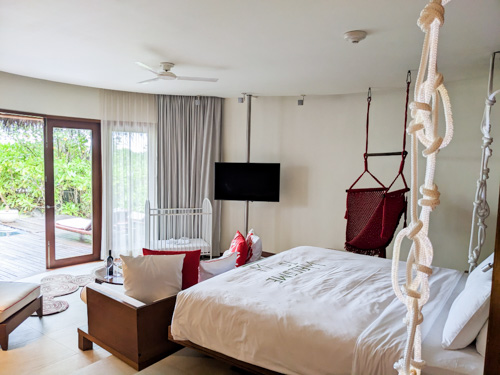 Unusually for a HfP review, I'm going to give a special mention to the W Maldives' villa lighting because there was an almost baffling array of lighting options.
It took me a little while to work out that the tangled ropes hanging either side of the bed were not the W taking their 'sexy' vibe to a whole new level, but in fact lights inspired by the local fishing nets. There was also a pleasant reading light over an armchair, a cool desk light, bedside reading lights, and hidden uplighters along the edge of the bedroom steps.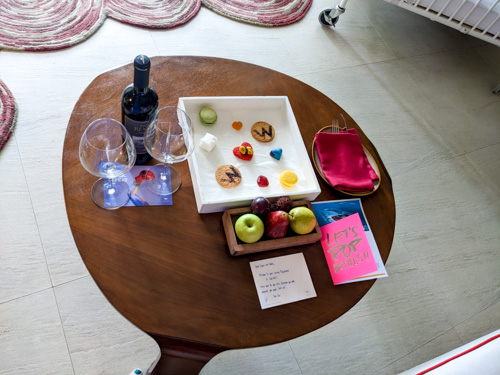 There was a delicious welcome tray of wine, sweets and treats. Here's one little bugbear of mine, however. I was very kindly invited to carry out the review by Marriott, I made all the arrangements directly with the hotel team and was the point of contact throughout, but the welcome note was directed to my husband 'and family'. A better step would simply have been to address both of us, regardless of the main point of contact, and to default to the male family member is a little irksome.
Villa Bathroom
The bathroom in the W villa is unlike any other hotel bathroom I've seen, and gave me a great wow moment. It's frankly a little bonkers, but I loved it nonetheless.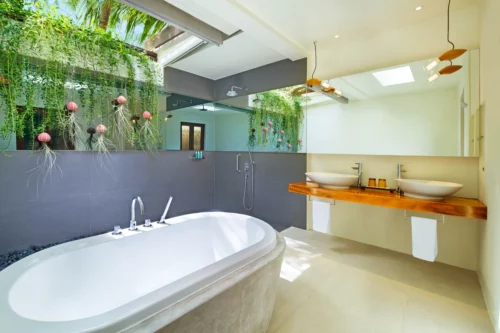 Half of the ceiling is open to the sky and framed with plants hanging down into the bathroom, along with hanging sea urchin shells.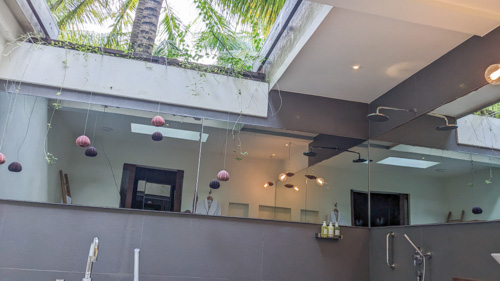 A huge concrete-encased bath takes centre stage, and within the ceilinged section of the room there are sizeable double sinks and a large shower area.
Toiletries were by Momo (as found in all Ws) and all smelt very pleasant.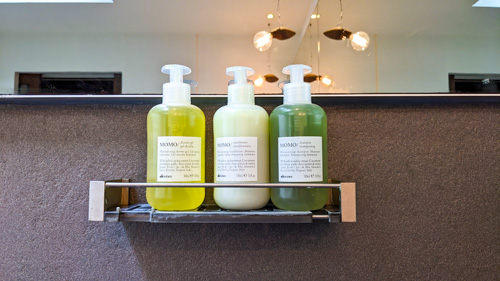 The shower toiletries and handwash were all in refillable bottles.
The W Maldives resort is now 17 years old and hasn't had a major renovation in that time. Given this fact, the resort is in astoundingly good nick although there were some elements that are starting to look a little tired.
This was probably most noticeable in the villa bathroom, where the paintwork wasn't perfect and the mirrored wall on one side was a little tarnished and had a large crack. This is hardly surprising given the exposure to the elements in this part of the bathroom. A little bird did tell me that a renovation is coming very soon, so I expect visitors in 2024 will see a spruced up resort.
The villa had some really lovely outside areas including a small, deep, plunge pool with bubble jets in one end. There was a cabana day bed and two sun loungers next to the pool, but my favourite area was the roof terrace, complete with swinging two-seater chair and a mini fridge.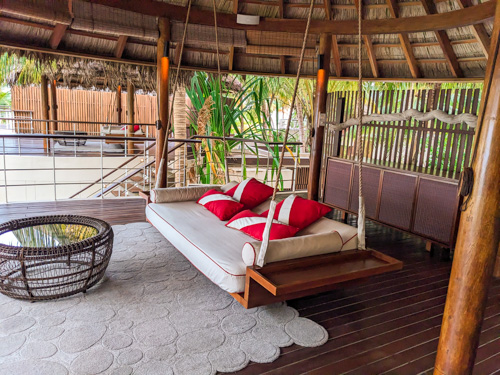 The garden/pool area leads directly to the beach, which is as stunning as you could hope for in the Maldives.
The gentle tides and soft sand underfoot surrounding the island mean you can swim straight out from the beach to snorkel the W's outstanding reef.
I didn't get a chance to visit the overwater villas, but they looked impressive from the outside and I've included a few of the hotel's images below.
Pool and gym
The W pool is the central gathering spot on the island, but despite that, it never felt crowded or busy.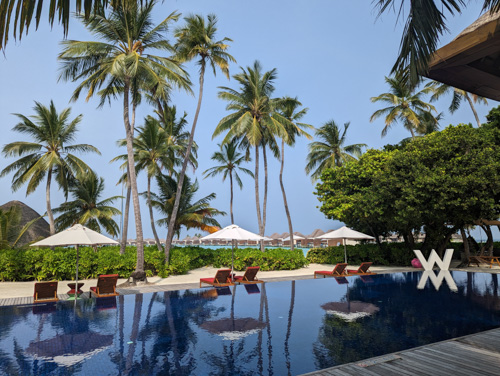 We always found a cabana bed unoccupied and there was a upbeat atmosphere, with music playing. As well as a large L-shaped pool of differing depths, a whirlpool jacuzzi is situated under shade at one end.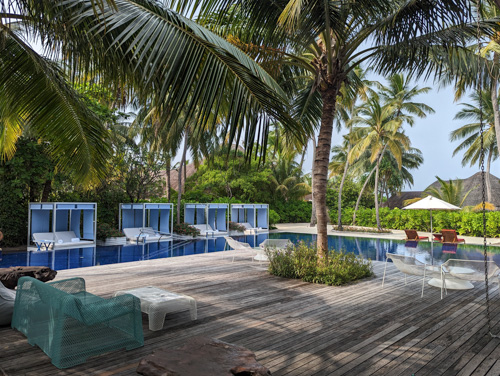 There are weekly pool parties, although unfortunately none during my stay. However, I heard from other guests that the parties were a lot of fun and good way to meet other people. I think there's also a good value drinks package associated with the pool party which, given a cocktail is $25, is worth looking out for.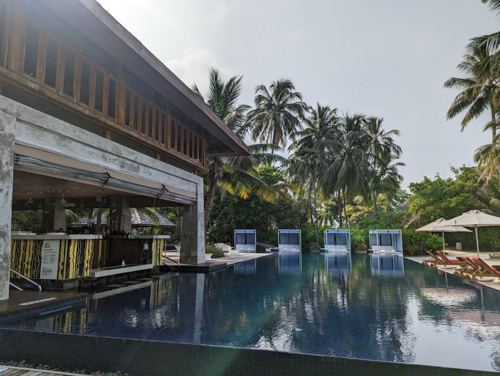 The swim-up bar was an understandably popular spot.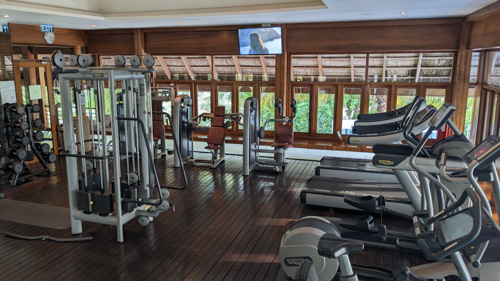 The W's gym, FIT, was situated above the pool bar, overlooking the pool. It was very well stocked with lots of machines, a good selection of weights and additional equipment like a boxing bag. You can do personal training and there were several classes run every day.
W Maldives restaurants and bars
There are six dining and drinking options at W Maldives.
KITCHEN is the core dining space, where breakfast, lunch and dinner is served every day. We only ate breakfast here, but I loved the space.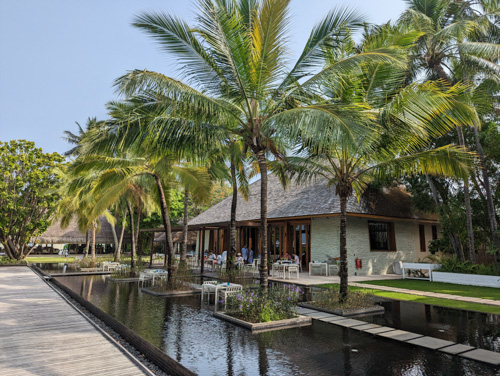 There was a pleasant indoor restaurant, which was refreshingly air conditioned if the day was a big muggy. It also has a pretty, shaded outdoor space that had shallow pools of water running alongside it, with a number of tables in the water itself, which was fun.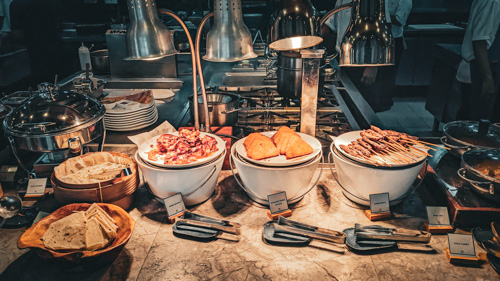 The breakfast array was expansive, with a large fresh fruit section, where you could order your own selection of freshly cut fruits, or smoothies. There were eggs cooked to order, plus plenty of hot food options and international cuisines.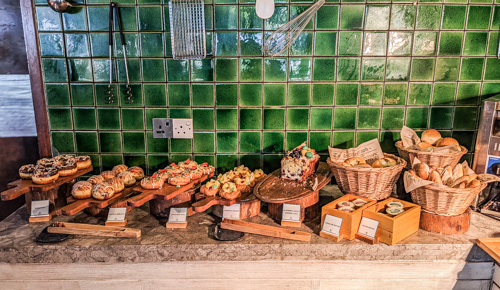 The bakery section was dangerously good and we all ate far too much of the french toast, which offered different flavours each day.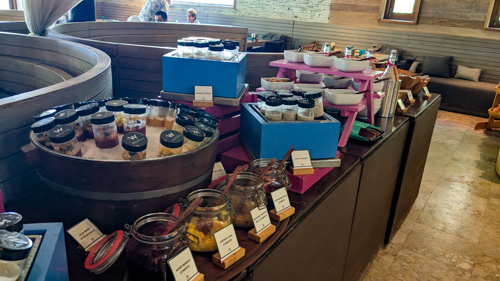 I particularly enjoyed the cold section that had multiple yoghurt and granola mixes – I've not seen a selection like this before. And that mango and lime compote was pretty special ….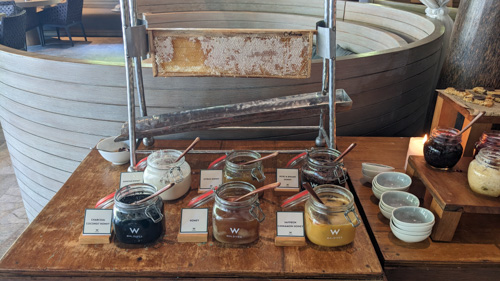 The entire space was kept incredibly tidy and organised and never felt crowded, even though we were there at peak time each morning.
FISH is the W's seafood restaurant. Located on an overwater deck that extends out from the island, the setting is spectacular.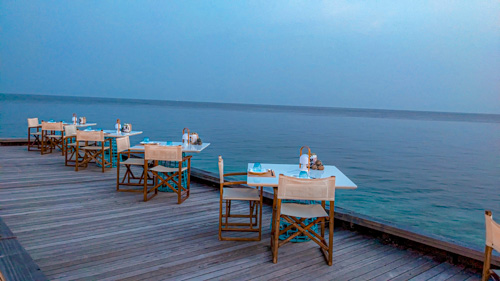 Tables line the edge of the open-air deck, facing the water, with simple strings of lights overhead. After dark, some underwater lighting allows guests to watch sea life swim around the deck as you eat. We saw a reef shark and some rays as we ate.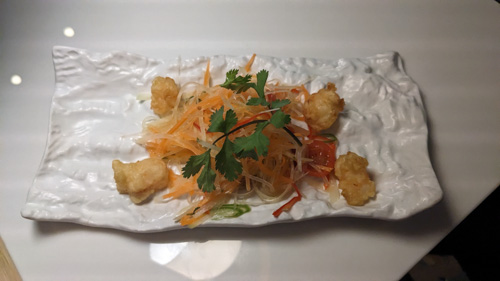 The seafood is incredibly fresh, with much of it caught locally.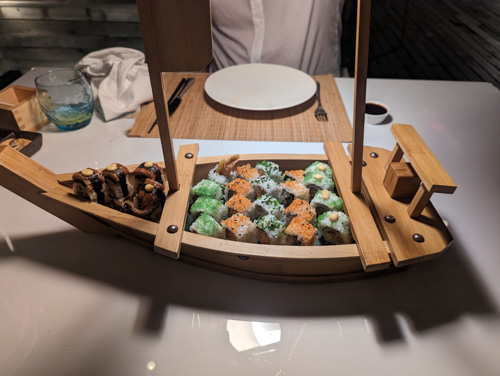 It was sushi night when we ate there, so we had a 'Sushi Mania' feast, which was excellent and beyond plentiful.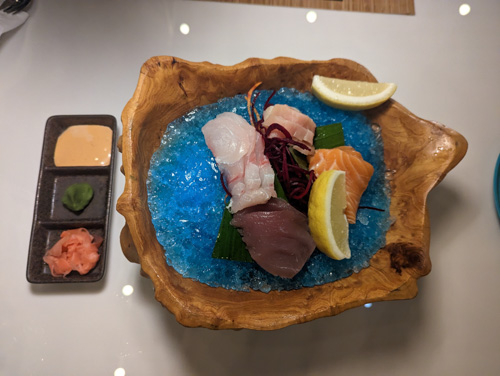 The presentation was really imaginative, with wooden boats and blue gel providing the backdrop to the sushi and sashimi.
Located on a parallel deck to FISH is SIP, a bar space which also offers sushi and sashimi, as more of a 'light bite' alongside cocktails.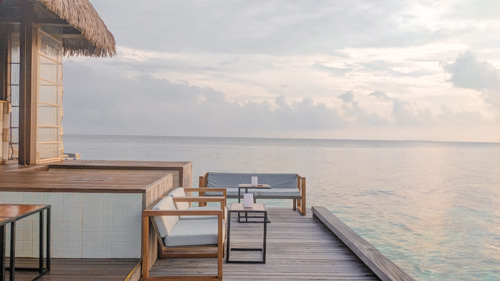 SIP was my favourite bar during my trip to the Maldives and as a space to watch the sunset, it really would be hard to beat. As well as standard tables and sofas along the deck (all positioned so everyone has an unobstructed view), there are also a couple of fun trampoline beds suspended over the water. These provide an excellent spot to watch the marine life, albeit a riskier spot to get sozzled.
FIRE is a grill restaurant, which is often a restaurant type that I struggle to get excited about.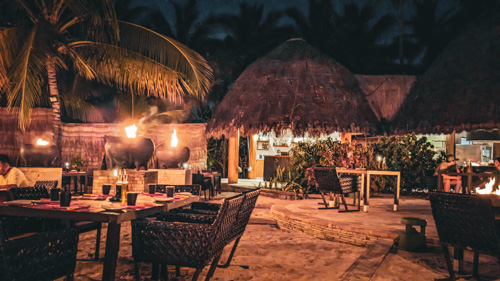 I like a garden barbeque just as much as the average Jolene, but as restaurant fare, I just don't get it. Everything tastes a bit too much like charcoal. However, FIRE did a lot to dispel this notion.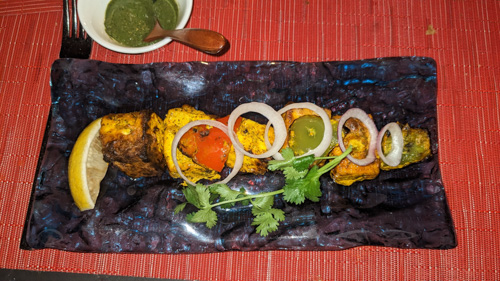 The food was so well prepared and full of flavour that we came back a second time during our short stay at the W.
WET is the W Maldives' poolside bar and offers a lot of the standard poolside fare.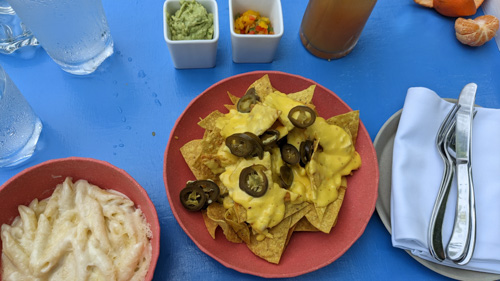 We tried pizza and nachos here which were both tasty and they had a great kids menu, despite the W being more of an adult-focused resort.
Watersports at W Maldives
The W's reef is very much its crowning glory. Easily accessible from anywhere on the island, the reef is teeming with marine life and is a dream to snorkel. The hotel offer a mask and flippers free of charge to all residents, and I personally I spent every child-free moment I could snorkelling and exploring around the island.
The reef was so impressive I also took an hour long guided snorkelling tour with one of the watersports team. I definitely recommend this as he helped me find some more elusive reef sharks and sea turtles and pointed out all the different fish. It was a definite trip highlight.
In addition to snorkelling, there's scuba diving, jetskiing and parasailing, plus the option to take a boat tour on the resort's private yacht.
The W Maldives Spa
It was a tough assignment, but I was able to test out the W's Spa, AWAY (no, I don't understand all this mandatory capitalisation either).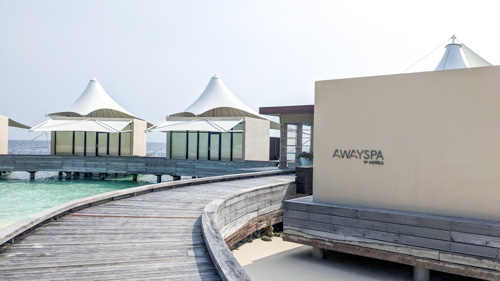 My therapist Dewa was great and she did a great job massaging away the huge amount of tension one feels after being in the Maldives for six days.
A side note on family activities
The W doesn't market itself as a family resort, but children are welcome. As such, there's no babysitting or kids club, but kids are catered for in the restaurants and there are kids toys in the resort shop.
There were actually a couple of children about, so it's a done thing, but I personally would prefer to return without children so I could enjoy the W's party vibe a little more.
Conclusion
W Maldives knows exactly what it's doing, and does it well: relaxation in paradise with a sprinkle of hedonism. The staff are resoundingly excellent, with a friendly attitude and commitment to ensuring their guests have a good time, and food and drink is of a high standard.
The communal areas at the W, particularly the pool space, were my favourite of the three resorts I visited in the Maldives and had a stroppy two-year old not ruined all my fun, I probably would have spend a lot more time at the swim-up bar.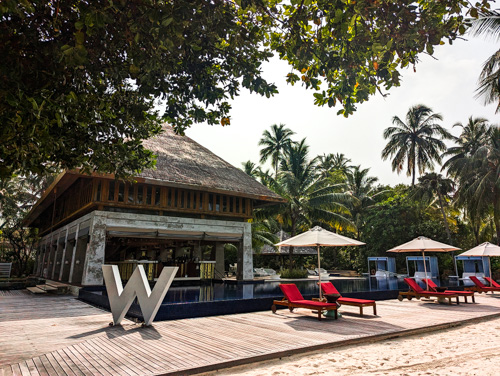 The beach villa was very well designed and made for an incredibly comfortable (and well-lit) stay, doing everything 5* luxury should in terms of accommodation. There are some updates needed in the rooms, but nothing that impacted on the enjoyment of my visit.
Let's not avoid the obvious however. Like many other Maldivian resorts, the W is expensive. Dates in January 2024 start from about £1,125 per night or 110,500 Marriott Bonvoy points (great value per point, of course, as this is double our 0.5p per point valuation). Remember that Marriott also offers '5 nights for the points of 4' on redemptions, increasing your value further.
A poolside pizza will set you back $35 and a cocktail is $25, so once you arrive you'll need to be prepared to part with some significant cash. If you are happy to go in low season, there is availability in October for a pretty reasonable £524 per night, with redemptions starting at 82,000 points.
The resort has a lot going for it, but it is the reef that sets it apart in my opinion. If snorkelling in the Maldives is on your bucket list, I think you'd be hard pushed to find a better option that W Maldives.
Thank you so much to everyone at W Maldives for a great stay, but particular thanks to Hanny, who oversaw my entire visit to the Maldives and was a wonderful host at the W.
You can find out more about the W Maldives resort on its website here.
---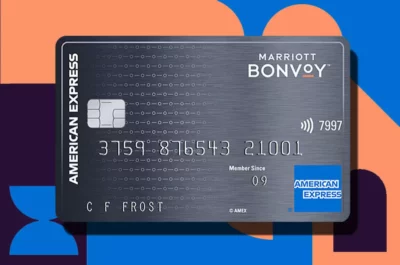 How to earn Marriott Bonvoy points and status from UK credit cards (September 2023)
There are various ways of earning Marriott Bonvoy points from UK credit cards. Many cards also have generous sign-up bonuses.
The official Marriott Bonvoy American Express card comes with 20,000 points for signing up, 2 points for every £1 you spend and 15 elite night credits per year.
You can apply here.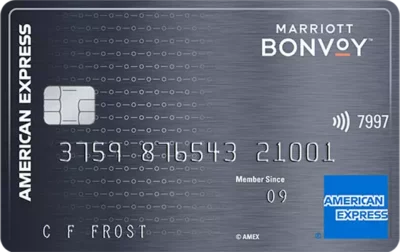 Marriott Bonvoy American Express
20,000 points sign-up bonus and 15 elite night credits each year Read our full review
You can also earn Marriott Bonvoy points by converting American Express Membership Rewards points at the rate of 2:3.
Do you know that holders of The Platinum Card from American Express receive FREE Marriott Bonvoy Gold status for as long as they hold the card? It also comes with Hilton Honors Gold, Radisson Rewards Premium and MeliaRewards Gold status. We reviewed American Express Platinum in detail here and you can apply here.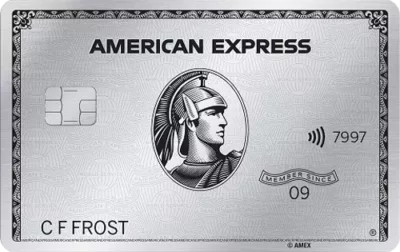 The Platinum Card from American Express
30,000 points and a huge range of valuable benefits – for a fee Read our full review
You can also earn Marriott Bonvoy points indirectly:
and for small business owners:
The conversion rate from American Express to Marriott Bonvoy points is 2:3.
Click here to read our detailed summary of all UK credit cards which can be used to earn Marriott Bonvoy points.
(Want to earn more hotel points? Click here to see our complete list of promotions from the major hotel chains or use the 'Hotel Offers' link in the menu bar at the top of the page.)