Review: the JW Marriott Maldives resort, a high quality and very family friendly choice
Links on Head for Points may pay us an affiliate commission. A list of partners is here.
This is our review of the JW Marriott Maldives, the next instalment of a series looking at selected Marriott Bonvoy resorts in the Maldives.
The first review in this series, looking at the Westin Maldives Miriandhoo resort, is here. A review of W Maldives will follow in a couple of weeks.
Flights (for me), food, accommodation and activities were provided by Marriott. I paid for flights for my husband and daughter, as they would have got grumpy if left behind for 10 days ….
As I travelled with my child this review has a family slant, particularly as the JW Marriott Maldives is very well equipped for families.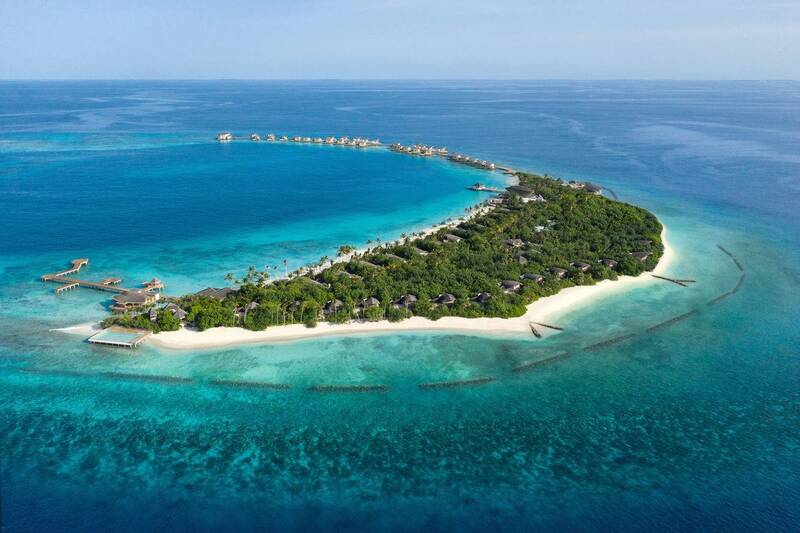 The JW Marriott Maldives is about a 90 minute sea plane journey from Malé, the capital city, in the Shiviyani Atoll. Like many resorts in the Maldives, the JW Marriott takes up the whole of a small island and can only be accessed via sea plane. Sea plane transfers are not usually included in your stay and cost approximately $500 per person.
Due to length the review has been split into two parts, both published today. Part 2 of our JW Marriott Maldives review is here.
Transfer lounge
If you are early for your transfer, JW Marriott Maldives offers guests the use of a lounge at Malé's sea plane terminal. The lounge is the MACL VIP Business lounge and whilst it is shared with a couple of other 5* resorts, the capacity in the lounge is restricted so it shouldn't ever be too busy.
The lounge was great, with two large rooms, enough seating for close to 100 guests, immaculate toilet facilities and a decent selection of food.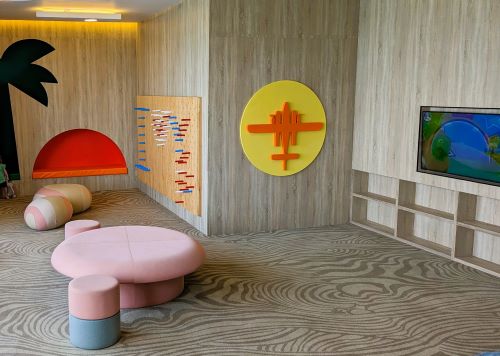 There was a kids section in one corner, with reading nooks, a bouncy cushion seat and a fun pegboard-type thing. Food included some grilled meat skewers and curry, sandwiches, pastries and some tasty fried cauliflower bites.
Arrival at JW Marriott Maldives
When disembarking from the sea plane, all guests are welcomed in the traditional way that royalty are welcomed in the Maldives, with a line of staff singing and playing Maldivian drums. It was an impressive start to a stay, unlike anything I have experienced before, and I enjoyed the honouring of Maldivian culture.
We were greeted by Kaushaur, our butler (or thakaru as they are termed in the Maldives), who guided us onto a golf buggy and quickly took us to our room whilst pointing out a few spots on the way, including the main restaurant and kids club.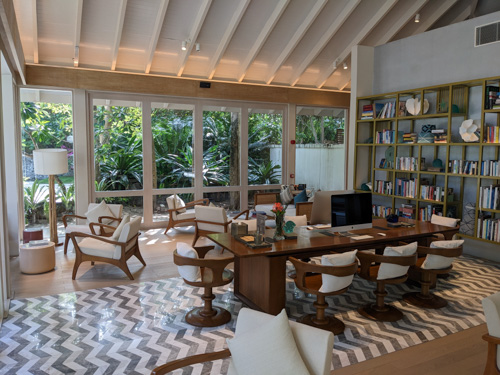 There is a reception area, which looks welcoming and smart, but the JW Marriott prefers to do check-in in your room with your butler assisting with the paperwork. I thought this was an excellent touch and a good use of the staff.
Villas at JW Marriott Maldives
I stayed in a Duplex Beach Pool villa, situated on the resort island, rather than in an overwater villa (although I did visit one later, pictures below).
Younger children are not allowed to stay in the overwater villas due to safety concerns. I personally would have found an overwater villa stay stressful with a little one and would not have booked one anyway, but I'm sure there are less uptight readers out there who may wish to know this!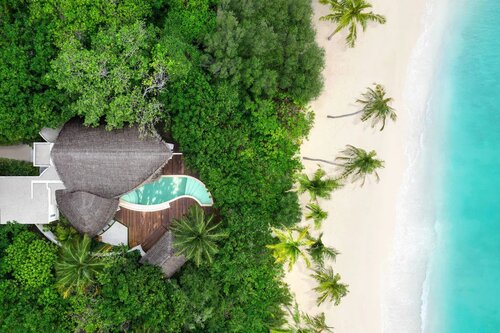 The Duplex Beach Pool villa is very large. It can effectively house a family of six with a master bedroom, a second bedroom and a mezzanine lounge that can be converted to a third bedroom.
First impressions were very good. The villa door opens onto a hallway with a useful console for wallets, keys and the like.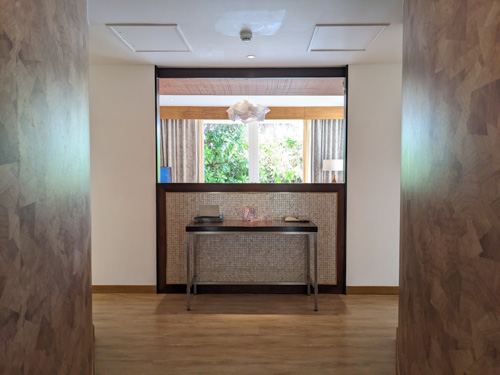 The hall leads directly into the large master bedroom and looked out to the pool and outside area.
Tucked into a cupboard on the right of the hall was a well-considered little kitchenette area with a sink, kettle and coffee maker and the mini-bar.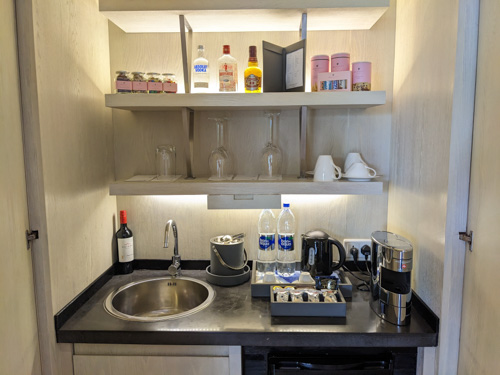 I thought this was very neat design; the cups, glasses and so on were easy to find and use but everything could just be closed away out of sight. You get plastic water bottles though – I would have much preferred to see glass. I understand the JW Marriott Maldives has an in-resort bottling plant coming soon so this should be a short-term issue.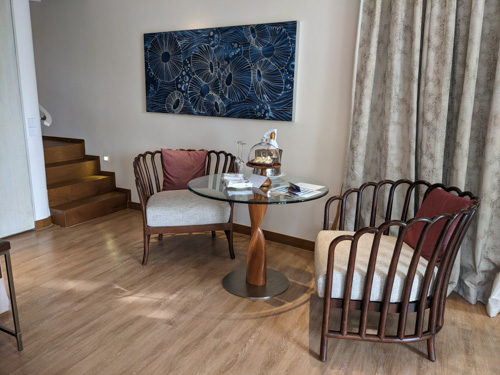 The room is large enough to accommodate a small dining table to one side of the bed and a seating area at the bottom of the room, with a chaise longue, coffee table and plush stool.
The colours were calming pale pastels with a touch of dark woods.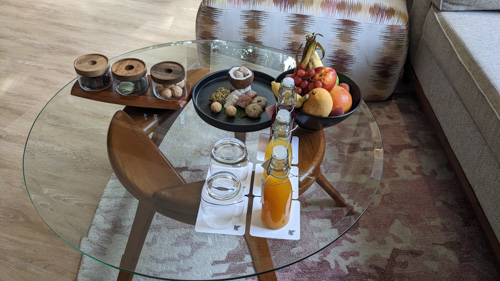 The welcome snacks were delicious including some sort-of homemade Ferrero Rocher and coconut and white chocolate balls, stored in a glass jar, with plenty for all the villa guests. These were replenished every day, as was the fruit bowl.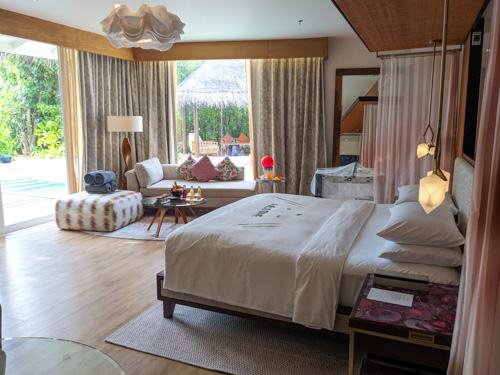 The bed was a vast king, incredibly comfortable and with simple white linens. The bedside tables were a decent size and had multiple power points, both USB and three pin plugs. Funky, angular lights hung either side of the bed and had a pleasant warm glow but there were also reading lights in the bedhead.
A flight of stairs at the back of the bedroom leads up to a mezzanine lounge, complete with huge sofabed, a large TV and its own minibar. Windows run along the back wall looking directly out to the sea. There is a small shower room and fully stocked bathroom next to the lounge.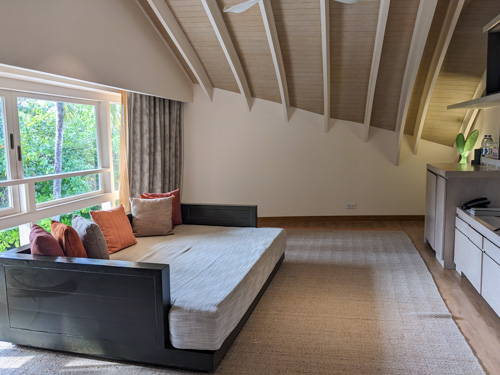 Back downstairs, there is a very large and luxurious bathroom. A large marble bath is the focus point of the room, looking out to windows to the garden, with a large sink to either side of the bath. In the centre of the room is a large seat, with storage for wet towels or similar inside.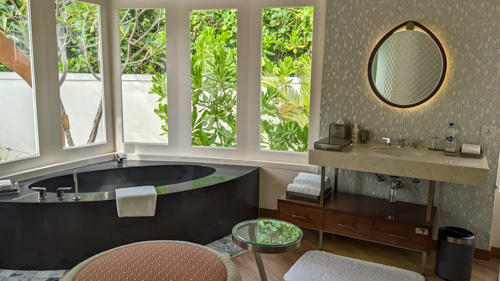 Self-contained toilet and shower rooms flank either side of the room, both of which were a decent size. It was very well designed, but the bath in heavy black marble didn't quite seem to fit the rest of the villa's soft, pale aesthetic. Not, of course, that it had a negative impact on my stay!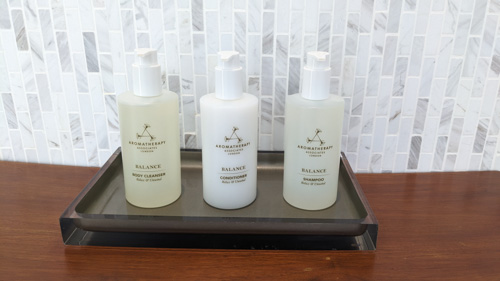 Toiletries were branded Aromatherapy Associates London. On each sink unit sat a neat perspex box of additional toiletries and hurrah, these were all paper packaged (I hate seeing plastic covered toiletries in hotels).
Running from the master bedroom is a corridor lined with cupboards, making for a huge amount of storage. The corridor leads to a second twin bedroom with its own ensuite.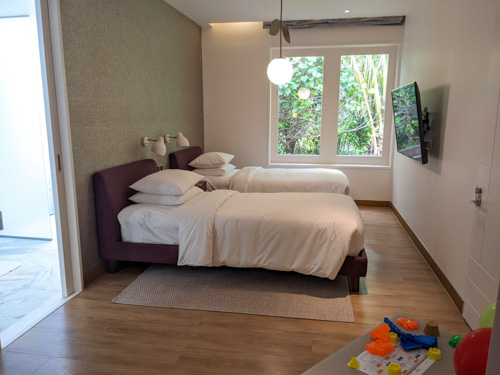 The room is quite a bit smaller than the master bedroom but would make for a good room for kids or even a second adult couple as it had its own external door. The styling was quite simple and whilst the whole villa was luxuriously understated, I did feel this room lacked character and felt a bit like an afterthought design-wise.
The pool and garden area was sizeable. The pool was larger than usual for a plunge pool with wide shallow steps at each end, perfect for children.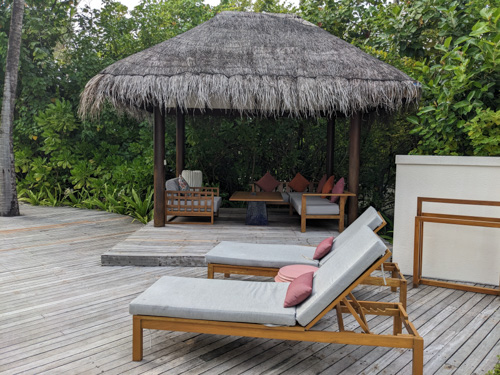 There was a shaded seating area, two sun loungers and outside shower. You could directly access the beach along a short pathway and each villa also has two sun loungers on the beach. The sand slopes into the water and remains mostly sandy for several metres so it's easy to paddle or swim out (not all Maldivian beaches are so easy underfoot).
Overwater villas
Whilst I didn't stay in an overwater villa, I did get a tour of them and was able to take some pictures.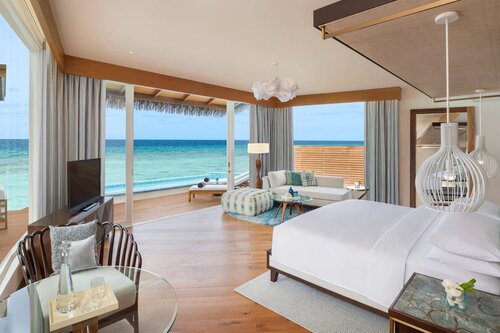 This is the duplex overwater one bedroom villa. It had exactly the same interior layout as my beach duplex, but without the second bedroom at the back and had a very different pool set-up.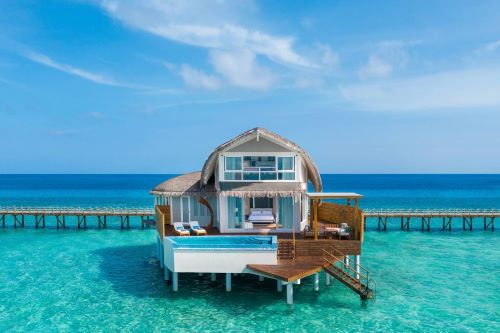 You can also book a one bedroom villa. This is also very similar to the duplex but without the mezzanine lounge above, meaning the ceilings are much higher.
This is the end of Part 1. In Part 2, I take an extensive look at the food and drink options as well as the family focused side of the resort – click here.