…
I also wondered, I'm sad to say, if there isn't some profiling going on…

Let's just say that if @shahidaemran's username is based on a real first and last name, then my real name is from the same part of the world. I don't know… I'd hope that's inconsequential, but a part of me does wonder based on some experiences I've had when travelling to the USA.

That's a very serious claim to make. Racial profiling of that type is illegal. If the FCA determined that it were taking place, Amex would face a large fine; the individual responsible would certainly be dismissed and would be unlikely ever to work again in financial services; and senior managers would risk personal fines for misconduct if they had been found to be culpable or even negligent.

Do you have any evidence that it's true? If so, you should follow up because the matter will be taken extremely seriously. If you have no evidence, my advice would be to withdraw and in future to avoid making baseless claims that can cause serious damage to the careers of innocent people. Amex underwriters are human: they cry, laugh and love just like you do, and they deserve to be treated with dignity, respect and honesty.

Realistically, racial profiling is extraordinarily unlikely because it would be so difficult to effect.

First, underwriting decisions are primarily based on statistical models that must be subject to robust controls. Unlike Google and Amazon, financial firms are simply not allowed to use naive machine learning or artificial intelligence models for the very reason that these models can so easily introduce accidental profiling; you can read recent discussion papers on the issue from both the UK and EU authorities if you're really interested. When analyst-led models are prepared, firms' model governance procedures will typically require a conscious step to evaluate the risk of discrimination against any legally protected characteristic, including race. For example, a firm would need to justify the use of employment status in a credit model, as rates of self-employment vary significantly between ethnic groups and could be regarded as a driver of indirect discrimination.

Where models are supported by humans, firms must have three levels of oversight – decisions will be reviewed within the department, independently within the firm, and by internal audit, which must not report to the Chief Executive. Each of these three lines of defence would be under a duty to report any rogue underwriter who racially profiled applications, and large sample sizes mean that the rogue underwriter could not remain undetected for long.

Additionally, all financial firms are required to have an independent mechanism for anonymous whistle-blowing. If any person anywhere in the firm became aware that a colleague were acting illegally by racially profiling borrowers, they would be under a duty to report that illegal act, and would be legally protected once they had exposed the wrongdoing.

Larger financial firms are also expected to have diversity, equity and inclusion committees and governance structures. These bodies will regard bias in underwriting as a key risk area, and will seek widespread engagement on the importance of avoiding bias. That will ensure that probing questions are regularly asked.

Finally, all of these controls are subject to regular review by independent compliance functions. And firms will receive regular visits from the regulator to ensure the control environment is effective.

It is, of course, possible that Amex is a rogue firm that tolerates illegality. But, to believe that, I would also have to believe that the conspiracy spreads throughout all three lines of defence, and is so deep-seated that no person in the business has ever been sufficiently concerned to call out the wrongdoing. On balance, I think that's rather unlikely.

Are you really sure you were racially profiled? Or do you just feel resentful that Amex closed your account.
You must be logged in to reply to this topic.
New to Head for Points?
Welcome! We're the UK's most-read source of business travel, Avios, frequent flyer and hotel loyalty news. Let us improve how you travel. Got any questions? Ask them in our forums.
Win 1 million Avios when you apply for a Barclaycard Avios credit card by 2nd April. Exclusive to HfP readers.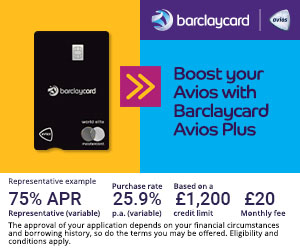 Check reward flight availability instantly for free!
Booking a luxury hotel?
Our luxury hotel booking service offers you GUARANTEED extra benefits over booking direct. Works with Four Seasons, Mandarin Oriental, The Ritz Carlton, St Regis and more. We've booked £1.7 million of rooms to date. Click for details.