Japan trip review: Okinawa, Tokyo and Nagano
Reply
I wrote a short review of this trip some weeks back, assuming people wouldn't be too interested in the detail as it wasn't a "usual" HfP trip. But a few have since asked for more detail, so I've spent a bit more time on this.

Flights
We flew out on 24/Dec and back on 7/Jan. I was determined to make this trip happen after getting the 50% off Avios + 241 AmEx redemption back in October 2021 and keeping these tickets alive through many re-bookings!

Getting through LHR Terminal 5 was a breeze and we managed to get a decent amount of sleep on the flight out. At 14hrs flying time (avoiding Russian airspace) you really get to enjoy the J experience: not have to rush the food, get a film in and still get a good night's sleep.

NRT is clearly not premium enough to warrant the new Club Suites, but for once everything on the old seats worked and the crew were very attentive on the way there.

The Christmas Dinner on the way out was rather nice, although I'd have probably preferred the usual beef! The difference in catering on the way back was stark – BA are clearly not paying JAL as much as Do & Co!

Service on the way back was very indifferent and absent-minded, I was served an alcoholic beer despite explicitly asking for a non-alcoholic one. Although OH did not fancy any of the mains from the second meal service, so the crew member offered him her crew meal, which was very nice of her and did improve the overall experience.

The flight back was essentially a day one, routing east over Canada, and also very long. Grabbing a few hours sleep definitely helped ease into UK time on our return. It's worth noting that on our return the international terminal was dead when checking-in for the BA flight and security took about 2mins, but a friend flying to ICN a few hours later spent 2hrs queuing for the same, with no fast-track security open.

Arrival and Tokyo Narita
It had been a while since I had to complete Covid documentation and upload vaccine certificates, but the online Japanese system worked well before setting off.

On arrival there was a lot of faffing, scanning of QR codes, scanning of passports… I was thinking the process only worked well because we were the only international flight to have landed at that time. Sure enough, I read an article a few days later with the author complaining how NRT was a total disaster with 4 flights arriving at the same time and the arrival formalities taking 3-4hrs.

Thankfully we were out and on a bus to Terminal 1 within 1hr of landing. We were unable to use any of the self-service machines as our tickets had been issued by BA and we were directed to the check-in for unaccompanied minors, pets and large luggage. This moved quite slowly.

The JAL domestic business lounge has 4 showers, and it was lovely to freshen up. There is no food in these lounges, so we stocked up in the terminal and spent 5hrs watching planes from the huge windows (we built in a lot of connecting time as the international and domestic tickets were separate).

Flights to Okinawa
As advertised, JAL boarded a full A350 in 20mins and we were off to Okinawa. The plane was completely new – I'd never actually experienced new plane smell! The purser came to thank us for choosing JAL, presumably as we were the only Westerners onboard as she didn't speak to anyone else. Service consisted of drinks, which was perfectly adequate for the c3hr flight. It was interesting to see when boarding group 1 was called about 100 people made their way onboard!

The flights came to 10k Avios + £4pp one way, which I thought was a good use of Avios as cash fares were about £120. I think @meta did point out that you can upgrade from Y to J for very little on JAL, making it a great TP earning opportunity, but my TP year was about to end, so it would have been of limited use.

The return was similarly uneventful on an older 777, although this time the captain made a point of also making all announcements in English, for our benefit, which hadn't happened on the way out.

Okinawa
Okinawa Airport in Naha isn't huge – it has services to most places in Japan plus Taiwan, South Korea and (normally) many Chinese cities.

It's connected to the city via a handy monorail, which took us to the Mercure Naha. This was a perfectly adequate hotel for one night. As we arrived on Christmas Day we duly made our way to KFC (a Japanese tradition), but the nearby branch was takeaway only, so we enjoyed some atrocious all-you-can-eat pizza in the pizzeria attached to it. Breakfast at the Mercure was varied and had plenty of Western and Japanese options. It cost about £70pn.

We went to OTS rent-a-car the next day to pick up our little Toyota SUV – there are no global rent-a-car brands in Okinawa. I'd done their online orientation course, which teaches you how to drive a car in Japan – otherwise you have to do this at the branch. Driving there is exactly like driving a car anywhere else, but the Japanese assume every foreigner is stupid. We were duly issued with a big square magnet for the car that stated, in Japanese, inside a pink love heart "a foreigner is driving". The whole process didn't take longer than 20mins. Make sure to bring your IDP, which is absolutely required.

Driving in Okinawa is exceedingly easy – the roads are brilliant, signage great and speed limits super low. I think it's really quite hard to crash there. But apparently foreigners always crash (so says the orientation manual) – let's blame Americans not knowing how to drive on the left!

Perhaps naively I concluded my Okinawa research by establishing the weather is like the Canaries. It isn't. It's super varied – the week we were there was 16-20C but quite windy, so we didn't get to wear the shorts we had packed. The week before was mid 20s, the week after it rained all week. So a bit of a gamble in winter. Summer is stifling. Shoulder seasons are meant to be ideal.

There isn't a huge amount of ground-breaking stuff to do on Okinawa, but they do a great job bigging up and selling what they do have. Around Naha and the south we enjoyed the American Village (think High Street USA in Disneyland), Shurijo Castle (rebuilt after previously burning down in June 2019, burned down again October 2019, now being rebuilt for the seventieth time – don't hold me to the exact numbers!), the war tunnels (the Japanese views of WW2 are pretty problematic and explanations vary between the basic English descriptions and the Japanese texts), Okinawa World (a sort of cultural theme park with extremely cool caves), the Peace Memorial Park and central Naha.

On our second stay in Naha we stayed in an extremely smart Airbnb clearly designed purely for tourists, with samurai armour in the sitting area and every mod-con imaginable. That was not cheap but it was quite fun!

Okinawa is the only place in Japan with an A&W but there are also superb quality restaurants which we greatly enjoyed. Just make sure to book, as they fill up very quickly, especially off-season when everything isn't open.

There is also an outlet shopping centre near the airport and the prices were broadly competitive.

In northern Okinawa we visited various lighthouses, Pineapple World (a pineapple 'theme park' which also sells pineapple wine, sparkling wine, spirits), Kouri Island, the superb Churaumi aquarium in the Expo Park (Jurassic Park vibes) and the underwater observation tower near our hotel.

We stayed at the Best Western Kouki Beach which was about £70pn and on a beautiful beach. Shame it was cold! The rooms were large with little kitchenettes, although had seen better days. Breakfast again was very good. Various luxury hotels are also nearby.

The SUV we rented was so efficient fuel only cost USD20 for the whole week with the only service station we needed literally outside the rent-a-car returns desk. One thing about the huge amount of internal Japanese tourism is that everything is superbly set up for visitors and it really is one of the easiest places I know to travel around. Plus safe. Plus no tipping. No police asking for bribes. No one trying to scam you. So refreshing after Mexico in November!

I'll detour here and mention the Google Translate app, which is a real gamechanger for places like Japan. We were last there in 2014 and it didn't exist, which could be quite a challenge when visiting locations with limited English. There is virtually no English in Okinawa outside of Naha, but with the app's live translations this was never an issue.

Overall, I would not recommend going to Okinawa on your first trip to Japan. It was interesting, chilled and warmer than most of the Northern hemisphere, which was the point of us going, but it can't compare to Miyajima, Kyoto, Nara or Takayama. We don't dive and it was too cold to snorkel – I could see how if you did the former it could be quite special.
You must be logged in to reply to this topic.
Popular articles this week:
New to Head for Points?
Welcome! We're the UK's most-read source of business travel, Avios, frequent flyer and hotel loyalty news. Let us improve how you travel. Got any questions? Ask them in our forums.
Win 1 million Avios when you apply for a Barclaycard Avios credit card by 2nd April. Exclusive to HfP readers.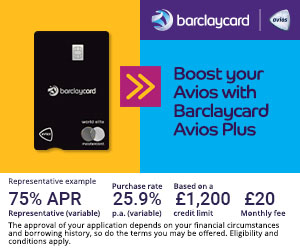 Check reward flight availability instantly for free!
Booking a luxury hotel?
Our luxury hotel booking service offers you GUARANTEED extra benefits over booking direct. Works with Four Seasons, Mandarin Oriental, The Ritz Carlton, St Regis and more. We've booked £1.7 million of rooms to date. Click for details.