Unexpected free BA upgrade on long haul 241 economy redemption – reasons?
Reply
I've been musing on this for a while but thought other TPers may have had similar experiences/have insider knowledge to enlighten me! In June 2022 I redeemed a soon-expiring old style 241 to fly BA LHR-BOS in economy both ways for a 5 night break. I checked us in 24 hours before the flight (both player 2 and I were Blue at the time) and our boarding passes showed that, as expected, we were in WT in the seats I'd selected. On flight day I started my journey at LHR but p2 flew in from BER on a cash ticket and transited airside. When I went to the self-service bag drop in T5 to drop my hold bag, the machine gave me a printed boarding pass (can't remember now if I requested it or if it was automatic). When it came out, my boarding pass was showing WTP, a new seat much nearer the front of the plane, and that I was Group 3 boarding. Curiouser and curiouser! I wasn't sure if it was a mistake or a free upgrade, but was resigned to the former. I went through security and met p2, whose in-app boarding pass was still showing his original seat in WT. You can imagine he was displeased! He had checked his hold bag at BER and despite it being booked as two separate journeys the BA rep at BER had offered to check his bag through to the BOS flight without him needing to collect it at LHR, so he hadn't had any interaction with check-in desks/bag drop screens at LHR. In a bid to not start the holiday in separate fare classes and with a sulky p2, I went to the BA staff at the gate, showed them my boarding pass and asked if it would be possible for p2 and I to be seated together. I was a bit sneaky in that I didn't mention that we had booked in WT, I simply said that I thought there must be a mistake as I had originally booked us in seats together and now we were separated. The BA agent appeared to look briefly at the on-screen seat map, said there was no problem, and instantly printed p2 a new boarding pass showing him seated next to me in WTP. The fact that it was seemingly so straightforward to move P2 next to me and that the seat was free, makes me wonder if our whole booking had been upgraded to these new seats between P2 departing BER and me checking in at LHR, so rather than actively moving him the BA agent simply printed his updated boarding pass. Anyhow, both p2 and I considered it a big win and very much enjoyed our unexpected upgrade!

My question is, is there any rhyme or reason to why this might have happened? Do BA do this to entice people to redeem/buy cash tickets in a higher fare class next time when they've had a taste of a nicer flying experience? Additional info below, no idea if it's relevant:

– P2 and I both Blue at the time (I'm now Bronze) but both fortnightly BA short haul fliers
– It was our first 241 redemption
– I had probably 1100 lifetime TPs at the time (so not a lot)
– The BOS flight before ours, in the afternoon, had been cancelled due to a technical problem with the aircraft, so our flight then became full due to taking many of these passengers – not sure if this meant we were considered further "up the queue" to get moved to free seats in WTP
– On the return flight we were in WT as per our original booking, only the outward leg was upgraded
You must be logged in to reply to this topic.
Popular articles this week:
New to Head for Points?
Welcome! We're the UK's most-read source of business travel, Avios, frequent flyer and hotel loyalty news. Let us improve how you travel. Got any questions? Ask them in our forums.
Win 1 million Avios when you apply for a Barclaycard Avios credit card by 2nd April. Exclusive to HfP readers.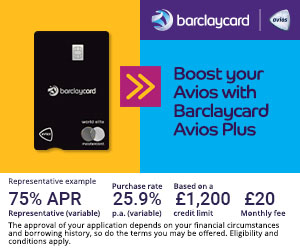 Check reward flight availability instantly for free!
Booking a luxury hotel?
Our luxury hotel booking service offers you GUARANTEED extra benefits over booking direct. Works with Four Seasons, Mandarin Oriental, The Ritz Carlton, St Regis and more. We've booked £1.7 million of rooms to date. Click for details.