Happy birthday to us – Head for Points is 1 today
Links on Head for Points may pay us an affiliate commission. A list of partners is here.
It was exactly a year ago that I launched Head for Points.   I had actually started writing it at the end of May, but no-one actually knew it existed at that point!  I wanted to run it for a few weeks in private to be sure that I could actually find enough to write about and enough time to write it.
It was July 2nd last year that I put a post on FlyerTalk announcing that it had launched.  Ironically, because there was five weeks of content for people to read on the first day, I got a huge number of page views on Day 1 – it then took me six months before I hit that level again!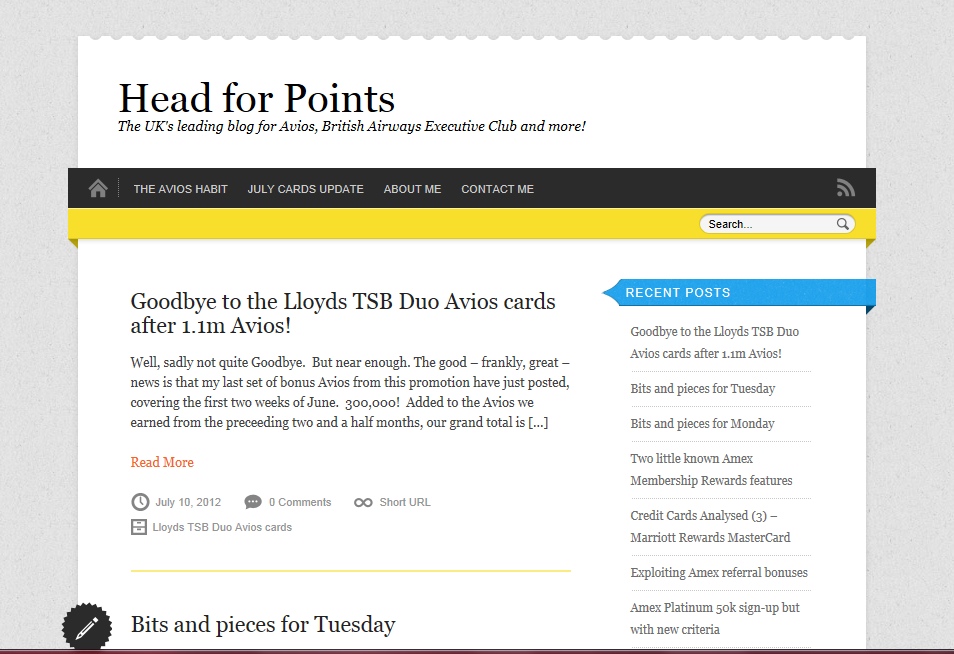 The original version of the site looked like this, for readers who have joined since our relaunch in February 2013 and who never saw the old 'yellow and black' ad-free version.
There are probably about 50 people who are responsible for how Head for Points looks today.  You may even be one of them, without knowing it.
One person recommended the designer for the logo, another the hosting company.  Someone else pointed me towards the layout, someone else helped me tweak the coding.  Someone else helped with a key HTML problem, someone else helped me with a bit of Photoshop work.  Numerous people helped me find suitable affiliate partners, someone helped me find an iPad photo-editing app etc etc.  I am extremely grateful to everyone who has helped with advice and ideas over the last 12 months, especially as my IT skills are very minimal indeed!
A lot of the most interesting posts were also triggered by reader emails, which I always enjoy receiving.  It was a reader email that persuaded me to look into the 3V cards seriously, for example.  If you have an idea for a future article, or if you receive news of an interesting promotion by email which you think is worth sharing, please do forward it on to rob at headforpoints.com.  This is genuinely a collaborative venture, since with the best will in the world I can't keep up with every loyalty scheme.
I hope you've enjoyed reading the site and will continue to do so.  Thank you for your support so far.