Review: SWISS First Class, Zurich to Boston
Links on Head for Points may pay us an affiliate commission. A list of partners is here.
This is my review of SWISS First Class, flying from Zurich to Boston.
It is the next installment of my current US trip. I have already covered the Sheraton Frankfurt Airport hotel, the Lufthansa First Class Terminal and the SWISS First Class Lounge.
After having been driven from the lounge across the tarmac to the plane, it was time to settle down in SWISS First Class. The photos here (all library pictures – I don't like taking photographs in-flight, especially when 5 of the 8 seats were taken) show the new SWISS First Class product.
I think (feel free to correct me ) it is now fleet wide, but I was on one of the new A330 planes delivered over the last couple of years which came with this product from day one.
It is a very 'Swiss' product – lots of wood, very clinical, lots of square edges. You have a VERY big TV (obviously video-on-demand, with a big selection), noise cancelling headphones and a Bally amenity kit with La Prairie products inside.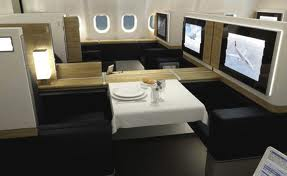 This is not me: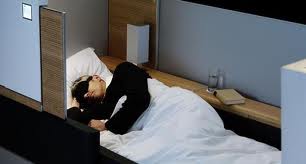 And neither is this:
The seat is fine. Obviously it goes fully flat, obviously it is more than long enough even for a tall guy like me. My only slight grumble was that the 'buddy seat' was not quite close enough – one of the downsides of having a very long seat! – so it wasn't easy to put your feet up without reclining the seat.
The real highlight of SWISS First Class is the food. You need to trust me that this was the best food I have ever had on a plane, full stop. There is nothing fancy about it – no caviar, no lobster, no Dom Perignon – but everything was done exceptionally, exceptionally well.
Even stuff I thought I would hate (cold Mango soup?) turned out to be exceptionally good.
Here is the menu:
First course:
Fillet of Balik salmon
Grilled scallop, goats cheese with canola seeds and watermelon
Moutable, tabbouleh and red lentil patty with pomengranate seeds
Mangospacho with wasabi yoghurt sorbet (this was actually served as a separate course)
Seasonal salad with grilled courgette and oven-dried tomatoes (this was also offered as a separate course)
Main course:
Beef tenderloin medallion with braised oxtail praline and spinach; red wine jus with oyster mushrooms; Ofetori-Nidwalderner mashed potato with veal speck and cheese
Herb coated chicken filets, alper ravioli with Nidwaldner cheese, potatoes, fried onions and apple sauce
John Dory fillet wih pureed and roasted corn, courgette, shallot confit
Spinach tagliatelle with Provencal vegetables
Cheese:
Selection of Swiss artisan cheese
Dessert:
Apricot sable with lavender creme, sour creme ice cream, apricot compot
Greek yoghurt mousse and raspberry sorbet, marinated melon, pine nut crumble
Once we had got through the food (which was outstanding, did I mention that?!) I had a look through the movie selection and decided that now was a good time to try out the h-u-g-e TV and watch Moulin Rouge again. After I had got through that, I managed six episodes of US comedy 30 Rock. Time well spent, I'm sure you'll agree.
I haven't actually mentioned at any point in this trip report so far how I funded the flight. A one-way in SWISS First Class to the US is 85,000 Miles & More miles. The Frankfurt-Zurich connection was included for free.
Taxes were £242. There was no UK Air Passenger Duty as I started the flight from Frankfurt. Had I not done the FRA-ZRH flight, I would only have paid £174 in tax for ZRH-BOS one-way.
A similar First Class British Airways flight from London to Boston would be 60,000 Avios one-way. However, in terms of quality, SWISS is WELL worth the extra 25,000 miles – especially if you go via Frankfurt first!
Of course, this is not a fair comparison. For a start, SWISS First Class is very tricky to book – seats are not made available to Miles & More partner airlines until very shortly before travel, so you need a large Miles & More stash to book. You are unlikely to get more than two seats, and may struggle to find more than one. It is a small cabin with just 8 seats, compared to almost double that on BA.
This flight was really a treat for myself, given that it is rare that I get to travel without my family. It obviously also helped that I had to be in Germany anyway before the flight, although I would HAPPILY have paid for a London-Zurich connection if it had been necessary.
Seven hours in, the plane came down to land at Boston Logan. Amazingly, there were no other overseas planes landing at a similar time. SWISS messed up the deplaning – I was about the 20th person off instead of at the front – but there was absolutely NO-ONE at immigration so I was through quickly.
The airport is also very close to downtown, and it took just 50 minutes from the steps of the plane, through immigration, getting a taxi, arriving at the InterContinental Boston, checking in to flopping down in my room. More on that next time …