My review of the Sheraton Frankfurt Airport hotel
Links on Head for Points may pay us an affiliate commission. A list of partners is here.
This is my review of the Sheraton hotel at Frankfurt Airport.
Sunday was one of the weirder travel days in my life. We had been in Dusseldorf at a wedding for a few days. My original plan, after waving the rest of the family off on a train to my wifes parents house, was to take a leisurely 2 hour train ride to Frankfurt. I would then check into the luxurious new Jumeirah hotel in the city centre, take it easy for the rest of the day and then get the u-bahn over to the airport in the morning.
A couple of days before we flew out, though, my wife started worrying about the plants in our garden, given the heat. She didn't want them sitting there for a week with no water. She had also decided that she didn't want to carry her dress for the wedding around with her. I was therefore told to cancel my original plans and to travel from Dusseldorf to Frankfurt via West London!
I therefore ended up on the 10.20 BA flight out of Dusseldorf, getting home for around 1pm UK time. I spent 3 hours watering and working through a list of other household tasks.  I then left the house to head back to Heathrow for the 19.10 to Frankfurt! (Even worse, I had to do these flights in Economy 🙂 )
Landing at 10pm, it was obviously pointless staying downtown. I cancelled the Jumeirah and used some SPG points to book into the Sheraton at Frankfurt Airport. (This was not the greatest use of points, given the cash rate, but I was determined not to spend any real money on this!)
As I have written before, I have one rule with airport hotels – only stay in a hotel directly connected to the airport. However worn or rubbish it may be, you simply do not want to be messing about with shuttle buses late at night and early morning.
The Sheraton is attached to Terminal 1, so if you arrive on BA in Terminal 2 then you need to take the Skytrain. Annoyingly, there are no signs in T2 to tell you this.
When I arrived at the Sheraton, it was everything I expected (ie not much). However, ironically, I felt at home! I was flying out to the US the next morning, and the Sheraton instantly brought back memories of many, many US holidays in years gone by. There is something about the furnishings and design that brought it all back. All I was missing was the 'sanitised for your protection' sticker across the toilet, which middle tier US hotels love to use!
They even had one of these: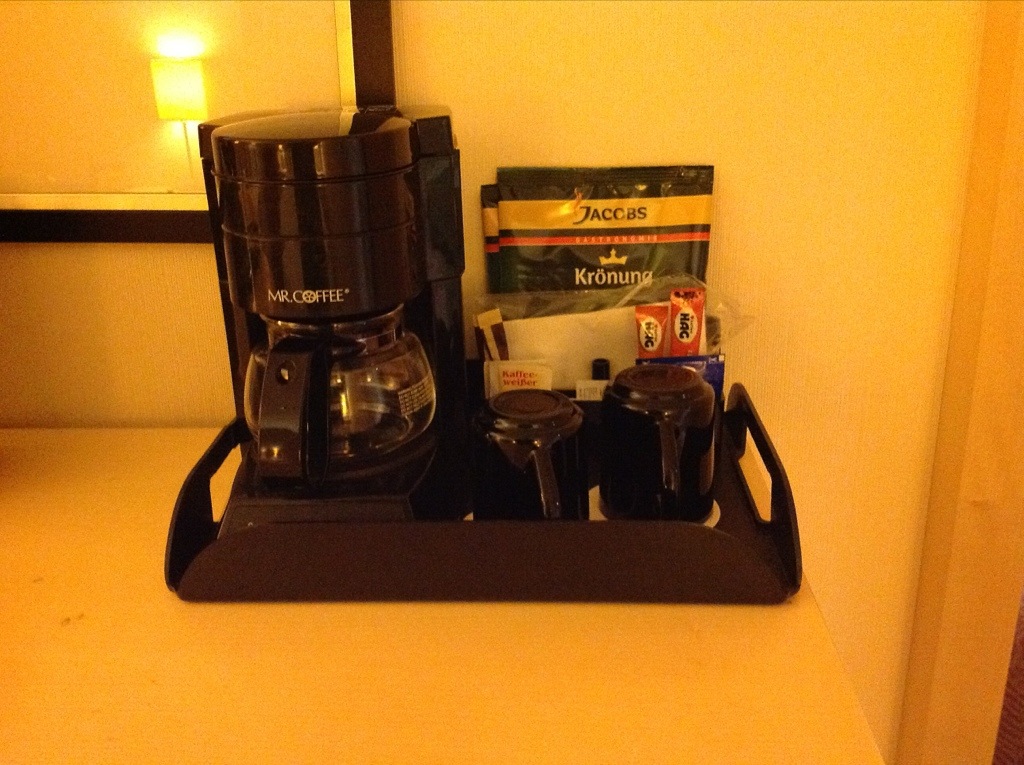 Yes, a Mr Coffee US-style coffee machine! The memories came flooding back!
Here are a couple of other room photos. The bedroom and bathroom are as uninspiring as you would expect. No rainfall shower here!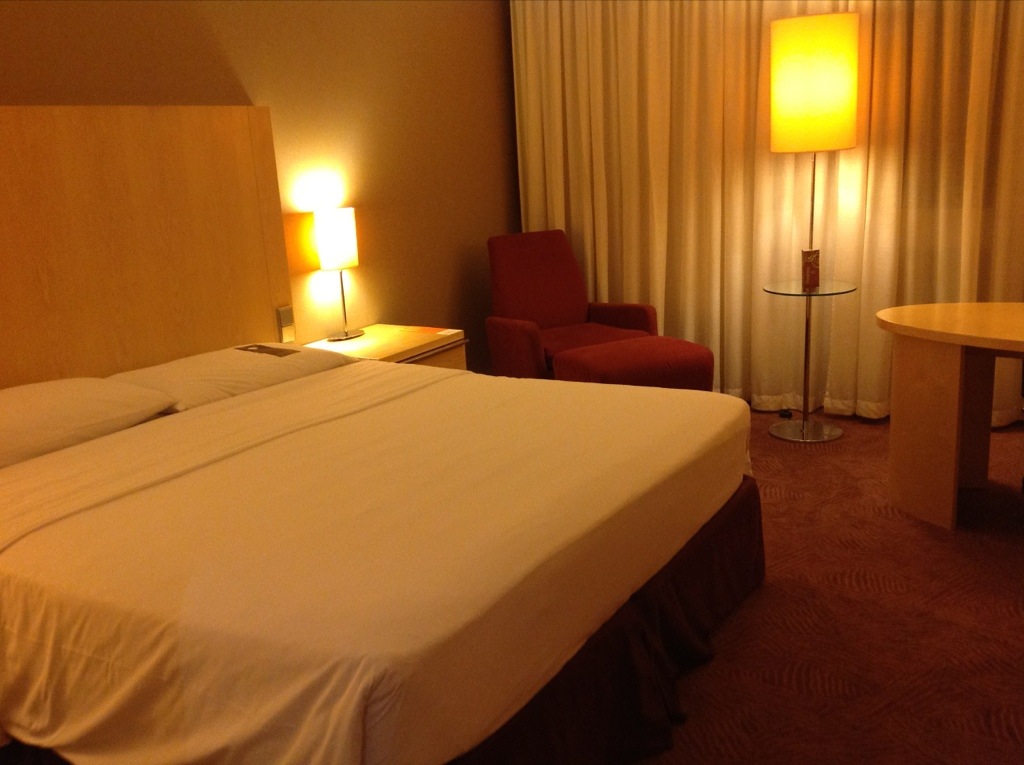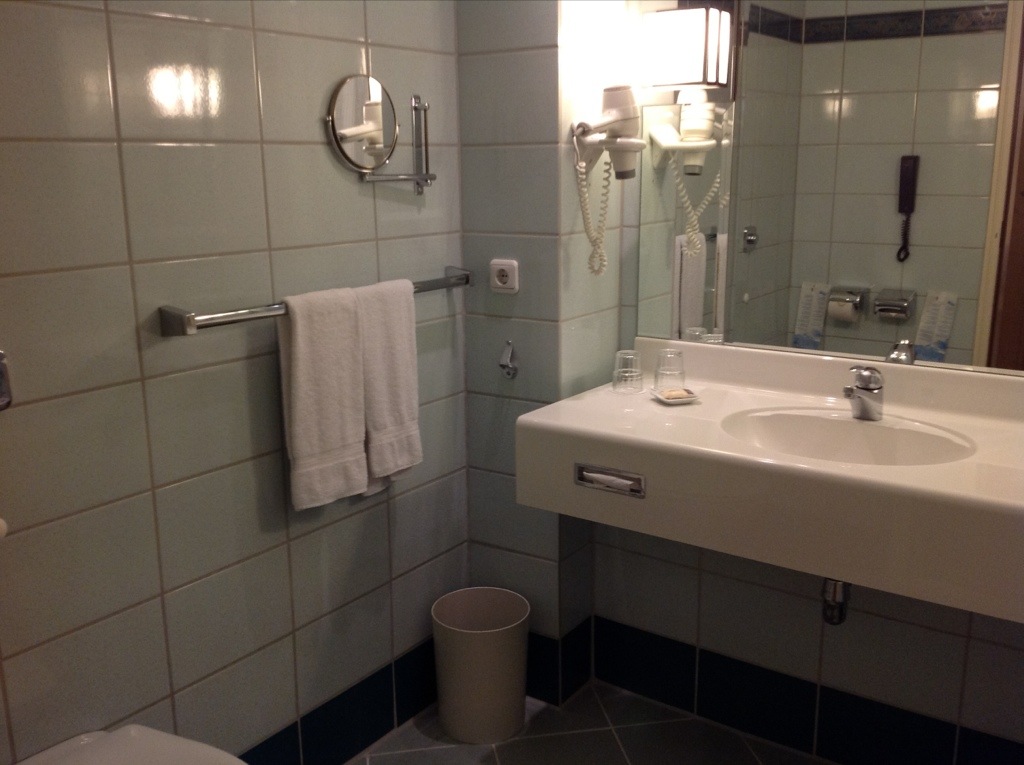 However, the TV had BBC1 on it (the wifi didn't work, though) and that did the job for the short time I was awake. I am embarrassed to say that my Starwood Gold status has dropped back to Preferred Guest level – I hadn't bothered to ring American Express to reactivate my free SPG Gold that comes with my Amex Platinum card. By the time I knew I was doing this stay, it was too late. I may therefore have been upgraded to something more exciting had I been Gold, I don't know.
The Sheraton Frankfurt Airport certainly wasn't a patch on the Radisson at Hamburg Airport that I used in February. It did the job, though. I left the hotel at 9am and within 10 minutes had walked over to Lufthansa's First Class Terminal.
You can find out more about the hotel, and book, on this page of the Starwood website.