Introducing the Lloyds Choice Rewards credit card … the 3rd of their new Avios-earning cards
Links on Head for Points may pay us an affiliate commission. A list of partners is here.
Yesterday I spent, frankly, more time than is sensible poring over the details of the new Lloyds Avios Rewards credit cards. Part 1, Part 2 and Part 3 of my analysis can be found here.  The website for the free card is here, the paid card is here.
However, Lloyds quietly slipped out a 3rd Avios-earning card on Monday – the Lloyds Choice Rewards credit card.  Here is my review.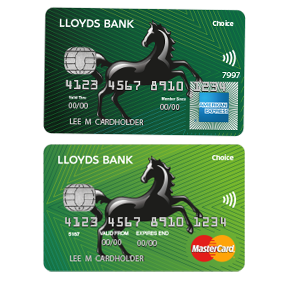 This is Lloyds attempting to take on American Express Membership Rewards, Tesco Clubcard MasterCard or the Starwood Preferred Guest Amex card.  Instead of earning Avios points for your spending, you will earn Choice Points.  You could convert your Choice Points to Avios, but you also have other options.
Here is the key point of interest for the card – you earn 0.5 Avios per £1 on the MasterCard.  That is double what you earn on the Lloyds Avios Rewards card and 2/3rd more than you earn if you paid £140 for the Lloyds Premier Avios Rewards card!
(This is part of the reason that I was lukewarm on the £140 Lloyds Premier Avios Rewards card yesterday.  If the MasterCard had offered 0.5 Avios per £1 then it would have been a more attractive package.)
Here is a full summary of the Lloyds Choice Rewards credit card:
You receive an American Express card and a MasterCard
There is a £24 annual fee
TopCashback / Quidco cashback may be available in a few days but is not yet showing
0% interest on purchases for the first 13 months
You earn Choice Points, which convert to 1 Avios per £1 spent on the Amex and 0.5 Avios per £1 spent on the MasterCard
You receive double points on the Amex for the first six months, capped at £2,500 of spend per month
Alternatively, you can redeem your Choice Points for "cashback, shopping vouchers and magazines subscriptions".  You can see details of these here.  If you opt for cashback, you receive 1% of Amex spend and 0.5% of MasterCard spend.  If you opt for shopping vouchers (Argos, Currys, Homebase, House of Fraser) you receive 1.5% of your Amex spend and 0.75% of your MasterCard spend.
Do I recommend this card?
Not really, if you are a keen Avios collector.  It may have more interest to 'casual' Avios collectors who want a back-up redemption option.
The Avios earnings rate on these cards is good, but you can do better.  The Tesco MasterCard offers 0.6 Avios per £1 spent, compared to 0.5 Avios here, with the possibility of a conversion bonus on top.  Tesco also has a wide range of other Clubcard partners if you decide not to redeem for Avios, and has no fee.
The Avios-earning rate on the American Express card is also not market-leading, at 1 Avios per £1 spent.  You would be better off with the free British Airways American Express card which does not carry a fee and also offers 1 Avios per £1.  Or, of course, the Lloyds Avios Rewards card which offers 1.25 Avios per £1 for the same £24 fee.
In any event, the shopping vouchers option on this card is pretty good, and makes your Avios look expensive.   Spend £1,000 on the Amex, for example, and you could get £15 of House of Fraser vouchers or 1,000 Avios.  That makes the Avios VERY expensive at 1.5p each.  Even taking straight cashback, you would be comparing £10 vs 1,000 Avios, which is a marginal call.
Fundamentally, I am not sure why Lloyds added Avios to this card as an option.  I would strongly recommend, if you get this card, that you take your rewards as a shopping voucher – assuming there are things at Argos, House of Fraser or Currys that you would buy.
I'm interested in your comments on this one, since it seems a strange mix of benefits and fee, whilst inadvertently also making the earnings rate on the £140 Lloyds Premier Avios Rewards card look bad!
(To see our complete list of all current credit card bonuses, click here to visit our 'Credit Cards Update' page or use the link in the menu bar at the top of the page.)