Regus tightening up on free BusinessWorld Gold cards
Links on Head for Points may pay us an affiliate commission. A list of partners is here.
You may remember that I wrote a piece last year recommending Regus business lounges. At that time, Regus was, amazingly, giving away free access (unlimited visits) to their lounges via a number of loyalty programmes. Recently, though, Regus has been tightening up and you need to be more cunning.
Let's take a step back, though. The company Regus may or may not be familiar to you. They are the worlds leading provider of 'serviced office space'. This is, fundamentally, treating office space like a hotel.
You want an office for a day / a week / a month / a year for 1 / 2 / 5 / 20 people? They can provide it. You don't need to worry about furniture, IT, cleaning, receptionists etc – they provide it all. It is an effective route for start-ups or for businesses which are growing quickly.
However, it is the other side of the Regus operation that is the point of this post.
Almost all Regus centres feature a 'business lounge'. A large percentage of Head for Points is written in Regus lounges! They vary in size, but most feature open-plan seating areas, 1-4 Apple Mac computers available for free use and 1-10 'pods', available on a first come, first served basis (for free) which provide a semi-private work area.
Free Wi-Fi and free tea and coffee are provided in all lounges. Here is a picture of 1 Poultry in the City of London, which is next to Bank tube station (the pods are the blue and white things at the back):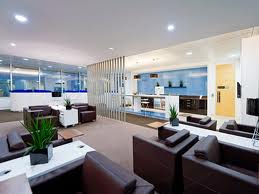 If your job takes you 'out and about' a lot, or you work for yourself but simply don't like sitting in Starbucks or your house all day, then working out of Regus lounges is a very viable alternative. Regus also has a global network, so you can pop into centres pretty much wherever you are in the world.
Frankly, even if you buy an UK annual pass for £420 + VAT, it is a bargain if you use it a lot. I use a Regus lounge 2-3 times a week, so £420 + VAT would be worthwhile.
Historically, though, you didn't even have to pay that. There were numerous loyalty programmes that issued a FREE BusinessWorld Gold card to their members on request.
Recently, though, Regus has clearly been tightening up. They have introduced a new card called 'Regus BusinessWorld Preferred'. This is now the card of choice when giving out freebies to members of travel loyalty schemes.
Regus BusinessWorld Preferred is not a bad card. You get 15 free visits per year to Regus business lounges, which is still very handy. However, if you are there once a week or more, it clearly won't do the job.
I have taken a look at some of the offers currently available via loyalty schemes (EDIT: I have updated the original list with suggestions from reader comments, thank you everyone):
IHG Rewards Club – offer seems to have ended
Avis Preferred (available free to Amex Plat holders) – downgraded to Regus BusinessWorld Preferred
American Airlines – Gold still seems available to elite members
United MileagePlus – only offers Regus BusinessWorld Preferred
Miles & More – offer seems to have ended
Virgin Flying Club – Gold still available to Silver and Gold members and Black credit card holders. Importantly, as you can see from the link, Virgin offers their base level (free sign-up) members the chance to buy a BusinessWorld Gold card for half price at £210. You will also receive 3,000 Virgin Flying Club miles.
TripItPro – offers BusinessWorld Preferred but also throws in a free day office voucher. Not a bad deal for the $50 cost of TripItPro.
Diners Club Germany – still seems to offer BusinessWorld Gold (link deleted as now dead). Not sure if you could activate this with a Diners Club card number from a different country.
National Car Rental – website says that Emerald level members receive BusinessWorld Gold, but when you click through it only offers you BusinessWorld Preferred
RICS (UK Chartered Surveyors) – now only offers BusinessWorld Preferred, although ironically the activation code remains MSREGUSBWGOLD
Delta – still offers Gold but only to those who have purchased Sky Club annual memberships
If you know of any other Regus BusinessWorld promotions available via travel loyalty schemes, please let me know.