Review: the British Airways Concorde Room lounge at London Heathrow Terminal 5
Links on Head for Points may pay us an affiliate commission. A list of partners is here.
This is my review of the British Airways Concorde Room lounge at London Heathrow Terminal 5.
This is part of our series of reviews of airport lounges across the UK.  You see all of the reviews here.
The Concorde Room is the flagship British Airways lounge at Terminal 5 with a sister lounge at JFK in New York.  It is only open to passengers holding a First Class flight ticket or who hold a Concorde Room card, given out for earning 5,000 tier points in a year.
The name is a carry-over from the days when Concorde was still flying and British Airways was based in Terminal 4.  The Concorde Room was the dedicated departure lounge for that service – it was the only BA lounge which allowed you to board the plane directly from the lounge.
(Where can you do this at Heathrow today?  The Emirates Lounge in Terminal 3 allows direct boarding.  Any others?)
You enter the Concorde Room through the white door which is found immediately after passing through South Security in Terminal 5.  There is no need to take the escalators down into the shopping area and then back up again.  According to urban legend, this was a late design change when Terminal 5 was being built and British Airways had to pay a huge financial penalty to the airport owner.  I have seen sums as high as £14m quoted in the past, designed to offset the lost commission from Concorde Room visitors no longer passing the shops.
Rather like the Plaza Premium lounge in Terminal 2 which I reviewed recently, The Concorde Room is a little lacking in natural daylight – although some does come in from the large terrace.  The dark 'executive' colour scheme used for the furnishings does not help.
The Elemis spa is situated outside The Concorde Room which is why I did not photograph it.  If you are holding a First Class reservation you can now book spa treatments in advance which does mean you have a decent chance of getting a slot.  It also means that Club World passengers in Galleries First have almost no chance.
Similarly, I did not visit the cabanas, where you can reserve a private room for a rest during a long connection.  This is potentially the main selling point of the lounge.
Here are a few shots: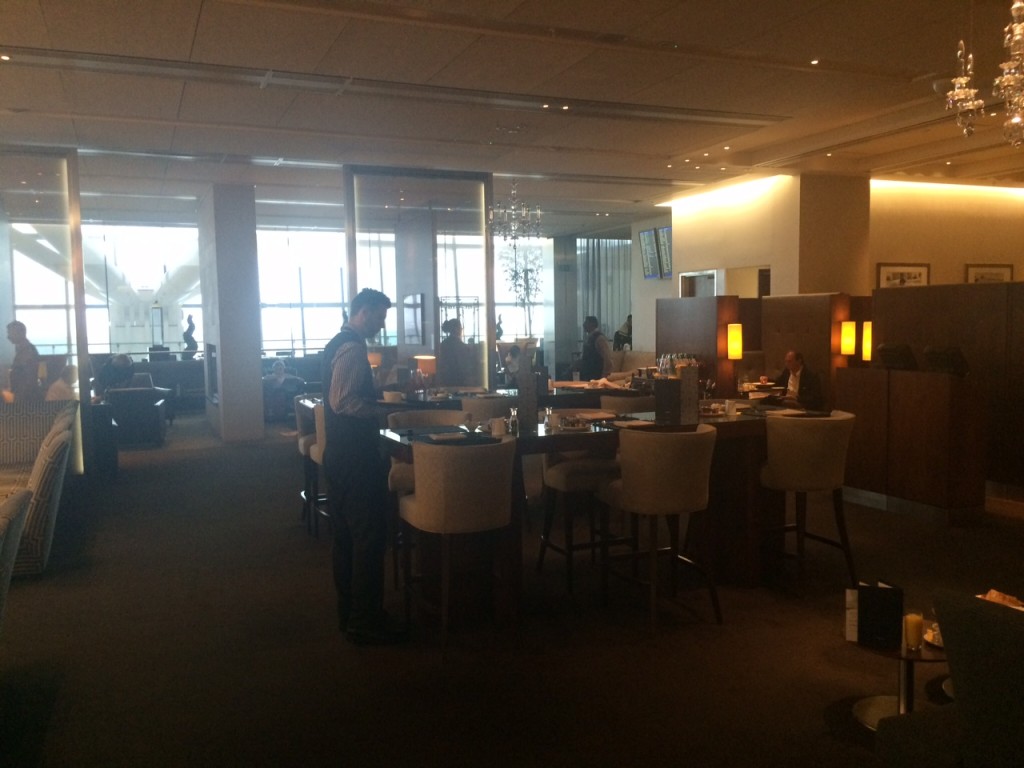 and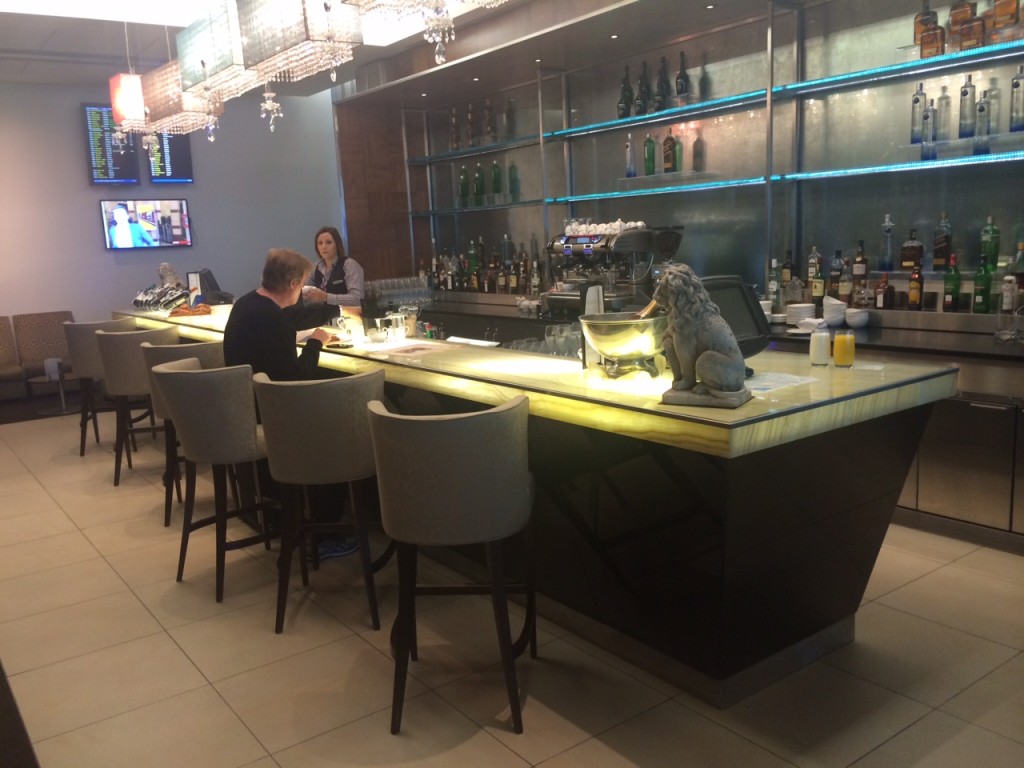 and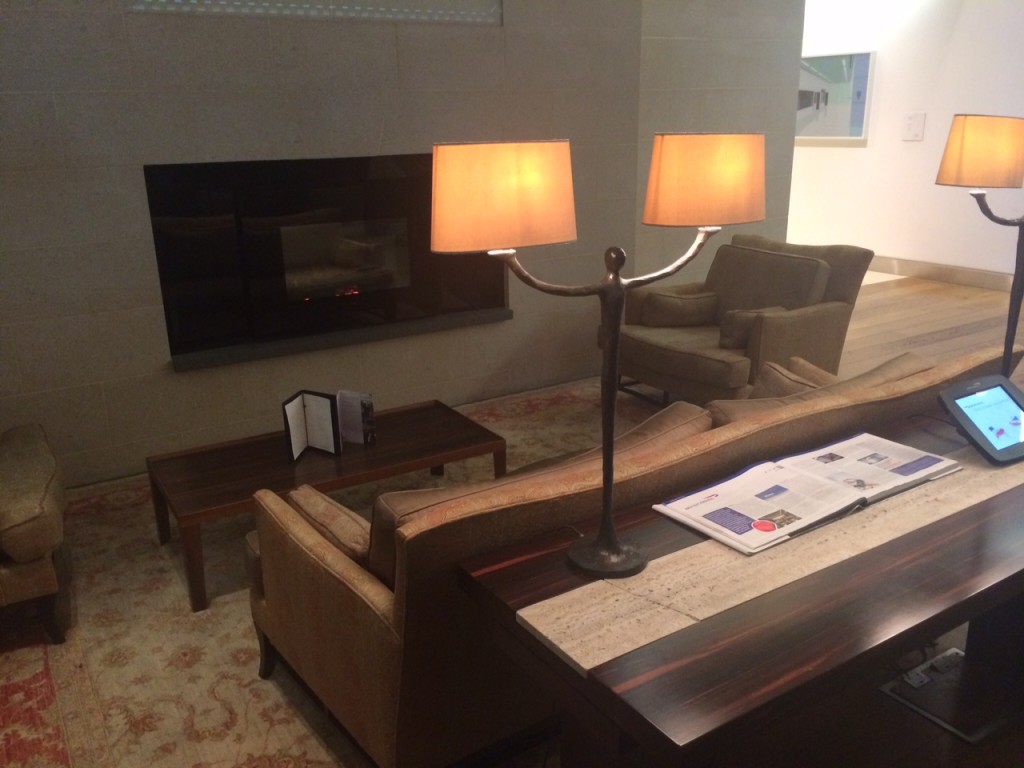 and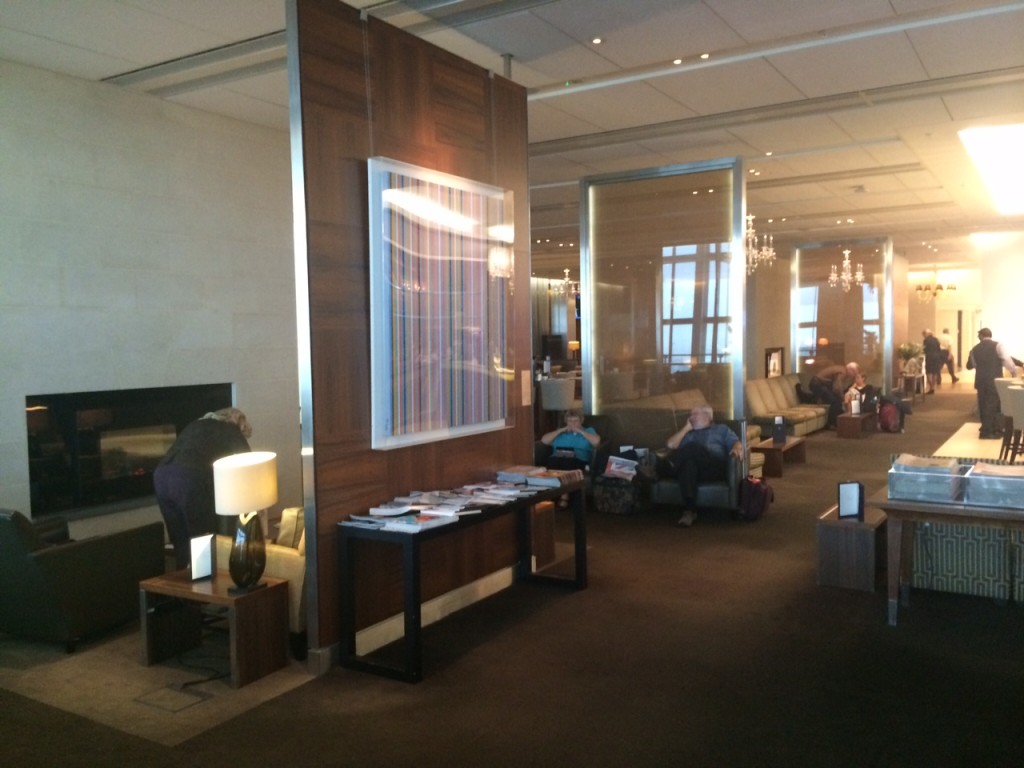 and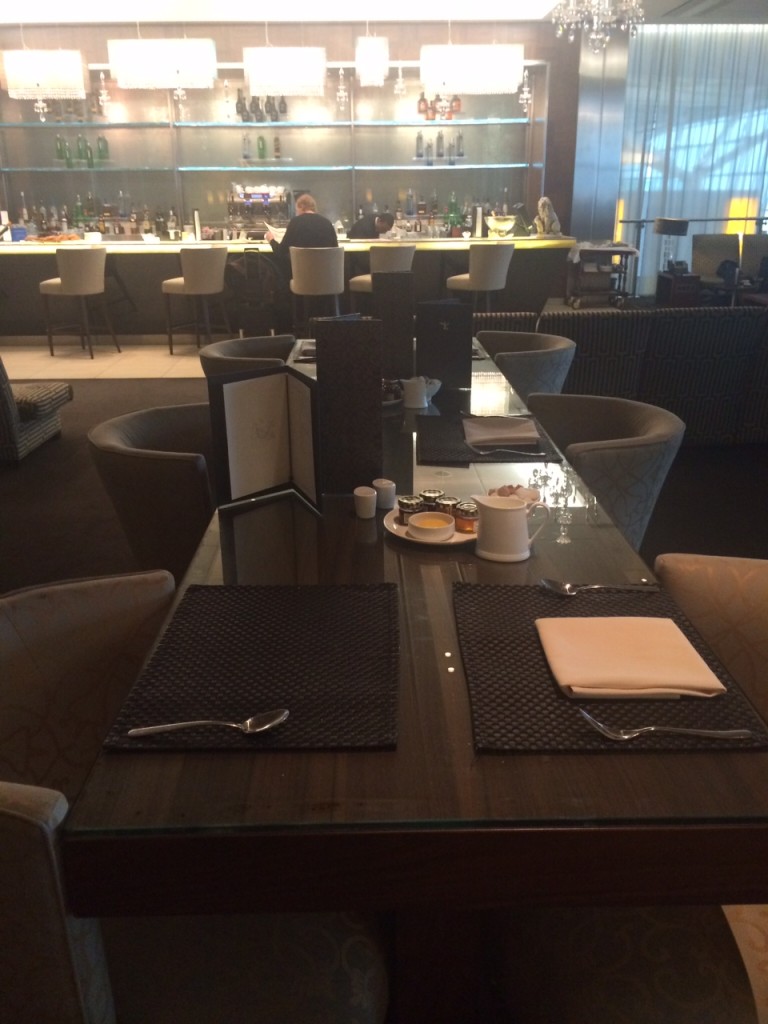 and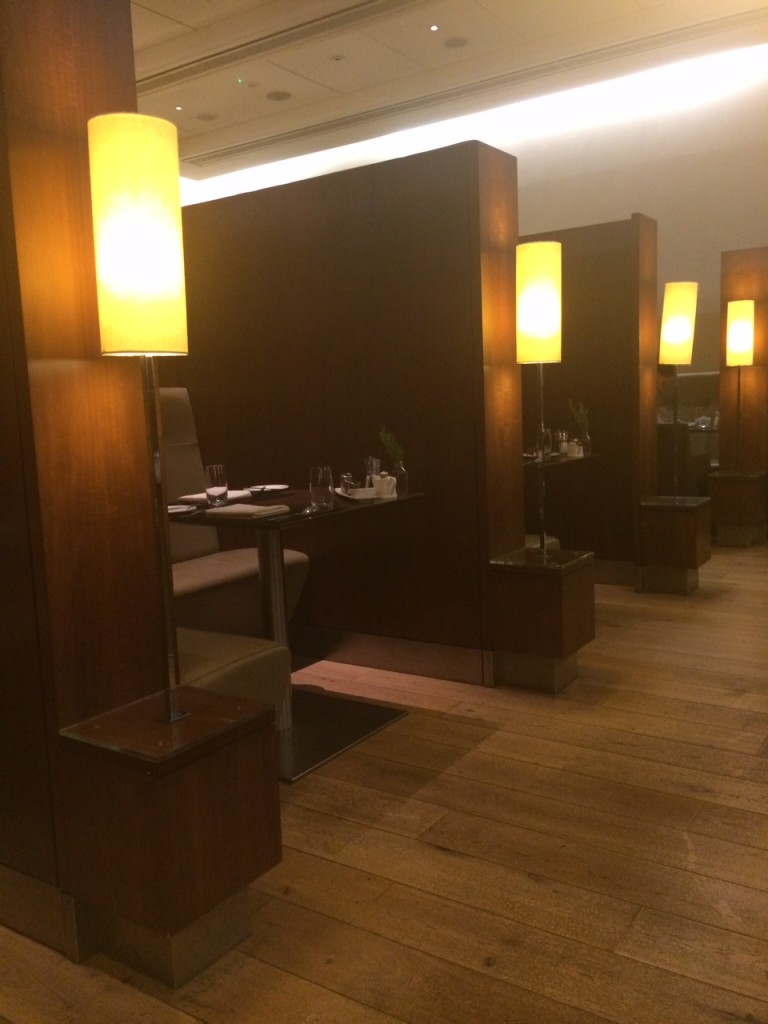 and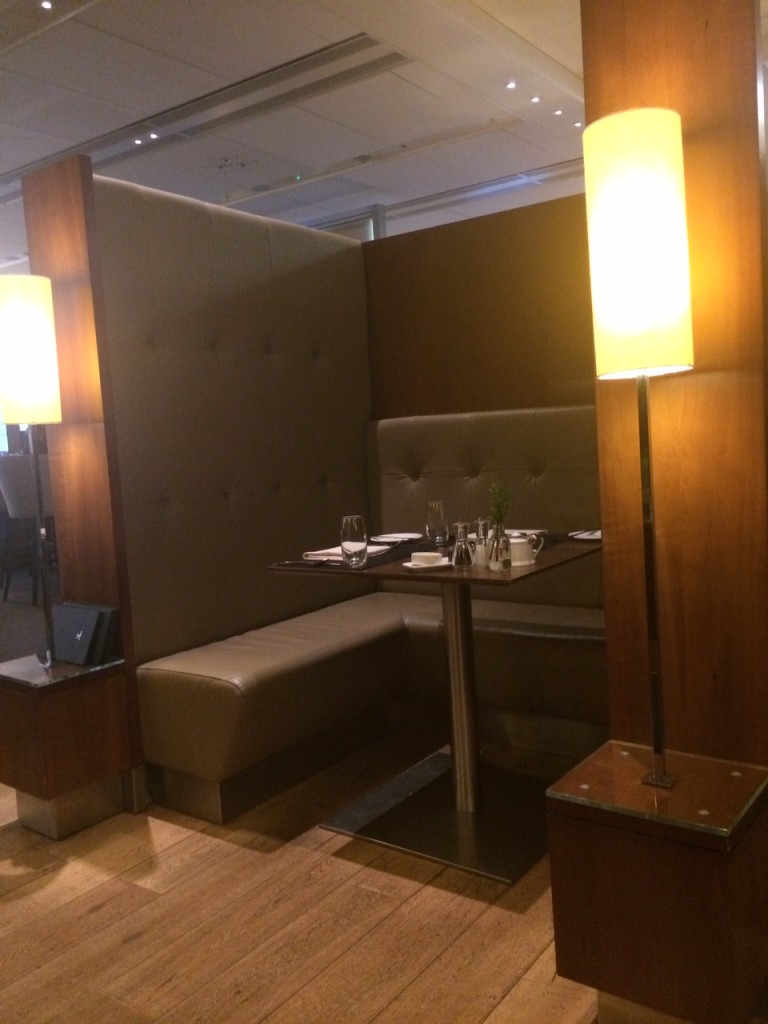 and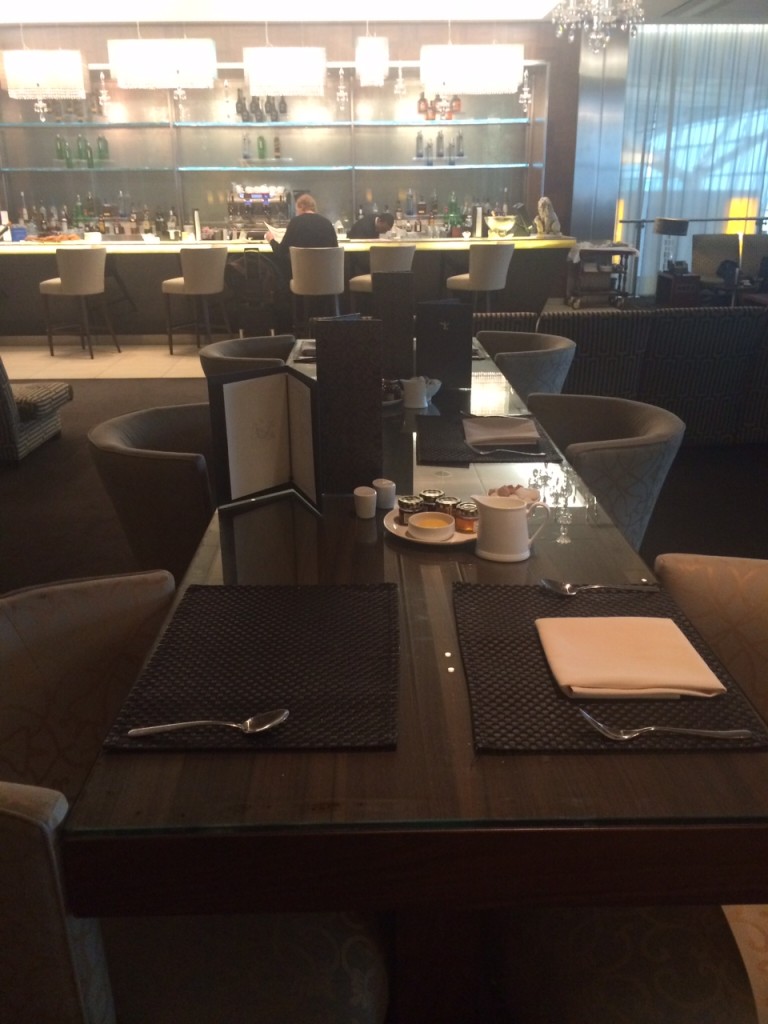 and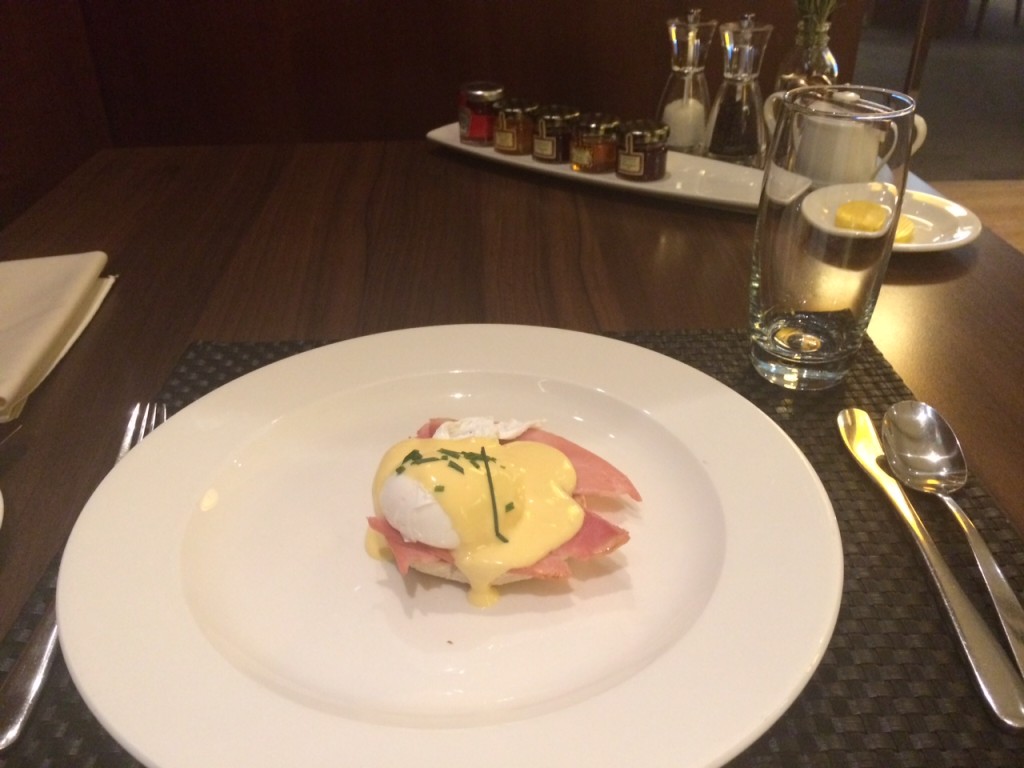 This photo was taken a couple of days after I was there by a HfP reader and gives you an idea of what they serve for lunch: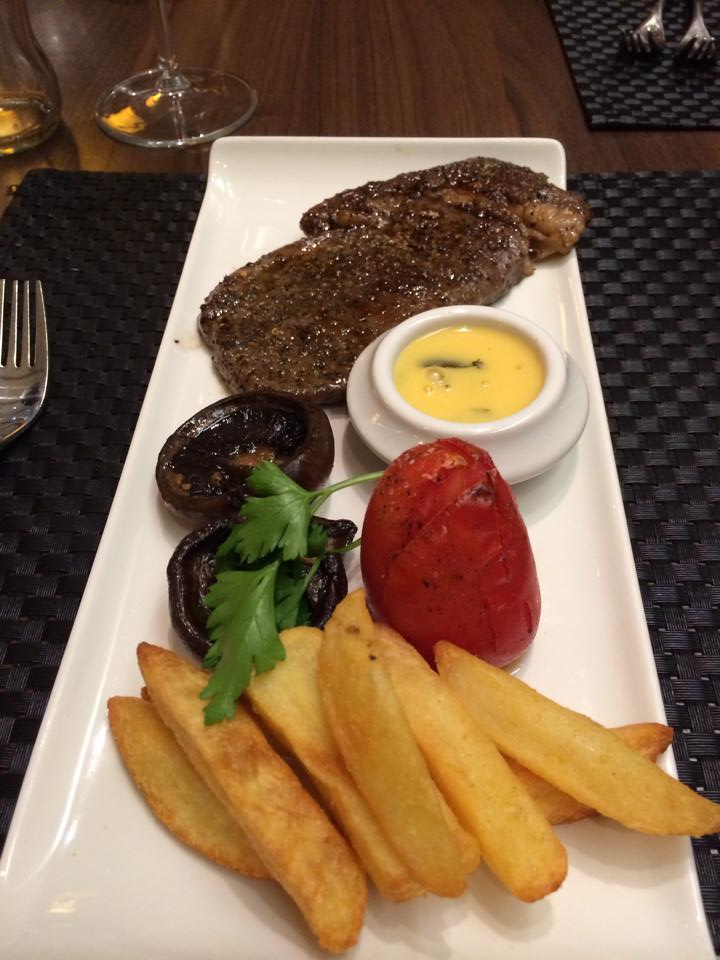 As you can see, there is nothing earth shattering about the architecture.  The standout feature is the private booths available for dining.  The quality of the food, unfortunately, is not noticeably better than what is served in Galleries First – and presumably they use the same kitchen.  If you are expecting the sort of gourmet delights offered by Lufthansa in the First Class Terminal in Frankfurt, for example, you are out of luck.  My eggs benedict, above, is looking a little lost.
The bar does look impressive.  However, unless you want a cocktail, you may prefer the self-pour approach used in Galleries First.  There is nothing in The Concorde Room to match the impressive champagne bar in Galleries First.
If you need to work, there is a totally separate room with four PCs and two printers.  This is an improvement over the open plan work area in Terminal 5 – you do get a proper desk and chair here.
All in all, this is a perfectly 'sound' lounge.  Like much of the British Airways First Class offering, it does the job in a satisfactory way without ever attempting to reach greatness.
BA has an official website for the Concorde Room if you want to find out more.
PS.  The first British Airways screw-up of the day occurred here.  When I checked in, I was told that my flight was delayed by 20 minutes.  This was repeated to me when I entered The Concorde Room.  However, at some point between entering the lounge and the flight departing, the 20 minute delay disappeared.  At no point did anyone bother to find me and tell me.  It was only by coincidence that I realised, very close to the cut-off time, that the flight was no longer delayed.  And, as an A380 departure, I then had to get myself over to Terminal 5C in record time …..