50% of the cost of my Virgin America flight is returned via points.com
Links on Head for Points may pay us an affiliate commission. A list of partners is here.
points.com is a facilitator for the purchase and exchange of miles. If you have ever bought Avios, you may have noticed that your credit card statement showed 'points.com' as the merchant.
points.com is a 2-legged business, half of which is handling 'buy points' requests for various frequent traveller schemes. The other half is operating a free online exchange for miles and points.
You can register for points.com via this link.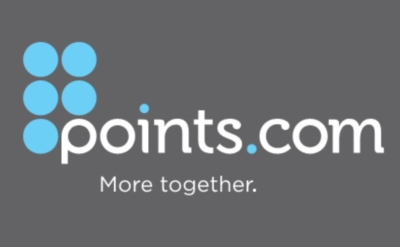 Now, don't get too excited about this. Avios is not part of the scheme, for a start. The exchange rates they use are also very poor. However …. if you have a small number of miles in an airline or hotel programme that you are never going to use, and which may be expiring, points.com is better than nothing.
Virgin America, IHG and points.com
Back in October, I took a First Class flight on Virgin America from Los Angeles to Las Vegas.  I wrote about the hugely impressive in-flight experience here.
The flight cost me $199.  At the time I booked it, I arranged to credit the miles to Virgin Atlantic Flying Club.  I would have received a paltry 875 miles, worth £8.
However, between booking and flying, Virgin America launched a fantastic offer.  You would earn 7,500 Virgin America Elevate miles for taking a flight in First Class.  More interestingly, you would earn 7,500 miles for referring a friend who took a flight in First Class.
My wife opened a Virgin America Elevate account and immediate referred me.  After my flight, we had the following:
My wife – 8,000 points (500 opening bonus and 7,500 for referring me)
Me – 8,875 points (500 opening bonus, 7,500 for taking a First Class flight and 875 for the flight itself)
I had absolutely no idea what I would do with these miles.  However, as Virgin America miles are worth 2c towards a cash flight, it was worth taking them just in case I ended up back in the USA.
Last week, though, I was looking at the points.com website and realised that they are a points.com transfer partner.
This is what I can get for 8,875 Virgin America Elevate miles:
7,071 US Airways miles
3,898 American Airlines miles (stupid choice, given that US and AA have merged!)
7,543 IHG Rewards Club points
8,381 Melia Rewards points
The IHG Rewards Club transfer is a good deal for me.  I value IHG points at £5 per 1,000.  By transferring my 8,875 and my wifes 8,000 Elevate miles, we will receive a total of 14,300 IHG Rewards Club points.
That is £70 of value, which is 50% of what I paid for my Virgin America flight last year.
I would obviously get more value for my Virgin America miles if I kept hold of them and eventually used them for another Virgin America flight.  The odds of doing that before they expire are slim though.
Another sweet spot – Air Canada to US Airways
For reasons unknown, there is one points.com 'sweet spot' redemption for Air Canada Aeroplan miles. Assuming you have 20,000 Air Canada miles languishing unloved, this is what points.com will offer you:
16,802 US Airways miles (this is the good one, basically 1 : 085)
7,500 American Airlines miles
14,450 IHG Rewards Club points
16,055 Melia Rewards points
There are also other options, but they are not relevant to the UK market.
You need to remember that US Airways and American Airlines have merged. At some point in 2015, US Airways Dividend Miles will merge with the American Airlines programme, allowing you to pool your miles. If you have at least 15,000 Air Canada miles doing nothing (15,000 is the minimum Air Canada transfer) AND you have an American Airlines or US Airways account then it is a trade worth considering.
There are no fees to pay to anyone for 'exchange' transactions.  However, when looking at the points.com website, you will note that it also allows you to trade points with other members, after paying a stupidly large fee. This is always poor value and I do not recommend it. When seeing what you can get for your points, look at the 'exchange' results and not the 'trade' results.
Virgin Atlantic Elevate and Air Canada Aeroplan are not the only currencies you can trade via points.com. You can also use it to offload American Airlines miles (25,000+), Melia Rewards points (2,500+), Amtrak Guest Rewards (1,000+), Asia Miles, Avianca Lifemiles (1,000+), Delta SkyMiles, IHG Rewards Club and US Airways miles, amongst others.  The best thing to do is sign up for points.com and take a look.
As the rates are generally poor, it is best used for clearing out 'orphan' miles.  But remember, ONLY look at the 'Exchange' options, not the 'Trades', unless you 100% sure you are getting a good deal. Not surprisingly, you'll find the 'Trades' listed first …..