Flybe flights now available for Avios redemption on ba.com
Links on Head for Points may pay us an affiliate commission. A list of partners is here.
Since last Friday, selected Flybe flights have become available for redemption on ba.com.
This is the final part of the process which began with the announcement in October that Flybe would be scrapping its own rewards scheme and issuing Avios points instead.
There isn't, as yet, a full list of which Flybe routes will be available.  The only 'fact' I was told is that no London City routes would be included – but it turns out that they are!
Flybe redemptions are not included in Reward Flight Saver.  This means that your taxes will not be capped at £35 and the redemptions may look poor value compared to a cash ticket.
There is a decent amount of redemption space available.  On 8th July, for example, the three flights from Aberdeen to London City are offering 8, 8 and 4 seats respectively.
In this example, the cost is 4500 Avios + £31.  Looking at flybe.com, the cash cost for the three services that day is £50.  You are saving £18 for using 4500 Avios, a truly terrible redemption rate.
Because Flybe seats don't tend to cost a huge amount, I think you will always struggle here.  If you fly in just eight days time, a single ticket on this route is just £59.99 and, whilst Avios seats are there, you are still only saving £28 for your 4500 points.
(EDIT:  Perhaps I am wrong!  The comments below show a Flybe segment for €360 which was available for 4,500 Avios, as well as other examples.  Flybe redemptions may turn out to be more valuable than we think.)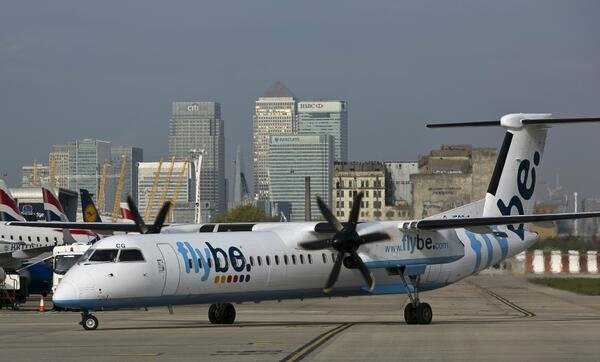 What about Flybe redemptions via avios.com?
This is the odd thing.  You have ALWAYS been able to redeem some Flybe flights via avios.com.  It is one of four airlines – along with Aurigny (Channel Islands), Air Malta and Monarch – where avios.com lets you redeem but which are not available on ba.com.
I have not yet got to grips with the different availability on Flybe between avios.com and ba.com.
On 8th July, for example, avios.com is showing 9+ seats on a flight from Aberdeen to London City where ba.com only shows four.  ba.com shows three options via Birmingham whilst avios.com only offers one.
On February 10th, avios.com shows no seats between Aberdeen and London City whilst ba.com is offering them.
The only advice I can give at the moment is that, if you're interested in redeeming for a Flybe flight, you should check availability on both avios.com and ba.com – and then on flybe.com to make sure you are not being legged over!
The Flybe route map is here if you want to look at possible options.