Hats off to IAG as Iberia returns to profit – and why you may be flying it more often
Links on Head for Points may pay us an affiliate commission. A list of partners is here.
A self-congratulatory page has appeared on the Iberia website celebrating the return to profit of the airline. For once, I don't blame them for running it. (Click 'Idioma' on the top line if it comes up in Spanish.)
Some people hold the view that the acquisition of Iberia by British Airways in 2009 (although it took until 2011 for the deal to complete) was primarily an attempt by BA to get its hands on Iberia's €1bn cash pile at a time when BA was not in the best of health.
Handing over 45% of the combined IAG to Iberia's shareholders in return for a loss-making airline with, literally, a litany of 'Spanish practices' seemed – and still seems – generous to put it mildly.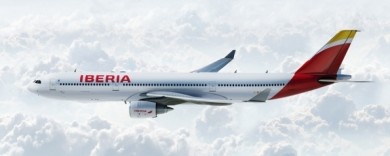 Let's give IAG some credit. Iberia has gone from losing €1m per day to being profitable.
Routes which were ditched as unprofitable have been reintroduced – I wrote about the new Cuba and Colombia services on Sunday.
Iberia's new business class seat, which I flew in 2013, is fully flat and available on almost all the fleet
16 new long-haul aircraft – 8 x A330's and 8 x A350's – were ordered last year for delivery through to 2020
In June, August and October last year, Iberia was the most punctual airline in the world according to FlightStats with 91% of aircraft departing on time. This is despite the massive job cuts that IAG managed to negotiate with the unions and which formed the basis of the turnaround.
They even have a modern logo at long last!
Iberia still has some way to go, of course. In the first nine months of 2014, budget sister airline Vueling was almost as profitable – €140m vs €162m – despite being smaller, and British Airways made €607m. You can see why, even now, giving Iberia 45% of the merged business was over the top.
New Iberia routes to Manchester and Edinburgh will be launched this year. With Iberia redemptions now SUBSTANTIALLY better value than BA redemptions under the new Avios structure, we may all find ourselves spending more time in Madrid.
PS. I had an email last night announcing an Avios sale on some new Iberia routes. More on this tomorrow.