My review of the Singapore Airlines First Class lounge at Heathrow Terminal 2
Links on Head for Points may pay us an affiliate commission. A list of partners is here.
This is my review of the Singapore Airlines First Class lounge at Heathrow Terminal 2.
The Singapore Airlines lounge at the new Heathrow Terminal 2 has only been open for a few weeks, even though the terminal itself is nearly a year old now.  Whilst I was waiting for my tour of the Singapore Airlines A380 (see this article from Saturday) we hung out in the new First Class section.
The Singapore lounge is over in Terminal 2B.  This is where most of the long-haul flights depart from and where you will find the amazing United Club lounge, the Air Canada lounge (not visited) and the Singapore Airlines lounge.  Over in the main building you have the Lufthansa lounge (review here), the Aer Lingus lounge (reviewed here) and the independent Plaza Premium lounge (reviewed here).
Unfortunately, most of the food and drink was removed before we arrived!  There is a large gap between Singapore Airlines flights during the afternoon so there were no passengers there.  I did not see inside the Business Class lounge but I will be there next week and will report back.
With only 12 suites in Suites Class on an A380, the First Class lounge is never going to be busy.  It is not a large space but is very tastefully done.
The idea seems to have been to create a series of zones depending on what you want to do.  If you are hungry, there are a few tables by the window where you can eat: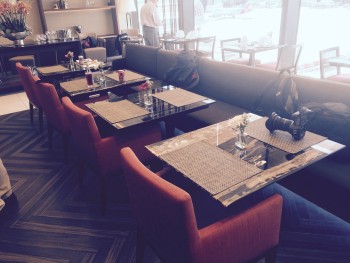 I think there is a 'to order' menu but don't quote me on that.  There is certainly a substantial buffet area available: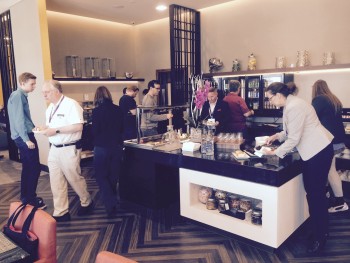 (Remember that the lounge will usually only have a handful of people in it, as opposed to the large group I was with!)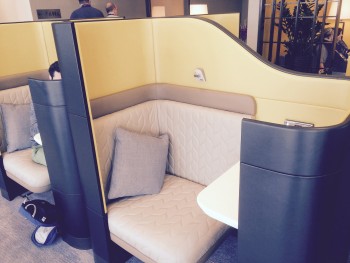 If you want to work, there are airline-seat style booths available where you can plug in a computer, although there are not any provided.  If you simply want to rest, there are a couple of semi-private areas where you can relax: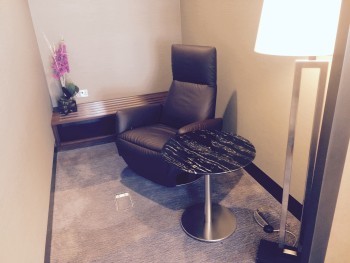 Finally, if you just want to sit down with a coffee and read a newspaper, there is a corner for that as well:
As an example of a calming, modern space, designed to allow a very small group of people to relax in whatever way they want before a flight, I think it is a success.  I look forward to comparing it with the business class lounge in a few days.