The "Avios Redemption University" series is a good starting point for beginners, although I hope everyone will learn something from them.  Click here to see the other articles.
With the US being a top tourist destination for Brits, it is worth remembering that Avios can have substantial value when you redeem them for American Airlines or Alaska Airlines flights inside the US.
The fantastic news is that there is minimal tax to pay when redeeming for internal US flights.  Neither AA or Alaska impose fuel surcharges and there is no US equivalent to the UK's Air Passenger Duty.
For example, a return flight from New York to Boston on American Airlines costs 9,000 Avios plus just £7 of taxes in Economy.
IMPORTANT:  The pricing of domestic redemptions in the US using Avios points will change from 2nd February 2016.  Details of the new prices can be found in this article.

Since the new Avios airmiles pricing system came into effect in 2011, the miles needed for many intra-US flights has dropped sharply.  Ironically, most US residents who understand the 'miles and points' game are now building up their Avios – why pay 12,500 American Airlines miles to fly Boston to New York when you only need 4,500 Avios?  AA also charges a $75 fee for redemptions using AA miles within 21 days of departure, whilst BA does not.
Under the current structure:
a flight of under 650 miles (Zone 1) is 4,500 Avios each-way in Economy
a flight of 650 – 1,150 miles (Zone 2) is 7,500 Avios each-way in Economy
a flight of 1,151 – 2,000 miles (Zone 3) is 10,000 Avios each-way in Economy
a flight of 2,001 – 3,000 miles (ie New York to Los Angeles, Zone 4) is 12,500 Avios each-way in Economy
To see Business Class pricing, use this chart.  Note that flights on partner airlines are ALWAYS priced at peak day rates, whatever day you fly.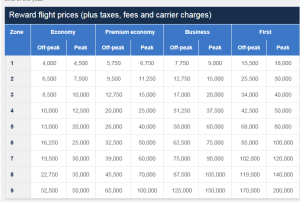 The only restriction to get this pricing is that you must travel non-stop, without a change of plane.  If you change planes, you will be charged each flight separately.
You can also see how many Avios are required for a flight by using the Avios Calculator on ba.com.  Remember to look up each flight separately when a connection is required.
The following routes are generally regarded as examples of flights inside North America which offer great value, either because they just scrape into the top end of their Avios pricing band or because lack of competition leads to high pricing:
New York to Montreal (4,500 Avios each-way, American)
San Francisco to Honolulu (12,500 Avios each-way, Alaska)
Los Angeles to Honolulu (12,500 Avios each-way, American)
San Francisco to Los Angeles (4,500 Avios each-way, American)
Detroit to New York LaGuardia (4,500 Avios each-way, American)
Atlanta to New York LaGuardia (7,500 Avios each-way, American)
Atlanta to Chicago (4,500 Avios each-way, American)
Miami to New York LaGuardia (7,500 Avios each-way, American)
Miami to Key West (4,500 Avios each-way, American)
St Louis to New Orleans (4,500 Avios each-way, American)
Toronto to Chicago (4,500 Avios each-way, American)
Long – and expensive – flights which still drop under 3,000 miles and thus cost just 25,000 Avios return in economy include:
Miami to Lima
US West Coast to US East Coast
Easter Island to Tahiti, Santiago or Lima
Hawaii to West Coast USA and Alaska
If you are struggling to find flights from the UK to the Caribbean, you can also take advantage of American Airlines connections to transfer cheaply from the US mainland.  Perhaps you could have a 'city and beach' holiday instead?
New York to Bermuda is only 7,500 Avios one way
Miami to Cancun, Grand Cayman, Montego Bay or Turks & Caicos is only 4,500 Avios one-way (Barbados etc is further, so 10,000 Avios each way)
When thinking about using your Avios for US flights, you will find the highest number of routes out of the main hub airports.
For Alaska Airlines, that means Seattle, although it has smaller hubs in Anchorage, Portland and Los Angeles. 
For American Airlines, the main hubs are Dallas, Chicago, New York JFK, Los Angeles and Miami.  It also has the ex-US Airways hubs in Philadelphia, Charlotte, Phoenix and Washington National.
Baggage allowance
Domestic flights in the US booked with Avios usually come with no baggage allowance if booked in Economy.  I wrote more about this here.
How to book
If your Avios sit in avios.com, you will need to use 'Combine My Avios' to move them to British Airways Executive Club before you can book.
American flights can be booked on ba.com without difficulty.  If you need to connect, ba.com may struggle to put together a routing so you may find it easier to look up individual flights and then ring ba.com to book the whole itinerary.
(One tip is to do a dummy redemption booking on aa.com – you don't need to log in or even have an AA account.  This will often show you potential redemption routes with connections which ba.com was not clever enough to find.  You can then ring the BA call centre and ask it to book the flights that were shown as available on aa.com.)
Alaska Airlines flights can only be booked by telephone with British Airways Executive Club.  The next article in this series will look specifically at Alaska and its routes to Hawaii.