IHG Rewards Club – the InterContinental, Holiday Inn, Crowne Plaza etc scheme – has brought back its '100% buy points bonus' promotion.  It is as generous an offer as you will ever see for IHG points.
The offer runs for ten days only, until November 30th.
Here are the standard purchase rates which do NOT include the bonus:
1,000 – 10,000 points for $13.50 per 1,000 points
11,000 – 25,000 points for $12.50 per 1,000 points
26,000 – 60,000 points for $11.50 per 1,000 points
You receive a 100% bonus with ANY order, however small.  This is an improvement on when this offer ran last year, when small orders did not get the full bonus.
With a 100% bonus, you would be able to buy 120,000 IHG points for (at current exchange rates) £453.
The page to buy points is here.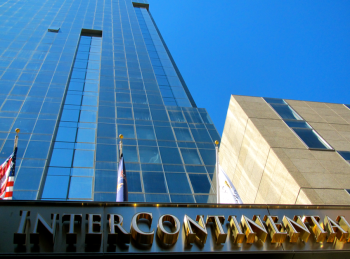 At the top end of the IHG Rewards Club portfolio, you have InterContinental properties which top out at 50,000 points per night. That's what you would pay for InterContinental Le Grand in Paris or the InterContinental Amstel in Amsterdam.
With a 100% bonus, IHG is effectively selling you a night at these properties for £189 all-in.
There is no doubt that this could be a great deal. Taking a random night in December (7th), InterContinental London Park Lane is £245 (surprisingly cheap, it usually £350ish), InterContinental Paris Le Grand is €354 and InterContinental New York Times Square, pictured above, is an astonishing $726 including tax.  All three had reward nights available.  In addition, remember that these prices are for non-refundable rooms whilst your reward booking would be cancellable.
Of course, I could run a different list of low season dates at the same properties – or other hotels in the group – where this would not look like such a great deal. That said, I doubt you will ever pay less than £184 for the IC's above at any time of year.
At a more prosaic level, hotels like the Holiday Inn Commercial Road in London (which is only a couple of years old) are 30,000 points.  That would be £113 per night if you bought the points via this deal.
This special offer is cheaper than the infamous 'cash and points and cancel' trick which I summarise at the bottom of this post. You are paying $7 per 1,000 via that method compared to $5.75 per 1,000 with the 100% bonus.
You are running the risk of IHG changing their reward scheme before you spend the points.  That said, the risk is small in the short term as IHG has already revised its reward pricing this year.
This 'buy points' offer runs until November 30th. You can buy via this link.
The maximum number of points you can buy is 120,000 (ie 60,000 plus the 60,000 bonus).
(NB. The 'cash and points and cancel' trick requires you to have 5,000 IHG points in your account. Find a 15,000 point property and book a reward night. You will be forced to use 'cash and points' which is 5,000 points plus $70. Once you have booked, cancel. Your $70 is not returned to you – instead, you get 15,000 points back in your account. You have therefore effectively bought 10,000 points for $70. Repeat as required.)
(Want to earn more hotel points?  To see our complete list of promotions from the major chains, click here to visit our 'Hotel Promos' page or use the link in the menu bar at the top of the page.)