Review of the American Airlines lounge, London Heathrow Terminal 3
Links on Head for Points may pay us an affiliate commission. A list of partners is here.
This is my review of the American Airlines lounge in Heathrow Terminal 3.
This is part of our series of reviews of airport lounges across the UK.  You see all of the reviews here.
I flew to Helsinki a fortnight ago to test drive the new Airbus A350.  As Finnair fly from Heathrow Terminal 3, I had five lounge options:
I decided to visit them all!  Having started off with the two third-party lounges (No 1 Traveller – outstanding, Swissport – dreadful) I moved on to the oneworld options.
I reviewed the British Airways lounge in Terminal 3 here.  I had planned to review the Cathay Pacific lounge as well, but I didn't know when I visited that it was about to close for refurbishment.  As it is now shut – I was one of the last people to visit, it seems! – there is no point wasting pixels on it.
This leaves the American Airlines lounge.
I had heard some fairly positive things about this lounge – no-one is ever going to rave about an American Airlines lounge, of course, but the buzz about this was not too bad.  I was therefore a little surprised with what I found.  You need to remember that I was there at 5.30pm in the afternoon which appears to be a lull in the AA schedule.
The reception area is very smart indeed.  I get a feeling that it has been refurbished far more recently than the lounge itself.
I walked around the corner and found myself in a h-u-g-e space.  It feels far bigger than the British Airways lounge.  What is lacked, however, was guests: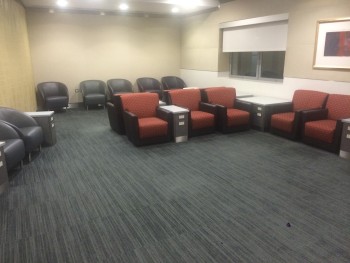 …. any guests …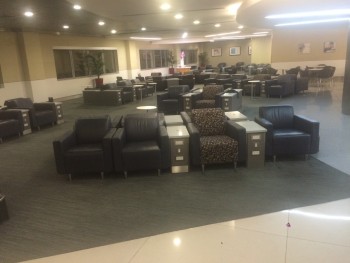 … anyone there? ….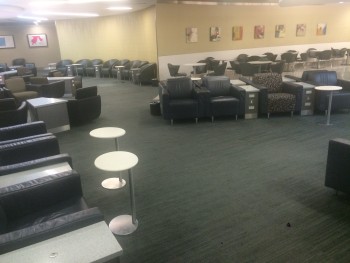 … anyone, please? ….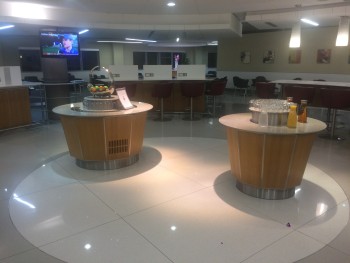 The good news is that it seemed I would have an entire buffet to myself.  Sadly the food, whilst obviously not as bad as the British Airways selection next door, was still not fit to lace the boots of the No 1 Traveller spread upstairs.  There was some pasta: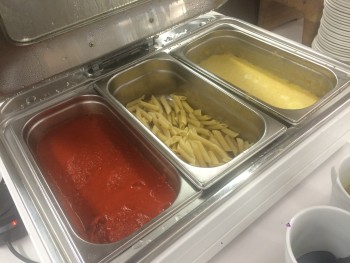 …. some salad ….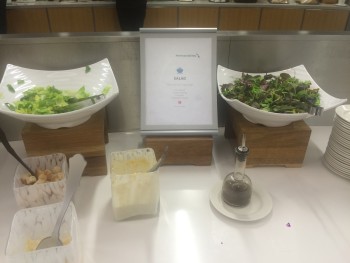 … and some sandwiches ….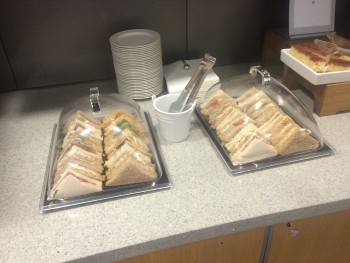 I don't have a photograph of the self-service bar.  It was nothing to write home about – I didn't see champagne in any of the lounges I visited (it would have been in the First Class section of the BA lounge) although the now-closed Cathay lounge did have prosecco.
What AA did have was sweets!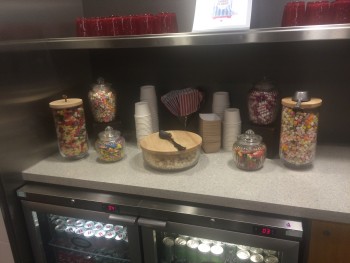 It also had a large number of computers for your use (although BA had more) and the usual terrible 'only there because they paid us' selection of magazines.
It is difficult to write about a lounge when you are the only guest – there were no staff either.  Just me and this big space.  It was a bit spooky!  It gave me too much time to consider the state of the furnishings, which were frankly pathetic and look as it they escaped from the reception area of a 1970's office block.
I am guessing (well, hoping) that the lounge comes to life in the early evening with decent food and a few other guests.  I can't recommend visiting at 5.30pm, however ….
From my tour of Terminal 3, the clear winner in the lounge stakes is No 1 Traveller.  You can access with a Priority Pass or buy access via their website.  Of the oneworld airline lounges, British Airways is the best of an uninspiring bunch.
I am hoping to visit the Virgin Clubhouse in Terminal 3 in 2016, which is somewhere I haven't visited this century.  It is time I paid it a visit again.