My review of the new Club Aspire lounge in London Heathrow Airport Terminal 3
Links on Head for Points may pay us an affiliate commission. A list of partners is here.
This is my review of the new Club Aspire lounge in London Heathrow Airport's Terminal 3.
This is part of our series of reviews of airport lounges across the UK. You can see all of the reviews here.
Most of the excitement in the airport lounge world this month has been over the excellent new Cathay Pacific First and Business Class lounges in Heathrow Terminal 3. Here is our Cathay Pacific Heathrow lounge review based on the press preview day. I also popped in on Thursday morning to take a look for myself – and it is impressive.
My main target on Thursday was elsewhere though. At the end of October, the unlamented Swissport lounge in Terminal 3 closed. This was a dog, frankly, as I reviewed here.
Swissport hasn't even bothered trying to renovate its facility (hopefully No 1 Lounges will expand into the empty space). Instead, Swissport and Collinson Group have come together to build a new lounge under their Club Aspire brand.
The good news is that this lounge participates in Priority Pass (buy one here, or get two free with American Express Platinum) and Lounge Club (two free one-visit passes come with the free American Express Preferred Rewards Gold). Many Head for Points readers will therefore be able to get in for free. You can also buy day passes from Swissport here.
Club Aspire has done a good job with this lounge. The space is not huge but it has been used more successfully than in the Terminal 5 facility.
Where is the Club Aspire lounge in Heathrow Terminal 3?
Club Aspire is on the main lounge 'drag' in Terminal 3. Historically you would have turned right when entering the lounge corridor for the old Swissport facility, as well as BA and No 1 Lounges. You now turn left, past the Cathay Pacific lounge. Aspire is on the right, halfway between the Cathay and Emirates lounge pavilions.
Click on any of the pictures to enlarge: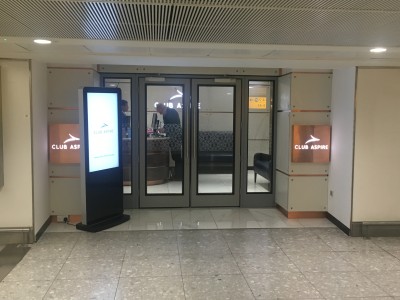 As you enter, the bliss spa is to the right (more on that later) and the main lounge on the left.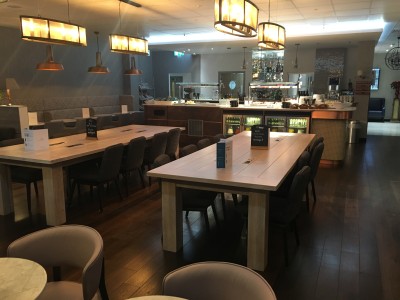 What you have is a large open space with two main central communal tables. The entrance is on the right at the back. What isn't clear from this picture is that the buffet is set a few feet in front of the bar behind it. (Apologies for the low light but it was 8am when I took these pictures.)
Along the left is some sofa-style seating with a view out to the tarmac: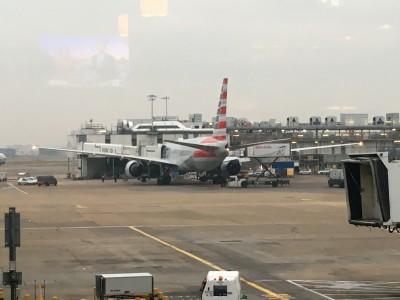 with some more seating to the right.
At the back of the lounge are two separate areas. There is a 'Quiet Area':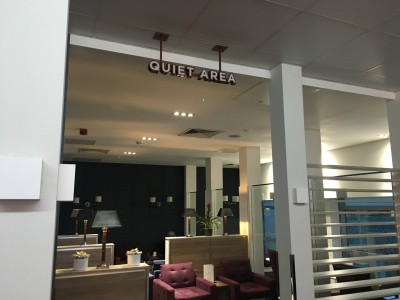 and 'Rest Pods', which are free-to-use day beds in a low light area. There is an amusing disclaimer outside saying that Aspire is not responsible if you fall asleep and miss your flight …..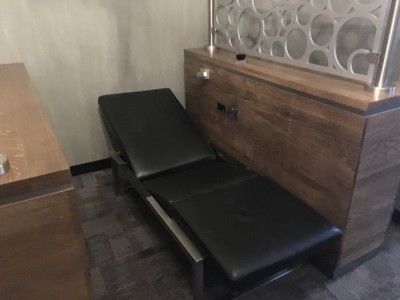 There was a decent breakfast buffet available featuring the usual hot and cold suspects, for example: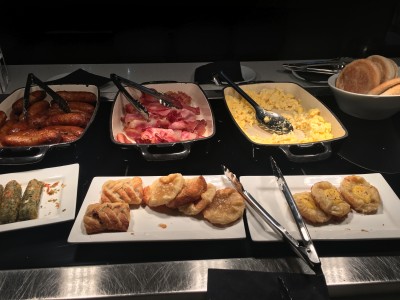 plus cereal, fruit etc.
There is also premium paid food available later in the day which requires 20-30 minutes preparation time. Dishes include butternut squash and goats cheese risotto (£5.99) and a burger with sweet potato fries (£5.99). 'Wine Flight' tasting selections – three different wines for £10-£13 – are also available.
Talking of drink, there is a full bar but, given the early hour, I didn't try it out.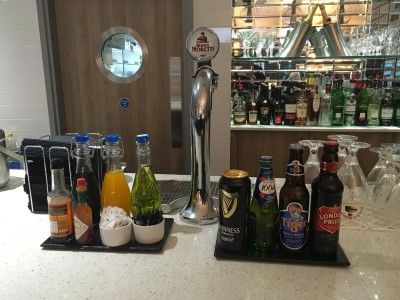 One final note …. this lounge has LOTS of power sockets. They are everywhere.
The spa at Club Aspire
….. was not open at 8am.
The spa has a range of express 20 minute and luxury 40 minute treatments. These are mainly priced at £20 and £40 respectively which, given the bliss branding, seems reasonable.
Note that, whilst the lounge has two showers, they are charged at £15 for a 30 minute slot.
Club Aspire Heathrow Terminal 3 on video!
Here is a short video of my Club Aspire visit. If you can't see it below, you can watch it via our YouTube channel here.

Conclusion
Aspire has done an excellent job with the Club Aspire lounge in Terminal 3. As long as it doesn't get too busy, you will find it a perfectly pleasant place to pass a couple of hours.
The No 1 Lounge in Terminal 3 is also very good – and far larger than Club Aspire. Heathrow, and indeed Gatwick (once the terminal switch chaos is over) passengers are lucky so have so many superior third party lounges available to them.
You can buy passes for the Club Aspire lounge in Terminal 3 here.