Review of No 1 Lounge, London Heathrow Terminal 3
Links on Head for Points may pay us an affiliate commission. A list of partners is here.
This is my review of the No 1 Lounge in Heathrow Terminal 3.
This is part of our series of reviews of airport lounges across the UK.  You see all of the reviews here.
I flew to Helsinki last week to test drive the new Airbus A350, of which more soon.  All of my flights from Terminal 3 in the last few years have been on Emirates, where we would head directly to the Emirates lounge.  As you could board directly from there, there was little incentive to check out the other options.
For my Finnair flight, I was overrun with lounge options:
No 1 Lounge (via Priority Pass)
Swissport (via Priority Pass)
Cathay Pacific (the 'official' Finnair lounge)
British Airways (a oneworld partner of Finnair)
American Airlines (a oneworld partner of Finnair)
Being the indecisive type, I decided to try them all!  I will review them all over the next few days in the order in which I visited them.  First up, No 1 Lounge.
No 1 Lounge at London Heathrow Terminal 3
I like No 1 lounges.  HFP reader Alan reviewed Edinburgh for me here.  I wrote a very positive piece about their Gatwick North lounge last year, and the new 'sister' facility MyLounge this year.  The new private Clubrooms in Gatwick South were covered here.
(If I'm honest, the No 1 Gatwick South lounge is a bit of a zoo but that is being replaced in February 2016 by a new state-of-the-art lounge in a different location.)
The Heathrow Terminal 3 lounge can be accessed for cash, via Priority Pass (free with Amex Platinum, or you can buy one directly) or various other access schemes. It is not in Lounge Club, however.
As you can see from the sign:
this lounge also has a spa (paid) and a number of bedrooms (also paid) which you can use.  I didn't visit either but the option is there if you want it.
I think you have to be a bit of a miserable sod not to find No 1 lounges fun.  Terminal 3 has a games room: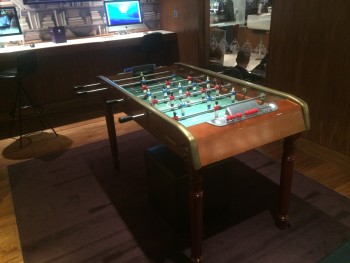 It has a cinema: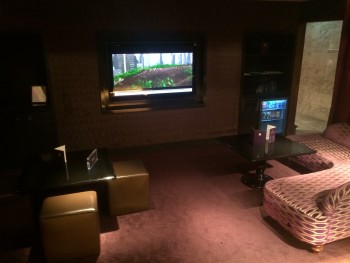 It has silly pod chairs you can swing around in and pretend to be a James Bond villain: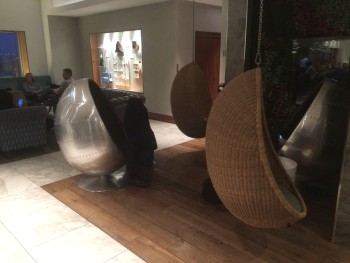 It has a library, albeit with no books!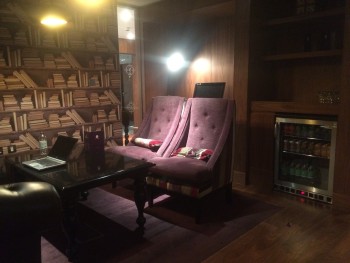 They will make you a 'cooked to order' fish finger sandwich (the first 'cooked to order' item on the menu is free, further items are £4 each):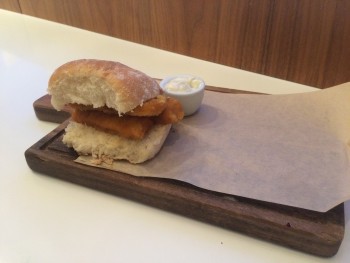 There is a proper buffet and (not photographed) a full bar.  Most alcohol is free except for premium spirits, champagne and prosecco, which can be purchased for cash.  What I didn't realise when I was there, as this was the first lounge I visited, is that the buffet compared exceptionally well to what the other lounges were offering in the 3pm to 5pm window – which was generally nothing.
The computers are new Macs.  There is a good selection of newspapers and magazines (note, BA and AA, that the lounge has magazines you might want to read as opposed to those paid for by the highest bidder).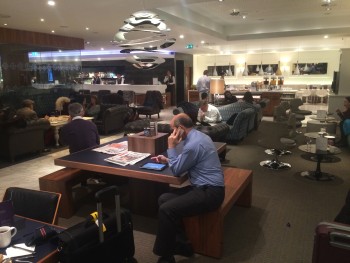 I thoroughly recommend this lounge if you are flying out of Heathrow Terminal 3.  I would even be tempted to use it, given that I have a Priority Pass, instead of the British Airways lounge when flying BA.  I am getting ahead of myself, though, as my next stop after No 1 Lounge Terminal 3 was the Swissport lounge immediately adjacent.  OMG …. that review is here.