From Doha to Ras Al Khaimah ….
Links on Head for Points may pay us an affiliate commission. A list of partners is here.
This is part of my trip report on my Middle East visit last week.  I have already looked at the Qatar Airways Premium Lounge at Heathrow Terminal 4 and Qatar Airways A380 Business Class.
This article is not so much a report, more like joining a few dots before the main story continues tomorrow ….
You will remember that I was in Hamad International Airport in Doha after arriving from London:
I headed up to the Al Mourjan Business Lounge.  This is an excellent facility but, as I reviewed it in depth 16 months ago, I won't repeat myself.
It remains a very impressive, although overtly large, lounge with excellent food and drink.  They seem to have stopped serving Krug now, however.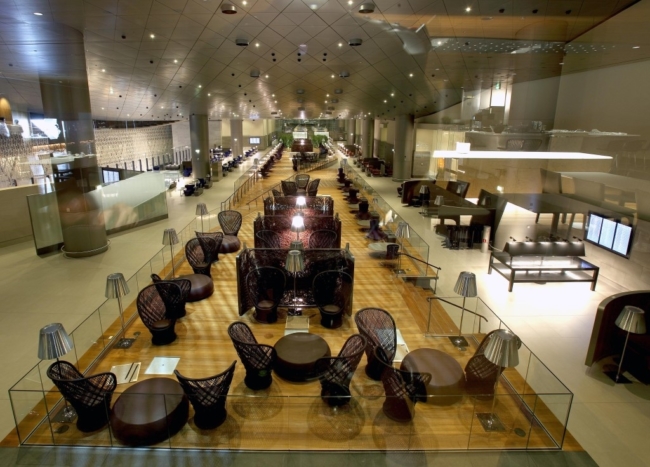 The connection time to my Ras al-Khaimah flight was short.  I was upgraded to First Class at the gate (this had been pre-arranged with Qatar Airways as part of my press ticket, subject to availability).  It turned out that I was the only person in First Class: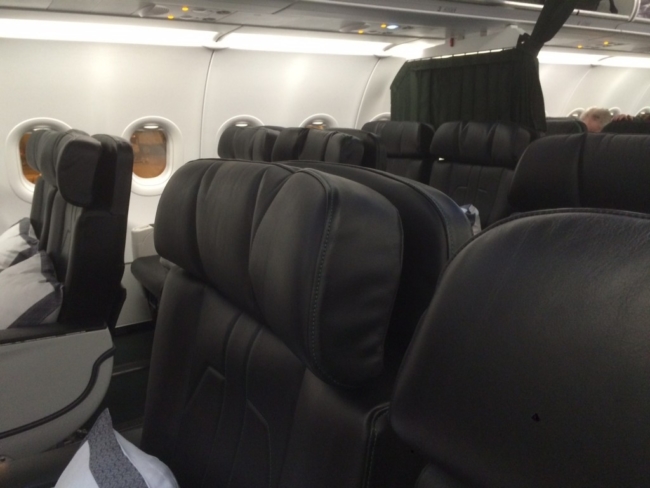 I did a full review of Qatar Airways regional First Class just before Christmas so I won't repeat myself.  This time the meal, for what was the equivalent of a London to Paris flight, was the prawn dish below.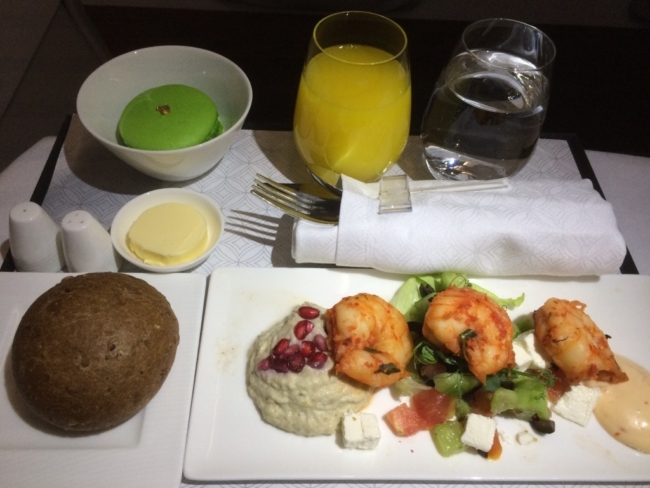 At Ras al-Khaimah we were bussed to the terminal.  One bus turned up – possibly the only bus they have.  The crew had closed the curtains between First and Economy. I disembarked the aircraft, got onto the bus, and off it went on the 100 metre trip to the terminal.  It dropped me off and drove back to the plane to collect the other 30 or so passengers ….
Visiting Ras al-Khaimah airport is not like visiting Dubai International, Abu Dhabi or Hamad International.  It is like visiting London City Airport circa 1985.  When you were in Hamad International – one of the longest free-standing buildings in the world – 45 minutes earlier, you can't help but feel a little strange.  It felt like arriving in the Caribbean.
With only a handful of flights per day, the immigration staff were not busy.  I was through in record time (I could have walked through the terminal in 20 seconds were it not for the immigration desks) and into a taxi for the £12 ride to the Waldorf-Astoria hotel.
I first visited Dubai in 1997 when I was working on the financing of a chemical plant at Jebel Ali.  At that time, there was a long stretch of desert between the city and Jebel Ali, a gap which no longer exists.
This is, to be honest, what I expected to see as I drove through Ras al-Khaimah.  In truth, this is probably a picture of what Ras will be like in 10 years time.  It is, today, a very low rise city and the drive reminded me of driving holidays in small-town USA from my youth.
To be continued ….