My review of Qatar Airways impressive A380 business class
Links on Head for Points may pay us an affiliate commission. A list of partners is here.
This is my review of Business Class on a Qatar Airways A380, from London to Doha.
As I explained yesterday, I travelled down to the Emirate of Ras al-Khaimah last week as the guest of Qatar Airways.
At the start of February, Qatar Airways started direct flights between Doha and Ras al-Khaimah.  Ras al-Khaimah is a popular weekend destination for people living in the Emirates, both for its beaches and for its mountains.  It is also developing as a holiday destination in its own right with resorts which are quieter and cheaper than those in Dubai.
The Doha to Ras al-Khaimah service is currently restricted to four flights per week.  These are well timed to connect with Qatar services from Europe, however, and my connection time in Doha to / from London was under 2 hours on both the outbound and return.
At other times, it is a sub-1 hour drive to Dubai International or Al Maktoum airports in Dubai.
Introduction
Today I am reviewing the Business Class service on the Qatar Airways A380.  The 9am A380 flight from London connected directly with the evening flight to Ras al-Khaimah.
I have covered other Qatar aircraft and flight classes in earlier reviews:
The Qatar Airways schedule out of London seems to have 'settled down' in the last 12 months.  This means that you have a pretty good chance of actually flying on the aircraft type booked!
Boarding the Qatar Airways A380
I discussed the Qatar Airways Premium Lounge at Heathrow Terminal 4 in my review yesterday.  It is a short 30-second walk from the lounge down to the Qatar gate.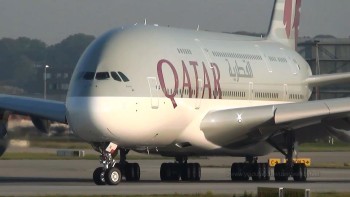 Business Class seating on the Qatar Airways A380
The new Boeing 787-8 and A380 aircraft contain the very latest version of the Qatar Airways business class seating.  It is very, very good if you are a solo traveller, as the layout is 1-2-1.
This is how the Boeing 787-8 cabin looks using a professional photographer and studio lighting: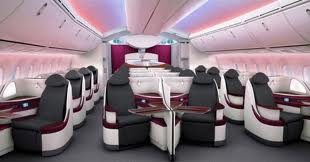 and this is what the A380 version looks like in 'real life':
and
I had a solo window seat.  As you can see, the seat is far closer to British Airways First Class than British Airways Club World.  You certainly have less personal space than BA First but it is light years ahead of the offering in Club World if you are travelling on your own.
The flat area by the window is big enough to hold your newspapers, books, magazines and, erm, pre-flight Drappier rose champagne:
The 1-2-1 layout is similar to that used by Virgin Atlantic, Cathay Pacific, Air New Zealand and various others.
The trade-off for the additional privacy and space is that your feet disappear under the seat in front and that the seats do not face forward – you are angled in a herringbone pattern.  Neither of these were, in any way, inconvenient – especially if you are in a window seat as you will be facing the window.
The only thing I did not like is that the TV is fixed in position.  It does not fold away.  Even if you don't plan to watch it (and I rarely do) you are forced to look directly at it for the whole flight:
The screen in the picture above shows the clever new safety video featuring FC Barcelona which you can see on YouTube here.
Toiletries
The toiletry bag was Armani-branded.  It contains a very small (10ml?) Armani EDT as well as a large 75ml aftershave balm as the usual mix of non-Armani socks etc.
Toothbrushes, razors etc are available in the toilets.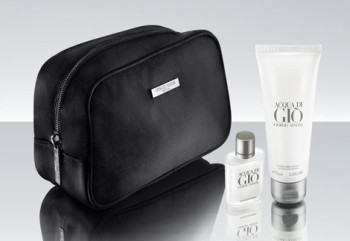 Food and drink
Qatar's food and drink is generally of very high quality – I generally rank it above Emirates and Etihad in Business Class, although the Etihad onboard chef gives it the edge in First.
Despite the 9am departure time, Qatar decided to serve an early lunch instead of a late breakfast which was, in my view, the right thing to do.
The menu was:
Pea and mint soup
Classic arabic mezze
or
Smoked mackerel with green bean salad (see below)
Braised lamb shank with dried fruit couscous
or
Marinated chicken breast with puy lentils (see below)
or
Paneer with mussalam sauce
Cheese plate
Cherry and almond frangipan tart (see below)
or
Gourmet ice cream
or Seasonal fresh fruits
Lighter options (savoury pastries, steak sandwich) were also on offer.
The best was actually the dessert, as usual, but the rest of the meal was equally well cooked.  The chicken dish is a little 'brown' but that how lentil dishes usually end up!
I stuck to the Drappier rose throughout the flight.  The other champagne is Billecart-Salmon Brut.  Wine options included a Rully Premier Cru Gresigny chardonnay and a Babich Sauvignon Blanc amongst others.  Dessert options were an Arthur Metz Gewurzraminer and a Dow's 10 year old port.
There is also the A380 bar towards the back of the aircraft.  This is a 'proper' bar unlike the small 'table' found on the Boeing 787 fleet.
Having now flown the A380 twice, I have to say that I prefer the bar to the Emirates and the Etihad versions, although the EK one has a classier feel.  What makes the Qatar bar preferable – to me – is the curving seat layout:
…. which gives you more privacy.  Emirates and Etihad make you sit in a semi-circle or full circle respectively.
This is a photo I took on my previous Qatar Airways flight: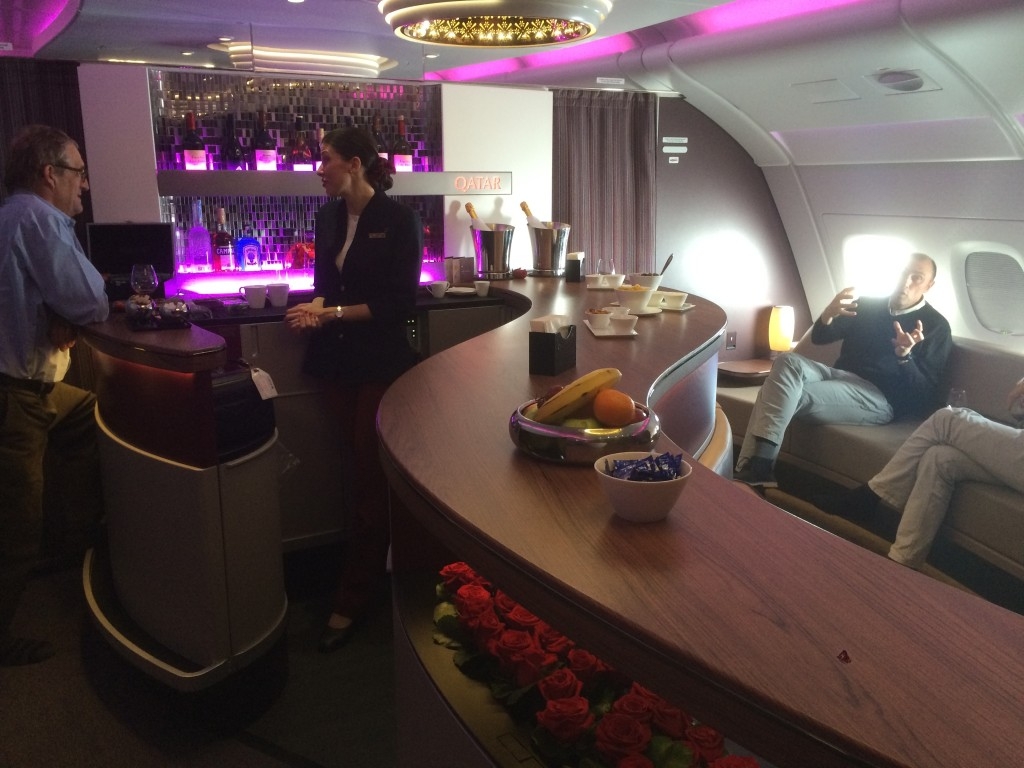 I was surprised how quiet the bar was during a day flight when you would have expected people to be keen to use it.
In a major blow, there was no Krug available on my flight!  It was in the bar when I flew A380 First Class before Christmas.  This may have been a one-off, however, because you had the odd situation where there was Krug in the bar but First Class passengers couldn't get it at their seats.
I try to avoid commenting on the crew in my reviews because you can never tell if what you had is average, better or worse than the norm.  However, the Qatar crew were excellent and I never felt, as I do with Emirates at times, that I may get the wrong thing due to the lack of English skills.  The only thing I found odd is that multiple crew members insisted on putting my knife and fork the wrong way round, eg fork to the right!
In Flight Entertainment
I covered the Oryx IFE system in my Qatar 777 business class review last year.  Due to the relatively short flight time to the Middle East I rarely use the IFE systems.  I didn't try the wi-fi either this time – I was glad of a break from my email!
The IFE did have the new Star Wars film available which impressed me.
Arrival
I had heard some bad stories about transfer times at Hamad Airport because of the security screening, albeit that there is a 'cut in' line for premium passengers.
On my outbound flight we avoided screening.  We were let out directly into the main terminal which meant that I was in the Qatar business class lounge within 5 minutes.
I am guessing that ex-UK flights are deemed secure enough not to require additional arrival screening.  By contrast, when I flew back into Doha from Ras al-Khaimah (where they don't bother asking for liquids or laptops to be taken out) I exited into secondary screening – but was through in a couple of minutes.
I'd missed the bear and it was good to see it again!
Conclusion
I have done five long-haul flights with Qatar Airways over the last 18 months.  All have been very impressive, even the Boeing 777 ones with the older seating.  
The airline was an excellent addition to the oneworld alliance when it joined.  If you get the opportunity to try them for a cash flight or an Avios redemption (and availability is generally pretty good) then you should.  The lounges, seating, food, drink and IFE in Business Class are well ahead of anything that British Airways has to offer.
The downside, of course, is that a flight on Qatar Airways will involve a change of plane in Doha which breaks up your journey.  If you live in London that may be a concern.  If you live in the regions (Qatar Airways flies from Manchester, Edinburgh and – from the end of March – Birmingham) flying from your local airport to the Middle East and changing is probably less painful than changing planes at Heathrow.
If you want to find out more about the Qatar A380 service, there is a special page on the Qatar Airways website here.
In the next article I will talk about my onward trip to Ras al-Khaimah.