A couple of weeks after a non-functioning website went up, a new partnership between Hertz and Le Club AccorHotels has been officially launched.
Accor has previously only worked with Europcar. Adding Hertz is a positive move and broadens your options for crediting Hertz car rentals now that they are no longer an Avios partner.
The key thing here, though, is that Hertz is offering a status match to all Le Club AccorHotels members.  As a large number of HFP readers are top-tier Accor Platinum thanks to their American Express Platinum cards, it means you can walk into Hertz President's Circle without doing 20 rentals first.  This is worth having.
For the rest of you, this is still worth doing.
Everyone who signs up for Hertz Gold Plus Rewards via the links below will get 900 free Hertz points.  This is good for a one-day car rental or you can transfer them into 1,000 IHG Rewards Club points, 1,000 Marriott Rewards points or 500 miles with a variety of airlines including American and Air Canada.
Benefits
Here are the full list of benefits under the Hertz / Accor partnership:
Earn 3 Le Club AccorHotels points per Euro spent for every vehicle rental at the eligible rates
Until 31st August, earn 5 Le Club AccorHotels points per Euro spent
Enjoy a 10% discount on the eligible international rates on a wide range of vehicles
Receive a status match based on your Accor tier:
Le Club AccorHotels Platinum Members can access directly to Hertz GPR President's Circle Membership
Le Club AccorHotels Gold Members can access directly to Hertz GPR Five Star Membership
Le Club AccorHotels Silver Members can access directly to Hertz Gold Plus Rewards Membership
Le Club AccorHotels Classic Members can access directly to Hertz Gold Plus Rewards Membership
Note that this offer is NOT available to US residents.  Everyone else is fine.

Is Accor now a good place to credit Hertz rentals?
Potentially yes.
An Accor point gets you 2 Eurocents of Accor hotel discount voucher, as long as you exchange in chunks of 2,000 points.  3 Accor points per €1 is equivalent to getting 6% of your rental cost back in Accor vouchers.
Alternatively, if you set up your Accor account to transfer your points into Iberia Plus, you will earn 3 Avios points per €1 spent.
(I am assuming that Accor automatically transfers partner points to airlines as well as points from hotel stays.  Perhaps a reader could confirm?)
Do NOT transfer Accor points into British Airways Executive Club as the rate is only half as good.
How do I register for my Hertz Gold Plus Rewards status match?
There are separate landing pages depending on which Accor tier you belong to:
Platinum – click here to get Hertz President's Circle membership
Gold – click here to get Hertz Five Star membership
Classic or Silver – click here to get basic Hertz membership
ANYONE can get Classic status simply by signing up for Le Club AccorHotels via this link.  You can then sign up for Hertz Gold Plus Rewards via the link above and claim your 900 free Hertz points.
At no point during the sign up process does it ask for your Accor number.  I can only assume that either Accor will be asked to validate your email or postal address or the cookie carries through from the landing page and Hertz does not do additional checks.
What happens if I am already a Hertz Gold Plus Rewards member?
You can get your status upgraded by adding the relevant Hertz CDP code for your Accor status tier (shown via the links above) to your Hertz Gold Plus Rewards account.  You will not receive the 900 Hertz points as you are not a new member.
What can I get for 900 Hertz Gold Plus Rewards points?
Most people who rent a car from Hertz choose to take airline miles instead of Gold Plus Rewards points.  Some of the deals, such as 1,000 Flying Club miles per rental from Virgin Atlantic, are very generous.
If you opt to earn Hertz Gold Plus Rewards points, you will earn 1 point per pound/dollar/euro spent excluding multipliers. These can be redeemed for free days on a sliding scale of expense, although the redemption amounts differ by country.
This is the UK points redemption chart: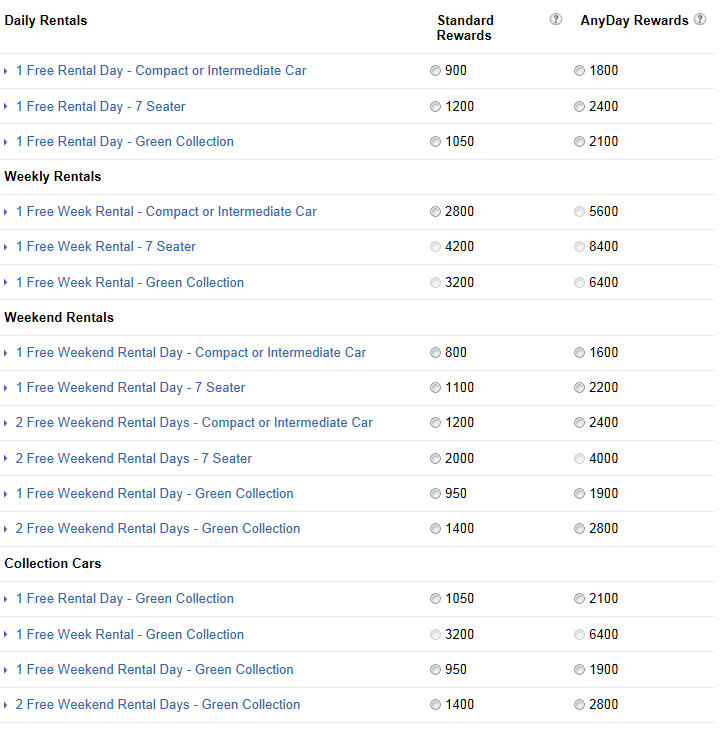 As you can see, the 900 points you get for signing up via the Accor link would get you a one-day UK rental of a small car as long as reward availability was there.  You would need to pay for insurance on top unless you have an all-inclusive policy from insurance4carhire.com or similar, or have an Amex Platinum card which includes free car hire insurance.
Points expire after no account activity within a two year period.  However, you can transfer them for free to your spouse or 'domestic partner' by calling.
Perhaps more interestingly, Hertz points can be transferred to these airline and hotel programmes in 600 point blocks:
600 Hertz points = 500 airline miles, 1,200 Southwest Points or 1,000 IHG Rewards Club or Marriott points.  The Accor rate is not stated but I doubt it would be 1,000 points – that seems too generous.  Transfers can be made online from your Hertz account.
Next steps
If you are Accor Platinum, this is a good opportunity to get yourself top tier Hertz status for free.  It may even be worth trading off Avis and the chance to earn Avios points in return for the 'no queues' Hertz Presidents Circle experience.
If you have a lower level of Accor status, including the basic status you get for signing up, the attraction here is 900 free Hertz Gold Plus Rewards points.  Those will get you a chunk of hotel points or a free days rental of a small car.
The full terms and conditions for the Accor / Hertz partnership can be found here on the Accor site.
(Want to earn more hotel points?  Click here to see our complete list of promotions from the major hotel chains or use the 'Hotel Promos' link in the menu bar at the top of the page.)