My review of La Compagnie's all-business-flight from London to New York (Part 1)
Links on Head for Points may pay us an affiliate commission. A list of partners is here.
Whilst Rob settles down to his holiday, I will be running a selection of flight and hotel reviews from my trip to New York last month. First up is my review of low-cost 'all business class' airline La Compagnie.
In July 2015 HfP reader Sam wrote a review of her La Compagnie flight from London to New York.  Since then, we have keen to try it out for ourselves.  After all, in a sale La Compagnie will sell you a return flight to New York for only a few hundred pounds more than the taxes required for a British Airways Avios redemption.
La Compagnie provided Head for Points with a specially discounted one-way flight which meant that we only paid the APD and airport taxes.  As usual, we paid all of our other expenses from our own pocket.
What is it like flying from London to New York in a one aisle plane that has only business class seats?  British Airways has been offering something similar from City Airport on an even smaller plane, a 32-seat A318, for many years now – but at standard BA pricing.
The boutique airline La Compagnie aims to offer a similar service but for a fraction of the price.  But is it really a full business class experience?
Background
Rob interviewed Frantz Yvellin, CEO of La Compagnie, back in June and there is a lot of background to the company in that article.
La Compagnie was founded in July 2014 and started with flights from Paris to New York. It launched its London – New York route in May 2015.  Two Boeing 757-200 operate on both routes – one aircraft is apparently noticeable older than the other (22 years old vs 16 years old) which happened to be the one I was on.
The lounge
Unlike most trans Atlantic flights La Compagnie flies from Luton instead of Heathrow and uses the Aspire lounge which I reviewed a couple of months ago.  I liked the lounge back in March, but had I written the review now, it would have been less positive.  All of the La Compagnie passengers cause a spike which pushes it to capacity.
The lounge was super busy and I had to wait around 5 minutes to get a drink at the bar.  Setting up wifi took forever and downloading a book onto my Kindle took 20 minutes.  The food was exactly the same as last time and, as I had heard that La Compagnie offered good food, I decided to wait.
The flight was scheduled for 5:30pm.  However a few days before the flight I got emails, phone calls and text messages from La Compagnie that they had to change the departure time to 4pm.  To give them credit, they were determined to make sure that I knew!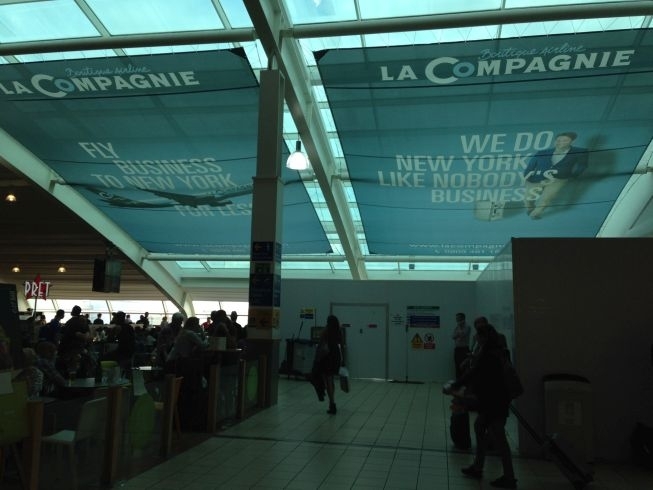 The flight

When it was time to go to the gate, things got a bit chaotic. Wizz Air had a flight from the gate opposite and their staff decided to move the waiting La Compagnie passangers as they pleased. First we were told to queue a certain way and then we had to queue from a different direction.  No one from La Compagnie said anything as we were herded around.
Thanks to the changing of the queue I ended up further back than I wanted to be and I wasn't able to get a good picture of the cabin before it filled up.  Here is a press image: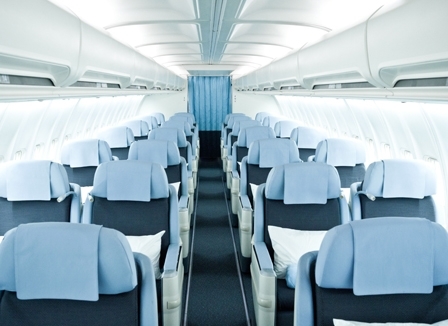 The plane has 74 seats in 19 rows.  According to La Compagnie's website 'integrated in fixed shells, [their] seats offer passengers ultimate privacy and comfort'.  Comfort ok, privacy not so much.
The seat
Right after boarding we got a welcome drink. Two bottles of water were inbetween the seats – you just need to clarify with your seat neighbour which one is which.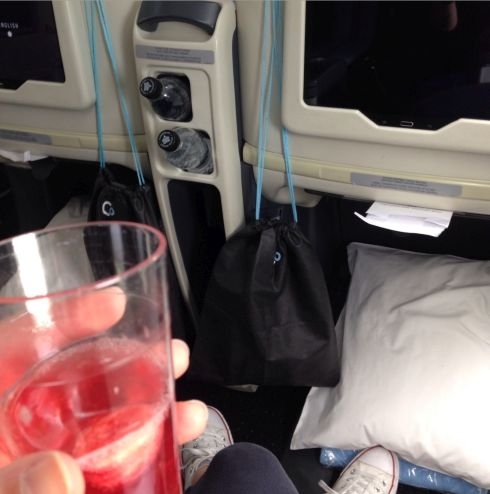 With no separation between the two seats I think you would enjoy the trip more if you travel with a friend or partner – or are happy to befriend your seat neighbour in order to have a less awkward flight.  I did the latter.
There was a wash bag, pillow and blanket waiting on the seats.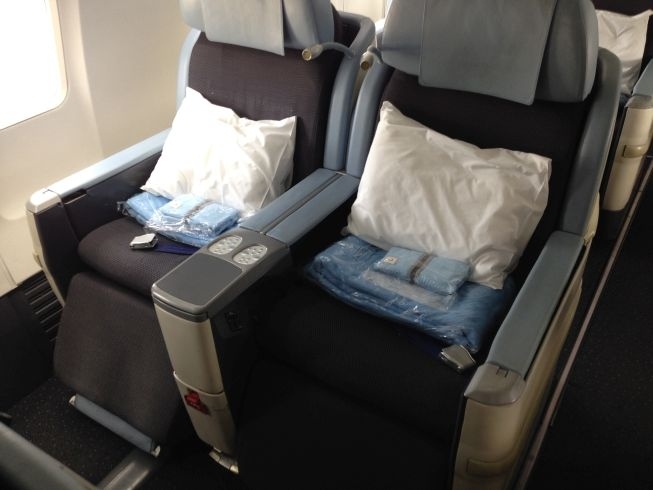 Instead of in-built screens, every seat has a Samsung tablet.  This sounds like a great idea but ended up being rather annoying.
The flight attendants had to walk up and down the aisle many times to exchange tablets that weren't charging properly or weren't working at all.  There was a USB charging port integrated in the seat, but unfortunately mine was dead.
The film and TV selection was not the best and the entertainment program was only working whenever the plane's wi-fi was turned on.  Don't get too excited by the word 'wi-fi'.  You can neither connect your personal devices to the wifi nor use the provided tablet to browse the internet.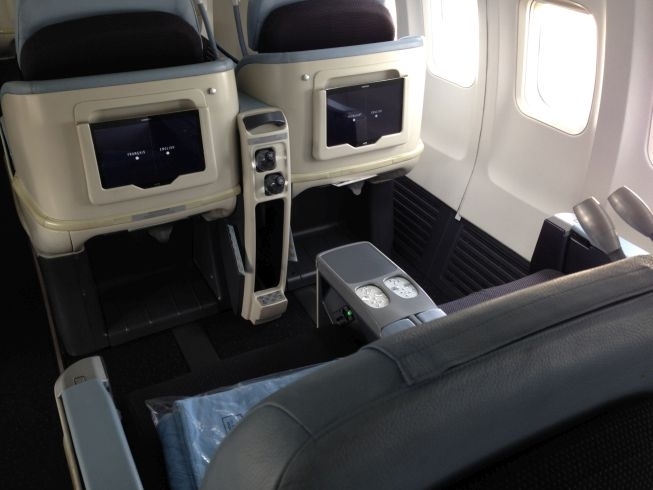 The seat does not go fully flat but was perfectly acceptable for a day flight.   My seat neighbour, who had flown with La Compagnie many times before, told me that the seats on the other aircraft are more comfortable.
One thing worth noting is that some plastic parts of the seat were broken and kept getting stuck, which made putting the seat up and down into a bit of a challenge.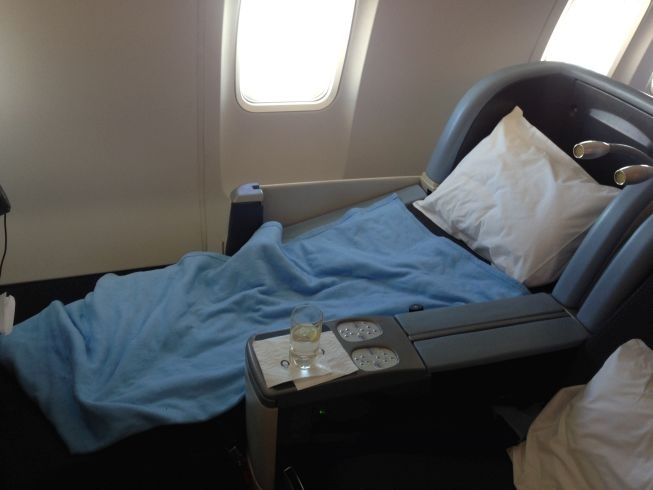 Here is another sign that the plane wasn't the newest…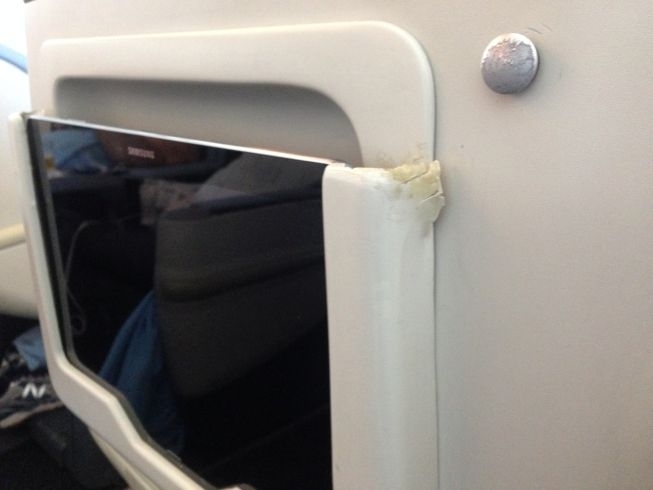 However, let's pause for a minute to remember that you are getting a 'flat but not horizontal' bed for roughly the same price that British Airways and Virgin Atlantic charge for Premium Economy.  Compared to that, the La Compagnie seat is clearly light years ahead.
In part two of my La Compagnie review – click here – I will look at the amenities, the impressive food and their pricing.