My review of the refurbished Virgin East Coast First Class Lounge at London Kings Cross station
Links on Head for Points may pay us an affiliate commission. A list of partners is here.
This is my review of the newly refurbished Virgin East Coast trains First Class Lounge at London Kings Cross
Until this month I had never been to a lounge at a train station – and now I've been to three.  The concept did sound a bit funny to me, to be honest.  Why would I want to get to the station way before my scheduled train?  I tend to just get to the station in time to grab a coffee.
However once you've been to a lounge, you can easily get used to it.  Especially when it's as quiet as the newly refurbished Virgin East Coast Lounge at Kings Cross.  Here is my review.
First, I should say that Virgin East Coast has removed the old GNER / East Coast Trains policy of charging First Advance ticket holders £5 to use the lounge.  Entrance to the lounge is now free for everyone with a First Class ticket, although First Advance tickets must be worth more than £10.
The entrance to the Virgin East Coast lounge is right next to Little Waitrose.  You need to take a lift upstairs and you then find yourself immediately outside the lounge.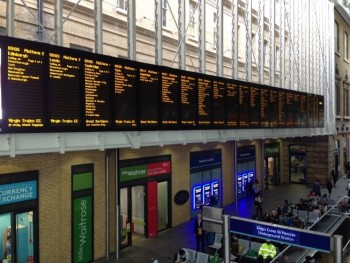 The lounge was surprisingly spacious and had lots of sitting and working areas.  Some of the seats were integrated in the wall as you can see in this picture at the far back.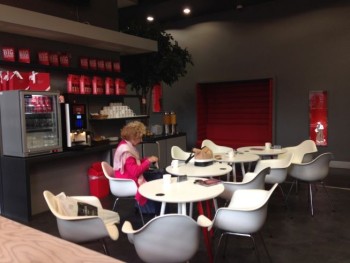 There are two serving stations with coffee machines, a large variety of tea, a fridge with water and coke, orange juice and biscuits. In the mornings you can also get a pain au chocolat – which I didn't dare to eat as I'm not a big fan of pastries wrapped in plastic.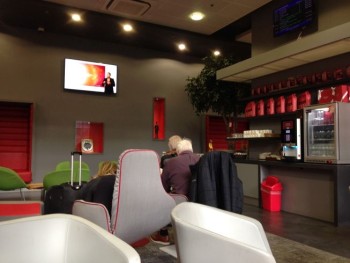 The lounge also has free newspapers (The Times) and fruit.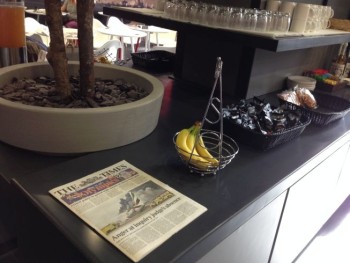 This is the sitting area at the far back to the left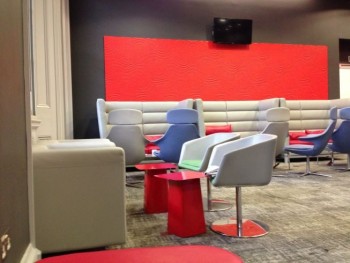 and this is an interesting looking sitting thing which is in the middle of the room!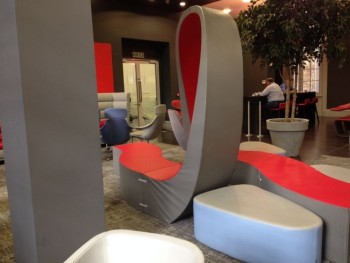 At the far back on the right is another sitting area including a bar table: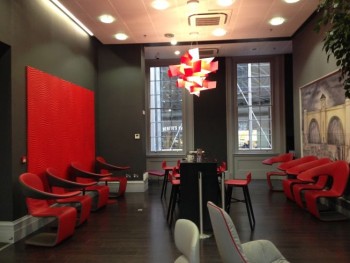 Many of the tables in the Virgin lounge have wireless phone chargers: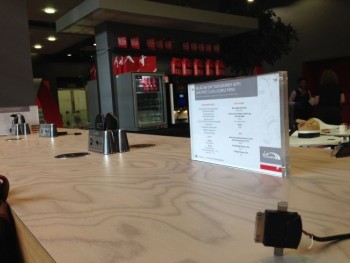 If you need to print something, you can connect your device with the printer using wifi – unfortunately the wifi was down when I was in the lounge …..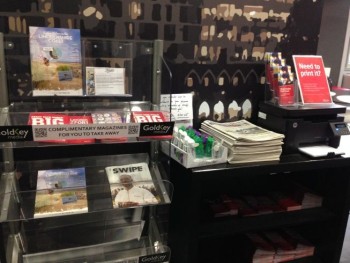 Conclusion
Compared to the Virgin West Coast lounge at Euston station which I visited a few days later, the lounge at Kings Cross was impressive.  (I will not write about that as Rob did a full West Coast lounge review here.)
You can feel that the East Coast lounge is new and the sitting areas have been well designed.  Unlike Euston, which feels very cramped, you can actually sit back and relax in the Kings Cross lounge.
It would have been great had there been a bit more food than just bananas and biscuits and the fact that the WiFi was down was a bit annoying, but that should have been a temporary issue.
I loved that the lounge was located very close to the platforms and the coffee was good. If you don't like rushing around and would rather spend some time relaxing at the station before getting on your train, the Virgin East Coast First Class lounge at Kings Cross is a good place to do so.
I also visited the Virgin West Coast lounge at Manchester Piccadilly last week.   I didn't expect it to be worth writing about, but it is.  That piece is coming soon.