My review of the InterContinental Geneva hotel
Links on Head for Points may pay us an affiliate commission. A list of partners is here.
This is my review of the InterContinental Geneva hotel.
Back in May I wrote about a fantastic competition organised by the Geneva Tourist Board.  It was giving away 1,000 nights over the Summer in three, four and five star hotels across the city to UK residents, breakfast included.
A lot of Head for Points readers were winners, including myself.  I was very restricted on dates because of our holidays and the school restart this week and the best option available was the InterContinental Geneva which I am reviewing today.
With breakfast included and a Reward Flight Saver Avios flight booked, I felt I could beat off the impact of the astonishingly strong Swiss Franc.
Location, location, location
The InterContinental Geneva hasn't got it.  Sorry.  Let's get that out of the way first.
From the railway station – remember to get your free train ticket at the airport from the vending machine in the luggage hall, a very generous offer for visitors – it was only a few seconds walk down to the lake.  
Thursday was an astonishingly lovely September day with 29 degree sunshine: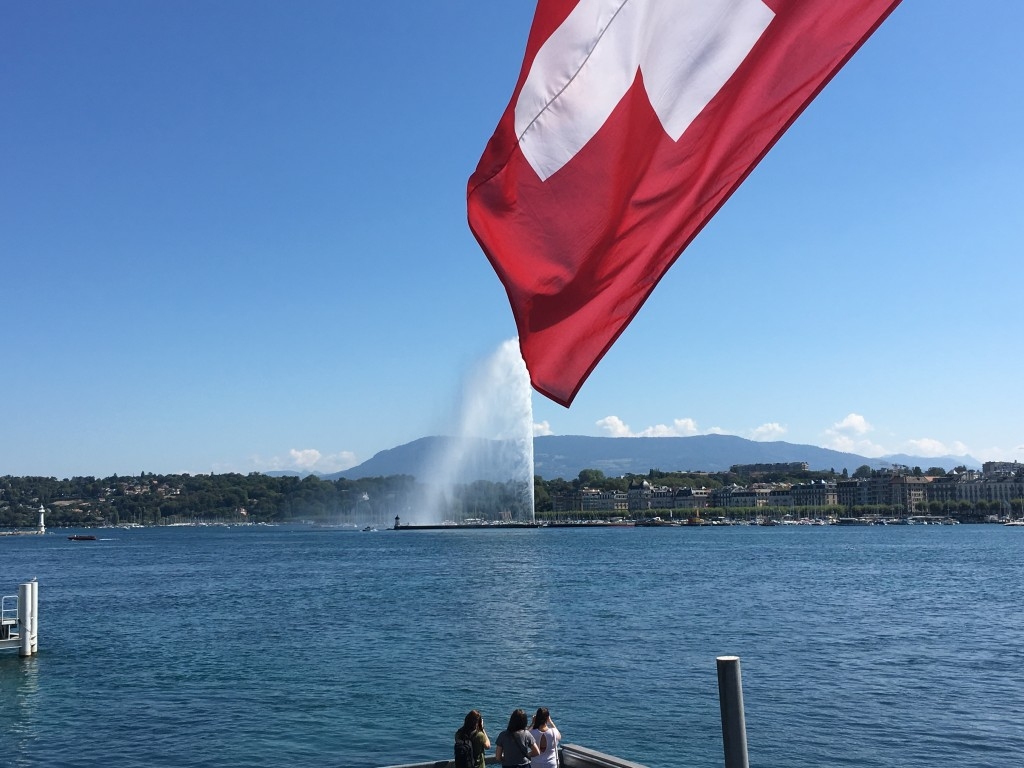 Lined up, side by side down the quayside, were some exceptional hotels – the Mandarin Oriental, Four Seasons, Hotel de la Paix, Kempinski, President Wilson etc – with direct lake views.  One mile away, up a hill in a commercial area by the United Nations, is the InterContinental.
If you stay here you need to accept that you are unlikely to be popping back to the hotel during the day.  You also need to accept that you are outside the main tourist area.  If you want a romantic weekend with your partner, you are substantially better off in the Four Seasons on the lake.
If you arrive in the afternoon and want to head straight to the hotel, forget the airport train.  The Number 5 bus runs from the airport and stops directly outside the hotel.  The stop is even called 'InterContinental' and will be shown on the digital displays inside the bus.
You can get a bus from outside the hotel to the railway station or back to the airport – reception will give you a free travel ticket.
InterContinental Geneva
The InterContinental Geneva is not a pretty hotel although I have seen far worse buildings from that period – it looks late 60s / early 70s.
A few years the hotel had a massive renovation to bring it into the 21st century.  This has only been partially successful.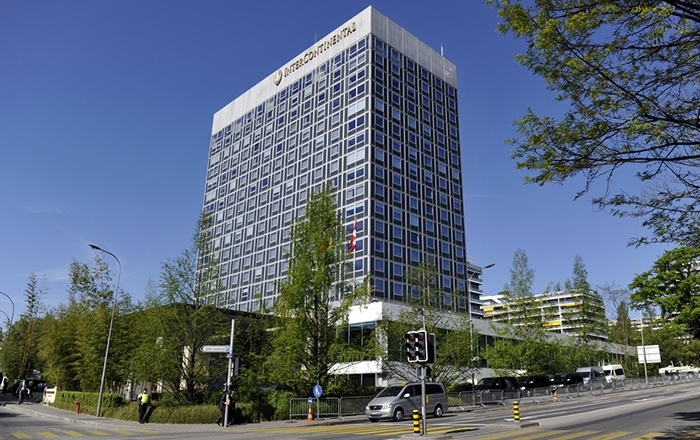 Before I go on, though, I want to show you the one reason why you may want to stay here – the amazing outdoor swimming pool: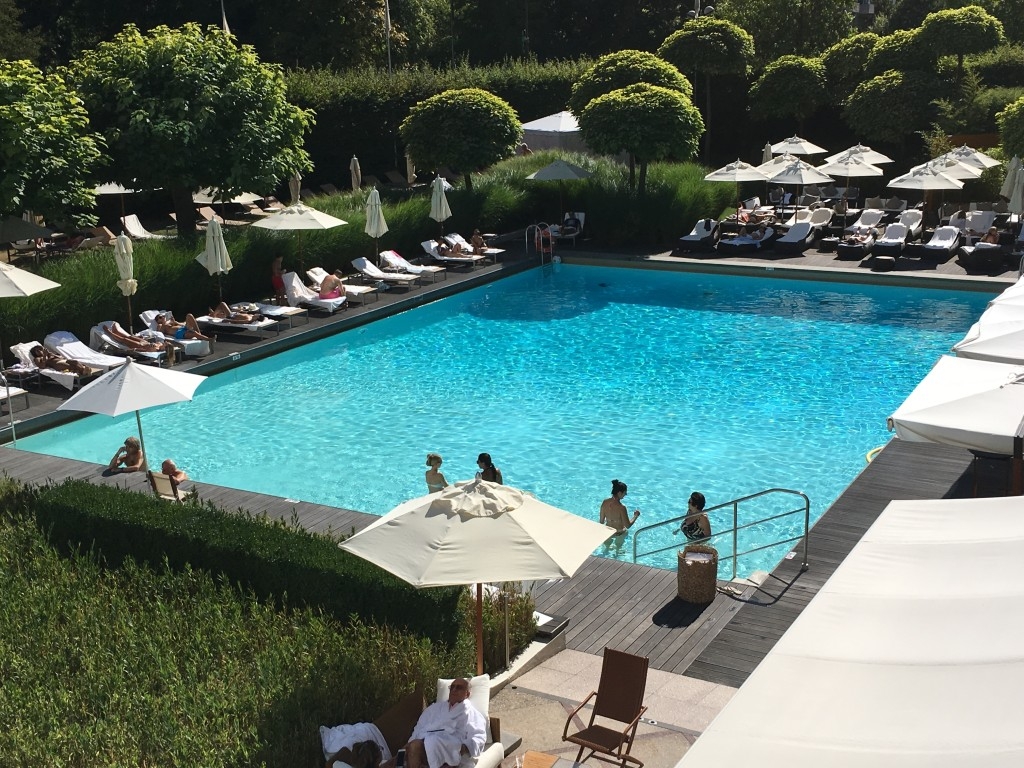 It is, I think, the biggest swimming pool I have ever seen at a European city hotel.  I was lucky to be there on a swelteringly hot September day.  As well as the pool, which slopes away sharply but is kiddy-friendly shallow at one side, there is a pool bar (£10 for a bottle of beer).  
On a grassed area behind the pool – but blocked from it by some bushes – are another 50 or so sun loungers.  There are probably 75 sun loungers in total which is generous.
My room at InterContinental Geneva
Remi, who checked me in, was fully on the ball.  The hotel respected my Ambassador benefits, including late check-out, which was good of them because I obviously hadn't booked direct.  My details were not in the booking but, when they saw my card, my allocated room was changed to a larger one with a view of the lake.
In practical terms, there was nothing to complain about.  Lots of space, a coffee machine (and I was brought a jug of fresh milk on request), a small dressing area, a desk and a sofa.  The problem is that it was all a bit, well, beige: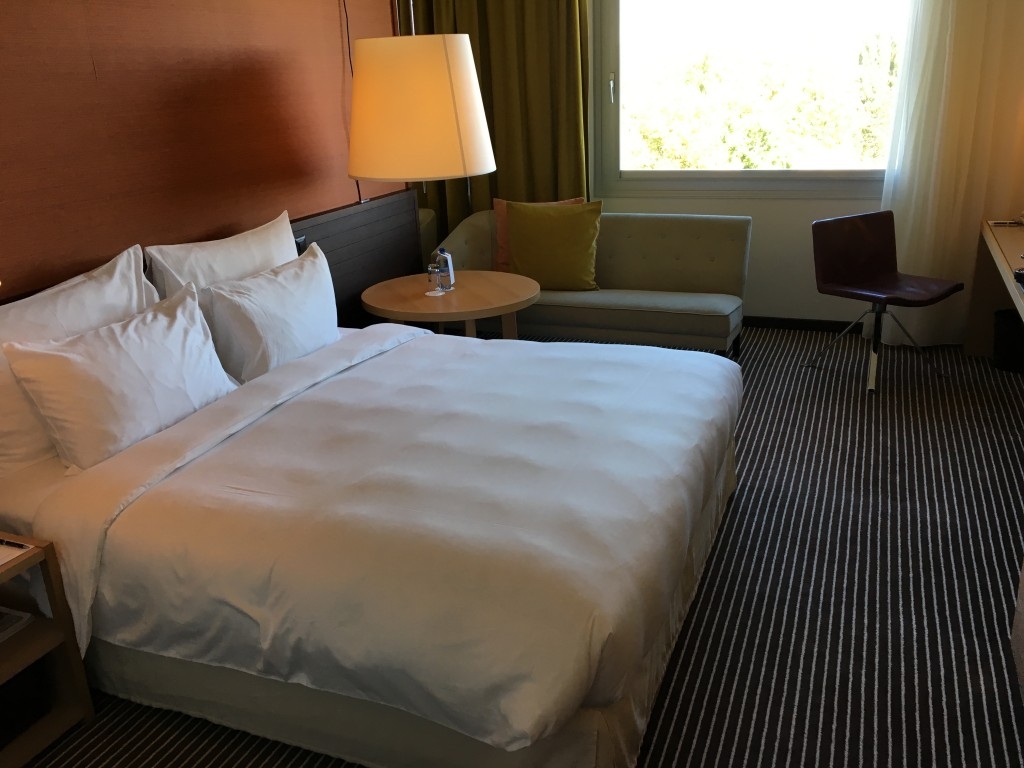 and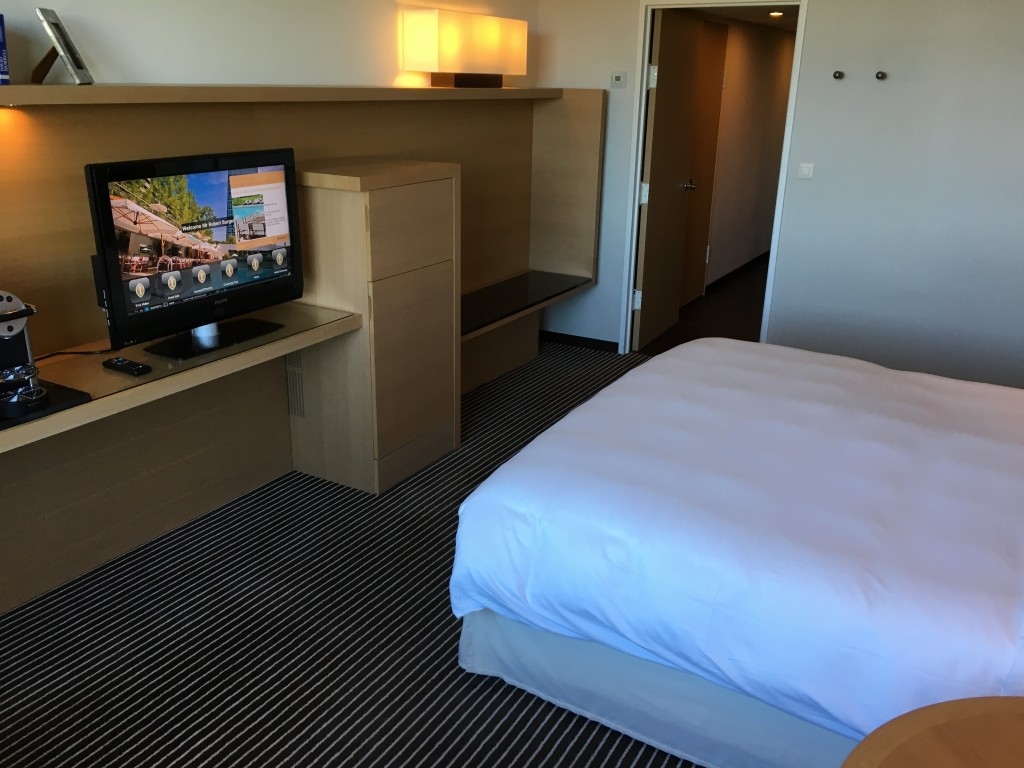 ….. except for the bathroom, where the loo and bath were fuscia.  It reminded me of what my parents had during the 1970s and was a little scary to see: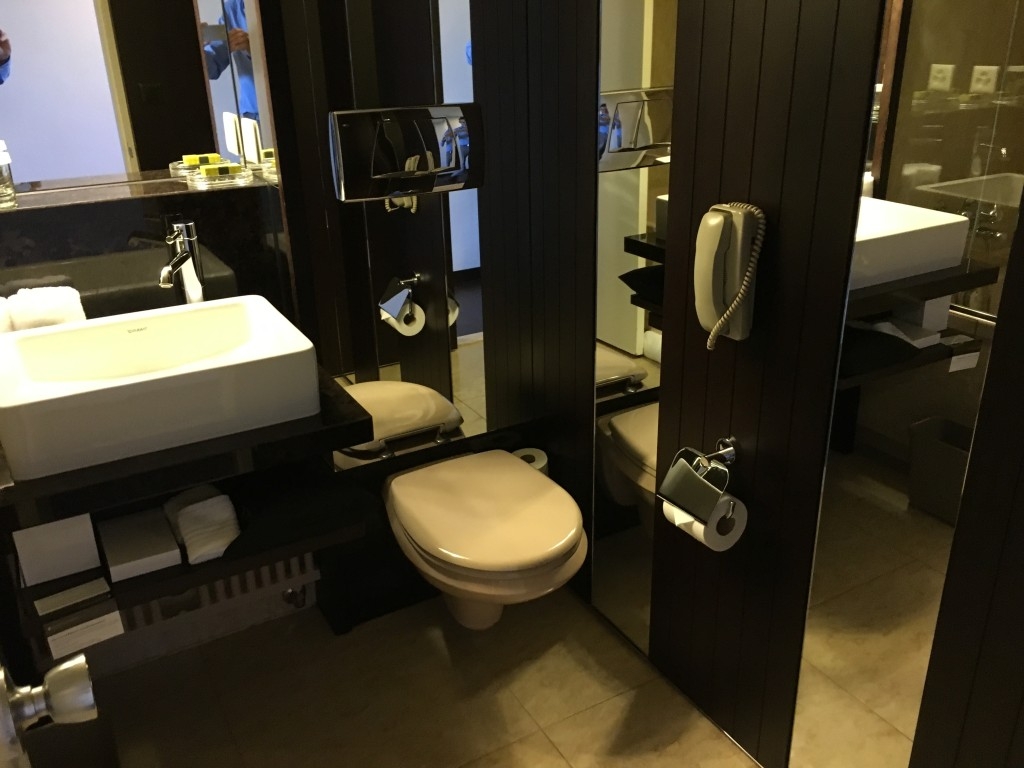 Weirdly, I could not – for the life of me – work out how to turn the shower on.  It was an attachment to the bath taps, not stand alone.  Despite having stayed in probably 300 hotels in my life, I could not figure this out, so I was forced to have a bath instead.  Toiletries were the standard InterContinental Agraria brand.
This is the view from my window, which lets you see where the lake is: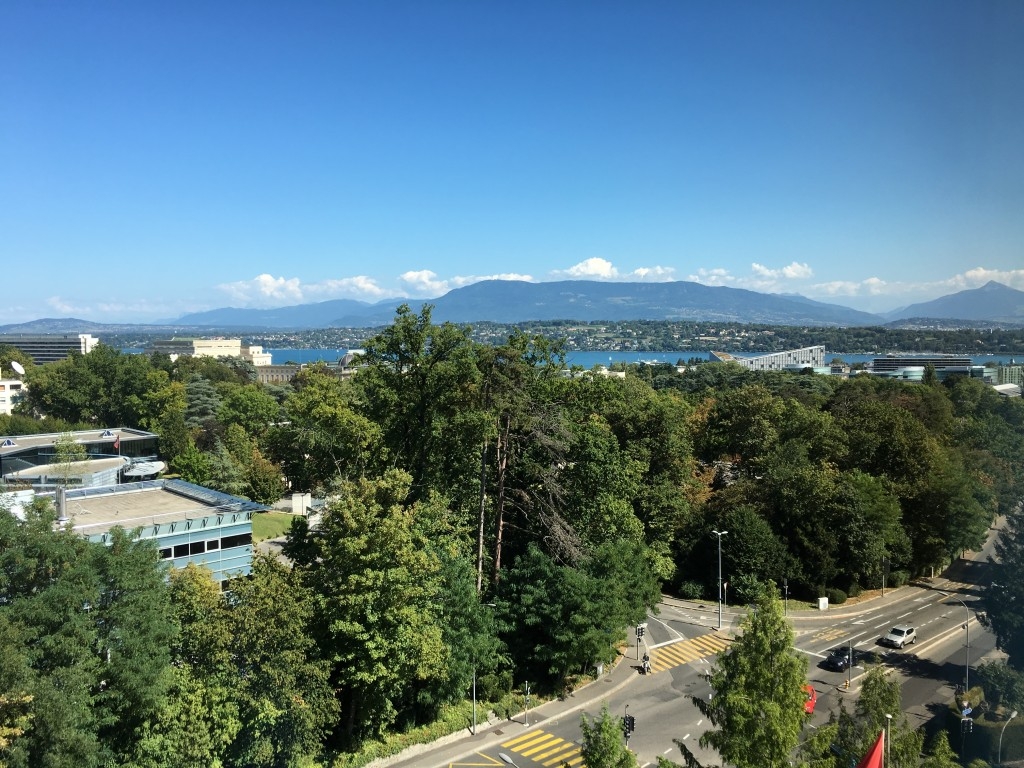 Wi-fi was free and very good.  The signal never dropped at any point.
There was nothing to complain about in my room but no 'wow' factor either, nothing to convince you that it is a good idea to be here instead of by the lake.
Gym and spa at InterContinental Geneva
I am not a gym person but this one looked pretty big and was flooded with light: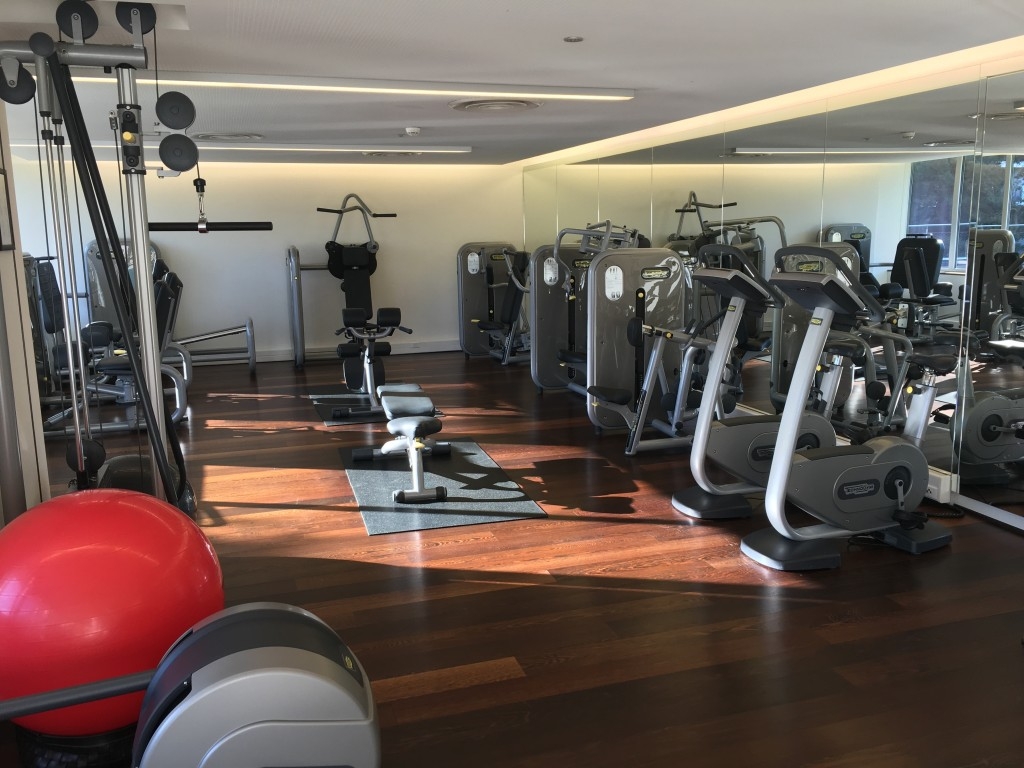 There is also a Clarins-branded spa with a sauna.
The lobby
The public areas of InterContinental Geneva are very impressive.  There are vast amounts of space to sit around and watch the world go by.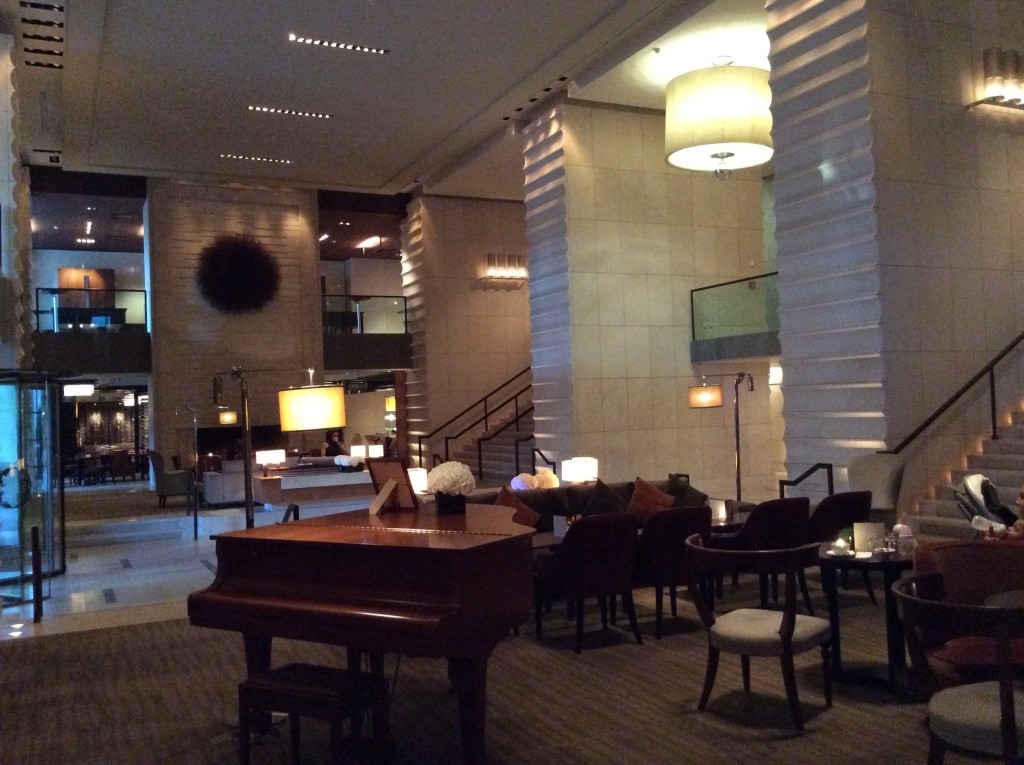 and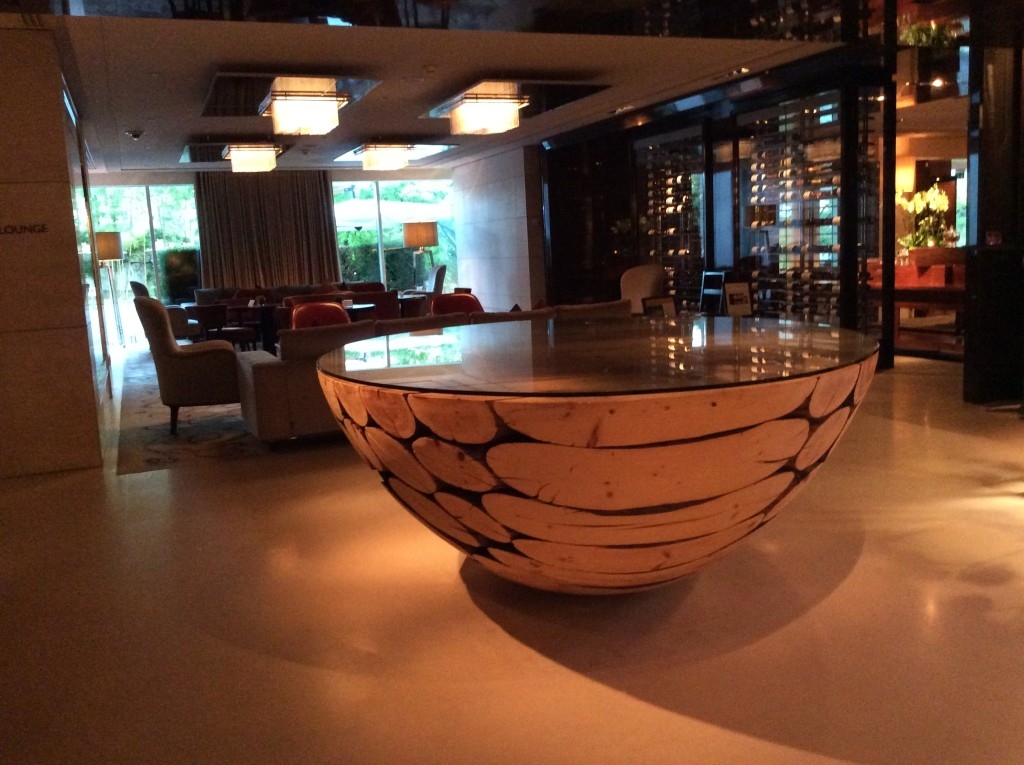 As well as this clubby bar, complete with Chesterfield armchairs.  The club sandwich I had in the bar for dinner set me back £25 at the current exchange rate.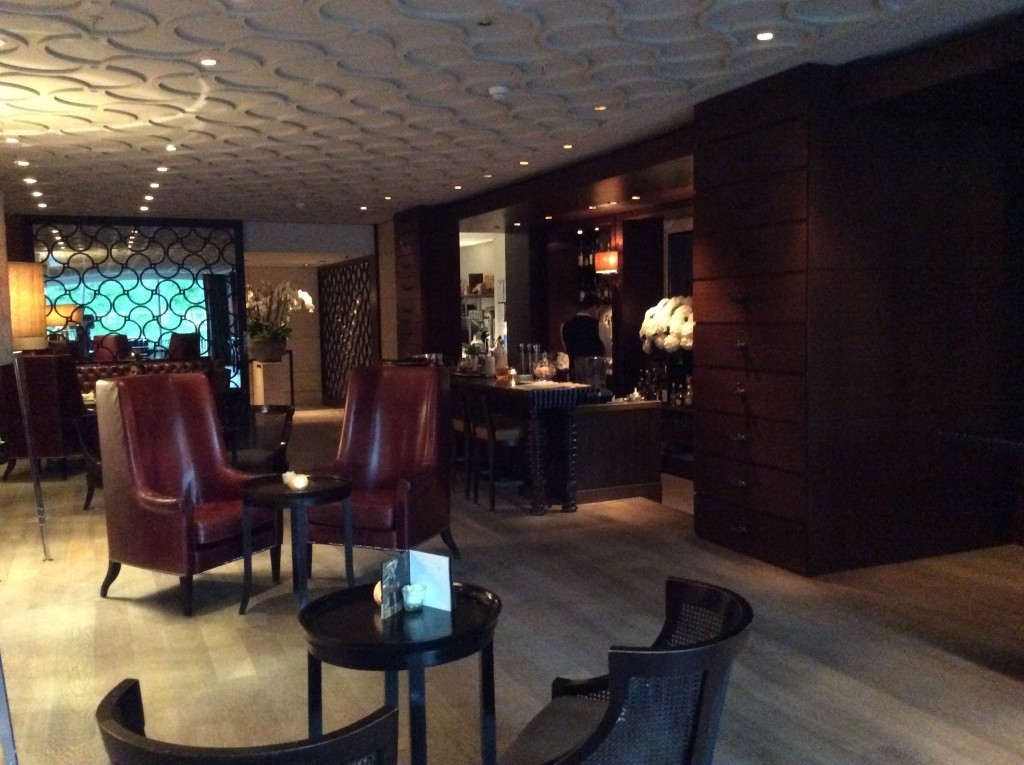 Breakfast at InterContinental Geneva
….. is served in Woods, the restaurant.
This is a very classy affair.  I strongly recommend booking a room with breakfast included if booking for cash.  You are likely to save money (It is CHF 46 – £35 – per person if paid on the day), there are few potential alternatives nearby and it is a very pleasant experience.
Orange juice is freshly squeezed and comes in individual glass jugs, as does the milk.  As well as a wide ranging buffet (the photo below only shows a small part of it) you can order additional items.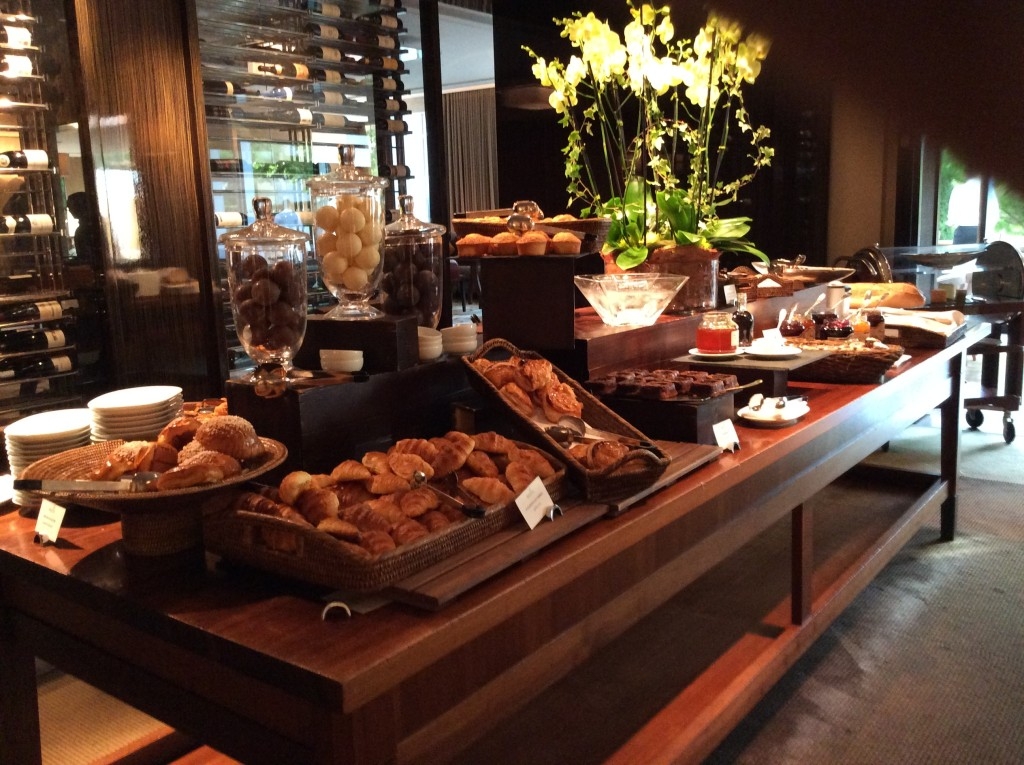 The breakfast room was calm and fairly empty when I was there.  There is even an outdoor seating area: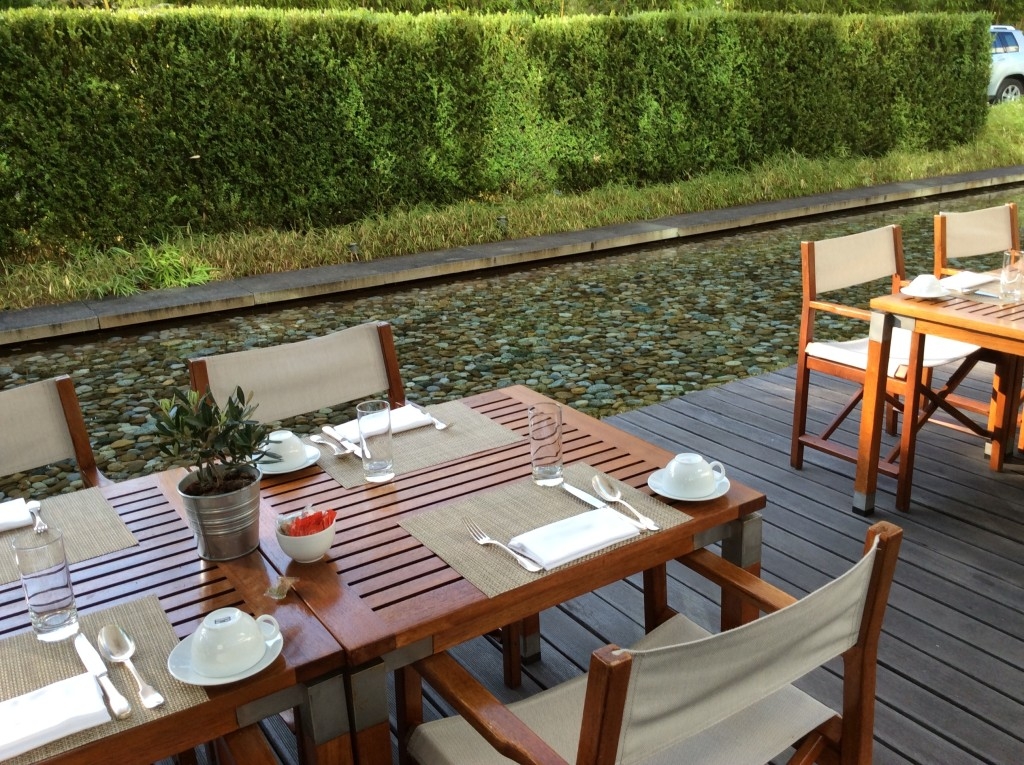 Conclusion
I really enjoyed my night here because of the exceptionally good weather.  I visited the pool on both days and it was the first time all summer I had been able to swim by myself without a small child literally on my back.  I also got free breakfast so my food costs were modest and the walk up the hill from the city centre was OK in the sun.
If you are in Geneva on business and need to be in the UN area or are happy to pay for taxis, this is a good place to come.  I would happily stay here again on that basis.
For a tourist, though, it is tricky.  The pool – the real redeeming feature at the InterContinental Geneva – is only open between May and September.  Without the pool, I don't feel that the quality of the rooms is high enough to switch from a hotel by the lake which gives you the full Geneva experience.  I did enjoy the breakfast and the staff throughout were fantastic.
If you are redeeming IHG Rewards Club points, you will get excellent value for them here because Geneva is so expensive.  For a random date in October the hotel was 45,000 points or £275 (CHF 354) which means you are getting 0.6p per point.  Be aware that breakfast will be a hit in the pocket and I didn't see any obvious alternatives.
It is also a decent choice if redeeming an InterContinental Ambassador 'free weekend night' voucher.  The cash saving will make the bus journey up and down the hill worthwhile.
The InterContinental Geneva website is here if you want to find out more.
---
IHG One Rewards update – August 2022:
Get bonus points: IHG One Rewards is offering bonus base points on all cash stays between 18th May and 31st August. You earn double points on your 2nd to 5th nights, triple points on your 6th to 14th nights and quadruple base points from your 15th night. Our full article is here. Click here to register.
New to IHG One Rewards? Read our overview of IHG One Rewards here and our article on points expiry rules here. Our article on 'What are IHG One Rewards points worth?' is here.
Buy points: If you need additional IHG One Rewards points, you can buy them here.
Want to earn more hotel points? Click here to see our complete list of promotions from IHG and the other major hotel chains or use the 'Hotel Offers' link in the menu bar at the top of the page.