Every so often I come across something in the miles and points field which I think that I should have known, but for some reason had never come across.  This is one such quirk.
Regular readers will know that I recommend mixing cash and reward nights if you want to book a hotel redemption and want a room which is better than a standard room.
Back in July, for example, I stayed at InterContinental Le Grand in Paris for four nights.  As I wrote in this article, I mixed together a cash booking for a club room followed by a redemption booking for a standard room.  What happened is what I was 90% sure would happen – the hotel let me keep my club room for my entire stay, which meant I got a generous upgrade for my reward night.
In turns out, however, that you should never try this trick at a Hilton HHonors property.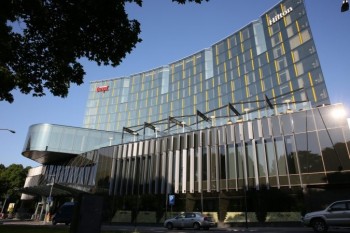 Tucked away in the Hilton HHonors terms and conditions (see here) under 'Accrual of Points' Clause 3 is the following wording:
If at least one night of the Member's stay is consumed with the use of HHonors Rewards Points, the entire stay is considered a "Reward Stay" and no HHonors Points may be earned, except that if Member is using Room Upgrade Rewards, any money spent on the original reservation will earn points and/or miles consistent with these Terms.
In plain English:
If you book a Hilton stay which is a mix of cash nights and reward nights, you will NOT earn Hilton HHonors points for the money you spend on your room for the cash nights.
It turns out that this clause is enforced – perhaps not all the time, but it does definitely happen and you obviously have no recourse.
The obvious way around this, if travelling with someone else, is to book the reward nights from one account and put the cash nights through the other persons account.  This may cause issues if one person has status and the other does not, since you may lose status benefits on the 'cash' nights.
If you are travelling solo, you could still try the same thing – book the cash nights from the Hilton HHonors account of another person for 2 guests and add a note saying that you will be the second guest.
You would need to check out and check in again, but this would purely be a token gesture at the front desk. You wouldn't need to actually pack up and leave the first room.
What this rule means is that trying to get an enhanced room on a reward night by starting your stay with a paid cash night in a better room is going to come at a cost – the loss of points for your room rate on that first night.
Thanks to David.
(Want to earn more hotel points?  Click here to see our complete list of promotions from the major hotel chains or use the 'Hotel Promos' link in the menu bar at the top of the page.)